1.1K Views
Answering the Internet's Most Popular Questions About the 2023 BMW M2
August 19th, 2023 10:01 AM
Share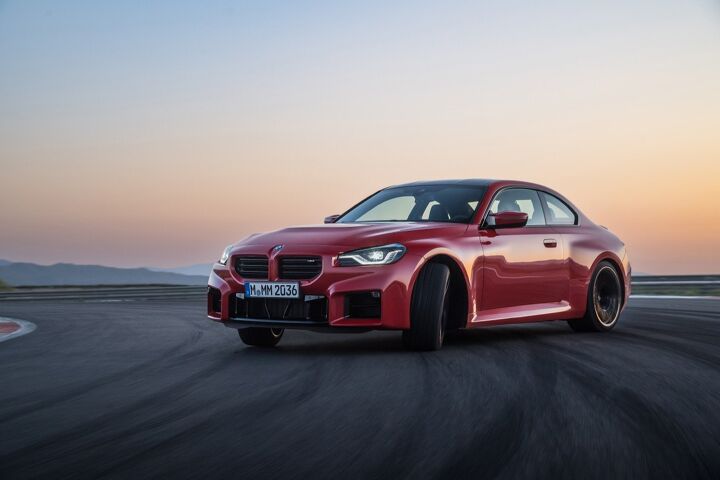 The spicy new BMW M2 enters its second generation for model-year 2023, riding a new platform that's longer, lower and wider than that of its predecessor.
With a wheelbase that's 4.3 inches (109 millimeters) shorter than that of the BMW M4 but 2.1 inches (53 mm) longer than the previous-generation M2, drivers upgrading to the latest unit can expect a more stable ride and increased rear-seat legroom, too.
The BMW M2 is one of the most-searched sports cars in its segment. Below, we're answering some of the internet's most common search questions about it.
Is the BMW M2 AWD?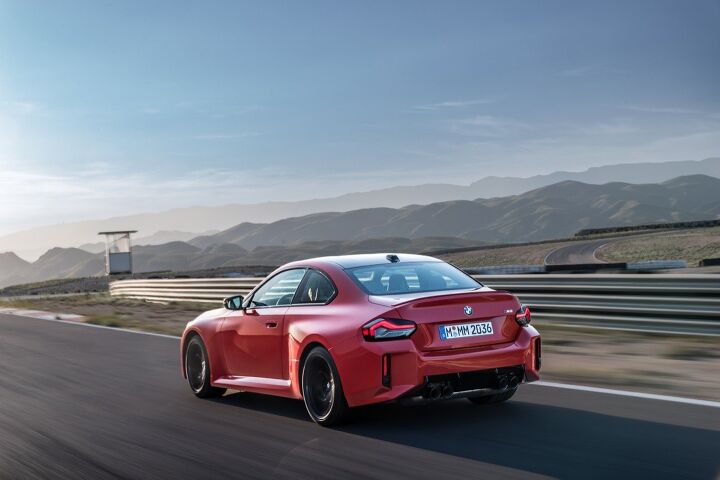 No, the BMW M2 comes in a rear-drive-only configuration. All-wheel drive is widely offered elsewhere in BMW M product lineup.
Where is the 2023 BMW M2 built?
At BMW's San Luis Potosi plant in Mexico. The plant began operations in 2019, employs about 3,000 people, and currently produces the BMW 3 Series, 2 Series Coupe, and M2. Future investments will ready the plant for the production of incoming electric models.
What is the 2023 BMW M2 Break-in Period?
During break-in of the BMW M2, owners are advised not to use its launch control function, and to drive conservatively while anticipating potential delays in reactions from safety systems. These may react more slowly than anticipated during the break-in period.
For the first 600 miles, drive at varying engine and road speeds while staying below 5,000 rpm and 105 mph (170 km/h). Note that avoiding use of the cruise control system during engine break-in can help here, by ensuring the engine's revs are fluctuating more of the time. During this part of the break-in period, full-throttle kickdown is to be avoided under all circumstances.
From 600 to 1,200 miles, continue driving at varying engine and road speeds (avoiding cruise control use if required) but do not exceed 6,000 rpm or 130 mph (210 km/h). Also, avoid full throttle load in gears 1, 2, and 3.
At 1,200 miles (or when prompted by the display in your car), have break-in service maintenance performed by a dealer, who will change the engine oil, filter, and rear axle fluid.
Further, remember that tires won't reach optimal traction levels until about 200 miles of use and that both the brakes and clutch require cautious and gentle use for the first 300 miles to properly run in.
How much does the BMW M2 weigh?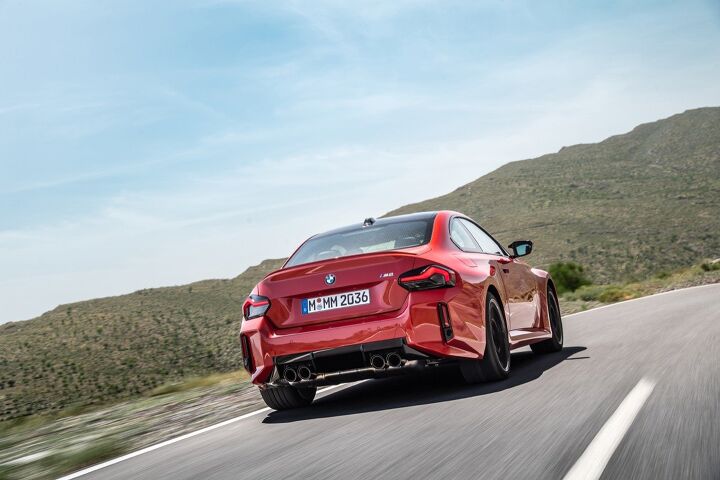 About 3,814 pounds.
That's slightly heavier than a Tesla Model 3 single motor, slightly heavier than the last-generation M2, about 600 lb heavier than a 2023 Porsche Cayman, about 400 lb heavier than a Corvette C8 Stingray and about 100 lb heavier than an E92 BMW M3 Coupe.
According to my research, the Ford Mustang is about the closest coupe to the BMW M2 when it comes to curb weight.
For some context, the Mazda MX-5 weighs about 2,600 lb, a Toyota GR86 weighs in at around 2,850 lb, and a Toyota Supra with six-cylinder engine weighs about 3,400 lb.
Is the BMW M2 a hybrid?
What is BMW M2 ACTIVE M diff?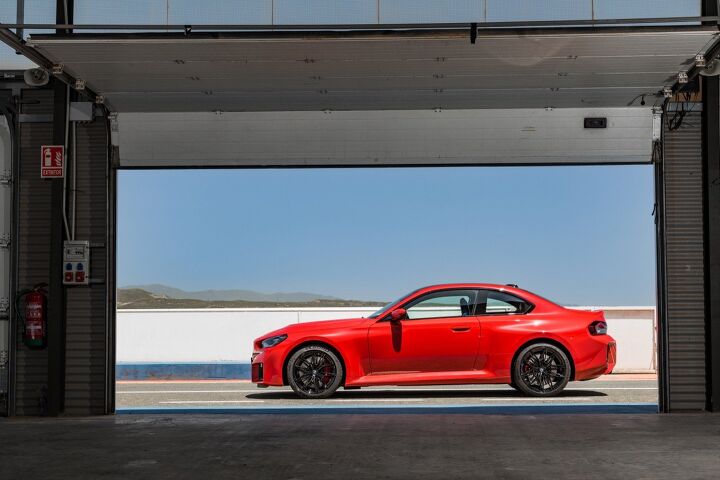 This active differential can stop rotational speed differences between the rear wheels whenever required, and go from 0 to 100 percent axle lockup smoothly and variably.
By using multiple sensors to predict and detect situations where traction may vary between the rear wheels, the Active M differential adapts instantly and predictably to the situation. With the ability to rapidly control the delivery of power across the rear axle, or even mechanically bind that rear axle together when needed, the Active M differential keeps the engine's torque from being wasted with wheelspin, and turns it into traction instead.
Best of all, special tuning allows this differential to provide tangible feedback to the driver, allowing them to feel the traction situation at the rear wheels in real-time and change their inputs accordingly.
This feedback is part of how the M2 inspires driver confidence when learning its dynamics in a closed-course setting.
What are the dimensions of the 2023 BMW M2?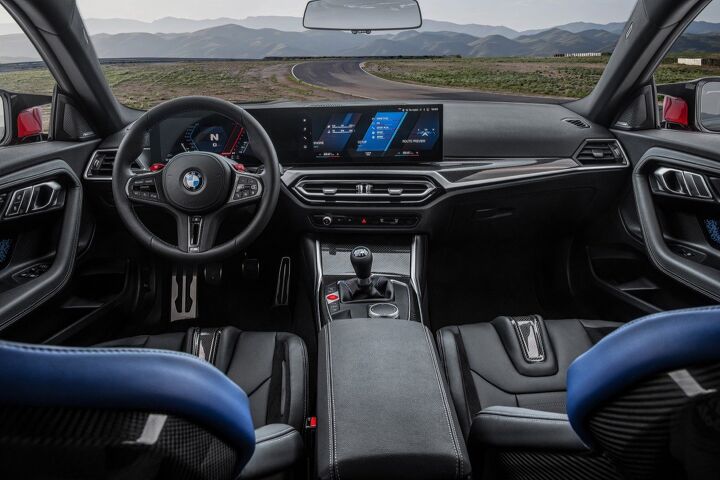 The BMW M2 is 176.2 inches long, 73 inches wide (without mirrors), 55.5 inches tall, and has a wheelbase of 106 inches.
That's about 3 inches longer, 2 inches wider and 5 inches taller than a Porsche Cayman.
Compared to the BMW M4 Coupe, the M2 is a little taller, a little narrower, and over a foot shorter.
According to my research, the Audi S3 / RS3 might be the closest car in terms of overall size to the BMW M2, with fractions of an inch separating the pair in height and length.
What engine is in the 2023 BMW M2?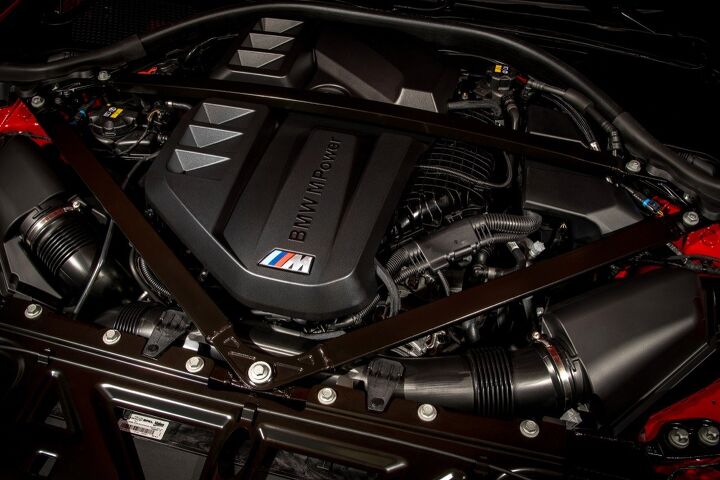 Six in a row makes it go!
The BMW M2 comes with a 3-litre straight-six running twin-turbo for 453 horsepower and 406 lb.-ft of torque. The closed-deck design increases engine rigidity and strength, and a lightweight forged crankshaft supports improved throttle response and a strong appetite for revs, with a 7,200 RPM maximum engine speed.
You'll find an even more powerful version of this engine in the BMW M3 and M4, where it makes 473 horsepower instead. The engine's cylinder head core is 3D-printed, helping to create optimally-shaped coolant passageways for motorsports-ready cooling system performance.
What is BMW M2 Drivelogic?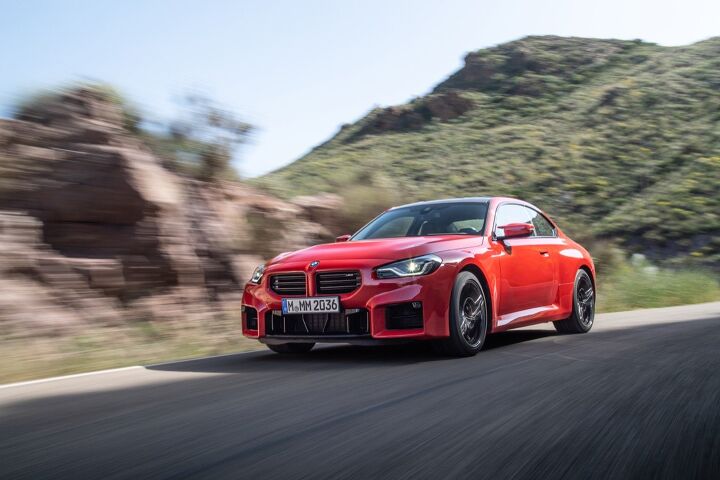 This function allows the driver to switch the operating characteristics of the automatic 8-speed transmission in real time, using a toggle switch built into the shift lever. The corresponding selection from the Drivelogic controller is displayed on the digital instrument cluster for easy reference.
The three clearly-distinguishable settings apply to both automatic and manual paddle-shifting. There's one shift program for comfort, one for sport, and one for track driving. Each program alters the response, shift speed, and reaction of the transmission accordingly. In this way, drivers can select gentle and comfortable gearshifts, or instant, abrupt ones—depending on the situation.
The manual 6-speed transmission features Gear Shift Assistant for smooth shifting via automatic rev-matching, though the function can be disabled.
With an automatic transmission, expect 0-60 in around 4 seconds, a few tenths slower with the manual gearbox.
What is the price of the 2023 BMW M2?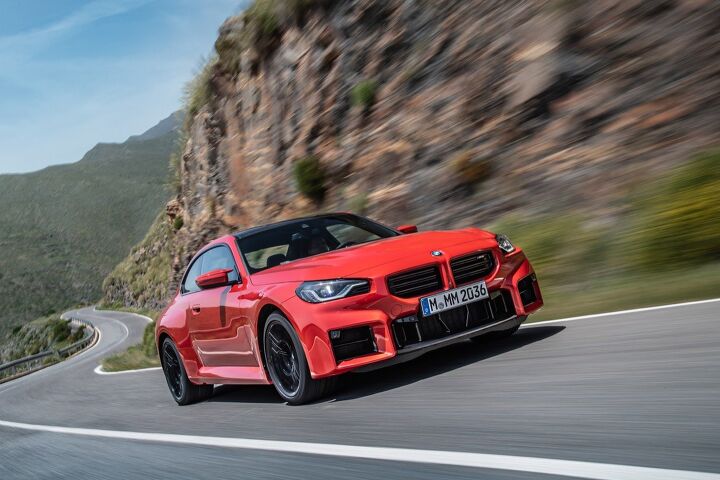 In America, the 2023 BMW M2 starts at $63,195 including destination, whether drivers choose the six-speed manual or the eight-speed automatic. An $9,900 M Carbon Package is a pricey add, but the carbon bucket seats will be worth every penny to the enthusiast driver. BMW also offers a handful of standalone options, such as wireless charging and a heated steering wheel.
In Canada, the BMW M2 starts at $78,980 (including destination), and the M Carbon Package is $12,500. A Premium package ($3,100) adds premium lighting and stereo equipment, as well as a parking assistant, Head Up Display, and Comfort Access. Various premium color and interior upholstery options allow drivers some further customization.
Become an AutoGuide insider. Get the latest from the automotive world first by subscribing to our newsletter here.
Published August 19th, 2023 10:01 AM
Popular Articles
Latest Comparisons
Car Buying Tools