1.4K Views
2024 BMW 430i XDrive Convertible Review
July 21st, 2023 3:20 PM
Share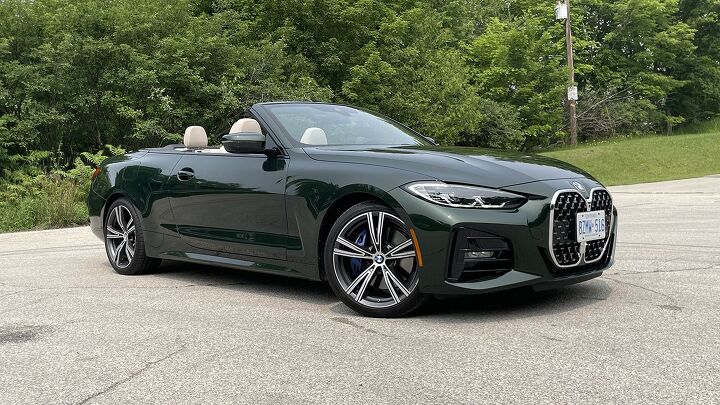 | Love It | Leave It |
| --- | --- |
| Chassis Balance | That Grille |
| Ride Comfort | Power Overmatched by Weight |
| Interior Design | Pricing Can Get Steep |
Confession time. Although the latest generation of BMW 3 Series and 4 Series have been on the market for a few years, I've never had the chance to drive one.
Many colleagues and fellow automotive writers have extolled the new car's merits to me, but I haven't had the opportunity to sample one for myself.
That is of course, until now. To get my first taste of the new generation platform, I'm getting behind the wheel of the 2024 BMW 430i xDrive Convertible. Luxurious and capable of top-down fun-in-the-sun, this is probably the least sporty incarnation of the lineup. It's already hefty, equipped with the smaller engine and added weight of all-wheel drive. Will this car impress me beyond the thrill of open-air motoring? I spent a week with it to find out.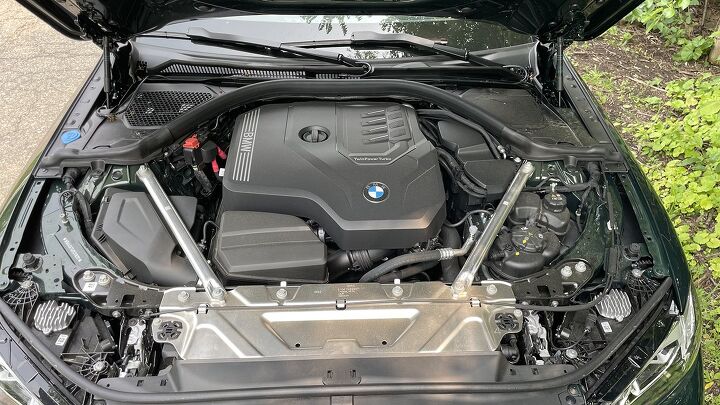 As the name suggests, the 430i comes equipped with a 2.0-liter turbocharged four-cylinder engine. It makes 255 hp and 295 lb-ft. of torque on premium fuel. I've always liked this engine in other applications, like the smaller 2 Series Coupe and Toyota Supra. In the 430i Convertible though, it's met its match. With 4,034 pounds (1,828 kg) to haul around, it starts to run out of steam on the top end.
Despite an impressive 0-60 mph time of 5.8-seconds, the car never feels overly swift. It's a case of mass outweighing power. That's not the call the 430i slow, but for the price tag and sporty pretensions of the 4 Series Convertible, I just wish there was more forward thrust. Thankfully, there is the more powerful 440i, of course at an additional cost.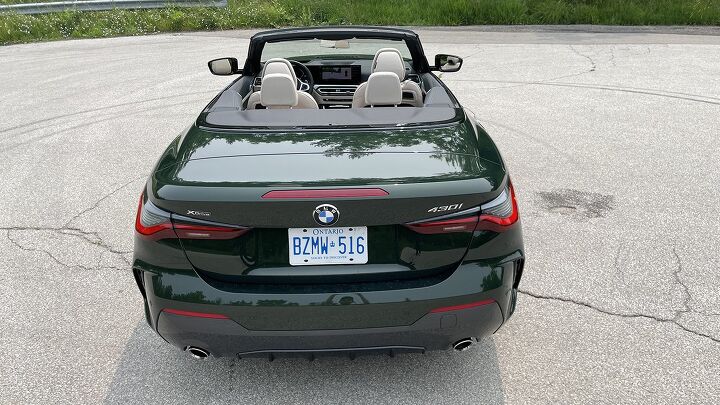 The four-cylinder does make pleasing turbo noises which are enhanced for all occupants to hear. It's quite fuel efficient too as it's rated at 23 mpg (10.1 L/100 km) city and 33 mpg (7.1L/100 km) highway.
The only transmission available is an eight-speed automatic. Anyone who's spent time with a BMW eight-speed knows how smooth, quick, and intuitive these transmissions are. There is a manual mode available that can be operated with steering wheel mounted paddle shifters. In the Sport mode, there's full manual control, while in other modes, aggressive acceleration with override the manual input and downshift to the lowest possible gear.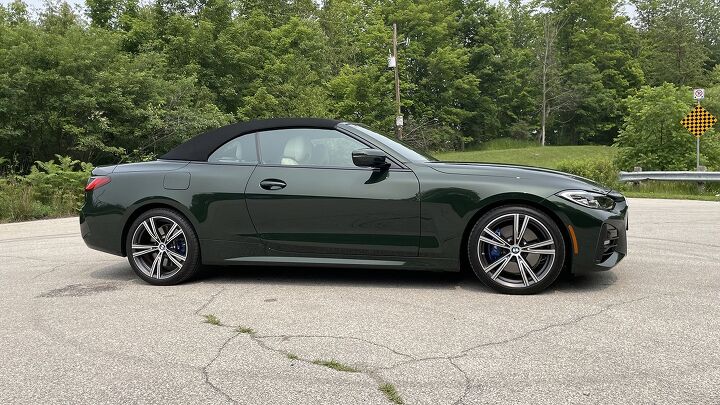 BMW cars have long been praised for their chassis set-ups and the new 4 Series is no exception. Our tester came with the M Sport Suspension, M Sport blue brakes, variable sport steering, and upgraded wheel/tire package. The latter replaces the standard 18-inch wheels with offset 19-inch units wearing 225/40R19 tires up front and 255/35R19 tires in the rear.
Although the engine is located up front, our tester has a slightly rear-bias weight distribution with 49.9% of the mass on the front tires and 50.1% on the rear. This helps give the 430i xDrive Convertible surprising reflexes and adhesion levels. Despite its 300 lbs weight penalty over the 430i coupe, the convertible is still eager to change directions and a moment's notice. The car remains flat, composed, and eager to please.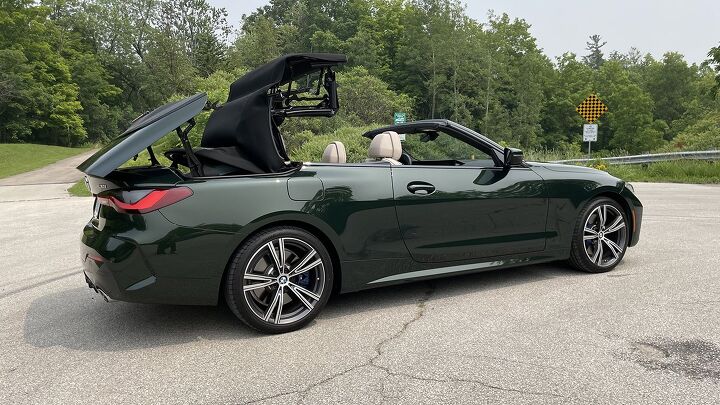 More impressive is how buttoned down the whole package feels. The combination of handling and comfort is near perfect for the car's position in the market. I expected it to be sporty but was pleasantly surprised at how smooth the ride is. Only offset larger bumps get the topless car to produce the most minor of shakes and it never crashes down over broken pavement.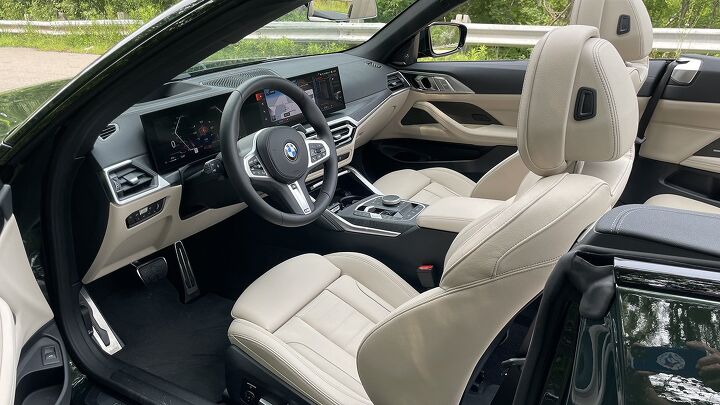 The theme of comfort continues inside. Passengers up front receive 40.6-inches (1,031 mm) of headroom and 41.8-inches (1,062 mm) of legroom. The optional Vernasca Oyster Leather seats proved comfortable and supportive. Even though the 430i Convertible features a fabric top, it's so well insulated it feels like a hard top with the roof up. Noise is kept to a minimum and would rival many conventional coupes in terms of interior sound.
It's clear a lot of aerodynamic testing was done on this car. Even with the roof and windows lowered, riders up front do not get buffeted by the breeze around town or on the highway. Conversations can be had, and hats worn, at nearly any speed. Rear seat passengers though will probably want all those side windows up to help direct the air flow around them. Especially on the freeway.
While on the topic of rear seat passengers, with 36.1-inches (917 mm) of headroom and 32.5-inches (826 mm) of legroom, there's a decent amount of real-world space. It was more than accommodating for our family of three on a weekend getaway with a small dog.
When it came to cargo though, fitting everything in is a bit trickier. With the folded soft top stowed, cargo capacity is only listed at 10.6 cubic feet (300 L). Making things a bit more difficult, the trunk is L-shaped so taller items can only be placed at the very front.
The good news is, the trunk can be expanded to a more regular-sized 13.6 cubic feet (385 L) if the roof is up. With the excellent fabric roof, all-wheel drive system, and decent sized trunk, the 2024 BMW 430i xDrive Convertible could easily see duty all winter long.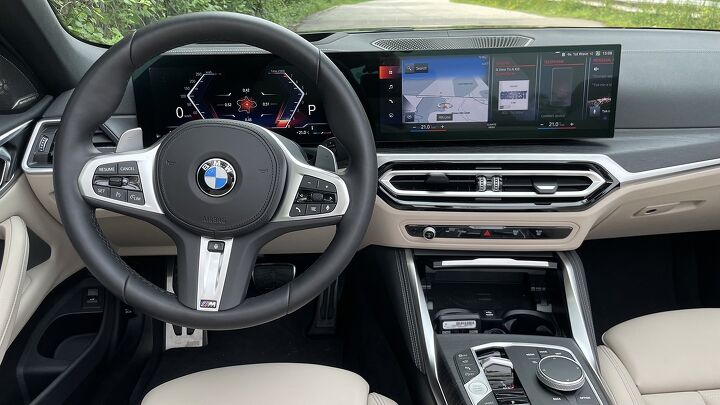 A proper luxury car should make occupants feel like they're in something special. Everything comes together inside in a nice, modern style that feels rich. The materials are appealing to the eye with the layout remains functional. I like the dual screen layout and got accustomed to the latest iDrive system quickly. It's very smartphone-like in operation, with easy to learn controls. The home screens provide a lot of information at once, requiring minimal screen changes while driving.
My tester came equipped with plenty of options added on. Included is a heated M leather steering wheel, heated front seats, Oak Grain Open Poured trim, thermal air collars, head up display, and the digital cockpit professional. Last but not least is a Harman Kardon sound system that provides clean, clear sound, even with the top down.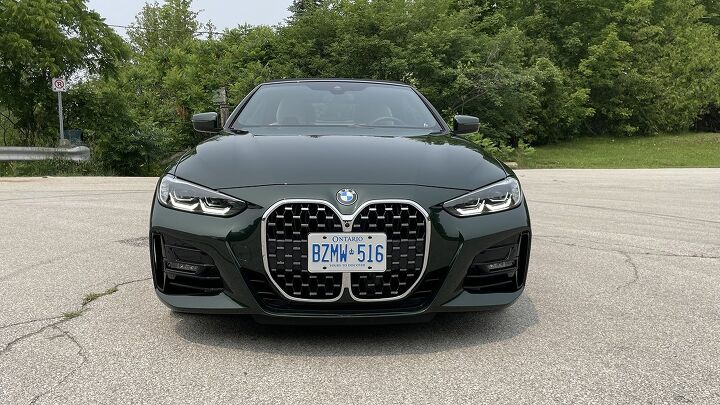 At this point, I don't think it needs to be stated that the front grille on the 3 and 4 Series is controversial. Making matters worse, my test car includes the chrome outline that emphasises the grille, making it an even more prominent feature.
Aside from that, I'm a fan of exterior looks on the 430i, especially the rear end styling. My test car came finished in Sanremo Green Metallic paint with the optional M Sport aerodynamics package. It gives the car a sophisticated, yet sporty look that's a mere front refresh away from being truly great.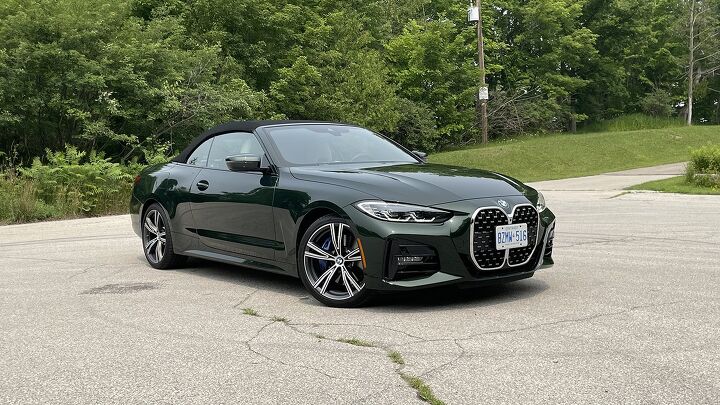 Pricing for the 2024 BMW 430i xDrive Convertible is all a matter of perspective. With a starting price of $61,095 in the United States (all prices include destination charges), it might seem like a steep entry point for 255 hp car. But it's the most affordable way into a four-seat convertible BMW. Plus, how many other cars can seat four people, be driven all year, and allow fun-in-the-sun motoring during the summer?
As tested, the vehicle featured here comes in at $70,670. For our Canadian readers, pricing of the 430i xDrive Convertible begins at $70,730, while our test vehicle came in at $81,930.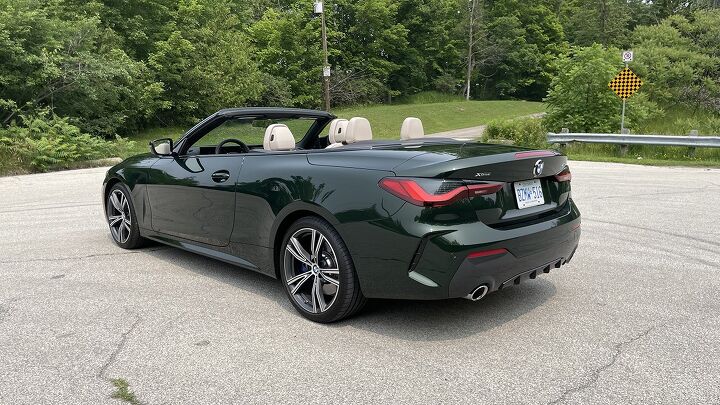 There used to be a special feeling behind the wheel of a 3 or 4 Series BMW. A feeling hard to explain, but easily recognizable by those lucky enough to pilot one of these cars. It was a combination of luxury, quality, and sportiness that set smaller BMWs apart from the competition. Over the years, things changed. It's not that BMWs got any worse, it's just that the competition closed the gap.
With the latest 3 and 4 Series, that magic has indeed returned. There's something about the way these cars respond to a driver's inputs, absorb bumps, accelerate, brake, and corner that's just special. It's so well executed with no glaring mechanical deficiencies.
If one can look past some of the bolder styling details, a car like the 2024 BMW 430i xDrive Convertible isn't just an excellent all-year-around drop-top, it's once again a segment standout.
Become an AutoGuide insider. Get the latest from the automotive world first by subscribing to our newsletter here.
| | |
| --- | --- |
| Engine | 2.0-liter turbo 4-cylinder |
| Output: | 255 hp, 295 lb-ft. |
| Transmission: | 8-speed auto |
| 0-60 mph | 5.8 seconds |
| US Fuel Economy (MPG): | 23 city, 33 highway |
| CAN Fuel Economy (L/100 km): | 10.1 city, 7.1 highway |
| Starting Price (USD): | $61,095 |
| As-Tested Price (USD): | $70,670 |
| Starting Price (CAD): | $70,730 |
| As-Tested Price (CAD): | $81,930 |
Published July 21st, 2023 3:20 PM
Popular Articles
Latest Comparisons
Car Buying Tools