1.5K Views
September 11th, 2023 4:22 PM
Share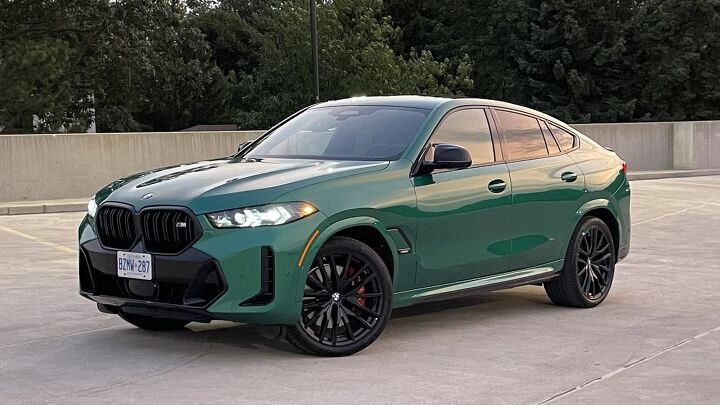 | Love It | Leave It |
| --- | --- |
| Engine Power and Sound | Low Speed Hesitation |
| Interior Design | Gets Pricey |
| Ride Comfort | Thirsty |
The BMW X6 is an extrovert's SUV. It's the high-riding, multipurpose vehicle for those seeking more flash and visual impact than a regular SUV.
Not only does the X6 fall into the SUV Coupe category, many credit it with creating the segment as we know it today. As a quick refresher, SUV Coupes feature more coupe-like styling with sloping rear rooflines. They have four doors but resemble big fastbacks more than a traditional SUV.
Around since 2008, the styling of previous generation X6's never resonated with us. They had an odd, rounded bubbly rear that looked out of portion. It made the vehicle look big and awkward. With the latest generation introduced a few years ago, those complaints disappeared.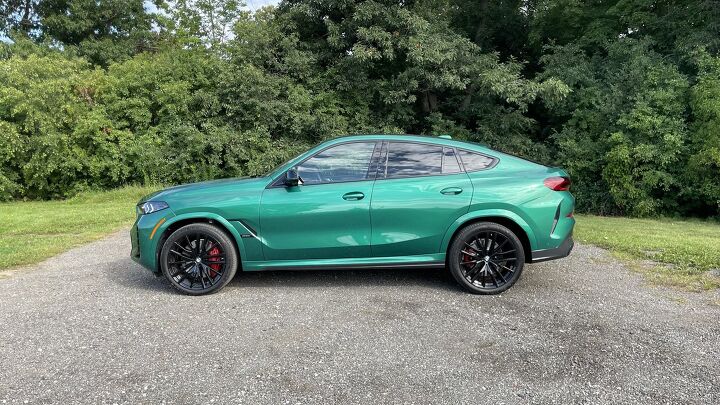 The 2024 BMW X6 has a more chiselled sloping roof and trimmed rear corners. The entire design flows better front to rear and everything looks fully in proportion. As well, the overall visual effect makes the vehicle look smaller than it is.
But it is still a sizeable SUV. At 195-inches (4,960 mm) long and 78.9-inches (2,004 mm) wide, the BMW X6 is a fraction longer, yet the same width as the X5 it shares a platform with. Extenuating its presence further, our tester is painted in hard-to-miss Isle of Man green metallic.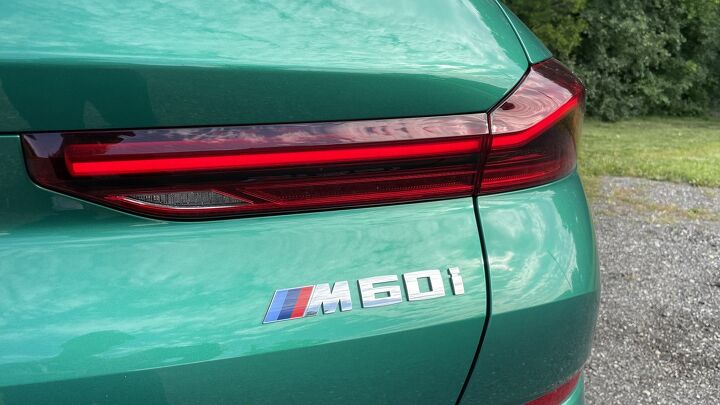 Currently, the X6 is available in three flavors. The entry point to the lineup is the xDrive40i while the top dog in the SUV's stable is the M Competition. Our tester falls in the middle of these two, called the M60i.
Starting at a price of $94,595 ($110,480) including destination charges, a few options were added to the X6. These include the driving assistance, M sport, dynamic handling, and climate comfort packages. The last two come standard in Canada but are extra cost options in the United States.
With the massive 22-inch black alloy wheels included, the as tested price of our X6 M60i comes in at $105,495 ($129,980 Canadian) including destination charges. That's a good chunk of money, one which needs a bit of justification. The first place to look to see why the X6 costs six-figures is the engine.
Performance to Match the Looks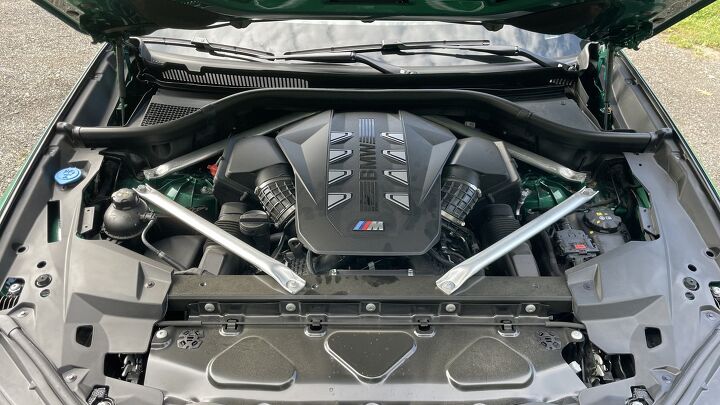 Under the hood resides a 4.4-liter turbocharged V8 that now pumps out 523 horsepower and 553 pound feet of torque. Paired up to an 8-speed automatic transmission and all-wheel drive, the M60i is listed as going from 0-60 mph in 4.2 seconds. But there's more to the story with the drivetrain.
The vehicle also includes a 48V mild-hybrid system integrated into 8-speed automatic. It develops 12 hp and 147 lb-ft. As evident by the SUV's 17 mpg (13.8 L/100 km) city and 22 mpg (10.5 L/100 km) highway fuel economy figures, this mild-hybrid set-up isn't much of a fuel saver. Instead, it's designed to help smoothen initial acceleration during stop/start re-ignitions, and in Eco mode, it can assist with coasting at highway speeds.
Glorious V8, Acceptable 8-Speed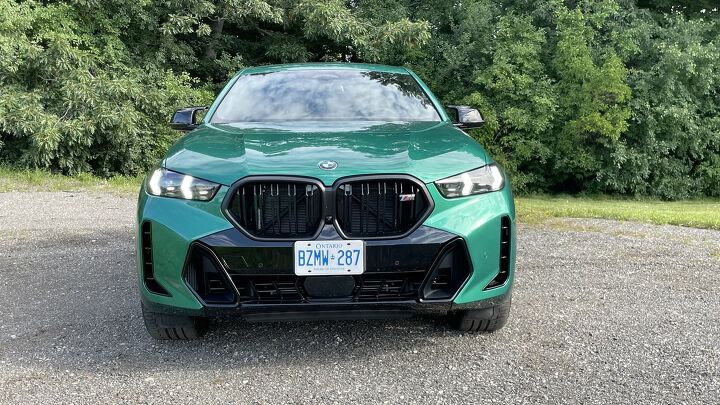 The star of the M60i is that V8 powerhouse. Under most driving situations, there is a nice V8 burble emanating from the tailpipes. It's not overbearing, but reminds the driver that yes, they did indeed spring for this special eight-cylinder.
The engine is so smooth and flexible. It can be quite docile in comfort mode, softly going about its business. Switch over to Sport mode though, and it comes alive. There's so much power at virtually any engine speed. The V8 bellows, unleashing more thrust than needed for most driving situations.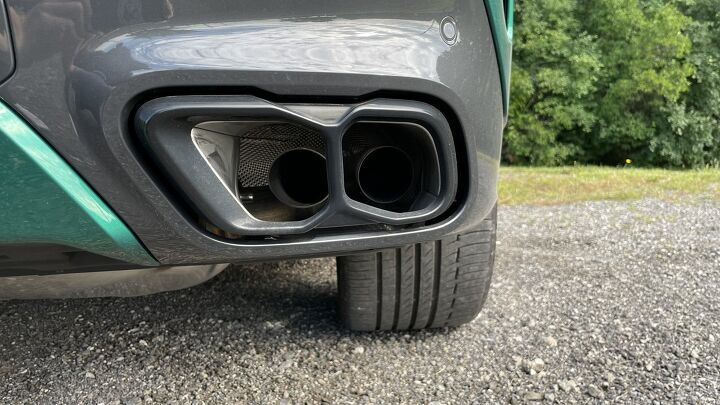 The automatic transmission is good, but not as great as other eight-speed applications we've experienced in BMWs. It works very well for most driving situations, especially mundane city driving. But when a sportier drive is desired, manually downshifting the vehicle doesn't blip into the next gear nicely. It more so rolls into the lower gear, forcing the engine to accelerate up to speed. We learned it's best to leave the vehicle in full-automatic mode. When letting the X6 control its own shifts, it does produce nice blips when downshifting during moderate deceleration in Sport mode.
One other nuance has to do with low-speed transitions. The vehicle is a bit slow to respond in the transition back to accelerating after decelerating for traffic/stops. There's a momentary delay from pressing the gas pedal to when the vehicle begins building speed again. It's not prolonged, but noticeable enough.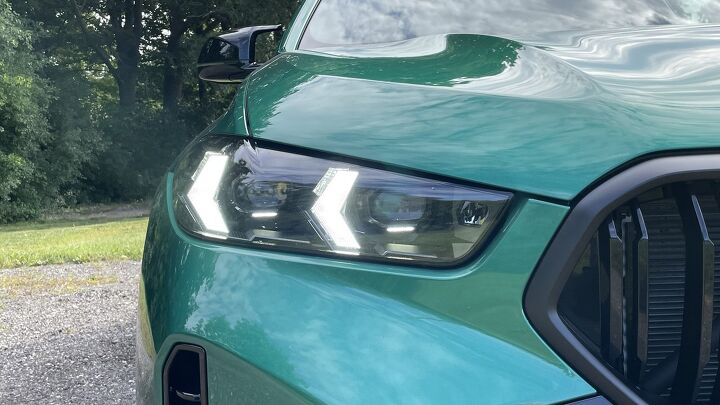 Despite weighing 5,300 lbs (2,404 kg), the BMW X6 M60i is still designed to handle corners at speed. It may not be a full M model, but it does have sporty aspirations. A lot of the design checks off the right boxes with a 51/49 front-to-rear weight distribution, double wishbone front suspension, and massive 275/35R22 front and 315/30R22 rear tires.
Partnered up with the M-sport brakes, adaptive M suspension, and M sport rear differential, there is plenty of mechanical grip. Hustle around an on-ramp and the big SUV hangs on admirably. But even in Sport mode, with the adaptive damper suspension, it's easy to push this X6 past its handling limits. A M3, or even 440i this is not. After all, it's a heavy SUV at its core. It can hold its own, but for maximum handling dynamics, it's the X6 M Competition that's needed.
On the plus side, the M60i's comfort mode provides a more supple ride than expected for a big SUV with sporty pretensions. Even with the large, low-profile tires, this X6 is quite a nice freeway cruiser. Around town large bumps are swallowed up and broken pavement isolated from the driver. The trade off in handling compared to X6 M Competition is made up for in the ride comfort of the X6 M60i.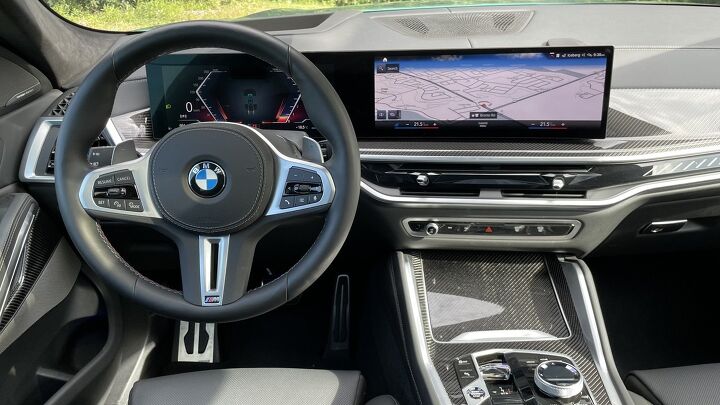 Our tester has the upgraded black Merino leather interior, that combined with the anthracite headliner and carbon trim, provides a classy cabin. Central to the driver is a single pane that houses the 14.9-inch infotainment widescreen and 12.3-inch configurable digital gauge cluster displays. The pane curves slightly around the driver, displaying all the necessary info clearly. It's not too distracting, but also not too sparse. The latest iDrive 8 software is easy enough to operate although some items do need to be searched out through various menus.
Headroom is listed at 39.3-inches (998 mm) for both front and rear passengers. With the panoramic sunroof, it feels more spacious and airier than those numbers suggest. Even with curved roofline, the rear seat holds adults without issue. But the best place to be is up front where passengers enjoy power, heated, and ventilated seats.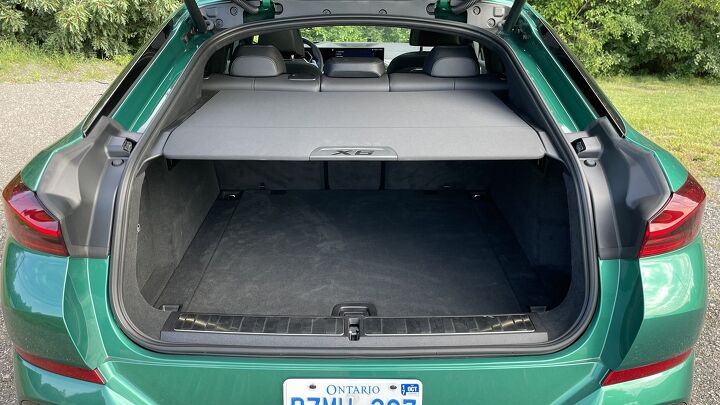 Behind the rear seats resides 27.4 cubic feet (580 liters) of cargo capacity that expands to 59.6 cubic feet (1,530 liters) with the seat backs folded down. The load floor sits high, so loading larger objects may be a bit more difficult. There is a cool cargo feature though. The floor lifts up on gas shocks and reveals a big under storage area. It helps the X6 hold more gear but does dissect the usable space.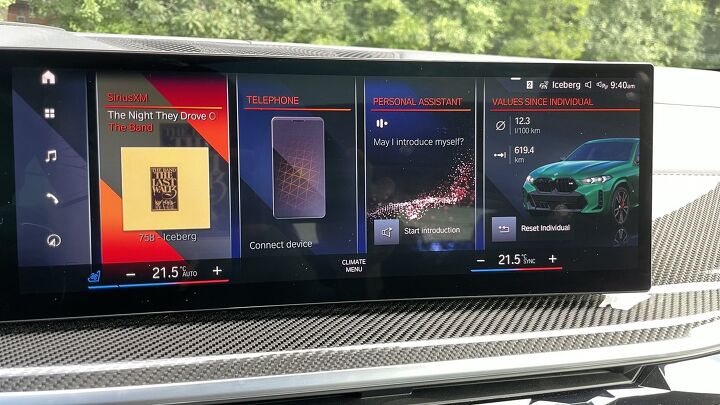 With the X6's market placement and price tag, it's no surprise it comes loaded with plenty of features. Some highlights include a power adjustable steering column, rain sensing wipers, remote engine start, customizable ambient lighting, rear sunshades, wireless phone charging, a Harman Kardon 464 watt 10-speaker system, and head-up display.
On the safety front, there is dynamic cruise control, parking distance control front and rear, adaptive brake lights, automatic high beams, forward collision waring, blind spot detection, lane departure warning, and more.
The Verdict: 2024 BMW X6 M60i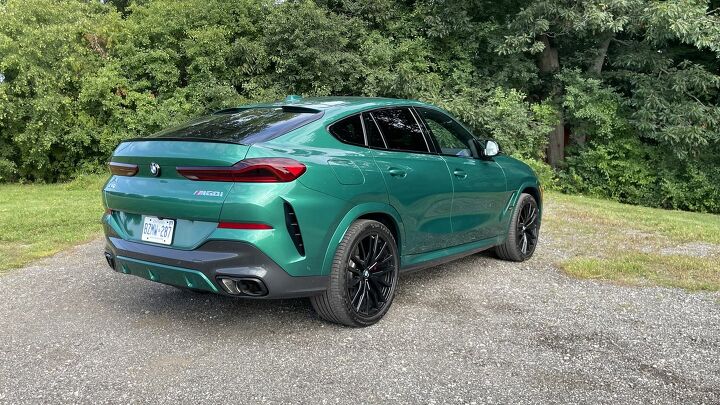 An originator in the market, the refreshed X6 continues to be worthy of consideration. The M60i trim does a good job bridging the gap between the xDrive40i and M Competition. It has all the power one would need with a great V8 soundtrack. It isn't as sharp in terms of driving dynamics as the X6 M, but it's more supple in terms of ride comfort.
SUV Coupes may not be everyone's cup of tea, but for those who love these fastback utility vehicles, the 2024 BMW X6 M60i delivers a pleasing combination of style, power, luxury, and comfort. Price for admission is steep, but that's the reality of this segment.
Become an AutoGuide insider. Get the latest from the automotive world first by subscribing to our newsletter here.
Fast Facts

Engine

4.4-liter turbocharged V8 + mild hybrid

Output:

523 hp

Transmission:

553 lb-ft

0-60 MPH:

4.2 seconds

US Fuel Economy (MPG):

17 city, 22 hwy

CAN Fuel Economy (L/100 km):

13.8 city, 10.5 hwy

Starting Price (USD):

$94,595

As-Tested Price (USD):

$105,495

Starting Price (CAD):

$110,480

As-Tested Price (CAD):

$129,980
Published September 11th, 2023 4:22 PM
Popular Articles
Latest Comparisons
Car Buying Tools