154 Views
The Best Jeep Lift Kits For All Your Off-Road Needs
April 15th, 2022 10:33 PM
Share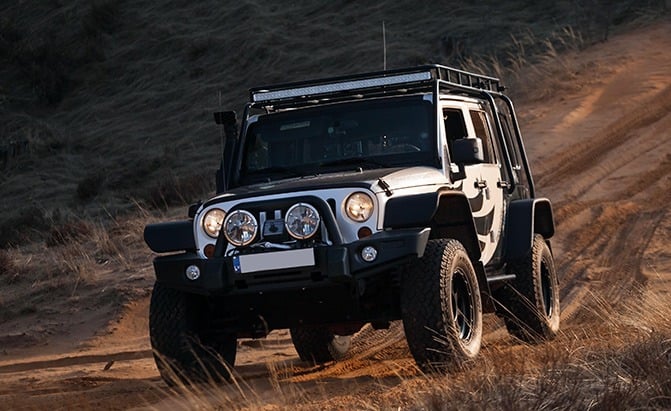 Every Jeep that rolls out of one of the company's factories is ready for off-roading, but Jeep has more than just the trail to consider when the American automaker designs its SUVs. Some buyers want just the looks and need good on-road performance, there are safety and other vehicle standards Jeep needs to follow, and if it makes its vehicles too tall, then drivers and passengers won't be able to get in. If you're a hard-core off-roader though, you need more than the factory can offer. More height to let your axles and differentials pass overtop of rocks and logs instead of striking them. More wheel well clearance to fit taller tires.
What is a Jeep owner to do when they want more? The best Jeep lift kits let you choose as much more as you want, or as much more as your wallet allows. Raise the entire suspension, add more travel, and improve the stance of your Jeep, while making sure taller tires won't hit your fenders. Below, you'll find our picks of the best kits that will help you lift your Jeep, from big to small.
For more information on the best Jeep lift kits, refer to our table of contents.
1. Editor's Pick: Teraflex 2.5" Lift (Jeep Wrangler JK)
This kit is designed for the JK-generation Wrangler, and covers those Jeeps from 2006 through 2014. For two-door models, it's designed to offer a subtle 2.5-inch lift, and Teraflex says that's enough to fit a 35-inch tall tire in the fender arches. It's a complete kit that is designed for off-road capability without compromising handling, while getting to the trail.
This kit comes with longer Teraflex 9550 twin-turbo shock absorbers as well as taller coil springs. That means you get more height for travelling over obstacles, but you also get more suspension travel and better articulation for covering rocks. It also includes all of the hardware you'll need for installation as well as new bump stops, new sway bar link kits to handle the extra length, and this kit comes with the company's steering stabilizer. That stabilizer works to reduce bump steer as well as front end wobble, a common issue for modified and lifted Jeep Wranglers.
| | |
| --- | --- |
| Bottom Line | Mild lift, allows 35s, comes complete with all hardware and stabilizer |
2. Skyjacker 4" Lift Pallet Kit (Jeep Wrangler TJ)
This is a complete kit that is designed to fit Jeep's TJ-generation Wrangler. That covers models from 1997 through 2002, with later TJ models needing a different kit. A four-inch lift is more extreme than most kits, but that extra height will let your Jeep straddle nearly every obstacle. It will also give you the room in your wheel arches to hold massive wheels and tires for bouncing over rocks or crawling through mud.
Four-cylinder and soft-top Jeeps will see an even larger lift because of their lower curb weights. The suspension kit comes with every piece needed all in one box, ready to go. That includes front and rear shocks as well as front and rear springs. The kit also replaces the front and rear lower links, provides a rear track bar bracket, drop pitman arm, and even a transfer case lowering kit. The shocks are Skyjacker's Hydro 7000 line that provide velocity-sensitive valving to change their response based on how hard you hit an obstacle. They also offer a lifetime warranty.
| | |
| --- | --- |
| Bottom Line | Complete kit in one box, speed-sensitive shocks, lifetime shock warranty |
3. Rough Country 2.5" Lift Kit (2011-2020 Jeep Grand Cherokee)
Jeeps other than Wranglers get lifted too. This kit from Rough Country is meant to fit the Jeep Grand Cherokee from 2011 through 2020. The Grand Cherokee uses a strut suspension, so this affordable kit offers spacers for front and rear, rather than a whole new suspension. It doesn't increase suspension travel or articulation, but the 2.5-inch lift does let you fit tires up to 33-inches tall. That means some beefier rubber under your Grand Cherokee for the trail.
The kit offers a lifetime warranty as well, so you know that it should stand up to daily driving and off-roading. This lift also lets you change your factory struts down the road with other units or more off-road friendly options without having to purchase a new lift. All hardware is included and that means locking nuts and washers to help the kit stay tight on the roughest roads you can find.
| | |
| --- | --- |
| Bottom Line | Lifetime warranty, comes with all hardware, complete bolt-on upgrade |
4. Daystar Suspension Lift Kit (2015-2017 Jeep Renegade)
Even the smallest Jeep deserves to spend more time off of the pavement. To help you do just that, this lift is designed to boost your Jeep Renegade crossover by 1.5 inches. Daystar calls it the first "Comfort Ride" lift for the Jeep Renegade, and says that it is 100-percent bolt-on and also FMVSS 126 compliant. That means that you don't need to worry about your lift running into issues with the law.
It comes with progressive rate polyurethane coil spring spacers and new sway bar end links as well as rear control arm brackets. You don't have to disassemble your struts to install the kit, which makes it safer and easier to install, and the poly spacers help eliminate binding, squeaks, and other lift-associated noises. Daystar says tires up to two sizes larger than stock will fit under the body with this lift kit that will work for the Sport, Latitude, Limited, and Trailhawk trim levels.
| | |
| --- | --- |
| Bottom Line | Fit larger tires on smallest Jeep, FMVSS compliant, don't need to disassemble struts |
5. ReadyLift 4" Terrain Flex 4-Arm Kit (Jeep Gladiator JT)
Get ready to bring your Jeep Gladiator up to height with this four-arm kit for the Jeep pickup that brings the nose up four inches and the rear up three. That's enough to let you put giant 37-inch tall tires on your Rubicon trim Jeep or to fit 35s on your Sport or Overland trim Gladiator. The kit comes with linear rate front springs and adds heavy-duty coil spring spacers for the rear.
That choice at the rear lets you keep the factory dual-rate springs, but you do benefit from tougher lower control arms that also let you adjust your suspension caster to make sure the alignment is still correct after the lift. An adjustable front track bar is also tougher for heavy trail use. Maintenance-free bushings make the kit trouble-free down the road and the trail, and then Falcon 2.1 monotube performance shocks designed specifically for this kit make sure the ride and handling perform as well as you do.
| | |
| --- | --- |
| Bottom Line | Maintains tow and payload rating, adds tougher control arms, specially tuned shocks |
6. Mopar 2" Lift Kit (Jeep Wrangler JL V6)
This small lift for the Jeep Wrangler comes with the factory stamp of approval. It's a Genuine Mopar Performance part and offers a two-inch lift for your JL Wrangler. The kit comes with a Mopar warranty and was designed and tested to the same standards as the parts that were on your Jeep when it left Toledo. Four shocks and four new springs are included, as are new control arms, new sway bar links, and all of the other hardware needed to install this lift on your Jeep.
The shocks are from Fox, offering a 2.5-inch diameter aluminum body for better cooling on the trail. They are also tuned specifically just for this kit and to optimize off-road performance. This recommendation installs without driveshaft or brake line replacements. The coolest part of the kit? It comes in a Jeep Performance Parts branded wooden crate that looks cool when it arrives and will look even cooler in your garage once the lift is installed.
| | |
| --- | --- |
| Bottom Line | Factory parts, custom Fox shocks, reusable branded wooden crate |
7. Rough Country 2" Lift Kit (2014-2020 Jeep Cherokee KL)
Bring your 2014-2021 Jeep Cherokee to the off-road party with this two-inch lift kit from Rough Country. It adds a more aggressive look to your modern Cherokee and also gives it more usable ground clearance. The kit is designed to level your Jeep, and will even let it fit 32-inch all-terrain tires, though some trimming may be necessary with the big rubber. It is an all-inclusive kit that comes with spacers for the front and rear struts.
It also comes with all of the hardware that you'll need to install it, along with a brake line and ABS relocation system that is actually built into the spacer. This way, you can keep your factory lines and keep them tucked away out of danger. The design also uses a factory bracket to make sure that the strut can't pivot to an angle it shouldn't, adding durability. This lift kit fits all Cherokees from that generation, except 2019 and newer Trailhawk models.
| | |
| --- | --- |
| Bottom Line | Built-in brake line and ABS relocation, maintains factory ride comfort, levels front and rear |
8. JKS 1.25" Body Lift (Jeep TJ)
Sometimes you want more lift than a new suspension can offer, or you already have a suspension lift and need more clearance. For that, you'll want a body lift like this one from JKS. Made for the TJ, it offers a 1.25-inch lift to Jeeps that are already up to two-inches taller than factory. A body lift doesn't give you extra ground clearance, at least for important parts like the engine and axles, but it does give you room for taller tires without the need to cut your fenders.
This lift doesn't affect your suspension, so you don't need an alignment and it won't cause drive shaft issues. The kit contains new body bushings that raise the body higher above the frame but don't require any mods to the fuel tank, air conditioning, or other key components. JKS includes all necessary hardware, as well as instructions to get the lift installed and get you on the trail.
| | |
| --- | --- |
| Bottom Line | Adds tire clearance without affecting driveline or suspension, includes all hardware, works on Jeeps already lifted |
Why should I lift my Jeep?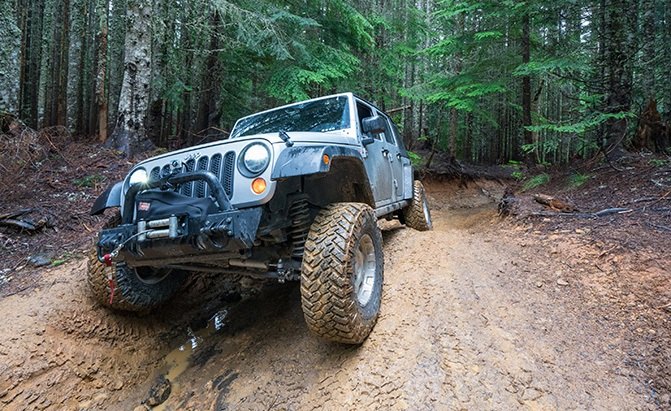 Photo credit: Nathan Pang/Shutterstock.com
Clearance
Sometimes the difference between making it over an obstacle and heading home, or between a fun afternoon and a punctured oil pan, is being able to go over that log, that rock, or that rut in the center of the trail. Lifting your Jeep lets you clear larger obstacles. It can also let you go up steeper hills without driving your front bumper into the rocks or clear the top of a hill and head back down without getting stuck on the center of your frame.
Strength
Many of these lift kits come with shocks, struts, and control arms that are built stronger than the factory parts. That lets them withstand higher loads like being battered by rocks or the weight of a taller tire. These stronger parts are less likely to fail on the trail and leave you stranded if you really start to push your Jeep.
Looks
We'll admit it, some people want to lift their Jeep not to cross the Rubicon, but to look cooler in the parking lot. Hey, whatever floats your boat, right? A lifted Jeep on bigger tires just looks cooler than the standard suspension. Even if it's a Renegade.
What are the different types of Jeep lift kits?
A suspension lift is the most common type of lift for Jeeps because it offers the largest off-road performance improvement. Suspension lifts come in two forms. The first uses stock-length suspension components and spaces them further from the body, usually with a block under the springs or above the struts. This adds ground clearance, and is the cheapest option, but doesn't improve suspension travel or articulation.
The second replaces the stock shocks and springs or struts with longer-than-stock parts. Not only does this give the Jeep more clearance, it also adds more suspension travel, which adds ride comfort on the trail and keeps all four tires on the ground when you're traversing a rock garden, a steep lump, or anything else that would normally put you one tire in the air.
A body lift is meant for body-on-frame vehicles only. It puts thicker body mounts between the frame and the body, moving the bodywork away from the chassis. It can give you more wheel well room for taller tires, and stop you from hitting the floor on rocks, but it doesn't give the frame, engine, or other soft bits any extra clearance.
---
We are committed to finding, researching, and recommending the best products. We earn commissions from purchases you make using the retail links in our product reviews. Learn more about how this works.
Main photo credit: BoJack / Shutterstock.com
Published August 10th, 2021 8:01 AM
Popular Articles
Latest Comparisons
Car Buying Tools