1 View
The Best Nitro RC Cars and Accessories for Miniature Racing Fun
July 26th, 2022 12:14 PM
Share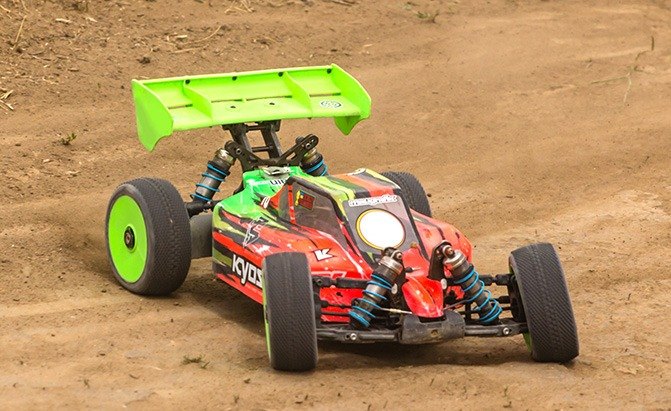 A radio-controlled car is one of the most popular toys for kids of all ages who like things that can go fast. But what if you're tired of the battery-powered RC cars that dominate shelf space at toy stores across America? Well, the logical next step is a nitro RC car.
The first thing you need to know about nitro RC cars is that these are not toys, despite the outward similarities to the electric radio-controlled vehicles you grew up with. Nitro (short for nitromethane) fuels a tiny combustion engine, in place of the batteries and electric motors you may be more familiar with.
A nitro engine may be tiny, but it is mighty. Even the basic nitro RC cars that made our list are capable of speeds around 40 mph, meaning they could keep up with traffic on some urban roadways. And because they burn fuel, you get the smell and sound of a race engine in a vehicle you can pick up with one hand.
If any—or all—of this sounds like your cup of tea, read on for our recommendations for entry-level nitro RC cars that you can buy. We've also included some related products that will help you derive the most enjoyment possible from your new high-octane hobby.
For more information on the best nitro RC cars, refer to our table of contents.
1. Editor's Pick: HSP 1:10 Scale Nitro Off-Road Buggy
This buggy rides on a four-wheel independent suspension with oil-filled shocks, which attaches to a 6061/T6 aluminum chassis, and boasts solid universal joint cups and high-performance ball bearings that promise to put your motor's power to the road efficiently and reliably.
An extra-large leak-proof fuel tank helps you avoid wasting valuable nitromethane, while a spring-loaded fill cover allows for quick refueling so you can spend more time driving. A 13.8-gram flywheel allows the motor to spin up quickly and helps this RC buggy reach a top speed of 40 mph. Alloy bevel differential gears provide good cornering response and are easy for you to maintain with just a five-screw assembly.
Meanwhile, a 2.4GHz remote control boasts a control distance of about 330 feet. If you fear the car is about to go out of control range, hit the brakes: fiberglass disc brakes bring this car to a stop quickly and have replaceable pads.
This RC car is semi-waterproof, so you don't have to pack up your toys and go home if it's raining. However, the car is not built to withstand being submerged in deep water.
| | |
| --- | --- |
| Pros | A good starter kit for those new to nitro RC cars, two-speed transmission, replaceable brake pads |
| Cons | Some owners complained the engine pull-start cord breaks easily, you have to use your mouth to prime the engine for easier starting |
2. Best Nitro RC Car for Smooth Surfaces: HSP 4WD Two-Speed Drift Car
HSP is a big name in nitro RC cars, as you might have ascertained by now. Here, the company moves from the off-road environment to smooth surfaces with a 1:10-scale drift race car.
Fittingly for a drift car, this kit is modeled after the fabled Nissan GT-R sports coupe. Despite being made to travel over more forgiving terrain than HSP's buggy, this drifter sticks with 4WD traction to give you efficient power delivery. Speaking of power, that comes from a motor with a 13.8-gram flywheel and a variable shockproof spring, and you'll get extended drive time from a large-capacity, leak-proof fuel tank.
A two-speed transmission lets this drift car reach speeds of 40 mph, while front and rear differentials with bevel gears and five screws provide reliable power delivery and easy maintenance. The 2.4GHz radio controller's roughly 330-ft range means you don't need to be right next to the car to keep it moving.
Cornering grip comes from V-groove tires, which make the best of the strong stopping power provided by fiberglass disc brakes with replaceable pads.
| | |
| --- | --- |
| Pros | Adjustable ground clearance, 4WD means efficient traction even on smooth surfaces, two-speed transmission |
| Cons | This RC car only works well on very smooth ground, some buyers say some components are of poor quality |
3. HSP 1:10 Scale Off-Road Nitro RC Monster Truck
Have you ever wanted to drive your own monster truck? HSP wants to give you the chance with its take on a 1:10-scale radio-controlled version. Big, knobby tires promise you the ability to conquer any obstacle, while independent suspension allows those tires to maintain traction over a variety of surfaces.
Power comes from a 0.18 CXP engine with a 13.8-gram flywheel, so you'll enjoy quick throttle response. The motor is fed by a 75-cc fuel tank with an overflow pipe and a high-flow air filter and will propel the truck to nearly 40 mph through front and rear differentials and a single-speed transmission with high-performance ball bearings and gears.
HSP admits this isn't the fastest nitro-powered monster truck you can buy, but instead claims it's one of the toughest, with a thick aluminum chassis and twin oil-filled shock absorbers at each wheel that practically challenge you to see what this truck can take.
The kit includes the truck, a 2.4GHz radio control unit, a tool kit, and a user manual. You'll need to provide eight AA batteries and either 16- or 20-percent nitro fuel.
| | |
| --- | --- |
| Pros | An affordable way to get into nitro RC car racing, durable suspension and aggressive tires for off-road performance |
| Cons | Engine must be broken in according to the instructions, one buyer complained of poor customer service from the manufacturer |
4. Innovateking 2.74CC 1:10 Scale Nitro Engine
Once you get the hang of nitro RC car racing, it's time for aftermarket modifications. You can start customizing your nitro racer with this motor from Innovateking, which is designed for use in a variety of 1:10 RC cars from brands like HSP, HPI, Redcat, and Traxxas.
Displacing 2.74 cc and capable of spinning to 36,000 rpm, this nitro motor generates up to 1.8 hp and boasts high torque thanks to a 7-mm double-needle carburetor made of aluminum-plastic composite materials. Innovateking says its motor's high-quality aluminum alloy construction is durable and designed for long-term use, with good heat dissipation. Burned fuel is expelled through a side-row exhaust, and power goes to the transmission through a 12-mm crankshaft.
Adjustable main and secondary oil needles allow you to tweak the motor's performance; by turning the main oil needle, you can coax more high-end power out of the motor and increase your RC car's top speed.
Included in this kit are a fire head, a single bearing, a hand-pull starter, and an instruction manual.
| | |
| --- | --- |
| Pros | A great upgrade for 1:10-scale RC cars, easy to start and revs quickly for strong power |
| Cons | Some buyers complain of poor durability, while this motor fits many RC cars, it is not compatible with all nitro RC kits |
5. Redcat Racing Nitro RC Starter Kit
Getting up and running in nitro RC racing involves more than simply buying the car itself. You need tools and countless other accessories to get the most out of the hobby, which is where this Redcat Racing starter kit comes in.
Included in Redcat's box are two mini screwdrivers with Phillips and flat heads. It also includes two wrenches. One is a six-way tool meant primarily for working with glow plugs measuring 5.5, 7, 8, 10, 12, and 17 mm, and it also facilitates the storage of two glow plugs. The other wrench is a smaller four-way tool that fits 4-, 5-, 5.5-, and 7-mm nuts. There's also a 250-cc fuel filler; in the interest of full disclosure, note that the kit does not include the fuel shown in the main photo with Redcat's product listing.
Finally, the Redcat starter kit contains a rechargeable glow igniter for starting your nitro motor. It's a 1.2-volt unit with an 1,800mAh nickel-metal hydride battery, along with a wall charger that Redcat says will charge the igniter in about eight hours.
| | |
| --- | --- |
| Pros | A useful kit for someone getting started in the nitro RC car hobby, versatile tools work with a variety of motors and RC cars |
| Cons | Fully charged igniter is only good for one start before it needs to be charged again, some buyers complain the igniter is not well-made, other buyers reported flaws with the fuel bottle |
What features should you look for in a nitro RC car?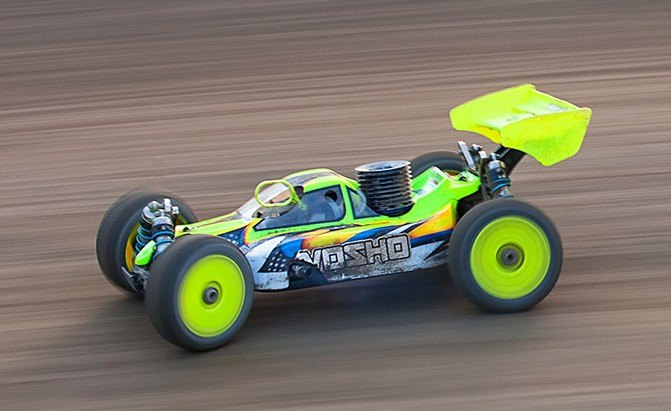 Photo credit: Marten_House / Shutterstock.com
Electric starting: Some nitro motors have onboard starters. Simply connect a battery, the glow plug will warm up automatically, and a little electric motor will start the engine. Alternatively, you can buy a shaft starter, which contains a battery and motor. You simply attach the shaft to the nitro motor and activate the starter to get your car running. On the plus side, this reduces the RC car's onboard weight; the negative is that you still have to manually heat the glow plug.
Long control range: Because many nitro RC cars are capable of serious speed, it's important to choose one you can control from a long distance. The HSP models we included in this list all have 330-ft control range. That's good, but consider that at the 40 mph top speed these RC cars are capable of, you will be out of range in well under 10 seconds.
How does a nitro RC car engine work?
Nitro is short for nitromethane, the fuel that these RC cars run on. The motor works like a diesel engine: there is no spark plug, so the fuel is ignited by a combination of a glow plug and the compression the motor's piston generates as it moves up and down in the cylinder.
There is a variety of nitro fuel grades available that contain varying proportions of nitromethane depending on the kind of RC car you have. Fuel grades are denoted by the percentage of nitromethane it contains, anywhere from about 15 percent to 55 percent. The higher the percentage, the more power the fuel will generate when your motor burns it.
Starting a nitro RC motor is not as simple as turning a key as you do in your daily driver car. First, you have to use a battery-powered glow starter to heat the engine's glow plug. Once the glow plug is hot, you can start the motor using one of the methods we detailed above: a pull-starter, an electric shaft starter, or an onboard electric starter.
What does it take to keep a nitro RC car running well?
Nitro motors are finicky little machines that require a lot of tweaking to keep them performing well. Your RC car kit or replacement motor will come with instructions for how you can tune it to compensate for a variety of operating conditions like humidity, barometric pressure, and temperature.
Are there any safety considerations to keep in mind when running a nitro RC car?
Like any vehicle with an internal combustion engine, a nitro RC car is noisy and emits exhaust fumes. The small size of the engine means there's not enough exhaust to pose serious health harms, but some people may find the smell and sound unpleasant. Obviously, nitromethane is flammable, so you must handle and store it with care.
With those considerations in mind, it's best if you avoid using your nitro racer near other people who aren't as keen about the hobby as you are.
---
We are committed to finding, researching, and recommending the best products. We earn commissions from purchases you make using the retail links in our product reviews. Learn more about how this works.
Main photo credit: Oleksandr Kostiuchenko / Shutterstock.com
Published January 4th, 2021 12:38 PM
Popular Articles
Latest Comparisons
Car Buying Tools