629 Views
2022 Dodge Challenger SRT Jailbreak
October 31st, 2022 4:49 PM
Share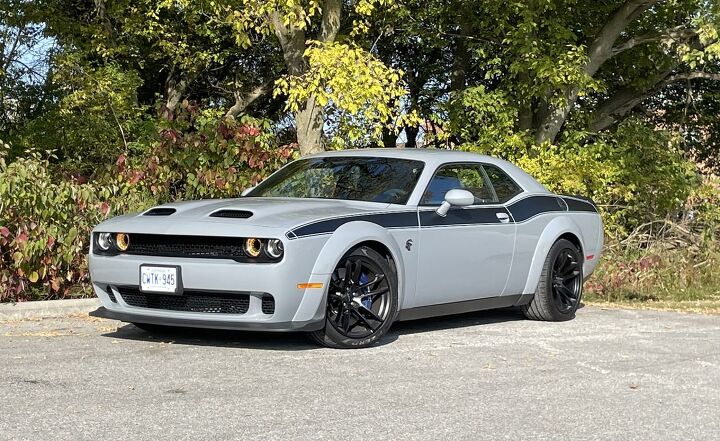 FAST FACTS
| | |
| --- | --- |
| Engine: | 6.2L V8 Supercharged |
| Output: | 807 hp, 707 lb-ft |
| Transmission: | 8AT, RWD |
| US fuel economy (MPG): | 13 / 21 |
| CAN fuel economy (L/100KM): | 18.6 / 11.3 |
| Starting Price (USD): | $86,235 (inc. dest.) |
| As-Tested Price (USD): | $100,571 (inc. dest.) |
| Starting Price (CAD): | $114,455 (inc. dest.) |
| As-Tested Price (CAD): | $126,170 (inc. dest.) |
In a world obsessed with weight savings, efficiency, and electrification, there are always rebels.
The vehicles that do not submit to modern conventions. The ones flying the flag of old-school ideals. The 2022 Dodge Challenger SRT Jailbreak is one of these such vehicles.
It flips a big supercharged middle finger at conformity. In a world where most vehicles are trying to be all things to all people, the Jailbreak is comfortable in its singular mission; raw, unrelenting levels of fuel burning horsepower. The Challenger's days may be numbered, but the Jailbreak is ready to go out in cloud of tire smoke and V8 thunder.
Subtle It Is Not
Anyone with a casual interest in automobiles should be aware of the Dodge Challenger by now. The same basic car has been on sale since 2008 and it's not hard to miss it on the road. With an overall length of 197.5 inches (5,017 mm) and width of 78.3 inches (1,990 mm) for widebody versions, it's longer than a three-row Toyota 4Runner and wider than the 8-passenger Nissan Pathfinder.
The Challenger has always been a vehicle full of choice. Countless engine, drivetrain, transmission, and exterior styling options are available. But those looking for the best of everything the Challenger has to offer should settle for nothing less than the Jailbreak.
Jailbreaking 800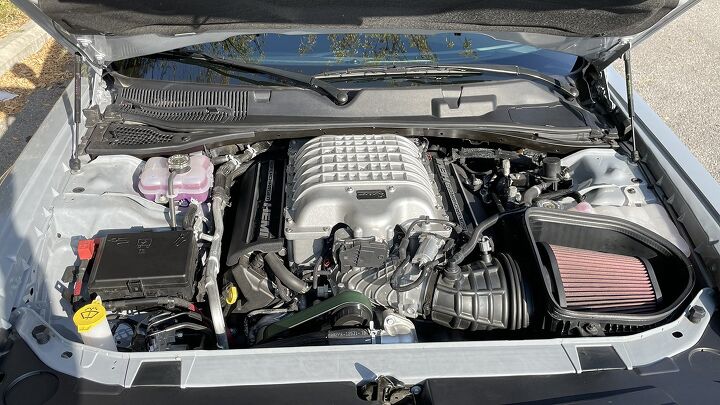 Officially called the 2022 Dodge Challenger SRT Jailbreak in America, the Canadian labelling of the vehicle better defines what the model is: the Dodge Challenger SRT Hellcat Redeye Widebody Jailbreak. As this name suggests, the vehicle starts life as the Hellcat Redeye with the Widebody installed.
The Jailbreak part comes by including the SRT Super Stock engine. It takes the Redeye's 6.2-liter supercharged V8 engine power from an unacceptable 797 hp to an eye-watering 807 hp. Torque remains unchanged at 707 lb-ft., which is a step up from the Hellcat's 656 lb-ft. All this power is sent to the rear wheels through an 8-speed automatic transmission. Sorry, no manuals for the Redeye/Jailbreak engine.
Cold, Wet, and 807 HP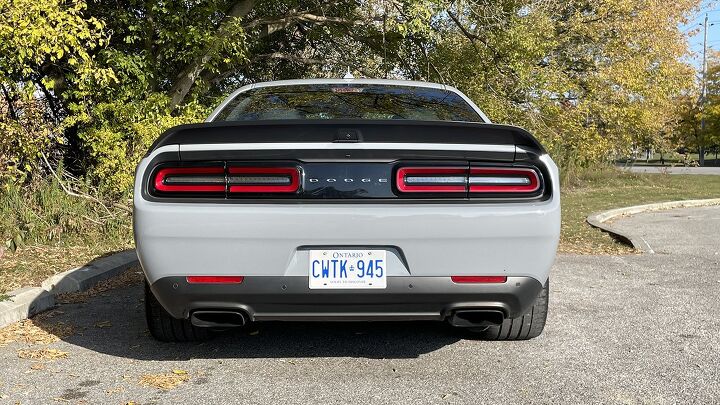 So, what's it like driving a modern muscle car with over 800 hp? Equal parts thrilling, euphoric, and terrifying. The latter may be due to the timing of this test drive. The highest temperature witnessed during the week was in the upper 60s fahrenheit. Most of the week though was spent in the 40s and low 50s with on and off rain.
Getting all that power down at low speeds is a futile exercise in those conditions. Mere half throttle starts would generate wheel spin, leading to clouds of vaporized Pirelli rubber; even with the taller, less aggressive 2.62 rear gear ratio installed.
But when it is dry and relatively warm, highway full-throttle pulls are insane. Only the instant torque from high powered EVs can match the wall of thrust the Jailbreak produces. Stomp down on the accelerator and the V8 begins to bellow from the rear while the supercharger wails up front. It's a five-star symphony for anyone with petrol running through their veins.
Weight and Aero be Damned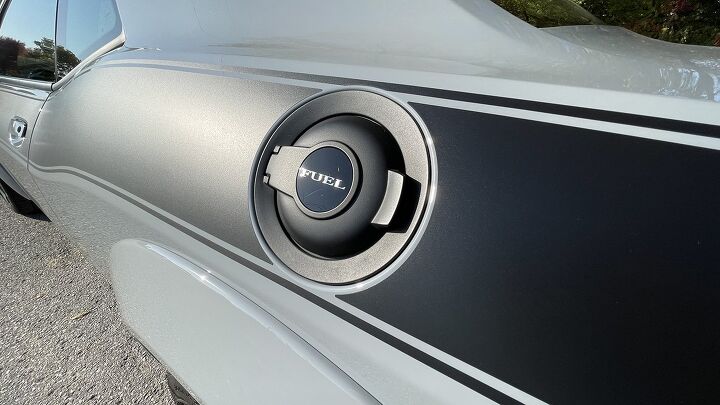 And speaking of petrol, yes, the 2022 Dodge Challenger SRT Jailbreak is thirsty and only drinks premium fuel. Officially, it's rated at 13 mpg (18.6 L/100 km) in the city and 21 mpg (11.3 L/100 km) on the highway. Honestly though, those aren't terrible numbers for a vehicle with 807 hp that weighs 4,481 lbs (2,032 kg).
Yes, you read that right – four thousand, four hundred, and eighty-one pounds. That's heavier than quite a few trims of the Ford Explorer. But you know what, who cares? Even coupled with less than ideal aerodynamics, nothing is going to stop the Jailbreak on way to its claimed 200+ mph (322 km/h+) top speed, expect maybe law enforcement.
Handle with Care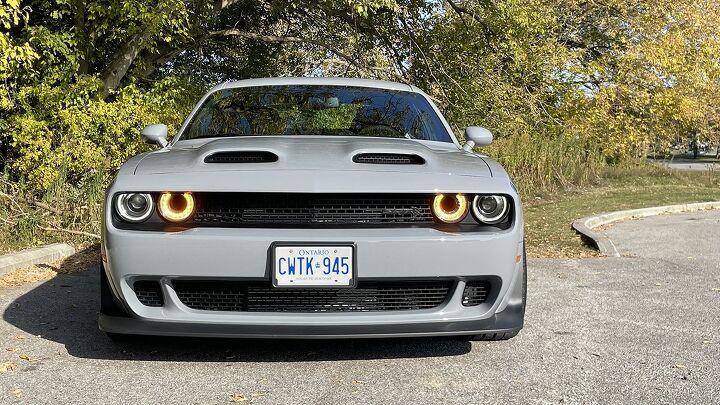 The weight though is less hidden when it comes to handling. Straight line performance is the Jailbreak's top priority, but Dodge's engineers have done their best to make it acceptable at cornering. The car features a 14.4:1 steering ratio and a suspension system highlighted by Bilstien adaptive damping shocks. With a massive supercharged V8 up front, the car's weight distribution suffers, listed at 57%/43% front to rear.
Everything about the 2022 Dodge Challenger SRT Jailbreak is big, including the wheels, tires, and brakes. At all four corners are the optional 305/35ZR20 Pirelli P Zero three-season tires. The front brakes consist of 15.7-inch rotors and six-piston calipers while the rear utilizes 13.8-inch rotors and four-piston calipers.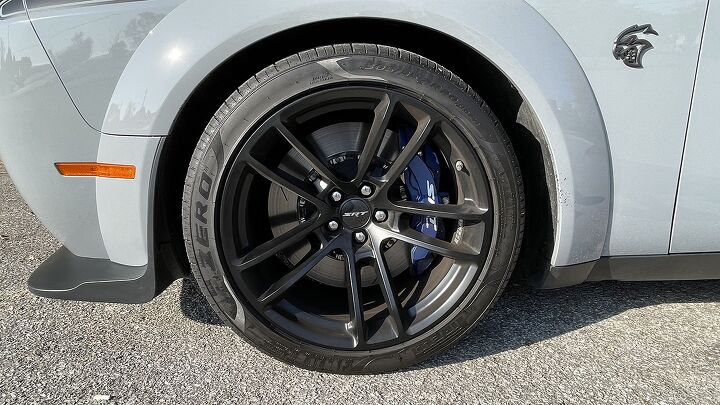 All this kit does do its best to hide the car's mass. There's impressive cornering grip and the car responds better than a nearly 4.500 lbs car should. But it won't be mistaken for a sports car, or even a nimble muscle car. A Toyota Supra or Chevrolet Camaro 1LE this is not.
In the wet, things get quite hairy, especially when cold out. Surprisingly, it's not the power to the rear wheels that's the main issue. It's those steamroller front tires. With so much width and minimal grooves, they're prone to washing out and hydroplaning on the smallest of puddles. One drive during a downpour on a rutted freeway commanded our full attention.
Rottweiler Personality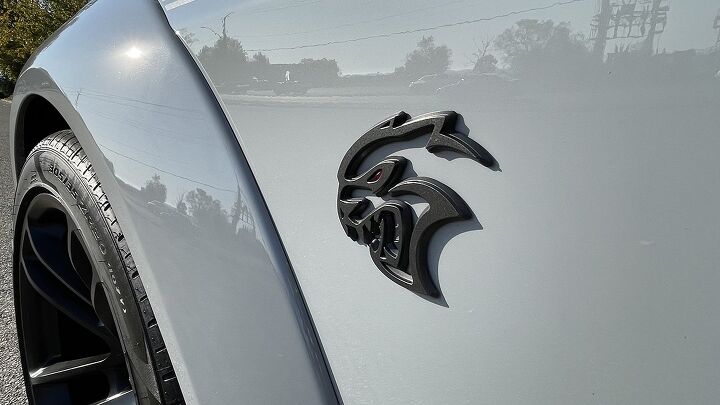 The Jailbreak is a lot like a Rottweiler. It can be aggressive, intimidating, and ready for action at any moment, but there's also a gentle, cuddly side to it. A lot of this is due to the adjustable modes in the SRT menu.
In total, there are four modes – Auto, Custom, Sport, and Track. Each mode adjusts functions like engine power, transmission settings, traction control, suspension dampers, steering feel, and more. There are other options in the SRT menus such as an adjustable Launch Control, programable Shift Light, and everyone's favorite Cars and Coffee feature – burnout inducing Line Lock.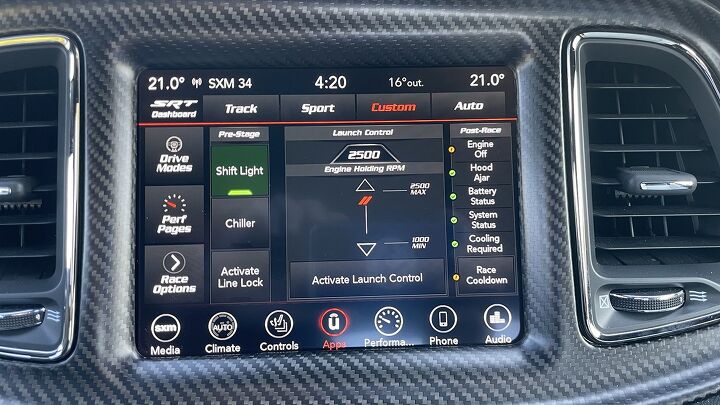 The default drive mode is Auto which reduces engine power and provides the most docile driving experience. With Auto engaged, we drove a family of three (and a small dog) across town, through terrible traffic, in full comfort. It's an insane thing to say about a muscle car with over 800 hp, but it's true.
However, in Auto mode, even when hammering the gas pedal, full acceleration from all 807 hp is not available. A more aggressive SRT mode is needed to unleash the supercharged beast. We spent a lot of time with Custom mode engaged, set to full engine power, track-like steering, but street-levels of comfort and traction.
Usable Interior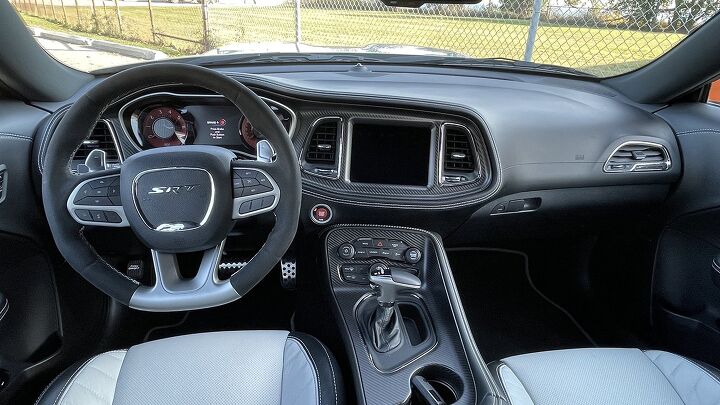 Unsurprisingly, a big car leads to a big interior. For a coupe, there is a lot of space inside the five-seat Challenger. Front seat passengers have 39.3-inches (999 mm) of headroom and the all the hip room they could ask for. The rear seat is probably still best reserved for children, but much larger ones can fit back there than say in a Ford Mustang or Chevrolet Camaro.
One passenger made the comment that they felt like they were in some old school car as it felt huge inside with its crazy width and long hood. For the Challenger, we believe that's mission accomplished. Heck, even the trunk is massive with 16.2 cubic feet cargo space available. We were able to fit four boxed 17-inch wheels in there with room to spare.
Customize to Your Heart's Content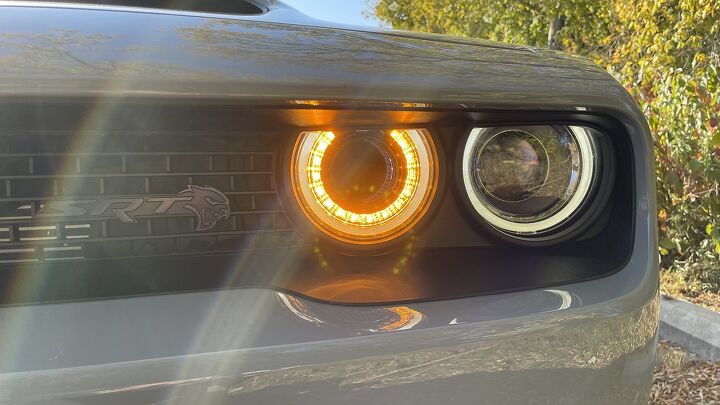 Like nearly every aspect of this car, the Jailbreak takes the Challenger's usual customization and turns the dial up to eleven. There is a ton of vibrant colors to choose from, or some that are more subtle like Smoke Screen, which is how our test car came painted.
One can opt for a satin black hood, roof, and/or trunk. There are six brake caliper colors to choose from, seven wheel design options, five interior colors, four seatbelt colors, five console finishes, and even two steering wheel finishes, complete with a light up SRT logo. Then, of course, there's always the various exterior stripes to select from.
As should be expected, customizing can inflate an already steep starting price. The 2022 Dodge Challenger SRT Jailbreak starts at a price of $86,235 including destination charges in the United States, or $114,455 in Canada. With a laundry list of options added, the as tested price for the vehicle pictured here came in at $100,571 as tested for American shoppers or $126,170 for those in Canada.
2022 Dodge Challenger SRT Jailbreak: The Verdict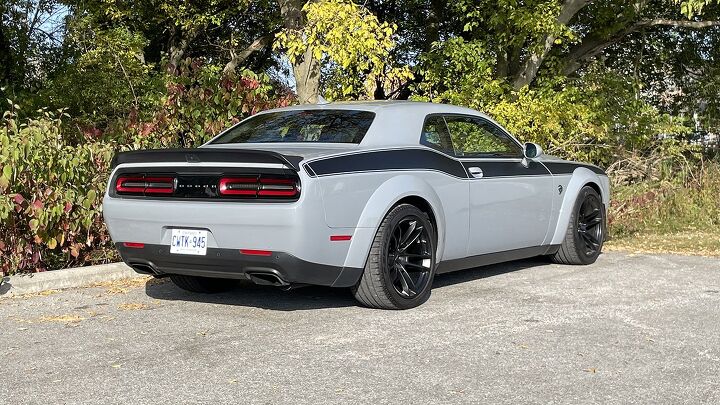 The Jailbreak truly is unapologetically muscle. It oozes presence and garners a reaction everywhere it goes. When my seven-year-old son first saw it, he exclaimed "Cool car Daddy! It looks like a race car!" We don't think we took a single drive without someone giving us the thumbs up or prompting us to hammer the gas.
The car is as close to a 1960s ground pounding quarter mile beast as one can buy today, but built to 2022 standards for safety, comfort, and convenience. It's far from a perfect car, but that's part of its charm. It's a big silly coupe that produces endless smiles per mile.
Sadly though, next year marks the end of the line for these big, supercharged brutes. But if Dodge captures this personality on the brands future all electric muscle cars, we'll all be better for it.
---
FAQs
How much does a 2022 Dodge Challenger Jailbreak cost?
Pricing for the 2022 Dodge Challenger SRT Jailbreak starts at $86,235 including destination charges in the United States, or $114,455 starting in Canada.
How much horsepower does the 2022 Challenger jailbreak have?
807 unhindered ponies! We may have mentioned it once or twice in this article. 
What is the SRT Jailbreak?
The Jailbreak is a trim on top of the 2022 Dodge Challenger SRT Hellcat Redeye Widebody. It adds more power and more customization to the car. 
Become an AutoGuide insider. Get the latest from the automotive world first by subscribing to our newsletter here.
LOVE IT
807 Glorious HP
Style and Sound
Surprisingly Liveable
LEAVE IT
Fuel Economy
Pricing a Bit Steep
Wet Weather Performance
Published October 31st, 2022 4:49 PM
Popular Articles
Latest Comparisons
Car Buying Tools