25 Views
March 1st, 2021 9:30 AM
Share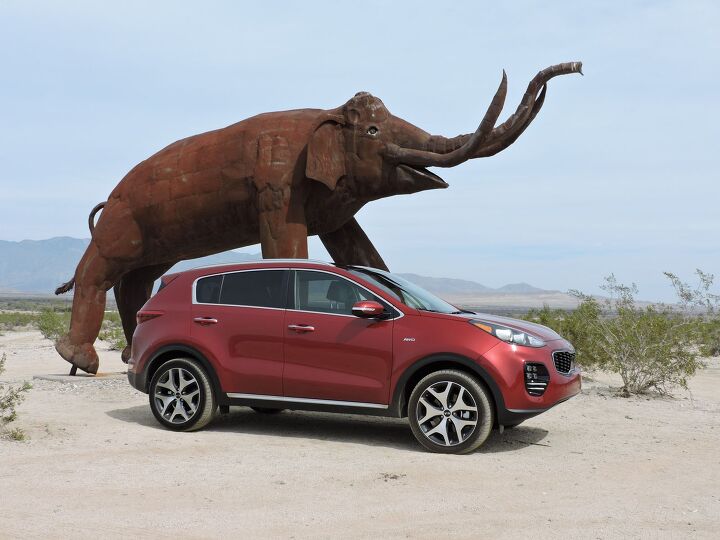 The Kia Sportage is a bit of an outsider in the world of compact crossovers.

It's an oddball that has always walked to the beat of its own drum. This year, it's no different. The all-new 2017 Sportage may appear fairly conventional at first glance, but take a deeper look and there are a lot of differences from the usual swarm of Honda CR-Vs, Toyota RAV4s and Ford Escapes.
For starters, there's its shape. Now entering its fourth generation, the Sportage has grown 1.6 inches in total length, but at 176.4 inches long, it's still shorter than most of its competition. With a width of 73-inches, it's wider than any other compact crossover though. This gives the Sportage a nice, proportioned stance that doesn't appear tippy like some of its competitors.
The styling too offers a few unique elements not found on other CUVs. Most prominent are the "ice cube" cluster of four LED fog lamps on either side of the front bumper. And while on the topic of the front bumper, two different styles are offered depending on which drivetrain is selected. Front-wheel drive Sportages get a lower, squared off front fascia while all-wheel drive models receive a higher, angled front bumper that improves approach angles.
FAST FACTS
| | |
| --- | --- |
| Engine: | 2.4 L four-cylinder |
| Power: | 181 hp, 175 lb-ft. |
| Optional Engine: | 2.0 L turbocharged four-cylinder |
| Power: | 241 hp, 260 lb-ft. |
| Transmission: | Six-Speed Automatic |
| EPA Fuel Economy (SX): | 20 mpg city, 23 mpg hwy, |
| US Price: | Kia Sportage LX FWD begins at $23,885 after destination charges, Sportage SX AWD costs $34895 |
| CAN Price: | Kai Sportage LX FWD begins at $26,520 after destination charges, Sportage SX AWD costs $41,120 |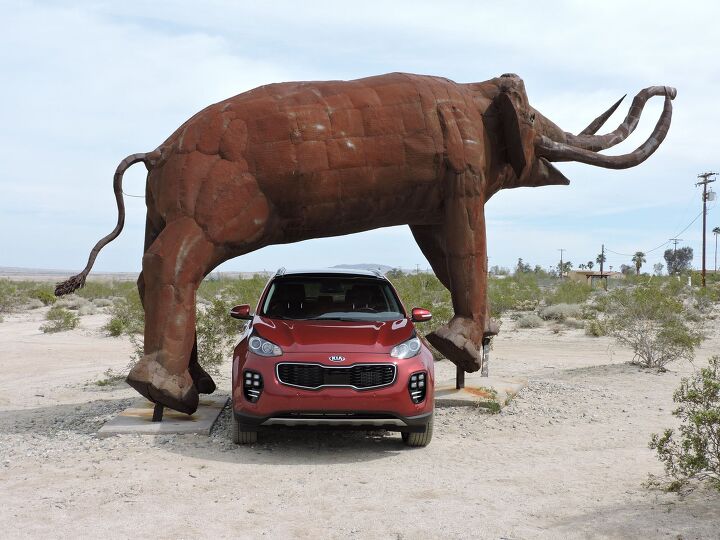 New All-Wheel Drive System
Ride height also increases nearly a half inch when all-wheel drive is selected to 6.8-inches total. This isn't exactly the kind of clearance that will have the Sportage rock crawling through Moab, but it doesn't mean the Kia is a complete off-road pushover either.
SEE ALSO: 2017 Kia Sportage Video First Look
For 2017 the all-wheel drive duties are handled by a new active all-wheel drive system supplied by Magna. It sends power to all four-wheels during initial acceleration, then reverts to primarily front-wheel drive until slip is predicted. At that point upwards of 60% of the engines power can be sent to the rear wheels. If some serious mud, dirt or snow driving is about to be undertaken, the electronic center differential can also be manually locked by the driver, splitting power 50/50 front to rear.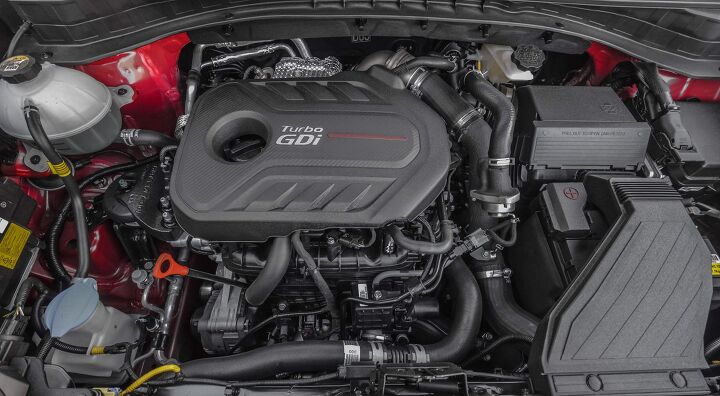 Familiar Engines, Plenty of Power
Like the third generation Sportage, the new model offers a little more power under the hood than most of its competitors. The base engine remains a 2.4-liter four-cylinder that receives updates this year to make 181 hp and 175 lb-ft of torque. Those looking for more power will be happy to know there is still the 2.0-liter turbocharged four-cylinder engine. This year it too receives a refresh, mainly in the name of improved fuel economy. This has shrunk horsepower by 19 ponies and torque is down 9 lb-ft. Still, with 241 hp and 260 lb-ft of torque, that's more than any other vehicle in its class aside from the Subaru Forester XT and Ford Escape 2.0-liter Ecoboost.
Either engine can be had with front or all-wheel drive and are mated to a six-speed automatic transmission. I had the chance to sample both the front- and all-wheel drive versions of the turbocharged 2017 Sportage SX.
Engine power is plentiful and rightfully feels more stout than most of the Sportage's competitors. But compared to the Forester XT and Escape 2.0-liter Ecoboost, it doesn't feel as swift or responsive. The latter does improve if the Kia is put into sport mode, but that adversely affects fuel economy.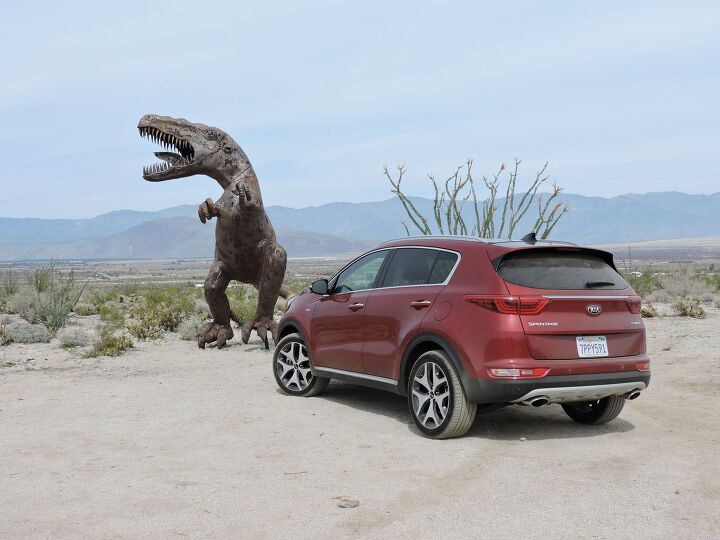 A Thirsty Compact
And fuel economy is already a sore point for the Sportage. With the revised engine and new all-wheel drive system, the turbocharged Sportage SX has improved by 1 mpg when it comes to city driving. The problem is, it has worsened by 2 mpg on the highway leaving less than impressive official fuel ratings of 20 mpg city and 23 mpg highway. For reference, an all-wheel drive Ford Escape 2.0-liter Ecoboost is rated at 21 mpg city and 28 mpg highway while the turbocharged Forester XT is slated to achieve 23 mpg city and 28 mpg highway.
Even the Sportage's base 2.4-liter engine isn't overly efficient. Rated at 21 mpg city and 25 mpg highway for an all-wheel drive model, it trails the all-wheel drive Honda CR-V by 3 mpg in the city and 7 mpg on the highway.
Some of the crossover's fuel thirst can be blamed on weight. The 2017 Sportage SX Turbo is some 200 pounds heavier than the equivalent 2016 model, weighing in at 3,765 lbs. That puts it at the heavier end of the scale for the class.
Refined Ride, Responsive Drive
The weight does seem to help with ride quality though – an area Kia worked hard to improve on the new model and it shows. The entire Sportage lineup has received revised bushing and suspension components for a smoother, compliant ride and more natural handling. The 2017 Sportage drives smoothly with well controlled rebound over bumps while not jostling passengers. And the cabin remains fairly quiet, even on grooved concrete.
Kia didn't go overboard with the SX suspension by making it overly sporty, which is a good thing. It's uniquely tuned with firmer shock absorbers to deliver sharper handling, but ride quality doesn't suffer. Wearing wide 245 mm tires wrapped around 19-inch wheels, handling for the SX is on the higher end for the class, but lacks that final bit of chassis response found in the Mazda CX-5 or Ford Escape.
Steering is another area that has improved for 2017 as the Sportage finally ditches that old, video game feeling. There are no unnatural responses or unexpected movements with the wheel. It's not exactly sporty or full of feel, but it's as good as anything in the segment, Mazda CX-5 notwithstanding.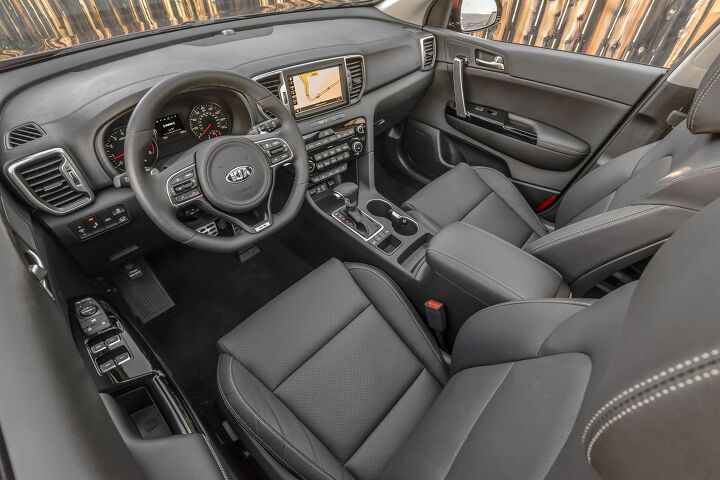 Still a Pillar of Value
The Sportage has always made its mark on offering a whole lot of features for the money and for 2017 that doesn't change. Although it is missing options like adaptive cruise control and active lane keep, a fully loaded, Sportage SX AWD comes equipped with dual front ventilated power seats, a heated steering wheel, panoramic sunroof and recordable live radio for up to six channels at a time. At a price of $34,895 after destination charges, that undercuts a fully loaded Escape Titanium 2.0-liter Ecoboost AWD and Forester XT Touring.
SEE ALSO: 2012 Kia Sportage SX Review
That price also obtains a mostly well-appointed interior, let down a bit by a few lower panel plastics. Attention has been paid to the details though as the squared off steering wheel looks and feels premium as does most of the switchgear.
Overall interior dimensions are up, such as front headroom and rear legroom that now totals 38.2 inches in total. Cargo capacity behind the second row has grown substantially from 26.1 cu.-ft. to 30.7 cu.-ft., but still trails most of the competition. A smart power lift gate can open automatically when the key fob is three feet of the vehicle and the Sportage's load floor now sits lower.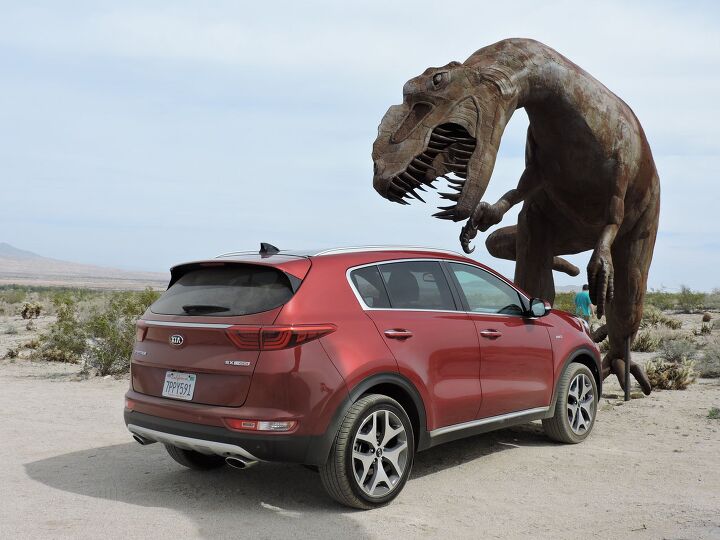 The Verdict: 2017 Kia Sportage Review
The 2017 Kia Sportage continues to offer style, value and performance in a class usually focused on space, efficiency and comfort. With the Sportage's new found refinement and more usable dimensions, it continues to be a fashionable alternative to the usual compact crossover crowd.
Discuss this review on our Kia Sportage Forum
LOVE IT
Style
Value
Turbo power
Interior trim
LEAVE IT
Fuel economy
Weight
Not as fast as numbers suggest
Published March 7th, 2016 10:10 AM
Popular Articles
Latest Comparisons
Car Buying Tools