110 Views
2019 MINI Cooper S Convertible Review
February 3rd, 2021 11:12 AM
Share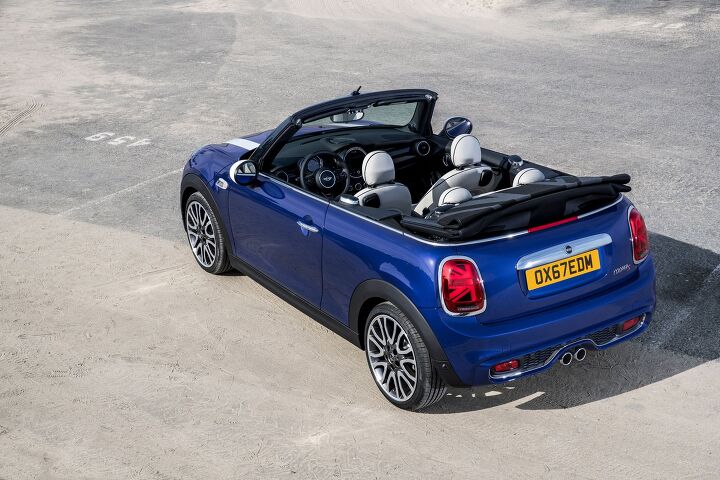 The MINI Cooper lineup got some refreshes for the 2019 model year and while the 2019 MINI Cooper S Convertible is as cute and playful as ever, it isn't perfect. Here is a quick overview of the pros and cons of this fun little car.
Pros
Fun Driving Dynamics: This is a MINI, so the fact it is fun to drive is baked right in. Everything feels responsive, playful and engaging. The steering is heavy and communicative, the little car is flat through a hard corner, and it even makes fun sounds that make you smile. This MINI Cooper S is powered by a 2.0L turbo four-cylinder engine with 189 hp and 207 lb-ft of torque, which gets it to highway speeds in about 6.8 seconds. A six-speed manual and six-speed automatic transmission are available. The automatic numbs some of the driving enjoyment, and MINI has an excellent and very forgiving manual, which I would prefer also because it's more affordable. The MINI's manual is great for beginners and seasoned three-pedal advocates alike.
ALSO SEE: 2019 MINI Cooper Review
Unique Design Details: For the 2019 model year, the MINI got cute new design details like a Union Jack pattern in the taillights, new headlights, a new logo, new wheels, interior surfaces and trims, colors, a puddle light, and some exterior trim updates. Nearly every surface of a MINI can be Union Jacked, from the convertible top to the side mirror caps, and the cute taillights complete the picture, though it might be overkill if someone decided to Union Jack all the things. In moderation, the MINI cuter than ever and offers a lot of customization options to make it even more unique.
ALSO SEE: Who Makes MINI Cooper and Where Are MINI Coopers Made?
FAST FACTS
| | |
| --- | --- |
| Engine: | 2.0L turbo 4-cylinder |
| Output: | 189 hp, 207 lb-ft |
| Transmission: | 6-speed manual or auto |
| US Fuel Economy (MPG): | 28 combined (auto) |
| CAN Fuel Economy (L/100 km): | 8.3 combined (auto) |
| US Price: | Starts at $31,750 |
| CAN Price: | Starts at $36,235 |
| : | (All pricing includes destination) |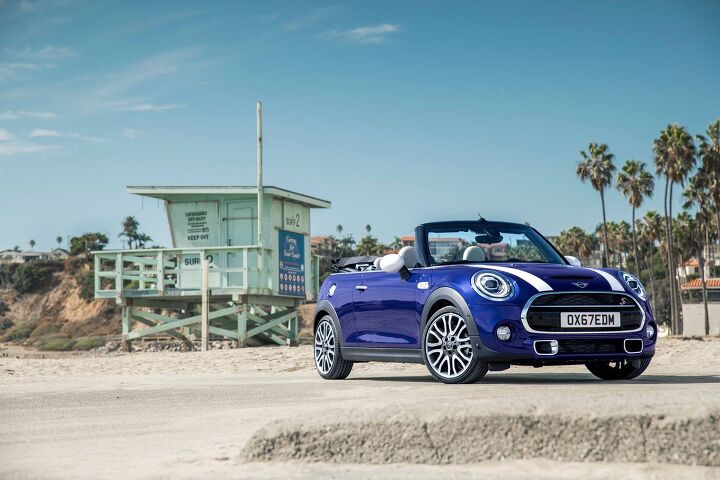 Big Personality: The driving dynamics and unique design details combine to give this little car a big personality. Other MINI drivers wave at you, all your passengers mention how much they love the circular display housing, funky ambient lighting, and the retro, flight-inspired switchgear. Everything MINI does is just cheeky fun and puts you in a good mood. Cheerful cars like this are becoming very rare, and I think we can all use more smiles day to day.
ALSO SEE: Top 5 Best AWD Hatchbacks: 2019
Cons
Super Stiff: For most people, the suspension of the S will be far too stiff for daily life and the dividends for performance over the regular MINI are not truly worth it. Driving in the city over streetcar tracks, rough roads, and potholed pavement is just too uncomfortable and crashy. I've driven sports cars with more forgiving suspensions and I think the stiffness in this MINI's suspension is a bit overkill.
Interior Rattles: This convertible MINI made an unusual amount of rattling and creaking that I haven't heard in a car for a long time. It sounded like bits of plastic hadn't settled yet and the noises never went away. It likely had something to do with the convertible top or ultra stiff suspension, as the MINI hardtop I had just weeks prior to this one didn't make any unsettling creaking noises. It's annoying because this MINI is priced like a luxury car, so it shouldn't creak or rattle.
Getting in the convertible for the first time, I also nearly burnt off a fingerprint because the car had been baking in the sun all day and I wanted to put the top down, but the button to do so is metal, which means it felt like touching a hot coal. Buttons you have to hold down should not be metal for this reason.
ALSO SEE: 2018 MINI Countryman JCW Review
Tiny Trunk: I took my mom for a weekend at the cottage and the trunk and back seats nearly didn't fit all of our stuff — we only packed for a two-night stay. This is a compromise you should expect from any convertible, however, and it's not unique to this MINI. The little trunk holds just 5.7 cubic-feet of cargo and the seats can fold down to store longer items (for up to 7.6 cu-ft of storage), but if you wanted something practical, you're better off going for the hardtop model. It's also not that easy to load and unload the trunk, as its little door opens like an oven, so you have to lean over it, which isn't comfortable if you're short or if you're too tall. The rear seats are also barely usable, so if you want to carry four people, it should only be for very short trips.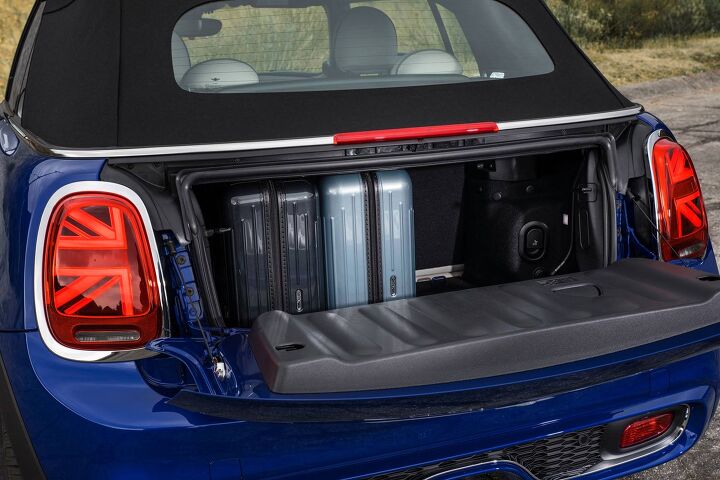 The Verdict: 2019 MINI Cooper S Convertible
This MINI's biggest problem is that there are MINIs that are just as good or even better at a lower price point. This MINI is certainly fun, but so is the base MINI. This more expensive S model comes with more power and performance goodies, but it doesn't make it more fun or charming than the base MINI with its three-cylinder engine. In fact, I find that the stiffer suspension makes the MINI Cooper S harder to live with day to day, and the increased practicality of the hardtop makes it even more difficult to love the MINI Cooper S Convertible for a daily driver.
That said, there isn't a convertible out there with this much cuteness and personality packed in, and if that's what your priority is, this is exactly what you're looking for.
Discuss this article on our MINI Forum
LOVE IT
Driving dynamics
Fun personality
Unique
LEAVE IT
Not more fun than a cheaper MINI
Creaks and rattles
Not very practical
Too stiff
Published October 23rd, 2018 10:08 AM
Popular Articles
Latest Comparisons
Car Buying Tools