18 Views
First Electric MINI Will Be a Hot Hatch With Nearly 200 HP
April 8th, 2019 8:33 AM
Share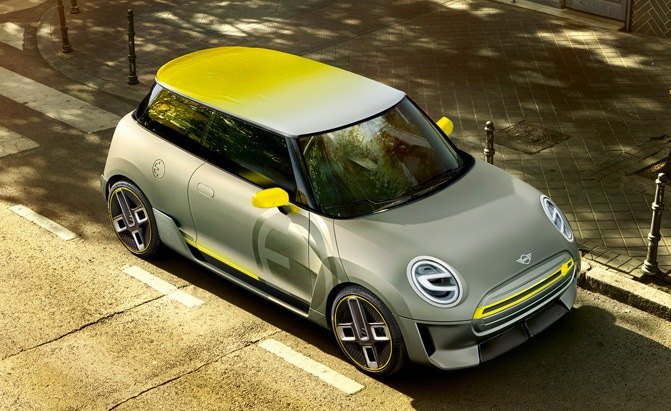 BMW's MINI brand is working on its first electric car – a hardtop two-door hatchback that was previewed by the MINI Electric Concept.
New details on the first production electric MINI have come to light thanks to a new report from Autocar, which claims the vehicle will be positioned as a performance-focused hot hatch with a similar power output to the current MINI Cooper S.
Autocar alleges the yet-to-be-named electric MINI will feature the same electric motor from the BMW i3S, which is rated at 181 hp and 199 lb-ft of torque. While the pure electric hatch will be heavier than the gas-powered Cooper S due its battery pack, acceleration is expected to be similar thanks to the electric motor's immediate torque delivery. Range should sit at around 200 miles.
ALSO SEE: Who Makes MINI Cooper and Where Are MINI Coopers Made?
For reference, the MINI Cooper S makes 189 hp and 207 lb-ft of torque. It will accelerate from 0-60 mph in 6.4s with the manual transmission and has a top speed of 129 mph.
ALSO SEE: 2019 MINI Cooper S Convertible Review
The electric MINI's styling will be similar to the Cooper S as well. While the MINI Electric Concept was quite radical, featuring an aggressive and sporty front end and radical side and rear aero fairings, the production version will be much more restrained. New LED headlights and taillights and an aerodynamically optimized front fascia are expected, but otherwise, the EV will have familiar MINI brand looks.
The electric MINI will make is rumored to debut in the second half of 2019 before going on sale in Europe late in the year. It's unclear when North American sales may begin, although 2020 seems like a realistic assumption.
[Source: Autocar]
From HybridCars.com
Published January 8th, 2019 12:02 PM
Popular Articles
Latest Comparisons
Car Buying Tools