74 Views
2021 Mitsubishi Mirage Review: Fitness for Purpose
April 18th, 2022 2:00 PM
Share
FAST FACTS
| | |
| --- | --- |
| Engine: | 1.2L I3 |
| Output: | 78 hp, 74 lb-ft |
| Transmission: | CVT, FWD |
| US fuel economy (MPG): | 36/43/39 |
| CAN fuel economy (L/100KM): | 6.6/5.6/6.2 |
| Starting Price (USD): | $15,290 (inc. dest.) |
| As-Tested Price (USD): | $17,115 (inc. dest.) |
| Starting Price (CAD): | $15,433 (inc. dest.) |
| As-Tested Price (CAD): | $18,733 (inc. dest.) |
"You are a perfectly adequate little car."
My partner gently pats the textured dashboard of the 2021 Mitsubishi Mirage SE as it buzzes along with the flow of traffic. I'm foot to the floor, and the Mitsu's CVT is wringing the little three-cylinder engine for every one of its 78 horsepower. In those seven words of affirmation, she both provides perspective and effectively sums up this diminutive hatchback. How appropriately efficient.
Get a Quote on a New Mitsubishi Mirage
The Mirage is not a car to wow people. It is not flashy, nor quick, nor capaciously roomy. No, this miniature Mitsubishi is back-to-basics transportation at its most elemental, a niche the brand is continuing to invest in. With the latest round of improvements for the 2021 model year, the Mirage proves cheap and cheerful can still co-exist in today's crossover-obsessed market.
What's new?
Mitsubishi gave its sole remaining car a facelift for this year. Out go the mildly surprised headlights, and in come wider, more tapered items. The top trim even uses LEDs up front, while the whole lineup benefits from LED taillights. A new chrome-lined grille apes the look of the SUV lineup, especially the new-for-2022 Outlander. Beyond that, it's the same familiar shape that has been with us since 2014. This tester's Sand Yellow is new for this year too—though I'd be worried if I set foot on any sand that looked this color. 14-inch alloys round out the mid-level trim; 15s are included on the top model, and come wrapped in much more common 175/55 rubber.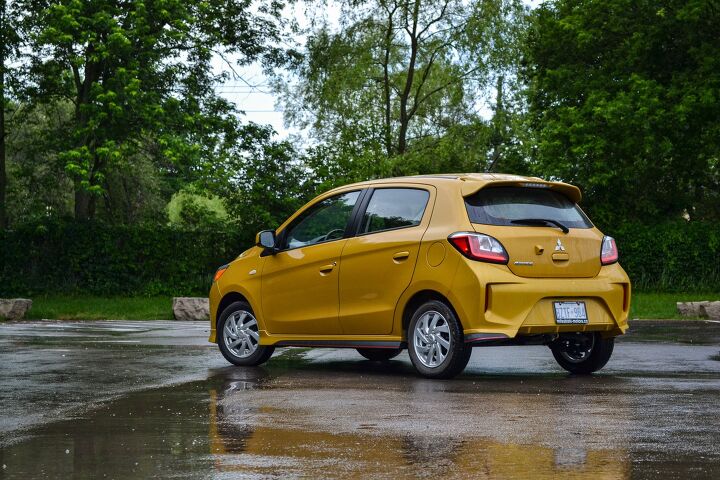 Inside, every Mirage now benefits from a 7.0-inch infotainment screen, with every trim above the base including touchscreen capability with Apple CarPlay and Android Auto support. Mitsubishi has also thrown in an improved (fold-down) armrest, and some faux carbon fiber trim on the doors.
Under the hood is the same tiny 1.2-liter three-cylinder engine. Eschewing expensive turbocharging, it puts down just 78 horsepower and 74 lb-ft of torque—comfortably less than anything else you can buy new. It also weighs less than the average baseball starting lineup (2,095 lb / 950 kg), so its surprisingly nippy around town.
Eager to please
It's that eagerness that defines the Mirage. Many will wince at the mere mention of a CVT—this writer included—but the Mirage's stepless wonder should be a lesson to other automakers. It's quick to respond off lights, but more impressively, it will happily hold the Mirage level with the average speed around Toronto's surrounding highways with minimal revs. The little hatchback feels planted there too, and its high seating position provides a clear view out.
SEE ALSO:
2022 Mitsubishi Outlander Review: First Drive
Admittedly, the Mirage is loud getting up to those speeds. Beyond about 30 mph (50 km/h), the right-most pedal effectively becomes a foot-operated volume control—it'll get louder, but thrust won't increase. I wouldn't call the tiny triple a lawnmower engine, but I have driven some well-mannered golf carts that were more refined. Nobody's buying a Mirage and expecting a Merc, but yeah, it's noisy.
Handily, no matter how much I thrashed the Mirage, its stellar fuel economy never faltered. The most efficient non-electrified vehicle you can buy is officially rated at 39 mpg combined (6.2 L/100 km), and my 370 or so miles (600 km) with it averaged out to just that. I took it out to Port Dover for the Automobile Journalists Association of Canada's EcoMonth—don't miss the perch burger at Knechtels—and saw slightly better than the quoted 43 mpg (5.6 L/100 km) on the highway, too. The available manual transmission, only offered on the lowest ES trim, posts a still-respectable 36 mpg (6.5 L/100 km) average.
Unsurprisingly, the Mirage feels at home in the city, dodging around slow-moving trucks and taking the washboard-like asphalt in stride. It's even a little fun in its own way, those tiny rubber-band tires offering up approachable grip limits. Conservation of speed is king here, and that forces drivers to look further down the road and anticipate more. The seats are too flat and soft to allow for more road-holding, anyway.
The Mirage feels spacious enough for such a small footprint, though there isn't much in the way of door-panel storage space. I fit "behind myself" just fine, but those over six-foot (or with inseams not quite so Calvin-like) may find knees and noggins a-rubbin'. At least back-seat passengers have a cupholder to fight over! Storage space behind the second row is a healthy 17.1 cubic feet (484 L); fold the seats down—but not flat—and the space balloons to 47.1 cubic feet (1,331 L).
Little car, little sticker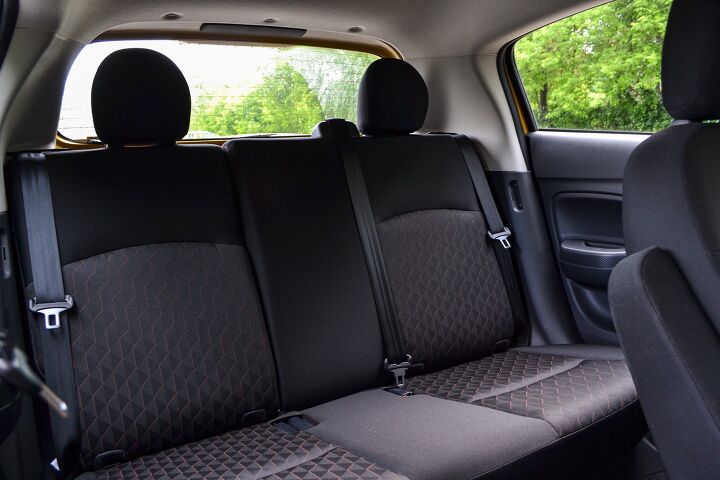 One of the most telling Mirage stats comes straight from Mitsubishi Canada: the average buyer's household income ($56,702 CAD) isn't just less than those buying the competition, it's less than the country's average ( $62,900 CAD according to a 2019 study). In this part of the market, every dollar counts.
At the $15,290 ($15,433 CAD) price of entry, the base model Mirage ES is second only to the Chevrolet Spark on the list of most affordable new vehicles. That tidy sum nets buyers 14-inch steelies, a five-speed manual, automatic climate control, a federally-mandated rearview camera, and LED taillights. Upgrading to the CVT is an extra $1,300 on either side of the border. American models also benefit from standard forward collision mitigation; in Canada, it's only on the top trim.
SEE ALSO:
Top 10 Cheapest New Cars to Buy
This tester is the mid-level SE (roughly LE in the US). It adds the folding armrest, power windows in both rows (with driver's auto-up/down), cruise control, and smart phone mirroring, the latter being standard on all trims in the US. The top trim (SE in America, GT in Canada) goes all fancy with leather-wrapped wheel and shifter, 15-inch alloys, LED headlights, heated front seats and side mirrors, keyless entry, and lane-departure warning. It runs $18,440 ($21,733 CAD), a level where the Mirage starts to feel under-equipped versus similarly-priced vehicles.
If it were my money, I'd stick to the Goldilocks middle trim. This tester's dealer-installed bodykit certainly adds a bit of style, but feels anathema to the Mirage's mission statement.
Who's the competition?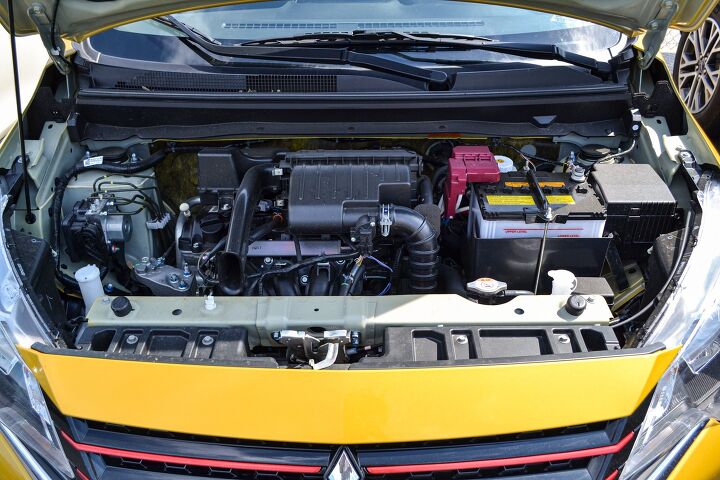 The afore-mentioned Chevrolet Spark is still kicking around, and has a lower starting price to boot. It's even smaller than the Mirage, and comes equipped with a more powerful (read: thirstier) engine. Every trim includes Android and Apple phone mirroring, but you'll need to pony up for any sort of active safety assists.
SEE ALSO:
2021 Nissan Versa Review: First Drive
From there you move a half-size up, to the likes of the Kia Rio and Hyundai Accent. The Koreans both start closer to the top-level Mirage's sticker, but counter with—you guessed it—more space and pace. They also include more modern niceties like wireless phone mirroring and Wi-Fi functionality. There's also the redone Nissan Versa, though it's a sedan-only affair this time around.
Verdict: 2021 Mitsubishi Mirage Review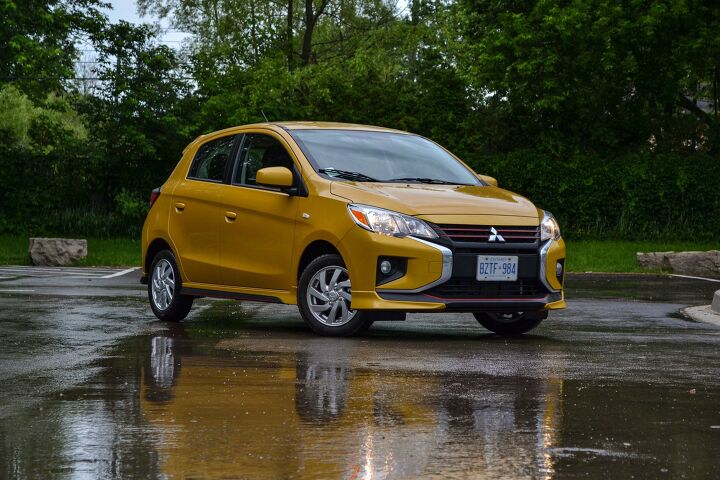 Look, I'm not going to bemoan how bougie the average road car is these days. Complaining that people don't need the $35k crossovers that dominate the marketplace has a very "I walked to school uphill both ways in a blizzard" vibe. The car has evolved, and far be it from me to deem what is and isn't appropriate for other people. The market has spoken.
Yet the 2021 Mitsubishi Mirage satisfies a very important niche within said market. This is a car for the folks that need a straight-forward, modest mode of transportation with the peace of mind only a 10-year, 100,000-mile (160,000-km) warranty can provide. It is the car as a tool—yet spend some time with the Mirage, and it's hard not to appreciate its honest charms. You may even find yourself patting it on the dashboard.
Sometimes all you need is a perfectly adequate little car.
Become an AutoGuide insider. Get the latest from the automotive world first by subscribing to our newsletter here.
LOVE IT
No-nonsense motoring
Very solid highway cruiser
City-sized
LEAVE IT
Noisy
Lacks modern safety assists
Very noisy
Published June 28th, 2021 6:00 PM
Popular Articles
Latest Comparisons
Car Buying Tools