88 Views
2022 Subaru WRX Review: First Drive
June 10th, 2022 9:11 AM
Share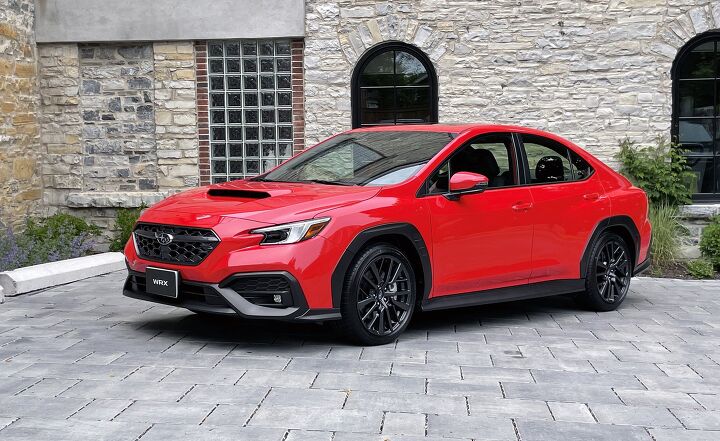 FAST FACTS
| | |
| --- | --- |
| Engine: | 2.0 L Turbo |
| Output: | 271 hp, 258 lb-ft |
| Transmission: | CVT / 6MT, AWD |
| US fuel economy (MPG 6MT): | 19/26 |
| CAN fuel economy (L/100KM 6MT): | 12.3/9.0 |
| Starting Price (USD): | $30,600 (inc. dest.) |
| As Tested Price (USD): | $37,490 (inc. dest.) |
| Starting Price (CAD): | $32,720 (inc. dest.) |
| As Tested Price (CAD): | $41,020 (inc. dest.) |
Cresting the hill I did a quick double take at what appeared to be an angry, moss-covered boulder on tip-toes rising up in front of my grill.
The gravel roads through Frontenac county are a veritable breeding ground for Ontario snapping turtles, and this behemoth appeared to have been around since prehistoric times.
Get a Quote on a New 2022 Subaru WRX
Hitting one would put a considerable dent in my karma, not to mention the undercarriage of the Subaru I was driving. Slamming the shifter into second and counter steering to the right, I blipped the throttle and the vehicle rotated left around the turtle with inches to spare. There aren't many cars that could successfully attempt such a maneuver without plowing straight into the swamp, but the WRX's twenty years on the world's rally stages can make ordinary drivers feel like champions.
What's New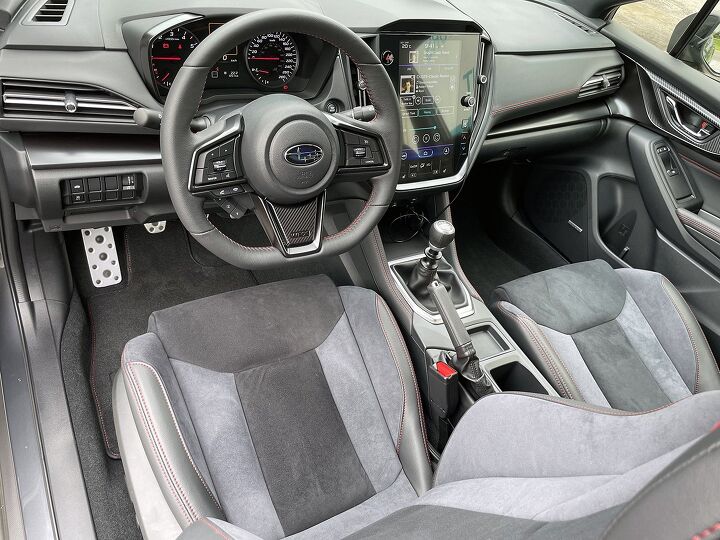 The WRX has been around since 1992, and arrived in North America ten years later. Previously a trim level of the Impreza, the WRX became a standalone model in 2015. The Impreza went on to become the first recipient of Subaru's new Global Platform (SPG) and won accolades for its terrific handling and improved quality– which left WRX fans wondering why Subaru's flagship performance car was being overlooked.
SEE ALSO:
Subaru WRX STI is Dead (For Now)
The latest model arrives underpinned by the new platform, but it's been specifically adapted for the WRX. The new car is finally completely separate from the budget-minded Impreza, with its own unique sheetmetal. It's a full inch wider than the car it replaces (two inches wider than the Impreza) and three inches longer, with an extra inch added to the wheelbase. The frame's torsional rigidity increases by 28 percent and 14 percent laterally.
Controversial Look, Familiar Power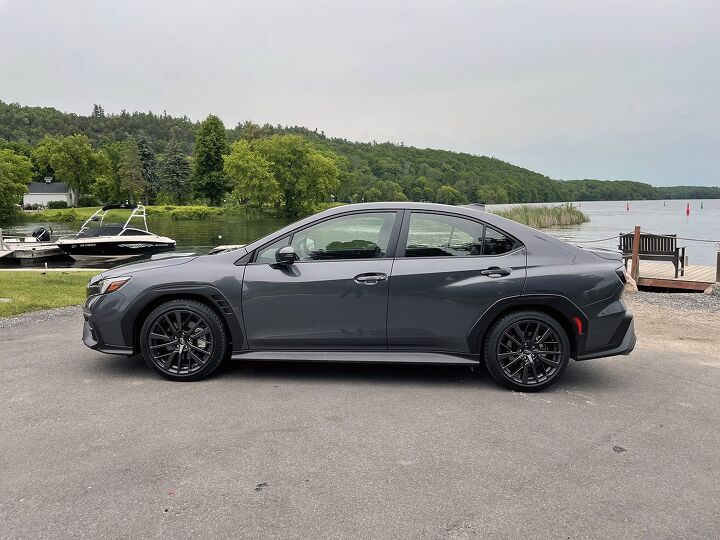 As with every previous model from "Bugeye" to "Blobeye" the new WRX's design was received with mixed reaction. The headlights have been pushed to the corners in a hawk-eyed squint; the rear haunches are almost comically swollen, and the rump's hacked and slashed sheetmetal is finished with an enormous jutting diffuser-style bumper punctuated with deep air vents. But most of the criticism is aimed at the black plastic cladding wrapping the wheel arches. We're told that "aesthetics have always been secondary to performance" for Subaru, and the cladding is part of the vehicle's overall functional aerodynamic improvements – the hexagonal textured surface helps smooth the airflow. Likewise the carved sheetmetal, wide hood scoop, and numerous air vents.
While the familiar turbo-charged boxer engine isn't new, it's been specifically tuned to provide a more linear power delivery. While output numbers remain similar at 271 hp and 258 lb-ft., the power is accessed faster for a more responsive feel. The torque curve has been flattened, with peak torque arriving sooner at 2,000 rpm.
Don't Call it a CVT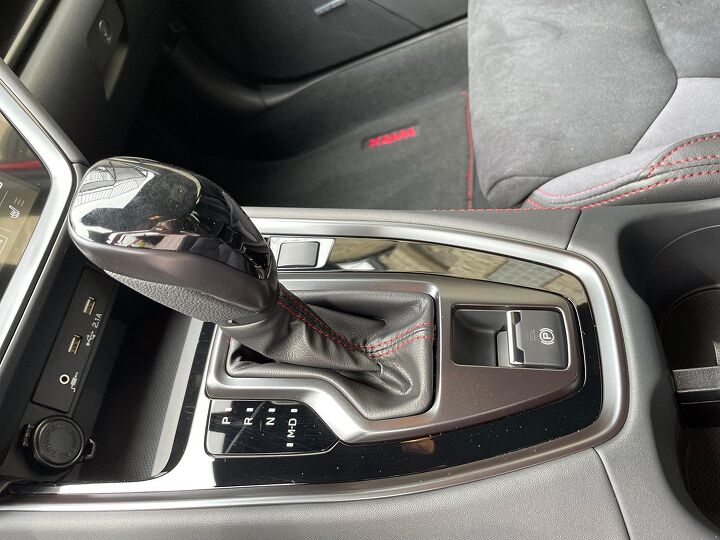 The six-speed manual transmission is also a carry-over, but has refined gear machining and ratios, and been reprogrammed to reduce rev-hang. An all-new Subaru Performance Transmission (SPT) that they're very careful not to refer to as a CVT is now available and Subaru claims some of the industry's best dual-clutch automatics were benchmarked in its design. Exclusive to SPT-equipped models is a variable torque distribution all-wheel-drive system that adjusts the torque split from 45/55 front to rear; while manual WRXs are 50/50.
Suspension has been re-engineered with stabilizing K-braces on the front subframes, longer drive-shafts for more articulation and better bump absorption, and a chassis-mounted rear sway bar. An all-new GT model with adaptive suspension – arriving in the U.S. and so far unavailable in Canada is also exclusive to the SPT-equipped lineup.
Restrained, Refined Interior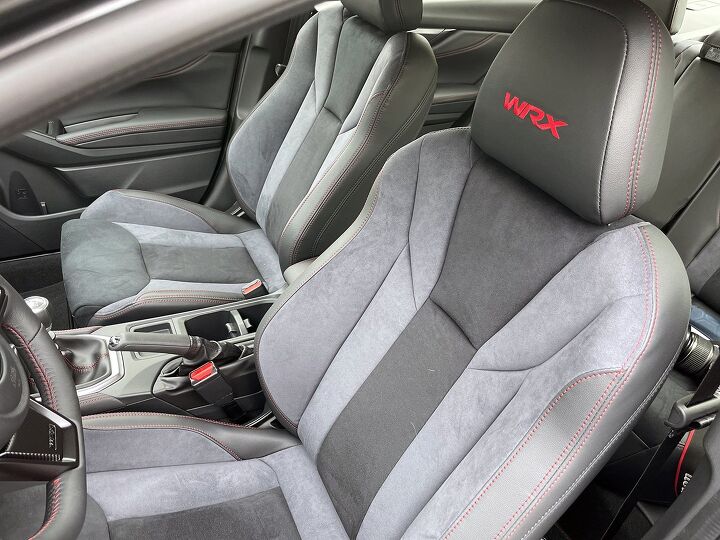 While Subaru's interiors had been fairly mediocre in the past, with drab plastics and lousy NVH, that all changed with the arrival of their new Global platform. The lighter, more rigid platform uses more structural adhesive to reduce vibrations, and extensive use of foam in between the gaps for better insulation. In addition to better sound and vibration insulation there's a less drab, and more aesthetically pleasing space. It's a driver-focused environment with very few buttons, knobs, or other distractions aside from the enormous shield of a display screen in the centre of the dash. Seats are nicely bolstered and redesigned to reduce pressure points, and interior space increases slightly to improve leg and shoulder room. Overall, it's still a bit austere, but with a sense of Scandinavian minimalism in its clean lines, better materials, and nicely executed dash panels.
SEE ALSO:
Should I Buy a Used Subaru WRX?
Standard is a 7-inch display with Android Auto and Apple CarPlay on the base WRX, while all Sport models are equipped with an 11.6 inch screen.
While Subaru's Eyesight suite of advanced safety tech is available only on CVT-equipped vehicles, all new WRX's come with a free trial of Subaru's STARLINK connected services (up to three years in Canada).
No Hatchback, But a Satisfying Sedan
Since 80 percent of WRX owners opt for a manual transmission, we chose the 6MT Limited (Sport Tech in Canada) for our test drive. It's tough for a company to survive by catering to hard-core enthusiasts only, so Subaru has tried to broaden the appeal of its WRX by making it more user-friendly, without alienating its fan base. Unfortunately, it's only available as a sedan, which is sure to disappoint hatch and wagon fans.
Right off the bat, it's apparent that this WRX is a lot more comfortable in city traffic than its predecessor. The extra sound deadening has eliminated any harsh vibrations, there's no buzzing of cheap plastics and while previous WRXs tended to squirm on rough tarmac, much preferring rough rally roads, the new suspension feels compliant and delivers a much improved ride quality. Shifter and clutch take-up are perfectly weighted and quickly intuitive, and the steering, while not as communicative as it could be, is sharp and accurate and the fat, flat-bottomed wheel just feels good in your hands. Hard to believe, but this new WRX is as comfortable and well-mannered as any premium daily driver.
Poised on Pavement, Delectable on Dirt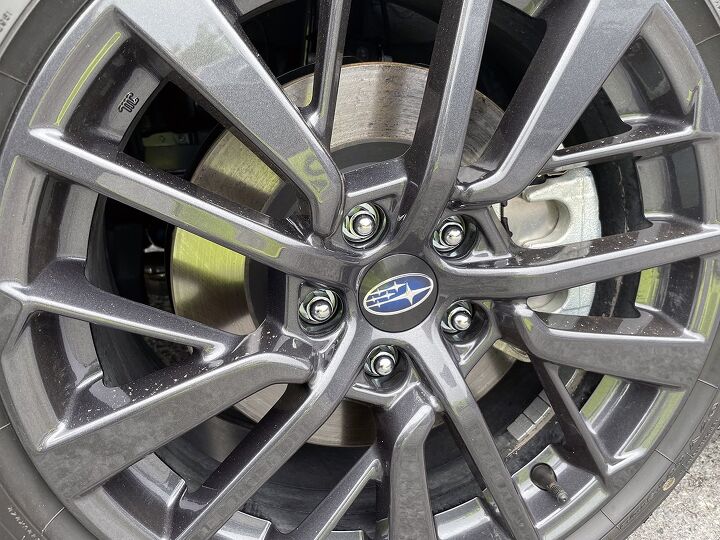 Merging onto the freeway, the more quickly available torque gives you the sense that the car is faster than it is. It seemed a strange, but acceptable decision by Subaru not to give the WRX a power increase when we thought an STI model was on its way. Of course we know now that the STI has been cancelled, and if it does return – it's likely to be powered by a battery.
SEE ALSO:
2022 Subaru WRX Debuts With a 2.4-liter Turbo and New GT Trim With Electronic Dampers
Once off the highway, our drive route passed through small towns and cottage country, where the winding roads gave the WRX a chance to show us just how good the new chassis and suspension are at absorbing broken pavement studded with potholes. But WRXs truly shine when taken off the tarmac, where decades of rally championships have made it the undisputed champion of the gravel. Would this more civilized WRX disappoint?
In a word – no. Over several hours driving uneven gravel the WRX grew more poised the harder we pushed it. Though it lacks the locking centre differential of the previous STI, the WRX's wider stance makes it extremely stable, and the slightly higher rear helps it rotate around the corners without ploughing understeer. It's a very forgiving car that's an absolute blast to drive – the harder you push it, the better it gets.
The Verdict
STI fans probably won't be happy, but anyone who's loved a previous WRX won't be disappointed with the new 2022. It's nicely positioned to appeal to a wide demographic – Subaru claims that would-be buyers cross-shop small SUVs and other AWD sedans– and most competitors only offer all-wheel-drive on their premium trims while on the WRX it comes standard. Overall, the new WRX manages to strike the perfect balance between daily comfort, and shockingly good performance at a very reasonable price.
---
FAQs
Will there be a 2022 Subaru WRX?
Yes, there is an all-new Subaru WRX for 2002, but the WRX STI has been discontinued. 
Is the 2022 Subaru WRX fast?
Despite a minor power increase, the 2022 Subaru WRX has more accessible torque and fells quicker than the old WRX.
How much will a 2022 Subaru WRX cost?
The starting price for the 2022 Subaru WRX is $30,600 (inc. dest.) USD. 
Become an AutoGuide insider. Get the latest from the automotive world first by subscribing to our newsletter here.
LOVE IT
Improved Comfort and Livability
Still a Serious Performer
More Accessible Engine Torque
LEAVE IT
Controversial Looks
No Hatchback Option
Fuel Economy
Published June 10th, 2022 9:11 AM
Popular Articles
Latest Comparisons
Car Buying Tools