294 Views
The Best Differential Covers
February 7th, 2023 12:51 PM
Share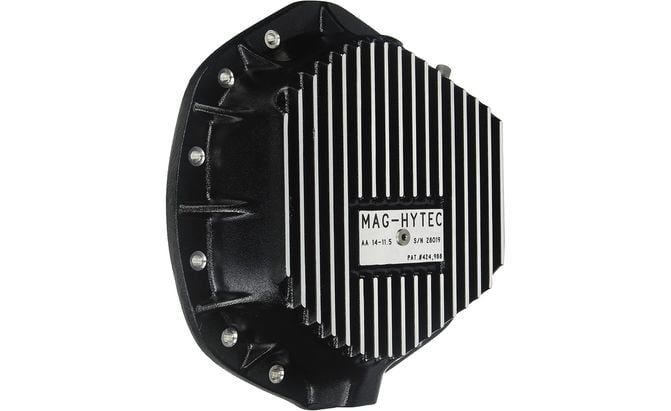 Most of the time, it's unnecessary to give your vehicle's differential cover a second thought; the technology has been around for decades and works well. However, drivers of trucks and offroad vehicles have good reason to consider upgrading their differential covers. Those vehicles are often called upon to operate under arduous conditions that are harder on every component, including axles and differential assemblies.
Factory differential covers are usually lightweight, stamped steel. While this is fine for on-road driving, it's more vulnerable to damage from rocks and debris on the trail. If damaged, it could leak the oil that's vital to the health of the differential's internal components. Plus, factory covers contribute little to the rigidity of the differential assembly, nor do they add extra cooling ability.
Beyond merely covering hard-working bearings and gears, a well-made aftermarket differential cover can strengthen the axle assembly, increase the differential's oil capacity and help keep it cool, all of which can lengthen the service life. Of course, there are aesthetic benefits, too—especially for lifted vehicles; their differentials are more visible.
These aftermarket differential covers offer everything from basic factory-fit replacements to high-end, finned, cast aluminum or iron items for those who want the butchest rig on the Rubicon.
1. Editor's Pick: ARB Differential Covers
ARB has a reputation for high-quality, well-designed off-road accessories. Photo credit: Amazon.com.
ARB specializes in products for Jeep vehicles, though they have options for most trucks and off-road vehicles.
With red or black powder-coating, these differential covers look great and offer excellent corrosion resistance. The nodule-iron covers feature additional bracing; when installed, they stiffen the axle assembly for better alignment of gears and bearings—this can extend their service life. ARB employs neodymium magnets on the drain plug and dipstick to help pick up and trap any metal shavings that might contaminate the oil and accelerate wear.
The design of the filler cap and dipstick allows for the increased oil level to compensate for the extreme axle and driveline angles encountered when operating on tricky terrain. The internal shape matches closely to the original design, so that fluid movement is consistent and effective, offering continued protection for your high-stress differential gears.
We like ARB for its thoughtful design, high-strength build, and innovative features, but note that you have to buy the gasket, separately.
| | |
| --- | --- |
| Pros | Tough nodule-iron construction, improved oil capacity |
| Cons | Gasket not supplied, heavier than aluminum covers |
2. Runner up: Perfect Launch Proform Aluminum Differential Cover with Stabilizer Bolts
The lightweight aluminum differential cover from Perfect Launch offers impressive structural support for high-horsepower applications. Photo credit: Amazon.com.
Perfect Launch Proform aluminum differential covers are an attractive, lightweight solution for high-performance trucks and off-road vehicles. This version is fitted with bearing cap stabilizer bolts that help secure and support your differential bearings and improve the rigidity and strength of the axle assembly.
The casing is extra thick for increased impact resistance and stiffness. The oil filler and drain plug allow for higher fluid capacity than OEM (Orginal Equipment Manufacturer) covers, while the aluminum construction helps dissipate heat. We like the Perfect Launch logo and black paint for its aesthetics, but some drivers report that the paint can flake off. Others report that the supplied mounting hardware isn't as good as it should be and suggest you replace the bolts and washers with other units.
Overall, this is a good-looking unit that offers protection and strength for a compelling price.
| | |
| --- | --- |
| Pros | Lightweight, rigid |
| Cons | Some users reported flaking paint |
3. Best OEM Replacement: 3: Dorman OEM Fit Differential Covers
Dorman differential covers are intended as direct replacements for OEM items. Photo credit: Amazon.com.
Dorman is a respected OEM and aftermarket supplier. Drivers who need to replace a broken or worn differential cover with an OEM-fit component are well served by the Dorman line-up. These factory replica parts are available for a range of vehicles and offer low-cost solutions for everyday use.
This cover is stamped from one piece of steel and painted for rust resistance. There are fillable and sealed variants available, but hardware and gaskets are not included with any Dorman differential cover. Choose this if you're suffering from a damaged or worn differential cover and want an affordable, fast replacement.
| | |
| --- | --- |
| Pros | Inexpensive, OEM-like fit |
| Cons | Not as tough as high-end aftermarket differential covers |
4. Best for Dodge Ram Diesel Trucks: Mag-Hytec Differential Cover
The Mag-Hytec differential cover offers tough build and industrial good looks. Photo credit: Amazon.com.
The Mag-Hytec differential cover offers several advantages over stock components. They increase the differential's oil capacity and are machined to accept a temperature sending unit—a nice touch. All hardware is stainless steel including the particulate-grabbing magnetic drain plug. The drain plug is a real upgrade over the stock cover which has to be completely removed to change the differential's oil.
But, the Mag-Hytec's real party trick is its tough, industrial appearance. The unit is powder-coated black with contrasting machined cooling fins. They perfectly accentuate Dodge Ram truck's baby semi appearance. However, they are one of the most expensive differentials covers out there.
Is the Mag-Hytec worth it? It's all down to the age-old question: style or substance? This differential cover offers both, but at a substantial price.
| | |
| --- | --- |
| Pros | Heavy duty, great looking, machined for temperature sender |
| Cons | Costly |
5. Best Chrome Differential Cover: Spectre Performance 60703 10-Bolt Differential Cover
The Spectre chrome-plated differential has a classic style. Photo credit: Amazon.com.
Except for its bright chrome finish, the Specter Performance differential cover isn't too different from a stock, stamped steel item. But it comes in at a very friendly price so it's perfect for those who want a little glitz for a small outlay of cash. It's triple chrome-plated and includes a rubber gasket and chrome mounting bolts. Buyers report a straightforward installation process. This model is designed to fit General Motors 10-bolt rear ends.
On the downside, this cover doesn't contribute much in the way of additional stiffness, oil capacity, or cooling to your vehicle's differential. So, if you're a serious off-roader or racer you might be better off springing for a higher-end, cast unit.
On a bang-for-buck basis, the Spectre chrome-plated differential cover makes a solid choice. The manufacturer notes that they offer a lifetime warranty.
| | |
| --- | --- |
| Pros | Low price, chrome finish, includes mounting bolts and gasket |
| Cons | Not a heavy-duty component |
Differential Cover FAQs
What is the best material for a differential cover?
Stamped metal covers are the cheapest and most common; original factory equipment covers are usually of this type. Aluminum is better for cooling and corrosion resistance, while ductile iron provides the best toughness and rigidity. Long story short: Your particular needs determine your material.
Do I have to use more oil with my aftermarket differential case?
In short, no. The only time you need to change your differential oil level is when you modify suspension components and increase the angles at which your driveshaft and axles meet inside the differential housing. It's worth mentioning that many aftermarket covers increase the differential's oil capacity. If in doubt about how much oil to add, check with the manufacturer.
How do I know what differential cover to use for my vehicle?
Most of the differential covers listed here are available to suit a range of vehicles. You should cross-reference the OEM part number of your existing differential cover with the tables provided by the aftermarket manufacturer. Most will clearly identify the correct application for a given differential cover.
Is it easy to install a differential cover?
Yes. Most differential covers can be installed within an hour or two. The trickiest part is collecting and disposing of the old differential oil safely, legally, and in accordance with environmental best practices. For this reason, many opt to have a professional shop install their new differential cover; the pros have the equipment to properly handle waste oil.
Published April 9th, 2022 1:59 PM
Popular Articles
Latest Comparisons
Car Buying Tools