5.3K Views
The Best Night Driving Glasses to Cut Down Glare
May 29th, 2023 2:40 PM
Share
You don't have to pay a lot to get a good set of night driving glasses.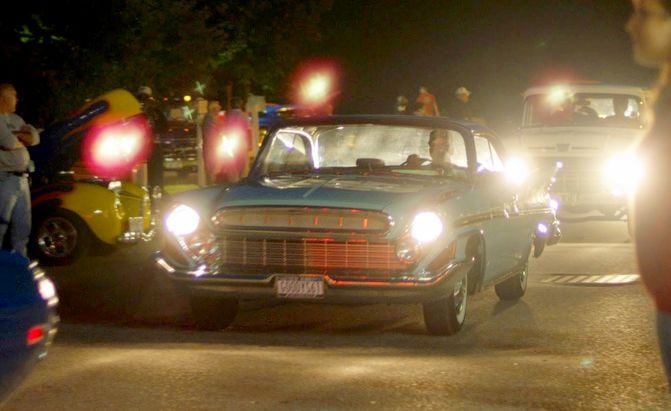 If you frequently drive at night and experience eye fatigue or have a hard time seeing in low light conditions, you may want to consider a pair of night driving glasses. They work much the same way as sunglasses during the day. But instead of a dark tint to block excess rays, night driving glasses use yellow lenses to help reduce reflections and glare from street lights and oncoming headlights. Essentially, these glasses' yellow tint filters blue light, improving nighttime visibility. In addition, most night driving glasses will have anti-reflective coating on their lenses, which also aid with reducing reflections.
Interestingly, you'll find some research studies that claim night driving glasses—specifically those with yellow-tinted lenses—don't actually do a whole lot when it comes to helping you see better at night. Some manufacturers even have a disclaimer saying that their glasses won't work for everyone. At the same time, both the US Navy and US Air Force have studied the issue, and the Navy in particular found they helped distinguish objects under certain conditions. If you ask around, you'll find that many people swear by them, especially those who are nearsighted, have astigmatism, or drive at night after a long day of looking at screens. And for decades, cars in France used selective yellow headlights with a claim that the light reduced fatigue and improved visibility when there was glare.
The good news is, most night driving glasses are extremely affordable, priced under $20 for a pair. If you're unsure whether or not night driving glasses will benefit you, choose an option that offers a 30-day money back guarantee. Order a pair and try them out. If they don't improve your vision while driving at night, you can just send them back for a refund. If you wear glasses, there are plenty of clip-ons available, and our top clip-on pick even comes as a pair with both yellow and regular sunglasses for a very low price. We've noticed that many brands claiming to be polarized have coatings that seem ineffective. Whatever you choose, don't forget to clean your windshield, too, which can make a surprisingly big difference at night.
As with shopping for traditional glasses or sunglasses, style will be the main deciding factor for most people. Since most of the options on our list have similar features, your purchase will likely come down to design and price. We recommend choosing a product with a good return policy, in case the glasses are not comfortable or don't improve your nighttime driving experience.
For more information on the best night driving glasses, refer to our table of contents.
1. Editor's Pick: Polarspex HD+ Amber Driving Glasses
One of the most popular products in this category on Amazon is the lineup of polarized sunglasses from Polarspex. Available in a wide variety of finishes, the "HD+ Amber" lenses are the ones you'll want for night driving glasses. These glasses are extremely affordable yet stylish, featuring a plastic frame, metal-reinforced hinges, and plastic polarized lenses designed to keep out UVA and UVB rays.
These glasses have a frame width of 146 mm, a frame height of 48 mm, an arm length of 145 mm, and a bridge of 15 mm. The lens width and height are 52 mm and 43 mm, respectively.
Each order includes a premium-grade wool felt protective storage case.
| | |
| --- | --- |
| Pros | Nice case, dozens of colors, affordably priced |
| Cons | Hard to figure out which ones are good for night driving, lens coating can peel off, some lenses not polarized |
2: Tnnaiko Night Vision Glasses
These are night vision glasses designed for people who already wear glasses. They fit over your existing frames and are offered in multiple sizes to help make sure that they'll work with your clear glasses. Tnnaiko's glasses have a polarized yellow night-vision lens that helps reduce the glare that comes from the headlights of other vehicles as well as street lights. The lenses also have a special anti-reflective coating to help reduce glare even more.
Many prescription glasses lenses come with coatings like this, but they can be worn away and lose effectiveness over time. They're also expensive when new, which is why fit-over glasses like this can be a great way to get those anti-glare properties. The wide main lens and side lens help protect your eyes from glare from the front as well as from vehicles to the left or right. Like a car waiting at an intersection or to leave a parking lot.
While the Tnnaiko driving glasses work great over your existing frame, they can be used without glasses as well.
| | |
| --- | --- |
| Pros | Anti-glare, polarized lenses, fit over existing glasses |
| Cons | Only offers two sizes |
3: Best Clip-Ons: Simida Polarized Clip-on Sunglasses
Even if you have prescription sunglasses or transition lenses, you know that driving at night can be a hassle. After all, your glasses are already gathering extra light and focusing it on your eyeballs, and they do that really well with oncoming headlights and other nighttime light sources. Any little smear or scratch only makes the problem worse.
But finding any kind of clip-on sunglasses that actually work is always hit or miss, so our pick in the category is both very affordable and is a larger size, 5.1 inches wide and 1.6 inches tall, with a 1/2-inch bridge. That will cover all but the largest glasses, and we've found that having some extra lens width really helps with glare from that area. The clip that holds it on is large, too, which makes it very easy to use, but you will see it in your peripheral vision.
Simida's glasses come in a two-pack with a carrying case and offer UV400 protection. You can choose between 11 different combinations. For night driving, there are five amber, yellow, or orange choices. We'd go with the option that includes one of each, so you can find the one that works best for you.
| | |
| --- | --- |
| Pros | EV blocking, scratch resistant, two-pack, includes carrying case, different color options, good coverage |
| Cons | Yellow tints aren't great for bright sun, large clip mechanism, some quality control issues |
4. Clear Night Original Night Driving Glasses
From Clear Night are these anti-glare night glasses, sporting a sturdy metal frame and durable TAC polarized lenses that measure 66 mm by 36 mm. The polarized lenses are scratch resistant and designed to offer 100% UV protection. Overall, these glasses are lightweight and compact, and the soft nose pads are adjustable for a comfortable fit.
Clear Night also includes a protective carrying case with its night driving glasses and offers a 100% money-back guarantee.
| | |
| --- | --- |
| Pros | 100% UV protection, adjustable nose pads, money-back guarantee, scratch-resistant lenses |
| Cons | Reflective and polarizing coating doesn't seem to do much, frames too large for some people |
5. RIVBOS Polarized Sports Night Driving Glasses
RIVBOS offers these stylish night driving glasses featuring TAC polarized and mirror coating lenses with 100% UVA and UVB protection. These glasses sport a wide temple design and come with soft rubber nose pads. The lenses measure 64 mm by 40 mm, while the arms measure 140 mm long. The nose bridge is 30 mm, and the overall frame length is 140 mm.
They're constructed from flexible TR90 material, which can bend under pressure without breaking—to a certain extent, we imagine. Even though the company says the frame is unbreakable, it does offer a lifetime breakage warranty on the frame and lenses. So if you do somehow manage to break these glasses, you can contact RIVBOS for a replacement. If you're not satisfied with the glasses themselves, RIVBOS has a 30-day money-back guarantee.
Each pair of glasses comes with a durable hard case with a buckle, a cleaning cloth and pouch, a polarized test card, a sunglasses strap, and an instruction manual.
| | |
| --- | --- |
| Pros | Good warranty, very light, frames and lenses able to take twisting and bending |
| Cons | Hard to get a secure fit, narrow lenses, earpieces can be uncomfortable |
6. Bircen HD Night Vision Driving Glasses
Most of our night driving glasses so far don't have a large variety of finishes to choose from, but that isn't the case with Bircen's offering. These glasses are available in two styles with different finishes, including gunmetal, black, brown, and silver. Featuring polarized yellow lenses, the frame is constructed from aluminum magnesium, making it highly durable.
For comfort, you can adjust the flexible arms and nose pads, while you can feel safe using these glasses thanks to their high-strength resin lenses that are ultra-light and ultra-thin. Like many quality night driving glasses, Bircen's product uses polarized yellow lenses to reduce night driving glare and eye strain.
Bircen offers a 30-day money-back guarantee with its glasses. Each order includes a cleaning cloth, glasses case, and bag.
| | |
| --- | --- |
| Pros | Metal frames, frameless option available, very light, separate nose pads and adjustable arms |
| Cons | Large and won't fit smaller heads, heavier than other metal frames |
Do Night Driving Glasses Really Work?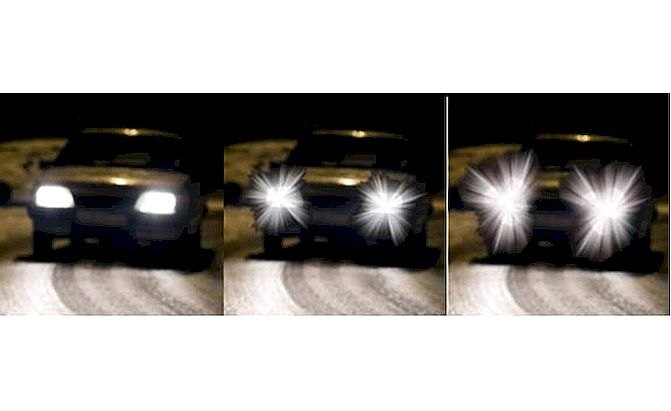 Starburst glare from headlamps. Photo credit: fda.gov
That really, really depends on who you ask, and what you mean by "work." Night driving glasses definitely let at least a little bit less light in, so in that sense there's no question they actually have an effect. Yellow glasses also help filter out blue light, which causes eye strain, and automotive headlamps are increasingly bright blue, so from at least a psychological viewpoint, they may help you feel less stressed when bright oncoming lights hit your eyes (although if that's your aim, wearing blue glasses during the day might be a better choice for reducing stress).
Many people do report a big improvement in seeing during the night, but there's little evidence for a measurable improvement. A recent study in the Journal of American American Medical Association Ophthalmology concluded,
Using a driver simulator equipped with an HLG simulator, yellow-lens night-driving glasses did not appear to improve pedestrian detection at night or reduce the negative effects of HLG on pedestrian detection performance. These findings do not appear to support having eye care professionals advise patients to use yellow-lens night-driving glasses.
As aviators have known for generations, yellow lenses can help with contrast on bright but overcast days. But when it comes to reducing glare, the researchers reporting in the British Journal of Ophthalmology concluded that there's no quantifiable difference between wearing yellow lenses and going without. But interestingly, your eyes have an area called the macula lutea inside your retina, which as you age turns yellow. The theory is that's actually beneficial (for once), helping with contrast and low-light vision, just like aviator glasses.
A lot of how we perceive the world is psychological, though, and if yellow-tinted driving glasses make you feel more comfortable at night, then they really are doing something.
Recent Updates:
May 29, 2023: Added Tnnaiko glasses
November 29, 2022: Removed Trillium, Blupond, and Dollger glasses; poorly rated.
August 23, 2022: Removed sold-out ATTCL and Optix 55 brands.
December 6, 2021: Updated product links. Removed unavailable Feidu and Ferido brands. Added Simida clip-ons and Trillium Glare Vis'r. Added pro-con sections. Added FAQ section.
---
We are committed to finding, researching, and recommending the best products. We earn commissions from purchases you make using the retail links in our product reviews. Learn more about how this works.
Published December 6th, 2021 1:18 PM
Popular Articles
Latest Comparisons
Car Buying Tools