11 Views
Chevrolet Trailblazer Convertible Inspires Cries Of Despair
June 18th, 2010 3:13 PM
Share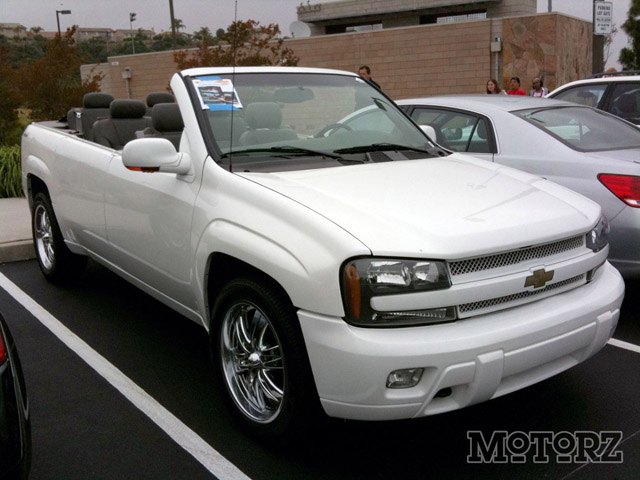 Believe it or not, this Chevrolet Trailblazer convertible (a one-off, thankfully), is not some backyard redneck conversion, but a professionally done job used for the Rose Bowl parade.
With more passenger and cargo room the a Jeep Wrangler, the Trailblazer convertible is also a more unique alternative, but the vehicle comes with a few limitations. It was never designed to be a convertible, so the structural integrity of the car is suspect, and there's no soft or hardtop that you can install during bad weather. This is not a "rain or shine" vehicle, folks.
On the other hand, the car comes with a sweet set of chrome dubs, and some custom bodywork that removes the TrailBlazer's unsightly body cladding. For those who must have this car, the seller only wants $15,000 or best offer, not bad for a car with under $30,000 miles on it.
Head on over to Motorz for more details, including the seller's contact information.
[Source: Motorz]
Gallery: Chevrolet Trailblazer Droptop
Published May 19th, 2010 3:06 PM
Popular Articles
Latest Comparisons
Car Buying Tools