1 View
Three Days With the Nissan Leaf: An Emissions-Free Adventure in Tweets
November 26th, 2011 4:01 PM
Share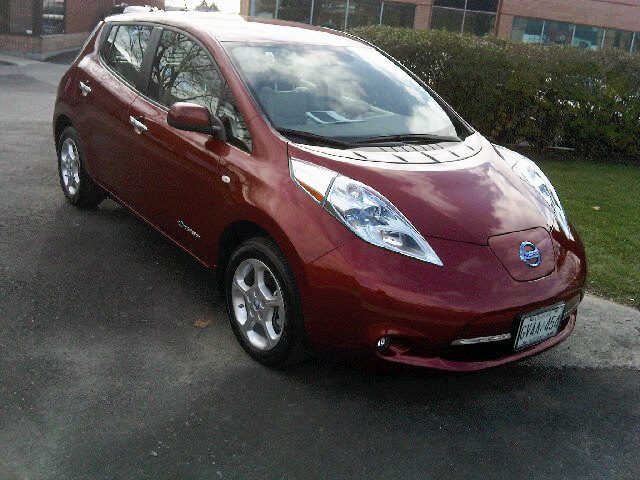 New car reviews are often carefully crafted pieces of prose. They're well thought out with plenty of reflection by the author about the vehicle's relevance, its target audience and how it stacks up against segment rivals. What they lack, however, is a sense of authenticity that comes from unfiltered opinion and reaction. Where you can get that, in 140 characters of less, is Twitter.
Recently AutoGuide.com Editor-in-Chief Colum Wood ( @ColumWood) had on-loan a Nissan Leaf electric car as a press tester. If you're a follower then you already know this as he tweeted incessantly on the car. For everyone else, we thought a journalistic experiment might help, compiling all the relevant tweets into a diary of sorts, documenting life with an electric car and running here, on the much more conventional medium of a News Blog.
See below for a look at what really goes on before a review is published and follow @ColumWood for immediate reaction on the latest car news.
DAY 1
Leaving to pick up the Nissan Leaf now. Already feeling the anxiety. Will it get me home?
21 Nov
21 Nov
From Mississauga to [removed for privacy] in the
@NissanLEAF
. Stopping for groceries. 27 km (17 miles) to go.
21 Nov
I'm freezing. Drove the Leaf without heat for half the drive because I was worried I wouldn't make it.
21 Nov
@NissanLEAF
keeping me healthy. Walked from grocery store to Walmart because I'm not sure the car can do it AND get me home.
21 Nov
I'm home! I made it and 18 km (11 miles) left to go on the
@NissanLEAF
21 Nov
21 Nov
22 km (14 mile) charge right now. 17 hours to go… Yikes. wonder if it will be ready for my 5:45 commute time
yfrog.com/gyr9niqj
21 Nov
14 hours left to charge the
@NissanLEAF
@nissancanada
At 28 km (17 miles). Wish carwings app auto-updated, although I guess this helps build excitement
21 Nov
Heading to bed
@NissanLEAF
needs 10 more hours to charge fully. At 48 km (30 mile) range now. Odd, it was 9.5 hrs 30 mins ago.
21 Nov
DAY 2
Ready to start my 60 km (37 mile) commute.
@NissanLEAF
says 2 hours left to full charge, 81 km (50 mile) range. Wish me luck.
22 Nov
I stalled leaving the house and I got one extra km of range.
22 Nov
Sweet. Actual display in the
@NissanLEAF
says 120 km (75 miles)! Enxiety (
sic
) is fading away.
22 Nov
Hope EV charge port near my office is free
22 Nov
Never been so happy to see one of these things. Let the charging begin.
yfrog.com/khh4btej
22 Nov
Just figured out the
#chargePoint
EV charger. Took a few tries, but it's working.
22 Nov
I'm so spoiled. Now I have to actually walk to the office… Two whole blocks.
22 Nov
Glad I did my homework. The EV charger at the Tiff Bell Lightbox isn't on the map. The only other charger is 20 mins away at the Sheraton.
22 Nov
Whoa! Not only does the carwings app reach the Leaf 2 floors underground. Only 4.5 hours left to a full charge!
22 Nov
If the Leaf costs me $2.75 to charge and I do that twice a day, it's probably not much less than a Prius to run.
22 Nov
Is it proper etiquette to leave the charge port once your EV is fully charged? Guess I should make room for another. 3 hrs to go.
22 Nov
22 Nov
Is it free? Or did I just have to use my credit card to get it started?
yfrog.com/khixxctj
22 Nov
22 Nov
Carwings app says 118 km (73 mile) range and full charge. Moved the
@NissanLEAF
from Tiff building to
@vertscope
and it said 165 (102 miles)!
22 Nov
About to start another commute in the
@NissanLEAF
. Much more confident in the range already.
22 Nov
Interesting! Leaf actually tells you how many more miles you'll get my turning off the climate control.
22 Nov
The Leaf is now plugged in for the night. Current 45 km (28 mile) range and 14 hrs to charge. That is, if I don't get the pizza delivered.
22 Nov
So preoccupied with the Leaf that I left the office without my laptop. I've never done that. And I'm supposed to work from home tomorrow.
22 Nov
My wife wonders if there might be long term side effects to pumping so much electricity at your home to charge a car like the Leaf.
22 Nov
DAY 3
Leaf is fully charged this morning. And we're going to shoot video. 141 km (88 miles) of range to do it in.
23 Nov
23 Nov
Leaf test car only has 1500 km (932 miles) on it. In three days I'll put 400 (249). My guess is most journos don't have a 60km/40 mile commute each way.
23 Nov
The Leaf is like a 100 mpg car that can only hold 1 mpg of gas.
23 Nov
Nissan says 21 hrs on a conventional 120v. 7 hrs on a 240.
23 Nov
My Leaf just gave me the "low battery charge" warning. No turtle yet though.
23 Nov
23 Nov
Returned the
@NissanLEAF
yesterday. While still only a solution for a select few I'm amazed at how REAL it is.
24 Nov
Plus, for the latest News and Reviews, follow @AutoGuide
Published November 25th, 2011 2:15 PM
Popular Articles
Latest Comparisons
Car Buying Tools