1 View
For $11 Million, This Gaudy Golden Supercar Can Be Yours
October 15th, 2013 2:36 PM
Share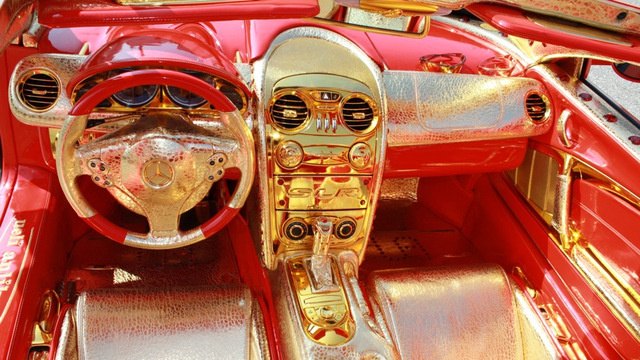 You won't want to look directly at this gold-plated, ruby-encrusted Mercedes SLR – your retinas may burn with all the gaudiness packed into this custom supercar.
Swiss entrepreneur and millionaire Ueli Anliker likes to spend his money on exotic cars, like the Red Gold Dream SLR, but now he's willing to part with it… for $11 million. The expensive eye-sore is adorned with 500 rubies (there's even precious gems in its wheel lugs) and bathed in 14-karat gold. It terms of performance, it can put out 700 hp, but Anliker is determined to get it up to 1,000 hp before he parts with it.
So if you're willing to foot the enormous price tag, you want to be sure that it stays in your possession, right? Rest easy – the Red Gold Dream SLR isn't going anywhere, as it comes complete with a GPS tracker, a remote-disable function and a sensor goes off when someone looks at it the wrong way.
In 2009, this SLR was estimated to be worth $4.3 million, but Anlicker says it's worth $11 million, thanks to all the small touches he's added to it. And according to him, he's got a few interested buyers from China and the Middle East wanting to take this bad boy home with them. What do you think? Is it worth $11 million? Do you think the person who buys this should have all their money confiscated from them, as they exhibit poor impulse control? Let us know your thoughts in the comments section below.
[Source: Jalopnik]
Published December 9th, 2011 11:59 PM
Popular Articles
Latest Comparisons
Car Buying Tools