1 View
Acura to Advance With New "Man Machine Synergy" Brand Strategy
January 25th, 2012 2:02 PM
Share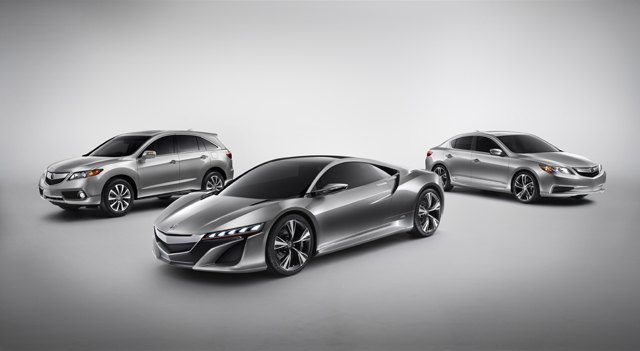 After a dismal last year, Acura has hit the restart button, introducing three new concept cars at the North American International Auto Show and planning more to come. In Detroit, Acura showed off the second-generation RDX, the new ILX compact sedan and the NSX Concept. Later this year the Honda luxury division will unveil its next-generation RL at the NY Auto Show.
To go with the new product and a host of new technologies, Acura has a new brand strategy which it is calling Man Machine Synergy. The philosophy is a development of the Honda motto: man maximum, machine minimum. The idea, says Honda Canada executive vice president Gerry Chenkin is that, "When man and machine connect, the extraordinary happens."
The new brand strategy was born out of the 2008 economic crisis that claimed the previous NSX concept explains Chenkin at an Acura strategy meeting at Honda Canada headquarters. Chenkin explained how at that time a dramatic change occurred in the industry, away from conspicuous consumption and towards more care for the environment by luxury buyers – particularly new ones."The events made us refocus on what we wanted to do," he said, and the failed NSX concept car, "digressed into the area of heavy vehicles," and wasn't, "a product unique to Acura DNA." That said it, "would not have been able to deliver the kind of performance that Acura really speaks to," using, "the latest technology, not necessarily the largest engine."
Delving deeper, Alexandre Roger, assistant vice president of Acura Canada said the idea of the Man Machine Synergy philosophy is to use technology to "enable and enhance." Roger points to European competitors, whose cars are designed for maximum capability, but if the driver's talent isn't at that level, the result is the, "frustration of the driver and a waste of technology". Instead, Acura will design its systems to make drivers better.
The goal, says Roger, is to make Acura a prestigious and desired brand by matching the wants and needs of buyers with products, delivering a driving experience in tune with the Man Machine Synergy philosophy and to deliver an overall premium experience starting at the dealership. To do this Acura will follow six business principles: first, to use its Honda origin to deliver value; second, to offer products with a far sighted vision and social benefits; third, to deliver an "overwhelmingly" beautiful design; fourth, to develop strategies to communicate the new brand image; fifth, to offer superior customer care and six, to work within a stable and sustainable business model.
Of note, Roger mentioned a new Concierge Experience for customers, though stopped short of adding specific details as to what sort of services would be involved by Acura dealers.
Addressing a pre-crash statement by Acura that it was seeking to become a tier one luxury automaker Chenkin says that is still the goal, but qualifies his statement, commenting that Acura will do so by sticking to the core values of the brand and not by chasing other automakers.
Chenkin even surprised us by candidly remarking that, "We're approaching our 25th anniversary [as a brand in North America], so we figured this was as good a time as any to get our story straight."
Published January 25th, 2012 2:02 PM
Popular Articles
Latest Comparisons
Car Buying Tools