1 View
Jeep Wrangler Production Ramping Up to Meet Increased Demand
January 12th, 2012 12:15 PM
Share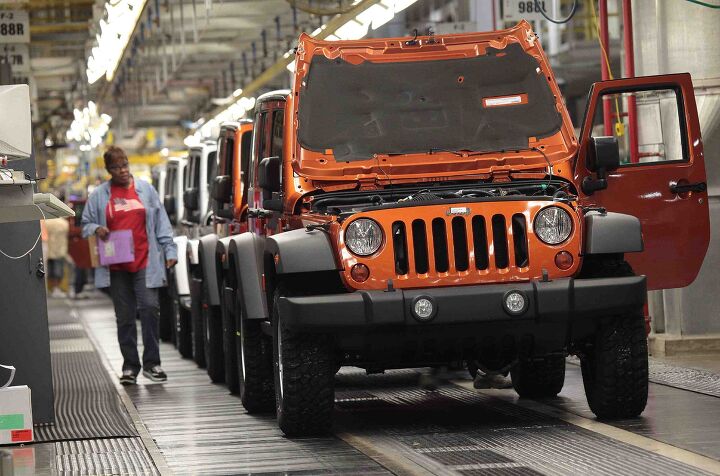 According to a plan instigated by both Chrysler and the United Auto Worker's union, an agreement between the two parties calls for a boost in Wrangler output to 90 vehicles a day at the Toledo Supplier Park facility in Ohio (the only one that builds the traditional Jeep), by June 2012.
In order to achieve that, some 25 workers normally employed on non production duties during the plant's two shifts, will be reassigned to the assembly line, which will help increase Wrangler production by some five vehicles each hour.
The reason for the hike in production? Wrangler sales in the US were up some 30 percent last year and global sales up 10 percent. As a result, Chrysler wants to do its best to keep up with demand, though given the fairly intensive maintenance schedules required for machinery in use at the plant, around the clock vehicle production is essentially impossible.
Mike Manley, Jeep Brand CEO, has expressed his concern on the matter, stating that he's "worried about having enough Jeep [Wrangler] production," due to the fact that "orders are still coming in very, very strong, not just here in the US but worldwide." That said, he also stated that Chrysler is "working very, very closely with the [Toledo] plant to try and get all the orders fulfilled."
Chrysler set a record for Wrangler production at the plant last year (some 165,166 rolled off the line), so in the current economic climate, while keeping up with demand might be a problem, it's definitely a good one.
[Source: Automotive News]
Published January 12th, 2012 12:15 PM
Popular Articles
Latest Comparisons
Car Buying Tools