1 View
New Device Enforces Restricted In-Car Cell Phone Use
January 23rd, 2012 8:00 PM
Share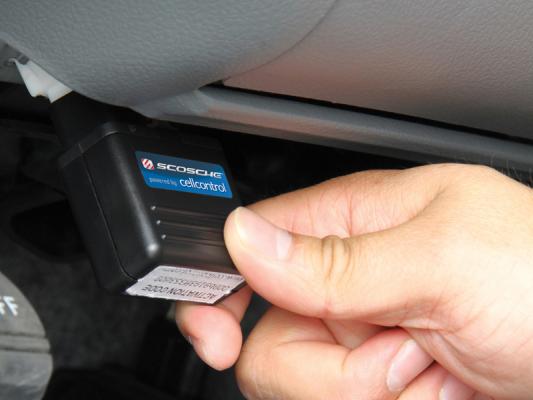 Cell phones behind the wheel— they're a deadly plague on traffic safety that cause frequent and preventable crashes. Even worse is the fact that scores of mature drivers are just as guilty as any number of 16-year-old sidewalk terrors more concerned with texting back than taking the wheel.
One company is offering a solution that could help cut down on the number of cellular offenders endangering themselves and others. Scosche is offering a device that blocks cell usage in a car while the vehicle is in motion called CellCONTROL.
As with any new technology, compatibility is always a concern. All the same, Scosche insists that the CellCONTROL is broadly compatible and easy to use. Any car sold in the U.S. in 1996 or later was made with an OBD-II interface, which is all their system needs to work within the car. They also claim that it works with more than 1,200 different phones such as BlackBerry 4.5 and higher, Android 2.1 and above, yet the iPhone is unmistakably missing from their list.
Once installed, drivers will find that their phone is only accessible via bluetooth headset. Email, SMS and really everything that would take your eyes off the road is out of reach until the wheels stop spinning.
While this is certainly a step in the right direction, we wonder how many people will really use this device. It costs $129.95 on the company site, so after shipping and all costs, you're likely to drop at least $150 when you can just as easily put the phone out of reach, say in a briefcase behind your seat.
The bluetooth headset should still reach at that range and you won't be tempted to send snarky tweets while steering. Another obvious question: what about your passengers? Unless you're the antisocial type or always drive alone, it would be a real nuisance for the co-pilot to be locked up as well.
That said, there are some great applications which are surefire selling points. Parents looking for a way to enforce safe driving habits probably wont bat an eyelash at a one-time expense to keep the kiddies safe. To sweeten the deal, the CellCONTROL gets a designated administrator, say mom or dad, and notifies them if someone tampers with the device.
It's a good idea that parents will probably buy into, but unless insurance companies start offering discounts to drivers who install these things, it seems like a hard sell to the adult crowd.
Published January 23rd, 2012 8:00 PM
Popular Articles
Latest Comparisons
Car Buying Tools