1 View
Renault Twizy Sport F1 Concept is Race Ready With KERS
April 25th, 2013 8:52 AM
Share
We're committed to finding, researching, and recommending the best products. We earn commissions from purchases you make using links in our articles. Learn more here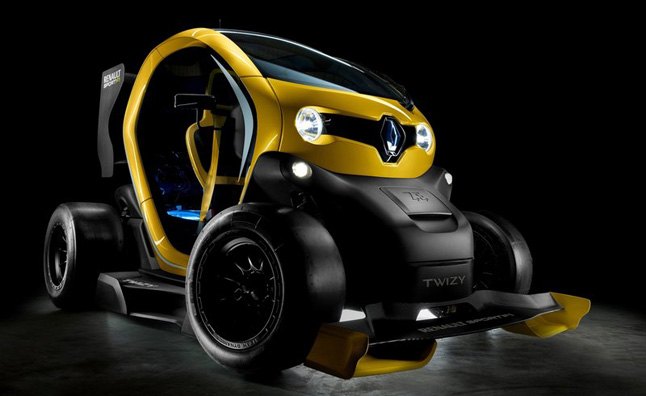 Renault has taken its small Twizy EV and surrendered it over to the engineers at its F1 team, the result from which is the Twizy F1 Concept, complete with KERS and F1-inspired performance.
The regular Renault Twizy engine, a 17-hp electric motor, carries over to the concept, but thanks to the KERS boost system is capable of pushing its output up to 97 hp for up to 14 seconds at a time. When the boost is active, the Twizy Sport F1 is capable of a top speed of 68 mph, and can make the jump to 60 mph in about six seconds.
F1 cars are not complete without proper aerodynamics, so a front splitter, side-pods, a rear wing and a diffuser have all been added to increase downforce, as well as complete the look of the concept. Topping it off are the tires, which are the exact same as the rubber used on the Formula Renault 2.0 single-seater.
Also lifted straight from the Formula Renault car is the steering wheel, complete with switches and knobs which can be used to control the KERS boost among other things. Six different levels of boost can be selected with a four-position rotary knob ranging from 10kW to 60 kW, and when the system is in use, a rain light incorporated in the diffuser will light up, same as the lights used in F1 to inform spectators that KERS is active.
The Sport F1 concept tips the scales at 1243 lbs, and achieves a power to weight ratio of 12:1.
The concept will be shown off at different public events throughout 2013, starting with the World Series by Renault meeting at Aragon, Spain (April 27-28), and the Barcelona Motor Show.
GALLERY: Renault Twizy Sport F1 Concept
Stephen Elmer
Stephen covers all of the day-to-day events of the industry as the News Editor at AutoGuide, along with being the AG truck expert. His truck knowledge comes from working long days on the woodlot with pickups and driving straight trucks professionally. When not at his desk, Steve can be found playing his bass or riding his snowmobile or Sea-Doo. Find Stephen on <A title="@Selmer07 on Twitter" href="http://www.twitter.com/selmer07">Twitter</A> and <A title="Stephen on Google+" href="http://plus.google.com/117833131531784822251?rel=author">Google+</A>
More by Stephen Elmer
Published April 25th, 2013 8:45 AM
Popular Articles
Latest Comparisons
Car Buying Tools