4 Views
Miata Madness: Nissan 370Z Vs. Ford Mustang Vs. Subaru BRZ
February 14th, 2014 3:49 PM
Share
We're committed to finding, researching, and recommending the best products. We earn commissions from purchases you make using links in our articles. Learn more here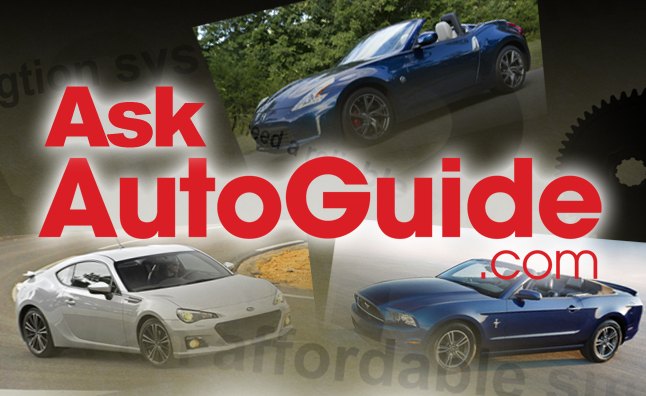 Unlike past installments of Ask AutoGuide we're taking a moment to help one of our own this week. Don't like it? Well then, how about you send us some car-buying questions then? How's that sound? In any event road-test editor Mike Schlee could use a new ride. He's the proud owner of a first-generation Mazda Miata that's sitting just shy of 200,000 miles.
That's an important automotive landmark to be certain but we fear for his safety. After more than two decades of harsh winters, the car's floorboards have decomposed like the Speedwell's hull. But a little spongy, water-logged timber didn't stop the Pilgrims and likewise "strategically lightened" sheet metal hasn't slowed Herr Schlee down.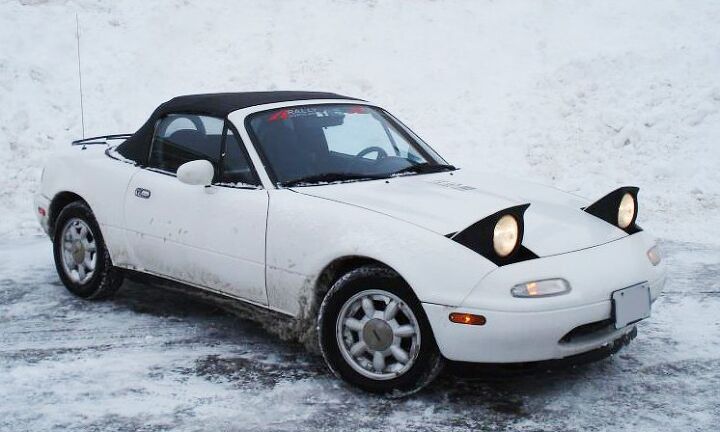 Sure, Mike's made a few cursory repairs to the foot wells, which to date have been surprisingly effective at keeping him from going Fred Flintstone but they probably aren't up to the rigors of protecting him in a crash (while extremely light in weight there's a reason automakers refrain from using papier mâché). Additionally many of the car's electronics are like Wal*Mart employees… they only work part time. He deserves better!
It's hard to believe but this year the renowned Mazda Miata celebrates its 25th birthday. For a quarter century this scrappy little rear-wheel drive sports machine has been delivering more smiles per gallon than supercars costing five times as much. Indeed, Hiroshima's David has slain countless Goliaths on serpentine roads and race circuits around the world.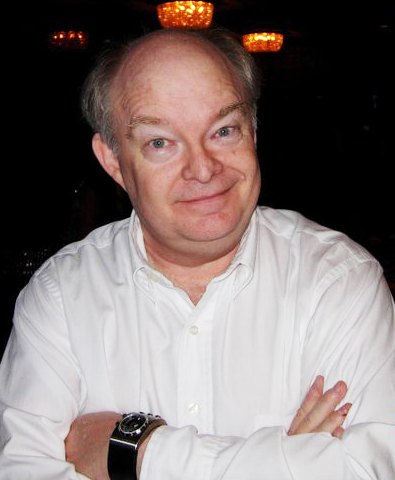 One of the people responsible for developing this legendary machine is Bob Hall, a man many enthusiasts refer to as the "father of the Miata," which is a title he actually bristles at. Hall said sternly over the phone during my recent interview with him that he was not the car's daddy. Instead he said "The only father is [Toshihiko] Hirai; there ain't no other." Hirai was the Miata's program manager and the one that transformed sketches and clay models into a salable vehicle. "He's the poor bastard that had to take the thing and make a car out of it" Hall said.
Prodding him for more information about what role he played in bringing the car to market Hall responded "I would be the nakodo of the Miata." He explained that a lot of marriages in Japan used to be arranged and the nakodo was a matchmaker that introduced suitable men and women. Essentially he developed the idea for a sub-RX-7 sports car and sold it to Mazda management, an enormously difficult task.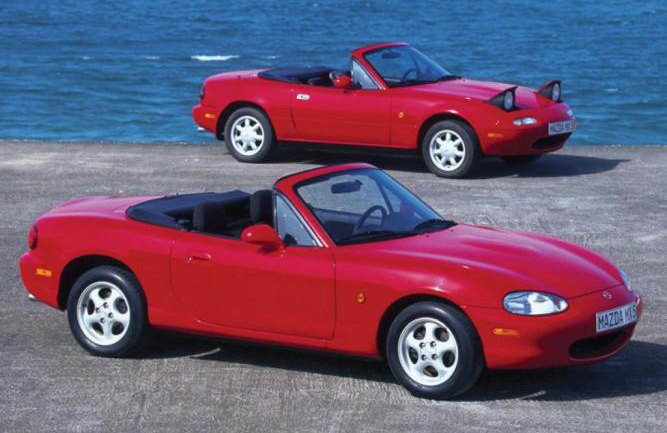 Jokingly he said "it's the 25th anniversary of the Miata but the 35th anniversary for me." During Hall's time at Mazda he labored on the car in his spare time before work, at lunch and after hours. Much overtime went into creating a salable concept for the
Miata,
and even then it was touch and go. He said "yeah, there was a time when it was not looking good," but thankfully for enthusiasts around the world "it ended up catching hold [within the company]" and the rest is history.
With Bob's intimate knowledge of the Miata who better to ask for help in suggesting vehicles for Mike? Here are a few options straight from the Hall's mouth for our most venerable road-test editor.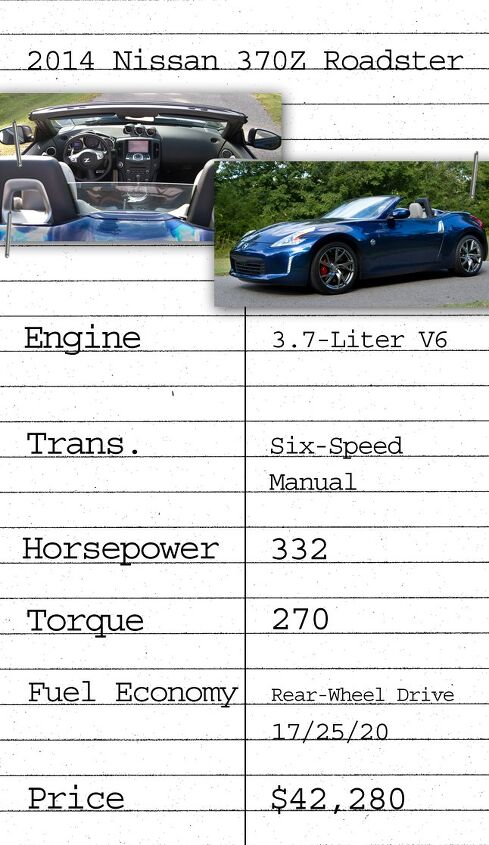 It's hard to find an affordable, lightweight roadster these days but
Nissan's
powerful 370Z makes a decent case, especially in drop-top form.
Like the Miata this Z-car features two doors, two seats and rear-wheel drive. What more do you need?
Under its hood rests a monster. As its name implies the 370Z is powered by a 3.7-liter V6 engine that far outmuscles the modest Mazda. It delivers 332 hp and 270 lb-ft of torque; it's damn-near twice as powerful as the Miata's 2.0-liter four-banger (167 hp).
Without question the 370Z is quicker in a straight line but it's a lot thirstier as well. The roadster version stickers at 17 miles per gallon city and 25 on the highway; combined it ought to pull down 20 mpg.
In comparison a soft-top Miata with the available six-speed manual transmission, which isn't even the cheapest version of the car, clocks in at 21 mpg city and 28 highway. According to Uncle Sam it ought to average 24 mpg.
Nissan's Z-car strains the scale at a little less than 3,500 pounds. By comparison the trim Miata weighs about 1,000 pounds less. The 370Z drives like it's hauling an entire season of "The Biggest Loser" around in its trunk.
Hall said "it's fallen between two chairs," noting that today's Z-car is too big to directly compete with the Miata but it's not large or powerful enough to go after ponycars like the Camaro SS or Mustang GT.
SEE ALSO: 2010 Nissan 370Z Review
So, Nissan's offering is both thirstier and heavier than the Mazda; yikes, things aren't looking good and they don't get better when you compare pricing. Base MSRP for a 370Z coupe is right around $30,000, which is already about six grand more expensive than the basest Miata. But if you want a drop-top Z buckle up; they sticker for roughly $42,280 including shipping-and-handling fees. Because of pricing Hall said "both of them are kind of out of the running."
Summing the 370Z up Hall said "it's a six-cylinder Corvette in my book," adding that if that's the kind of car you want you should just get a 'Vette. Case closed.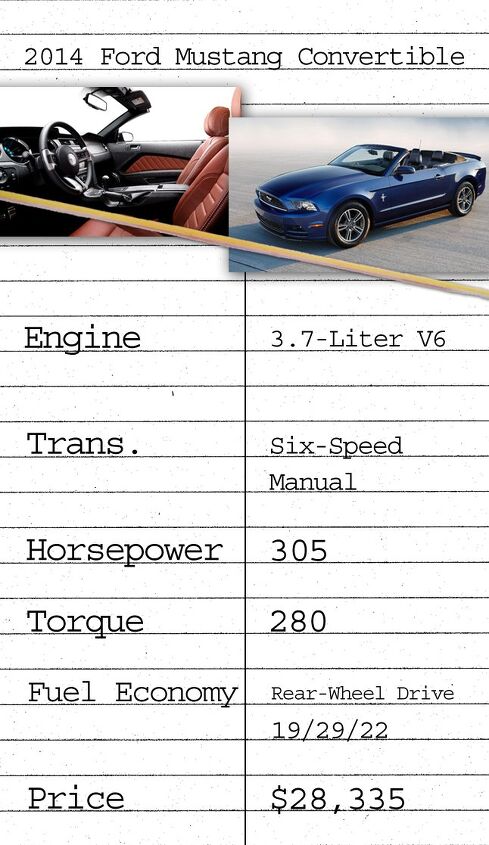 Pondering America's original ponycar Hall said "a base
Mustang
might be in there." While it can't match the Mazda's driving finesse he noted that "a base Mustang is going to be faster than a Miata."
Like the Nissan, today's entry-level 'Stang is powered by a big ol' V6 engine. It displaces 3.7-liters and delivers 305 hp with 280 lb-ft of torque. Unlike the 370Z, Ford's Mustang is reasonably fuel efficient, in fact it stickers at 19 miles per gallon city and 29 highway when equipped with the six-speed manual gearbox; the automatic version is even more efficient.
Appropriately, power is routed to the car's rear wheels the way God intended. But there's a catch. "It's got a 1951 truck rear-axle" Hall said, referring of course to the Mustang's iron log propping up its hindquarters. Despite its crudity the car actually drives pretty well considering what the suspension is comprised of.
On that subject Hall mused about Miata development once again, noting that it actually started with a solid rear axle "but it went away relatively quickly" he said after it became a serious project at the company. That was undoubtedly a wise move because he also mentioned that the spirit of the Miata is "in the chassis."
Initially Miatas were going to share the RX-7's transmission and rear end to in a bid to keep capital expenditures to a minimum and profit margins as high as possible. As development continued they were able to design a proper independent rear suspension and according to Hall, overall development for the car "cost less than most people expected."
Anyway, back to the Mustang; like a Miata it's pretty affordable as far as convertibles go, with a starting price of right around 28 grand. Interestingly an MX-5 with a retractable hard top is more expensive.
SEE ALSO: 2014 Ford Mustang GT Convertible Review
Unfortunately this Ford is a bit heavier than even the portly 370Z so it really can't match the Mazda's dynamics. "It is a friggin' great Mustang but that doesn't mean it's a good Miata," said Hall, adding that "it's no swipe at the car because a Mustang isn't supposed to be a Miata."
Wrapping things up, he also said "if the next generation car [2015 Mustang] were out it would be a more credible recommendation" since it should be significantly lighter and feature an independent rear suspension.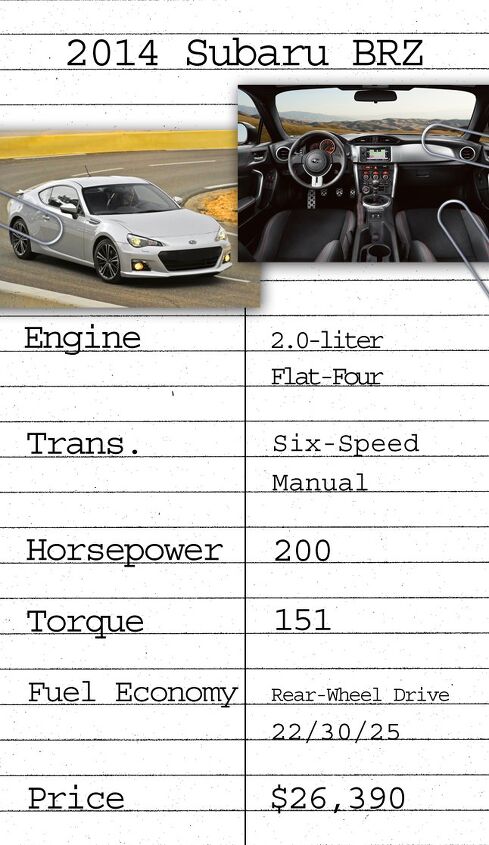 Ok, suggestion No. 3 comes so close it's not even funny, but since the
Subaru
BRZ is missing one mission-critical feature it technically doesn't count. Regrettably the car is not offered as a convertible… yet. With that out of the way let's sing the praises of this sports car.
Along with its Scion FR-S doppelganger this Subie is more fun than should be allowed. "Mechanically they're a joy" Hall said, thanks to their light weight, rear-drive layout and focus on finesse. Sounds like a familiar formula, no?
Hall also noted that the FR-S makes a lot of sense for enthusiasts but "I would recommend a BRZ over an FR-S," and for good reason. He added "we had a saying at Mazda. 'Whoever provides the engine provides the heart of the car.'" Since the Scion variant features a Subaru horizontally opposed powerplant he considers it to be a Subaru, plus not as many BRZs will be sold compared to FR-S's.
Price-wise this Subie is all over the Miata like barbecue sauce on a chicken wing. Base price is just about $26,000 for a version with sporting a refined six-speed manual transmission.
When it comes to power the car features a 2.0-liter four-cylinder that delivers an even 200 hp along with 151 lb-ft of torque. The goods are sent rearward through a standard six-speed manual transmission and ultimately to the wheels via a Torsen limited-slip differential.
Thanks to a curb weight under 2,800 lbs, the car should be able to stretch a gallon of gasoline 22 miles in urban driving and up to 30 on the interstate; combined it delivers 25 mpg. However, opting for the available automatic gearbox significantly reduces consumption, upping the average by three mpg.
SEE ALSO: 2013 Subaru BRZ Review
Clearly there's a lot to love about the Subaru BRZ, if they only offered it with a drop top it could be the perfect Miata killer.
With two and a half decades of heritage backing it the Mazda Miata is an automotive icon and a car that really has no direct competition in North America today. The Nissan 370Z is expensive and inefficient; the Ford Mustang is heavy and crude; the Scion FR-S/Subaru BRZ duet is hampered by non-removable roofs.
"The pool gets really shallow at this point" Hall noted, going on about the lack of choices in this "segment." But still he threw one other potential option out of left field.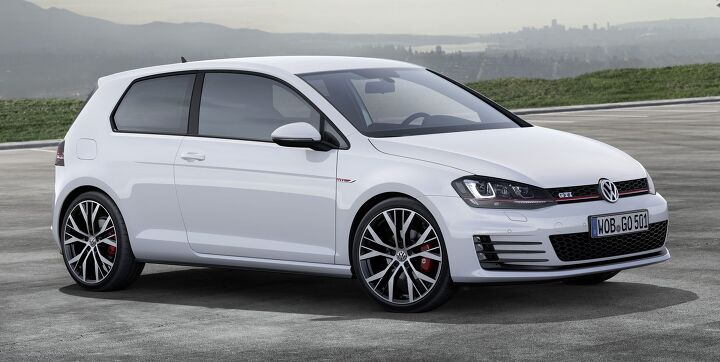 "Personally I think the GTI is a great car to drive" he said, adding "It's wrong wheel drive but it's a damn good wrong wheel drive." Plus this Volkswagen is a hatchback and offers tons of interior space
SEE ALSO: Life With a 25-Year-Old Miata
Bringing all of this full Circle Hall said "my first recommendation to him would be to track down a low-mileage first-generation Miata from some rust-free environment like California, Nevada or Arizona."
So there you go, Mike. "Go out and buy Miata… It's a no brainer" Hall said, adding that either new or certified pre-owned "it's not a car you could go wrong with, full stop."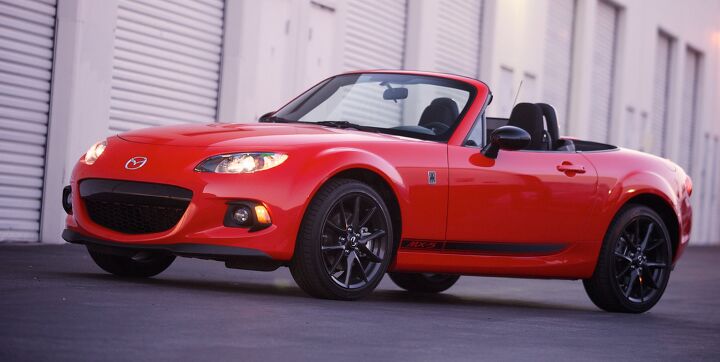 If you need a little assistance shopping for your next vehicle feel free to do the same. Send a short message to ask@AutoGuide.com. Let us know the basics of what you're looking for. How many seats do you need? What size of vehicle do you want? How much are you willing to spend? With some of those fundamentals out of the way we'll get busy to come up with two or three must-see vehicles that you'll have to put on your test-drive list.

Craig Cole
Born and raised in metro Detroit, Craig was steeped in mechanics from childhood. He feels as much at home with a wrench or welding gun in his hand as he does behind the wheel or in front of a camera. Putting his Bachelor's Degree in Journalism to good use, he's always pumping out videos, reviews, and features for AutoGuide.com. When the workday is over, he can be found out driving his fully restored 1936 Ford V8 sedan. Craig has covered the automotive industry full time for more than 10 years and is a member of the Automotive Press Association (APA) and Midwest Automotive Media Association (MAMA).
More by Craig Cole
Published February 14th, 2014 3:01 PM
Popular Articles
Latest Comparisons
Car Buying Tools