1 View
VW Golf SportWagen Previewed as Diesel AWD Concept
April 11th, 2014 10:55 AM
Share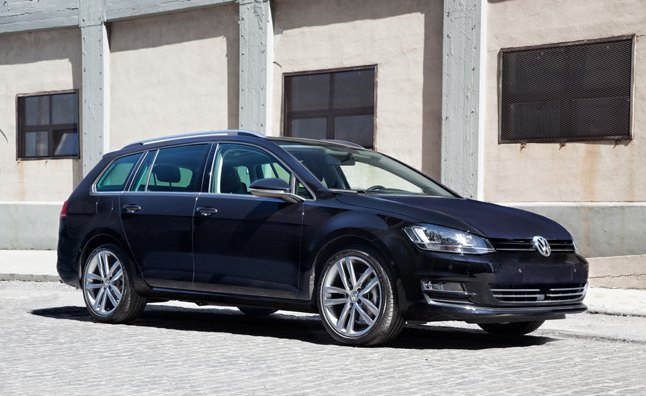 Something spacious, thrifty and German is heading to the 2014 New York Auto Show this year.
You might already be familiar with the Volkswagen Jetta SportWagen: one of the few true station wagons left on dealer lots in North America. For 2015, the car will be re-branded as a part of the Golf product line. Volkswagen's most recent automotive revelation sends a strong message that the comapny is commited to supporting the dwindling segment come hell or high water. The concept version seems totally production ready and offers a host of practical features that would make it unique in North America.
Packaged atop VW's prolific MQB architecture, it uses a 2.0-liter turbocharged clean diesel engine powering all four wheels. That engine is Volkswagen's new EA288 diesel, a new mill that addresses NVH and warming weaknesses that exist in the current powerplants while boasting boosted fuel efficiency (turbo pun intended).
Volkswagen hasn't said anything about expected fuel economy with the concept car, but the company promised earlier this year that its new engine family will reduce fuel consumption compared to the outgoing powerplant. It makes 150 hp, which is a 10-hp increase over the old engine. The diesel version is also mated to both a six-speed manual or a DSG automatic with the same nubmer of gears.
One of the other reasons the "concept" car looks so production ready is that it is… In fact, this is a preview of the 2015 Golf SportWagen that will initally arrive with the company's new 1.8-liter turbocharged gasoline engine. That powerplant makes 170 hp and is stuck with a five-speed manual. A six-speed automatic is also available, effectively paying Volkswagen's property taxed in Bedrock and the stone age for years to come. Regardless, the company says its new model is up to 17 percent more fuel efficient.
But the rest of the car is littered with new technnology. Like Midas and his gold touch, every model associated with the new platform is bigger yet lighter than the vehiciles they replace. The same can be said of the upcoming Golf SportWagen. It's front wheels now sit 1.7 inches farther forward. It's also 1.1 inches longer and 0.7 inches wider. VW says that interior volume is on par with a compact crossover. Makes sense considering a few more inches of ride height would make this car exactly that.
Features new to the vehicle include a panoramic sunroof, a 12-way power driver's seat, xenon headlights and LED daytime running lights.
In production form – in other words with the 1.8-liter gasoline engine – you can expect to start seeing the new Golf SportWagen show up in U.S. showrooms in early 2015. Don't be shocked if the diesel verison starts showing up shorlty thereafter.
Discuss this story at our Volkswagen forum
Published April 11th, 2014 10:55 AM
Popular Articles
Latest Comparisons
Car Buying Tools