56 Views
2019 Mazda3 Boss Has an Unusual Favorite Feature
May 29th, 2019 11:37 AM
Share
We're committed to finding, researching, and recommending the best products. We earn commissions from purchases you make using links in our articles. Learn more here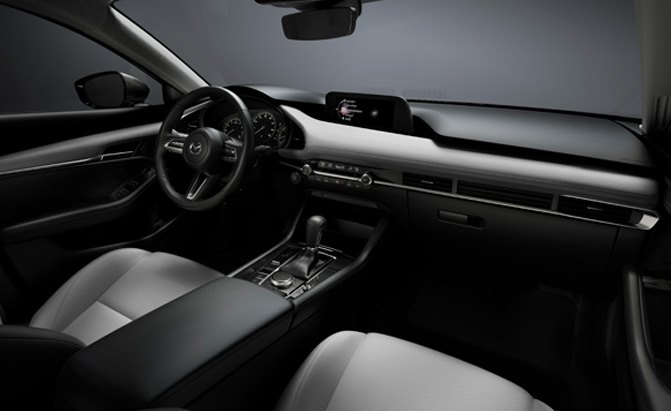 What is the 2019 Mazda3 program manager's favorite part of this all-new compact car? You'll never guess what it is.
"Surprisingly, [it's] the audio system," said Kouta Beppu. "Because the usual answer, of course, of auto manufacturers, is the engine or the platform, but this time around it was really the sound system."
Engineers radically altered the speaker positioning in the new Mazda3. In fact, they've moved the bass speaker to a curious spot: outside the vehicle interior.
This major audio-system component is now located at the A-pillar's base on the cowl side. "And why did we do that?" asked Beppu. He said normal low-frequency speakers are located in the door panels of most cars, "But what we've found out is… it's very difficult to get the good-quality sound of the bass to the passengers." So, that's why it's in such an unusual place.
SEE ALSO: 8 Design Secrets of the 2020 Mazda3
Visualizing its location, the bass speaker is tucked into a cavity just underneath the fender and behind the front wheel. It can't be seen without some disassembly, "But thanks to that we've been able to drastically improve the dynamic range of the sound system," said Beppu.
Engineers also carefully placed the new Mazda3's high-frequency tweeters, placing them at the base of the A-pillars, aimed directly at the driver. Beppu said that high frequencies have very low amplitude and, "If you reflect it off some surface there's diffraction, meaning that you lose a lot of the energy… and therefore you lose the clarity of the high frequency.
"And when we finished with the development and we got the test drives done by executives and other departments the first thing they said when they get out is, 'The audio system is really good,'" noted Beppu, who was disappointed he couldn't demonstrate the sound system's alleged superiority during our all-too-brief interview. "So that's for another day," he said, one we're eagerly looking forward to.
ALSO SEE: Here's Why the 2020 Mazda3 Has a Torsion-Beam Rear Suspension
Discuss this story on our Mazda3 Forum

Craig Cole
Born and raised in metro Detroit, Craig was steeped in mechanics from childhood. He feels as much at home with a wrench or welding gun in his hand as he does behind the wheel or in front of a camera. Putting his Bachelor's Degree in Journalism to good use, he's always pumping out videos, reviews, and features for AutoGuide.com. When the workday is over, he can be found out driving his fully restored 1936 Ford V8 sedan. Craig has covered the automotive industry full time for more than 10 years and is a member of the Automotive Press Association (APA) and Midwest Automotive Media Association (MAMA).
More by Craig Cole
Published December 28th, 2018 11:08 AM
Popular Articles
Latest Comparisons
Car Buying Tools