3K Views
2023 Dodge Charger SRT Hellcat Widebody Redeye Jailbreak Review
August 28th, 2023 4:30 PM
Share
| Love It | Leave It |
| --- | --- |
| Engine Power | Fuel Thirst |
| Engine Sound | Lacks Safety Systems |
| Exterior Presence | Pricey |
| Audio System | |
The Dodge Charger is a remarkable car. It's almost an entire brand unto itself. Basic models are fleet favorites, costing just over $35,000 before discounts or incentives. At the other end of the spectrum, it's a six-figure monster with more power than nearly every sedan ever sold. Chargers are police cars, drag-strip warriors, and all-wheel drive family haulers.
Maybe its most impressive feat is the fact the same basic car has been on sale since 2005. Although there have been plenty of updates and upgrades, it's still a LX platform under all that wide, angry bodywork. No manufacturer is better at keeping an aging product relevant than Dodge.
Alas, all good things do eventually have to come to end, and this is the swan song for the big Charger. After the 2023 model year, it will be no more. Rather than let the lineup fade into the sunset, the muscle sedan is going out with a bang. We'd expect nothing less from Dodge.
Redeye Heart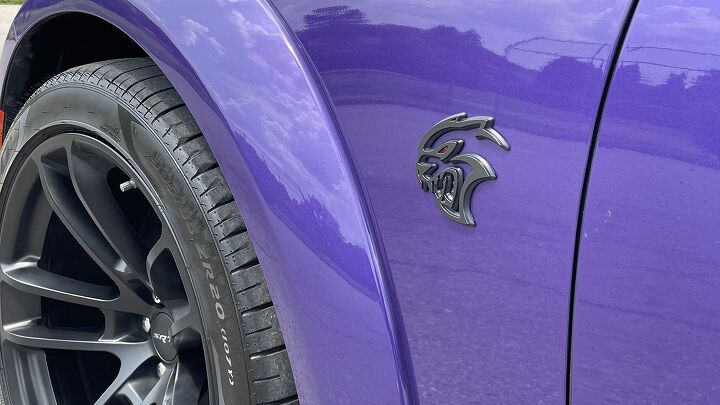 For the 2023 model year Dodge is releasing a special lineup of Last Call models to celebrate the Charger and it's two-door sibling, the Challenger. This is not one of those vehicles. But you know what? We don't care.
In our hands is a 2023 Dodge Charger SRT Hellcat Widebody Redeye Jailbreak. What that unnecessarily long name indicates is that we have the top-dog in the Charger hierarchy. There's actually some method to this naming method madness as well.
As most are aware by now, Hellcat indicates the car has a 6.2-liter supercharged V8 engine. Normally making 717 hp, the Redeye versions up power to 797 hp. Not done there, the Jailbreak uncorks an extra ten ponies. That puts the total to an immense 807 hp. Oh, and just for good measure, torque is also ridiculous at 707 lb-ft.
Hear Me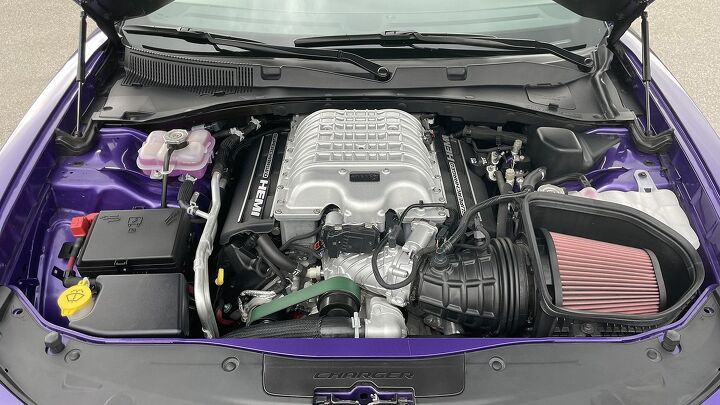 All that power is sent to the rear wheels via an eight-speed automatic transmission. Having a single axle deal with all this thrust may seem like a recipe for disaster, but the wide 305/35ZR20 tires grip well, even under hard acceleration. Further improving adhesion are upgraded three-season tires equipped to our tester. Of course, a big smoky burnout is possible at a moment's notice, further encouraged with the standard line lock (for, uh, track use only of course).
Even when driven sedately, the amount of power on hand is always present. Part of this is due to the open air box intake and active performance exhaust. A subtle burble reminds the driver at all times of the beast that lurks under the hood. Dip harder into the throttle and a symphony erupts.
The supercharger wails through the open air box. The exhaust system roars in a V8 sonnet that makes us wonder if the Charger's mufflers are merely for show.
Neighbours three counties over will know when the Hellcat is cold started.
Attack of the Senses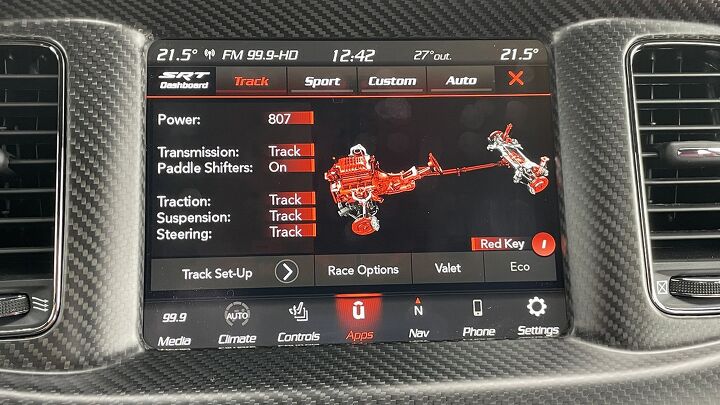 It's hard to relate the sensation of full acceleration in this car. There are plenty of vehicles that accelerate faster than the Redeye Jailbreak's 0-60 mph time 3.5 seconds. But few of those vehicles attack the full senses like the Charger. The sounds and vibrations of the massive V8 penetrate through the cabin as the big sedan lurches forward. With a rather tall 2.62 rear gear, the horizon approaches the windshield at an alarming rate, as jail-worthy speeds are reached before half of the car's gears are fully utilized.
Of course, 807 hp pushing around a 4,591-pound car is going to require a lot of fuel. In the most frugal, best-case scenario, the 2023 Dodge Charger SRT Hellcat Widebody Redeye Jailbreak is rated at 12 mpg (19.0 L/100 km) city and 21 mpg (11.5 L/100 km) highway. Drive the car the way it's intended and those numbers quick enter the single digits.
See Me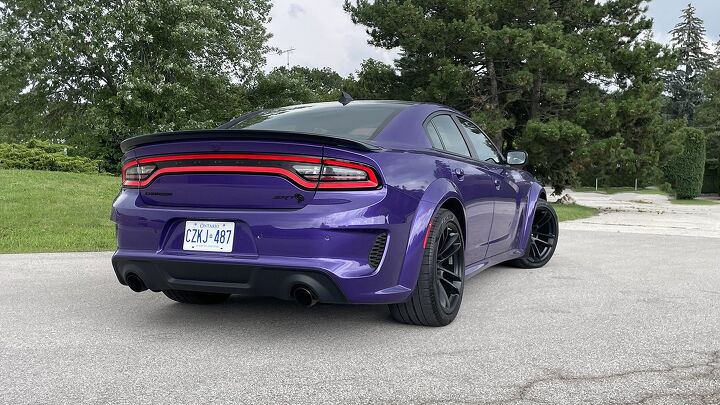 The Charger is a sizeable vehicle measuring in at 201-inches (5,105 mm) in length. Giving it more presence is the wide-body work which measures 78.3-inches (1,989 mm) at the vehicle's widest point, the rear wheel flares.
Our tester came painted in Plum Crazy (purple) with the optional satin black roof, hood, trunk, and spoiler. The black on purple theme continues with the black exterior badging, black Devil's 20-inch wheels, and black exhaust tips. Is it all a bit over the top for a full-size sedan? Yes. Is it a perfect fit for the Dodge Charger Redeye? Also, yes.
Carrying Its Weight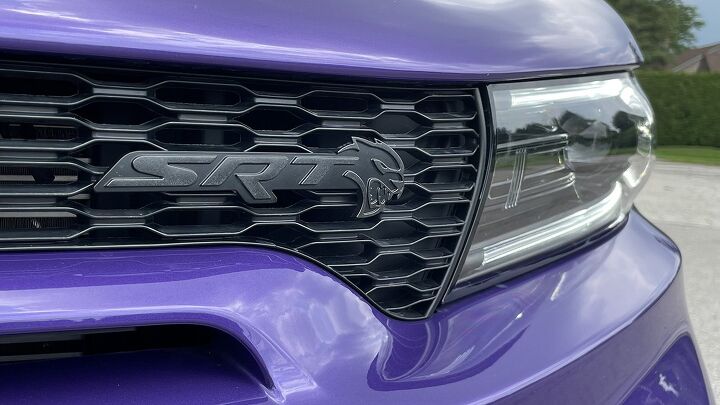 Despite being a heavy, high-powered brute, the Charger isn't a mess when the road bends. Aside from the wide 305 mm tires at all four corners, it comes equipped with a Bilstien adaptive damping system and a 34 mm stabilizer bar up front as well as Bilstien shocks and a 22 mm stabilizer bar in the rear.
The suspension can be set to auto, sport, or track modes, with noticeable differences in ride comfort between the three settings. Helping to get power down while cornering is a standard limited slip differential. When it comes time to slow down, large 15.7-inch rotors with six piston calipers up front and 13.8-inch rotors with four-piston calipers at the rear are tasked with scrubbing speed off the big Dodge.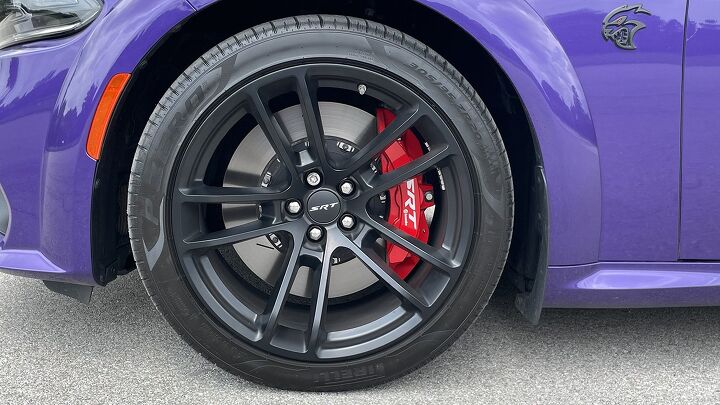 Even with all the proper bits, the Charger SRT Hellcat Widebody Redeye Jailbreak is not light on its feet. Its mass is felt when making quick cornering inputs, especially when encountering S-bends. Part of this can be blamed on the worst weight distribution of the vehicle's lineup. The bigger the engine gets in this car, the worst the front-to-rear weight balance. In our tester, 57% of the weight is over the front axels while 43% is handled by the rear. For comparison, the V6 rear-wheel drive Charger has 52/48 weight disruption split.
Still, there's a surprising amount of agility in the full-size sedan. Combined with all that power, and it'll surprise a lot of European luxury sedans with its haste through mountain passes.
Subtle It's Not
If the outside seems attention grabbing, just wait until the doors open. The interior is an extrovert's dream, finished with bright red seats and trim. Official called Demonic red, the trim also appears on the floor mats, seatbelts, and the light-up LED logo on the Alcantara steering wheel.
Other interior upgrades on our tester include the suede headliner and carbon fiber accents. The Hellcat comes with an 8.4-inch infotainment system, which is small by today's standards, complete with all the SRT performance pages.
Our favorite part of the interior is easily the upgraded 19-speaker Harman Kardon audio system. It rivals the car's supercharger and exhaust in how much it can disturb passing pedestrians, with a crisp, loud, bass-rich sound.
Proper American Sedan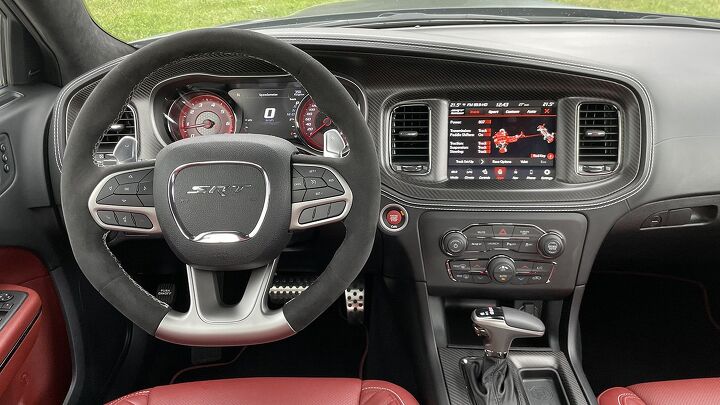 Everything mentioned so far in this review wouldn't mean much if the Charger didn't excel as a passenger-friendly sedan. After-all, it's a full-size American car.
With 36.9-inches (938 mm) headroom up front and 36.6-inches (930 mm) in the rear, cranium capacity may seem a bit limited. The numbers are a bit deceiving though, as our six-foot tall tester fits in both rows without issue. But those a few inches north of six feet may have issues.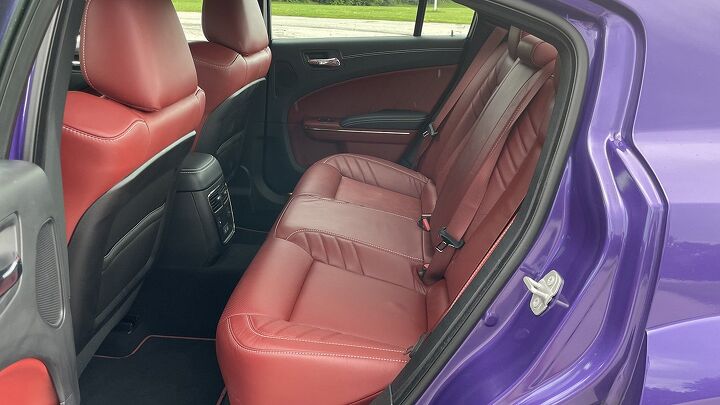 Rear seat space on the other hand is more than generous. Front seat passengers get 41.8-inches (1,061 mm) while those in the back seats still get 40.1-inches (1,019 mm) of space. The trunk is also cavernous, capable of hauling 16.5 cu ft (467 L) of gear.
More than just space, there is plenty of other comfort features including a dual zone climate control, heated and ventilated power front seats, a heated steering wheel, heated rear seats, and a power telescopic steering wheel.
Safety and Pricing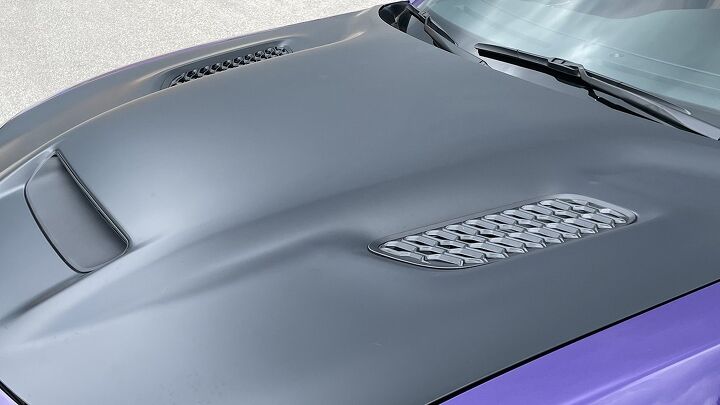 Safety isn't the 2023 Dodge Charger SRT Hellcat Widebody Redeye Jailbreak's key priority, but it still does include rear park assist, blindsport monitoring, and rear cross traffic alert. That stated, features found on many modern vehicles (including other Charger trims) are absent here. There's no lane departure warning or lane assist, no forward collision warning, and no adaptive cruise control.
As mentioned at the beginning of this review, the Charger's MSRP can dip into the six-figure range, and this is that car. Starting at a price of $90,745 ($117,785 CAD) including destination charges, as tested the vehicle on this page comes in at $101,400 ($130,240 CAD).
2023 Dodge Charger SRT Hellcat Widebody Redeye Jailbreak: The Verdict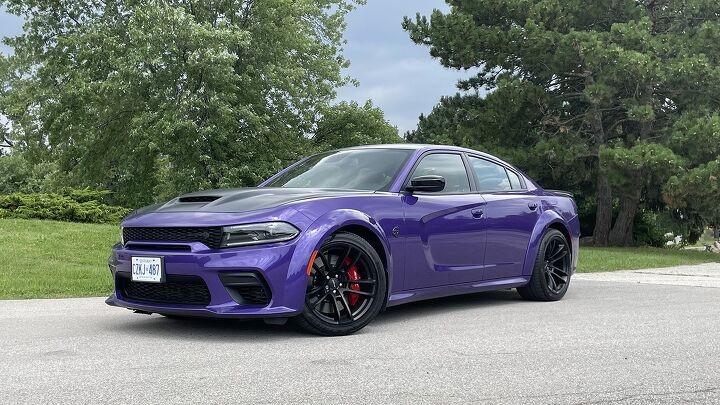 That's a lot of money for a Dodge Charger, but the Hellcat Widebody Redeye Jailbreak is a whole lot of car. As crazy as it sounds, for the performance, it's almost a bargain. With this being its final year, expect these cars to sell quickly and only escalate in value over the next several years.
So, if a no-excuses, old-school American muscle sedan with obscene levels of power, noise, and excitement is your kind of thing, better act quickly. They'll all be gone before we know it and we'll probably never see something quite like it again.
Become an AutoGuide insider. Get the latest from the automotive world first by subscribing to our newsletter here.
Fast Facts

Engine

6.2-liter supercharged V8

Output:

807 hp, 707 lb-ft

Transmission:

8AT

0-60 MPH:

3.5 seconds

US Fuel Economy (MPG):

12 city / 21 highway

CAN Fuel Economy (L/100 km):

19.0 cify / 11.5 highway

Starting Price (USD):

$90,745

As-Tested Price (USD):

$101,400

Starting Price (CAD):

$117,785

As-Tested Price (CAD):

$130,240
Published August 28th, 2023 4:30 PM
Popular Articles
Latest Comparisons
Car Buying Tools