1.4K Views
2023 Ram 1500 Limited 4X4 Review
July 26th, 2023 4:12 PM
Share
Long Distance Trucking in Luxury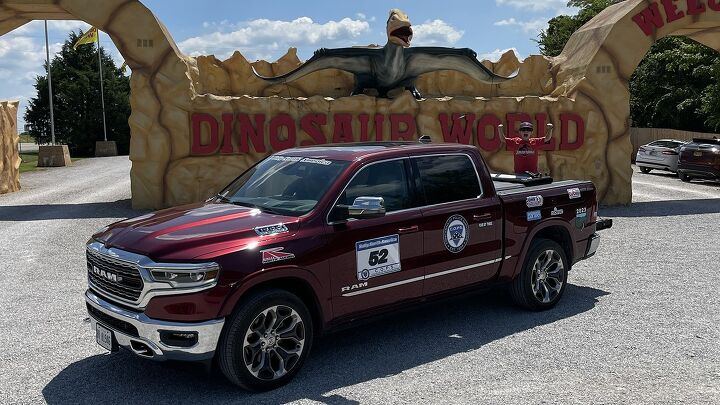 | Love It | Leave It |
| --- | --- |
| Comfortable Ride | Pricey |
| Luxurious Interior | Still a Bit Thirsty |
| Responsive Engine | One Electric Gremlin |
Pickup trucks aren't what they used to be, and that's a good thing.
These useful workhorses have come a long, long way in terms of driveability, civility, and comfort. There's a reason pickups are the top selling vehicles in the United and States and Canada. For many, they are the perfect tool for family life, work, and play.
Another stand-out feature of modern full-size pickup trucks is how great they are for road trips.
It's why I've chosen one for a week-long, 2,400-mile road trip with Rally North America through interstates, twisty backroads, and even a NASCAR short track (more on that later).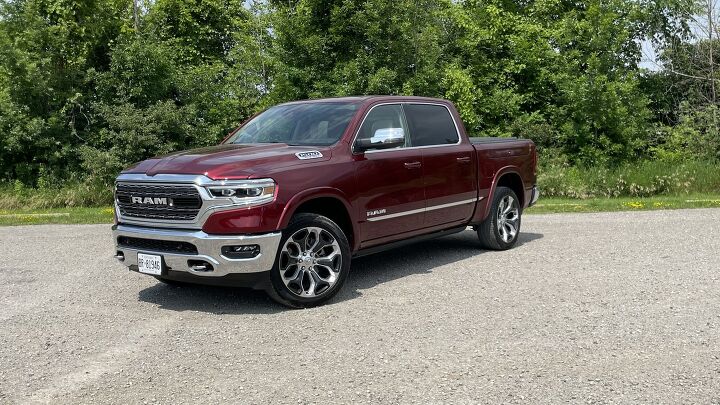 For this adventure I'm behind the wheel of a 2023 Ram 1500 Limited 4X4. This is the top dog of the 1500 family in terms of luxury appointments, with a starting price of $70,140 ($85,640 Canadian) including destination charges. My tester though has a ton of options added on including the Trailer-Tow Group, Limited Level 1 Equipment Group, Elite Package, Ram Box, anti-slip rear differential, and much more.
In the end, this pushes the as test price to $84,795 ($103,935 Canadian), once again including destination charges. On the surface, that seems like a lot of money for a pickup truck. Check the equipment list though and premium equipment justifies its price.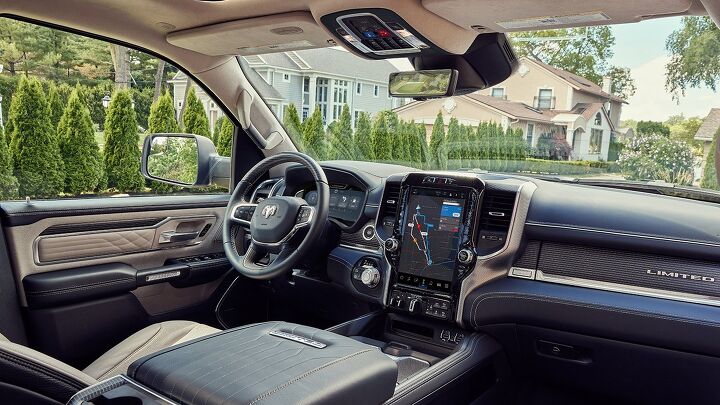 Inside, the seats feature a quilted leather–face and are power operated for both front passengers. The front and outboard rear seats are heated and ventilated too. With my father and son along for the trip, none of us complained about comfort even after 8-hour days inside the truck.
The interior design is useful, elegant, but not over the top opulent. It's appeasing to the eye with nice touches like the suede headliner and jeweled rotary shifter.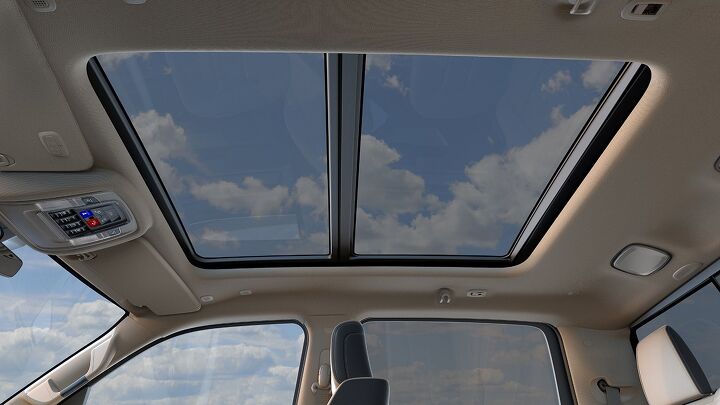 On a technology front, there is a digital rear-view mirror, head–up display, a 19–speaker Harman/Kardon audio system, a wireless smartphone charging pad, a dual pane panoramic sunroof, and remote engine starter.
The Uconnect infotainment system features less hard buttons than previous generations, but the user interface is still one of the best in the business. The Harmon Kardon sound system provides a crisp, clean sound – another plus for multi-hour stints behind the wheel.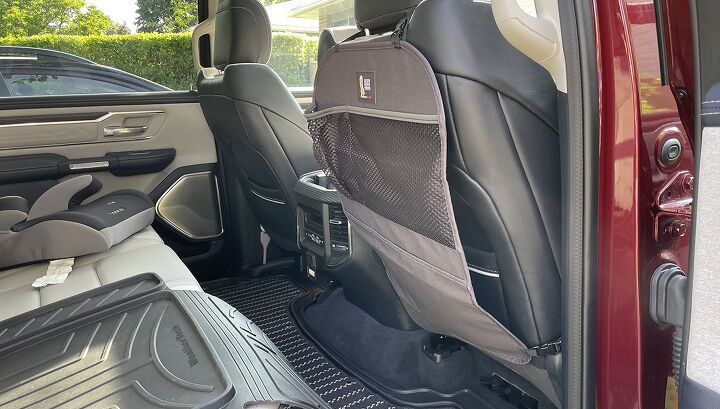 The Ram 1500 Limited is only available with the crew cab body configuration which offers plenty of space inside. Up front, passengers get 40.9-inches (1,038 mm) of headroom and 40.9-inches (1,040 mm) of legroom. Those in the back have even more space, with 39.8-inches (1,011 mm) of headroom and a generous 45.2-inches (1,147 mm) of legroom.
The interior feels as immense as the dimensions make it sound. The cliché of driving a living room is true here, and no one ever complained of space on our journey. There's also storage everywhere, with dual glove boxes, a massive, customizable center console, and even more storage in the rear.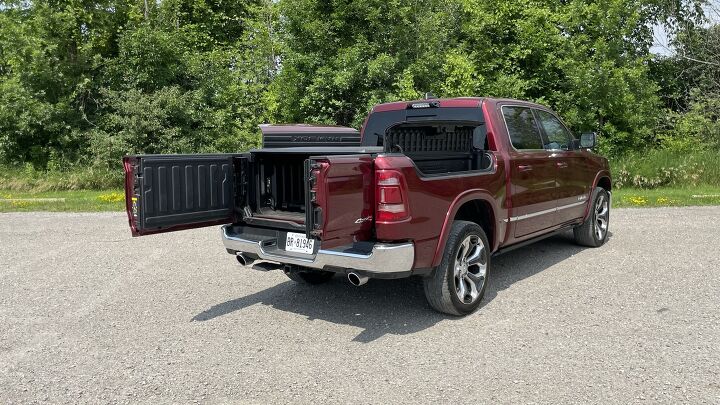 The storage capability and utility of the truck continues with the exterior. Our tester has the 5-foot 7-inch regular bed configuration which is good for 53.9 cubic feet (1,526 L) of cargo capacity. Flanking the sides of the bed is the Ram Box storage system which consists of a pair of lockable, watertight cargo compartments. These allowed us to keep all our outdoor equipment, like folding cars, baseball gear, etc., locked up and out of sight in one of the boxes during our travels. The other box held excess water, drinks, and snacks.
The bed itself features the optional tri-fold tonneau cover that proved to be watertight during a few heavy, heavy rainstorms. Our canvas luggage stored in the bed never got wet. Accessing our dry suitcases and duffel bags is easy thanks to the multi–function tailgate. It can lower like a traditional tailgate or open as a pair of Dutch doors.
Full-Size Pickups Are Full-Size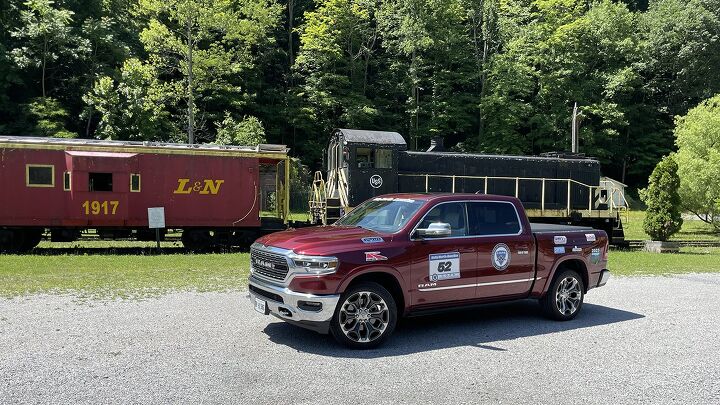 Measuring a total length of 232.9-inches (5,916 mm), the 2023 Ram 1500 Limited is not a small vehicle. In many parking lots, it sticks out into the lane way slightly. The external cameras are a great help when parking, especially for someone not used to pickups like me. I could see how close the front bumper was to the center line when parking, ensuring I got as much of the trunk into the parking space as possible. Another camera I came to appreciate is the digital rear-view mirror. It gives a clean, unobstructed view of what's behind the truck.
The adjustable air suspension meant the truck was a mere 75.8-inches (1,926 mm) high in lowest setting. This means it can technically fit into parking garages with a maximum clearance of 6'4", although I stuck to 6'6" garages just to be safe.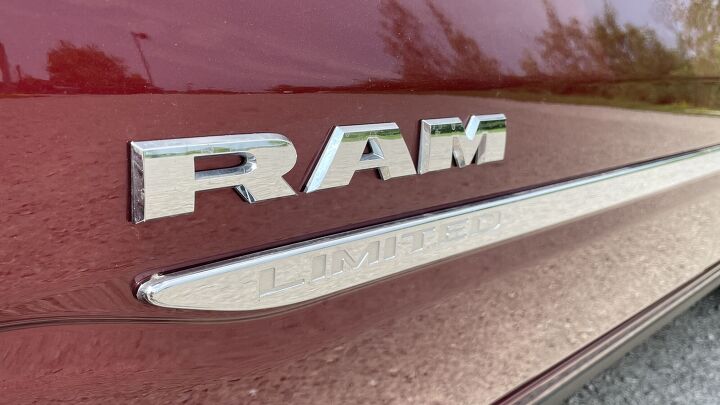 Swing the air suspension in the other direction, and the 2023 Ram 1500 lifts off the ground to allow 10.8-inches (273 mm) of ground clearance in Off-Road 2 mode. But off-roading is not the forte of this truck the way it's equipped, especially with the all-season 285/45R22 tires on the optional 22-inch wheels.
While on the topic of exterior options, also included in my tester are power operated retractable running boards, a Mopar deployable bed step centre–mounted, four adjustable Mopar cargo tie–down hooks, pick–up box lighting, the full tow package, and a Mopar spray–in bedliner.
A Twist on a Familiar Friend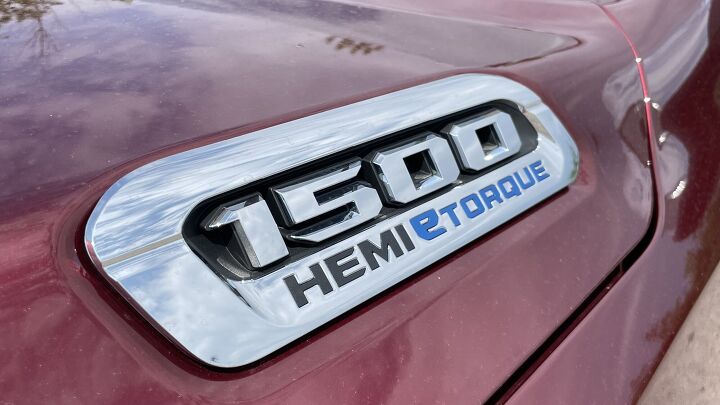 All versions of the Ram 1500 Limited come standard with a 5.7-liter Hemi V8 engine, which is equipped in my test vehicle. The entry-level V6 is not offered on this higher trim, but a turbocharged diesel can be had as an option.
The V8 now features eTorque which is a mild hybrid system. There's a 12kW belt-start generator coupled to the engine that allows for 130 lb-ft. of launch torque during stop/start sequences at things like red lights. It allows the truck to roll away from a dead stop before the engine has fully refired. It's a well execute system that works as intended and mitigates that delay many stop/start systems cause between lifting off the brake and the engine refiring.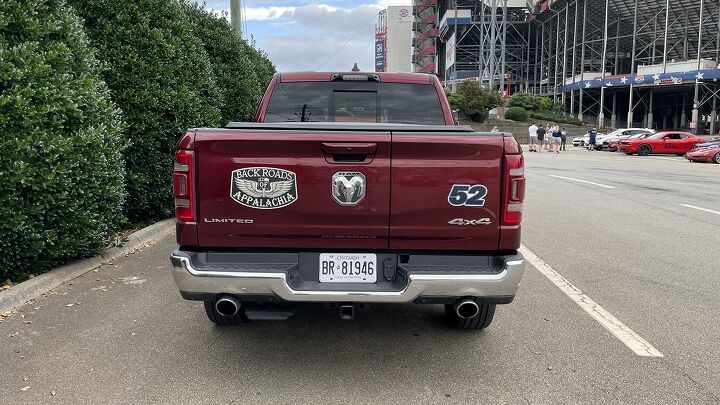 Unlike a full hybrid system, the eTorque set-up doesn't add power to the gas engine. The Hemi V8 is rated at 395 hp and 410 lb-ft. of torque. It's recommended the engine is run on 89-octane fuel, but it can run on 87-octane just fine.
The engine produces a throaty exhaust sound that's louder than I expected in a stock, luxurious pick-up truck. It is fitting for the Ram brand though, which has always had a boisterous edge. I'm a big fan of the V8 sound as it's not over the top or annoying. It gives the truck a presence and makes it feel more powerful than it is.
Testing Over the Long Haul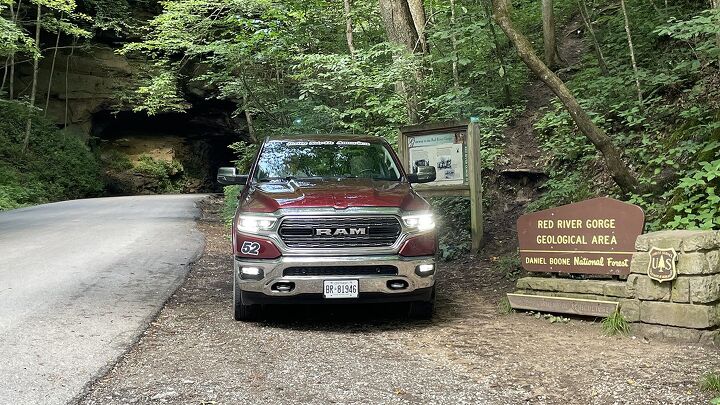 Coupled to an eight-speed automatic transmission, the engine produces a good level of power for a mostly unloaded truck. In the city, there's more grunt than needed and it can still pull quite well at freeway speeds. The transmission is a large factor here as it works hard to keep the engine in its powerband. The eight-speed never hunts for gears but is very deliberate if not slightly delayed when downshifting to the proper gear. The Ram 1500 Limited does not have a sport mode to increase throttle or transmission response. Only the TRX has that feature.
Official fuel economy figures for my tester are 17 mpg (13.5 L/100 km) city and 22 mpg (10.5 L/100 km) highway. My trip includes mostly highway driving with some hard driving in-between. Over the course of 2,425 miles (3,900 km), I averaged 20.3 mpg (11.6 L/100 km). With the upgraded 33-gallon (125 L) fuel tank, that meant over 600 miles of range per tank which is nice when putting in long days behind the wheel.
Testing Where Trucks Rarely Go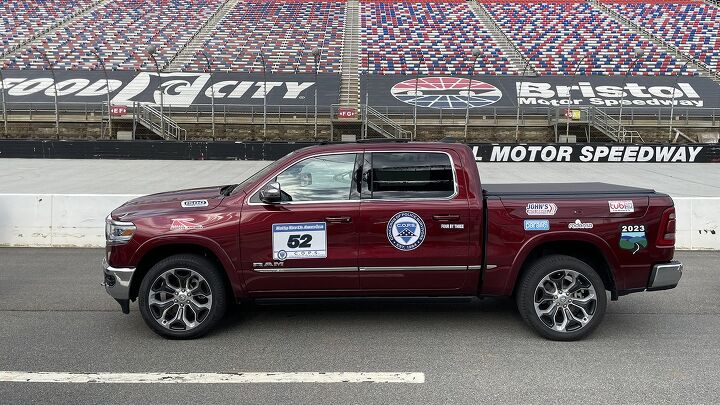 The truck's ride comfort also earns top marks. With the optional air suspension, it's arguably the best riding full-size truck on sale today. The GMC Sierra Denali is a close competitor, but I prefer this. For the most part, the Ram 1500 absorbs bumps and isolates road vibrations. But the right stretch of interstate with poor expansions joints will cause the truck to start to lightly bounce down the road. Large offset potholes can also cause a bit of chassis wiggle.
Handling is better than expected for a 5,608 lbs. (2,544 kg) heavyweight. It's in no way sporty, or agile, but the wide tires offer decent grip around freeway on-ramps and during our spirited pace-laps around Bristol Motor Speedway. The truck is composed with less body roll than expected.
Running up and down the incredibly twisty Dragon Slayer 160 in Kentucky, the limits of the truck are felt more as it dives, squats, and plows through tighter corners. It's the most unnatural place for a truck like this to be, but it still accomplished it. One highlight is how strong the brakes are coming back down the mountain.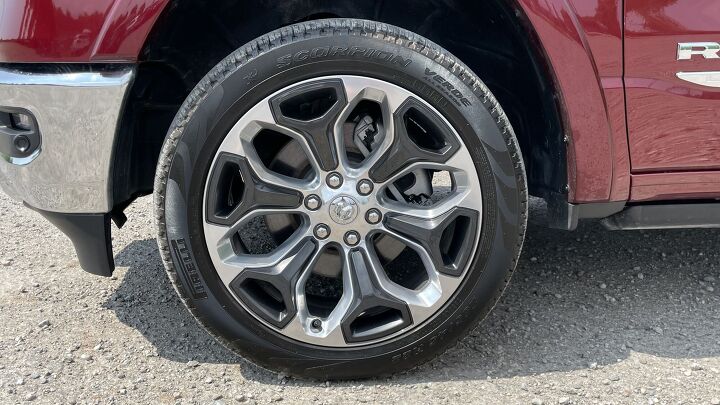 Although the Ram 1500 is incredibly easy to operate and control, there are added safety systems built in just in case things go awry. Blind-spot monitoring, cross-path detection, forward collision alert, electronic roll mitigation, rain brake support, as well as front and rear parking sensors are all standard. Added to my test vehicle are pedestrian emergency braking, lane keep assist, adaptive cruise control w/ stop & go, and parallel & perpendicular park assist.
I find the adaptive cruise control and lane centering work well which is a plus when driving multiple 6+ hour days. I appreciate that I can adjust the level and degree of intervention. I didn't find the truck intruded in my driving but would give me a gentle nudge when creeping too close to the lane markings.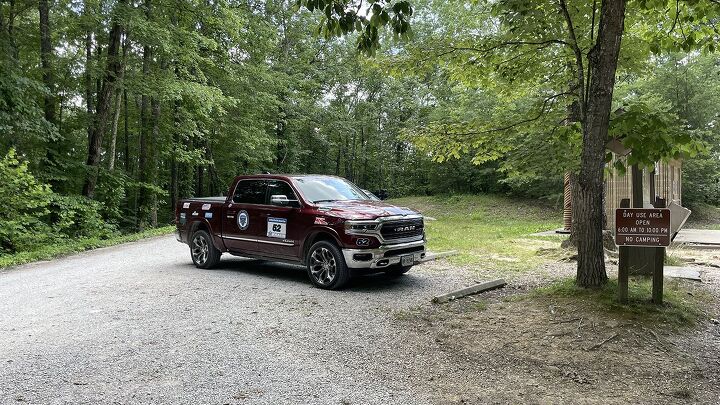 Not everything is perfect with the 2023 Ram 1500 Limited. For many, the truck's overall size and fuel economy could be an instant deal breaker. It's a lot of vehicle, costing a lot of money.
The only real negative during our trip was that the rear window on the passenger side would not open. We could hear the motor activate in the door, but nothing happened. Being a vehicle that has been tested since the previous winter, it could be that someone was too anxious to open the rear window when it was frozen with ice. This can easily burn out the motor or break part of the window's mechanisms.
2023 Ram 1500 Limited: The Verdict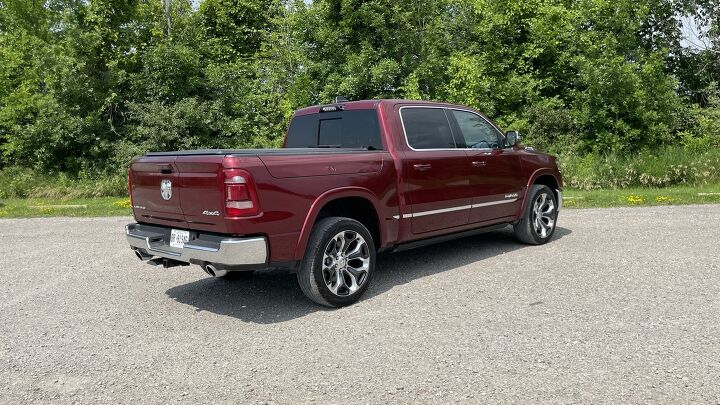 After a month's worth of driving crammed into a week, I came away impressed with the 2023 Ram 1500 Limited. It effortlessly eats up mile after mile of interstate. Six-to-eight-hour days don't feel nearly that long. I'd drive the entire day and never feel fatigued, and neither did my passengers. It's such an easy truck to drive despite its size.
For those that need a pickup that can be put to moderate work, while also pampering the family, the 2023 Ram 1500 Limited is a true one-vehicle solution. The cost of entry may be high, but that's the price to pay to have it all.
Become an AutoGuide insider. Get the latest from the automotive world first by subscribing to our newsletter here.
| | |
| --- | --- |
| Engine | 5.7-liter V8 |
| Output: | 395 hp, 410 lb-ft. |
| Transmission: | 8AT |
| US Fuel Economy (MPG): | 17 city and 22 hwy |
| CAN Fuel Economy (L/100 km): | 13.5 city, 10.5 hwy |
| Starting Price (USD): | $70,140 |
| As-Tested Price (USD): | $84,795 |
| Starting Price (CAD): | $85,640 |
| As-Tested Price (CAD): | $103,935 |
Published July 26th, 2023 4:12 PM
Popular Articles
Latest Comparisons
Car Buying Tools