396 Views
2016 RAM 1500 EcoDiesel Laramie Longhorn Edition Crew Cab 4×4 Review
February 15th, 2021 9:15 PM
Share
We're committed to finding, researching, and recommending the best products. We earn commissions from purchases you make using links in our articles. Learn more here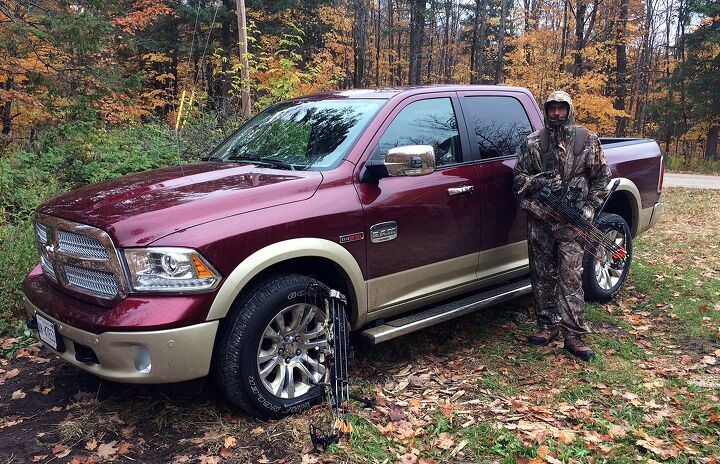 Some friends and I planned to head up north a few weeks back for a bow hunting trip and I was looking for a vehicle that could carry two of us, a pile of hunting equipment and hopefully a deer or bear through some sketchy, unpaved roads without complaint.
The 2016 Ram 1500 EcoDiesel Crew Cab all dressed up in Laramie Longhorn Edition trim came to my rescue. If nothing else, this big truck made me look the part of a real hunter despite my limited experience.
It's generally a shock to the system whenever I get a test vehicle, as it is invariably much nicer than my aging 2010 Mazda5. This was no exception. And though the red and gold paint is not my favorite option, this is a very nice truck in person and strikes an imposing stance next to most every car in the parking lot.
Inside The Beast
Inside the cab, it smells like a new wallet, with brown leather covering the seats and enormous center console. The cowboy-inspired design elements, though, are a bit too much for me. The Laramie Longhorn Edition logo, complete with a rendering of an actual longhorn steer, is emblazoned on each seat. The seats also feature what looks like 1990's era tribal tattoos along the sides.
ALSO SEE: Ram Rebel TRX Concept Ready for Desert Running with 575 HP
On the back of the front seats, rear passengers can take advantage of a storage pocket that is covered with a leather flap and large ornamental buckle that serves no actual purpose. I suppose it sort of looks like a saddlebag, which I think is the intention. Worse still are the floor mats, which are decorated with a barbed wire motif. Apparently, cowboys love stepping on barbed wire. That's how they get so tough.
FAST FACTS
| | |
| --- | --- |
| Engine: | 3.0L EcoDiesel V6 |
| Power: | 240 hp, 420 lb-ft of torque |
| Transmission: | 8-speed automatic |
| Fuel Economy (MPG): | 25 city, 35 hwy |
| Fuel Economy (L/100 km): | 11.3 city, 8 hwy |
| US Price: | $56,180 as tested |
| CAN Price: | $62,490 as tested |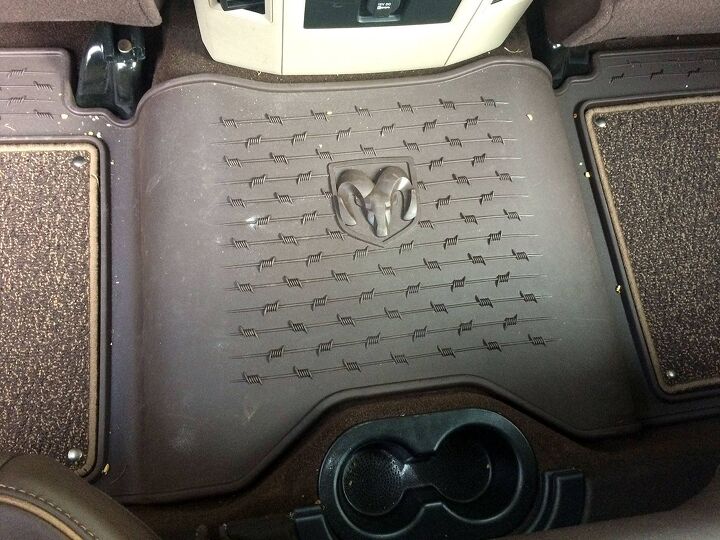 On a positive note, the sound system was fantastic, thanks to nine Alpine speakers spread throughout the cab. I brought my two daughters out to see the truck and turned up the music as they danced in the bed. What good is a pickup truck if you can't have an impromptu dance party? Neither of my daughters seemed bothered that the bed liner wasn't covered in faux barbed wire, but then again, they aren't cowboys.
Also impressive was the UConnect 8.4-inch touchscreen, which controlled the navigation, climate, and audio functions. Synching up my iPhone was easy and after that every time I turned on the truck, my music started playing automatically.
Packing for the Hunting Trip
When it came time to pack up the truck for the hunting trip, I decided to put everything in the back of the cab, since I didn't have a cover for the bed. When you fold the rear seats down, you really get a lot of storage space. Two large bow cases, food, cooler, luggage, tree stand, and various other bits of hunting gear fit inside the cab with ease.
Most of our driving miles were on the highway and the RAM 1500 EcoDiesel offered up a very comfortable experience. It takes a little time to get up to speed, but the ride feels remarkably smooth on the highway. It was a bit more of a slog on busy city streets, but overall I really enjoyed my time behind the wheel.
ALSO SEE: 2016 Ford F-150 vs Ram 1500 EcoDiesel vs Chevy Silverado
Once we got closer to our hunting location, the roads turned from smooth tarmac to gravel, which was not always ideal. Though it wasn't at all necessary, when the road was at its worst, I did raise up the four-corner air suspension with the push of a button. It is a noticeable increase in ride height, which would be great if you were dealing with real off-road conditions like large roots and rocks.
It was downright chilly when we drove to our hunting spot around 5:30 a.m. each morning. Thankfully, we were able to crank up the heated steering wheel and seats so we weren't shivering for long.
It's at this point that's I'd like to tell you that I sent an arrow through a nice whitetail or a black bear and used the bed of the truck to carry it home. Unfortunately, I was completely shut out. Outside of seeing lots of tracks and other signs that both deer and bear were near (so much bear poop!), I didn't even lay eyes on an animal bigger than a mouse until the fifth and final day.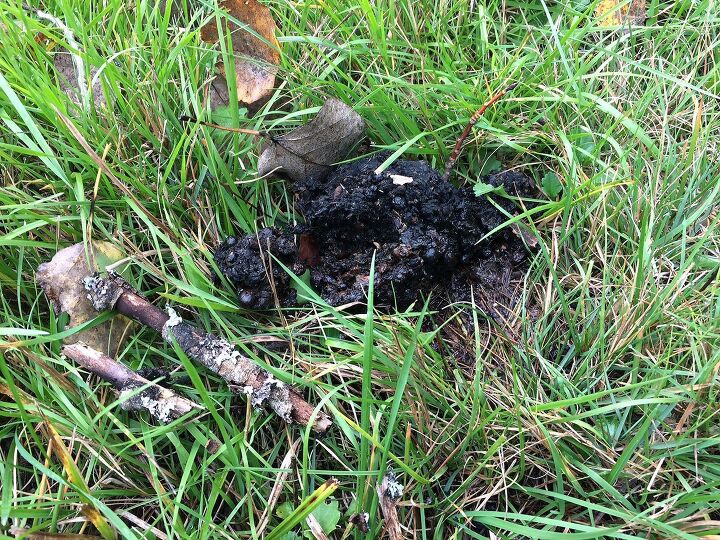 I did get to see four deer that morning, but none got within ethical bow range. I never did get to take advantage of all that space in the bed – besides the aforementioned dance party. Sadly, my hunting partners were not interested in dancing, so I loaded up the truck and headed for home after that final dance-free disappointment.
By the time I pulled into the gas station to fill up the RAM 1500 EcoDiesel, I'd traveled about 625 miles on a single tank and used up just a hair under 25 gallons of gas. That works out to about 25 miles per gallon, which I was really impressed with. To be fair, that was mostly highway miles, but it's noticeably better mileage than I normally get in my much smaller and less powerful Mazda5. The RAM 1500 EcoDiesel didn't make me a better hunter, but it is definitely a truck I think a lot of real hunters would be happy to drive.
LOVE IT
Great fuel economy for a truck
Solid on and off-road performance
Perfect for dance parties
LEAVE IT
Cowboy-themed interior
Didn't make me a better hunter Published December 6th, 2016 1:57 PM
Popular Articles
Latest Comparisons
Car Buying Tools