488 Views
The Best Carports to Keep Your Car Protected
March 22nd, 2022 5:42 PM
Share
If you don't have the luxury of parking your car in a garage every night, a carport might be a great solution.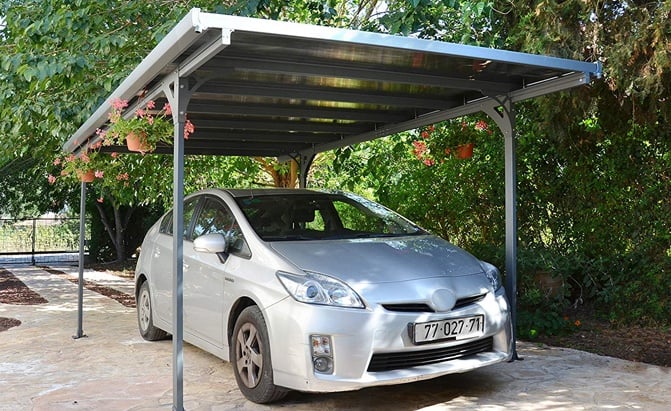 We understand that not everyone has the luxury of parking their car in a garage every night. If that's the case for you, it's worth your time to take a look into purchasing and installing a carport at your home. Carports are typically a covered structure designed to protect your car and are typically free standing. Although they offer less protection than a garage, they do allow for more ventilation. Most carports feature a steel structure with a fabric top, offering protection against rain, snow, ice, and UV exposure.
Two main issues when it comes to shopping for a carport is that they can vary greatly in price and the materials used for their construction. That means they're not necessarily easy to shop for, especially if you're unsure on how much you're willing to spend.
In this article, we'll go into detail on five of the best available carports and things to look for when shopping for one. We'll explain the pros and cons for the different types of carports so you hopefully have a better picture of which product to invest in to protect your car.
For more information about the best carports, refer to our table of contents.
1. Editor's Pick: ShelterLogic Peak Style AutoShelter
Featuring a 1 3/8-inch all-steel frame, ShelterLogic's Peak Style AutoShelter measures 10 feet by 15 feet by 8 feet. The all-steel frame has been bonded with a premium powdercoat finish, which helps prevent chipping, peeling, rust, and corrosion. It features a five-rib, 5-foot spacing design, while the cover of this carport uses an advanced engineered ripstop polyethylene cover with an enhanced weave, making it 100-percent waterproof. The cover has also been UV treated inside and out with added fade blockers, along with anti-aging and antifungal agents, so it can withstand the elements.
Helping make it a stable, durable shelter are patented ShelterLock stabilizers, while a Ratchet-Tite cover tensioning system gives it a nice, tight cover and door-panel connection to the frame. To lock down the cover, there is an Easy Slide Cross Rail system, which also provides for continuous cover tightening. This product weighs 134.6 pounds.
The cover fabric, end panels, and framework are covered by a one-year limited warranty against defects in experiences.
Although it's priced a bit more than canopy-style carports, you're paying extra for better overall coverage with ShelterLogic's Peak Style AutoShelter.
This product has mixed reviews, with some users saying it's easy to set up, while others found it to be a very time-consuming process. It does appear that if you purchase it knowing its limitations, that it does a great job and will largely depend on your weather conditions. Some users experienced damage to the canopy covering within months, while others say it braved harsh weather conditions. Overall, your mileage may vary using this product depending on where you live.
| | |
| --- | --- |
| Pros | All-steel frame, powdercoat finish, triple-layer ripstop polyethylene cover, waterproof, UV treated, ShelterLock stabilizers, Ratchet-Tite tensioning system, one-year warranty |
| Cons | Mixed reviews - some users say it's a very time consuming process to assemble and others say the canopy covering was damaged within months |
2. Abba Patio Outdoor Carport Canopy
This is a fairly standard canopy-style carport, offered by Abba Patio. It measures 20 feet by 10 feet by 9.5 feet and features double polyethylene fabric that is UV and water resistant, so it protects your car from wind, rain, and snow. It uses a 1 1/2-inch diameter steel frame, which has been powdercoated to resist chipping, peeling, rust, and corrosion.
This carport is quick and easy to setup and is fully collapsible for easy transport and storage. Helping add stability are foot pads on the canopy legs, which also give easy access to secure anchor points. To keep the tarp cover tightly secure on the frame are heavy-duty bungee cords.
This carport is available in either beige or white.
Overall, owners are pleased with the performance of this carport. But it's worth noting that there are some complaints that the ground anchors that come with the kit aren't very good, so you may want to purchase better ground anchors. In addition, some owners did experience degrading with the cover due to their weather conditions. Like many of these canopy-style tents, how long the product lasts largely depends on where you live.
| | |
| --- | --- |
| Pros | Powdercoated steel frame, UV and water resistant, foot pads for added stability, fully collapsible, heavy-duty bungee cords |
| Cons | Included ground anchors are weak, some owners had the canopy cover degrade within a year |
3. Caravan Canopy Domain Carport
Although this is the best-selling product in the carports category on Amazon, it has a lot of mixed reviews. It is however, one of the most affordable canopy-style carports you can purchase that is a quality product. This canopy uses 1 3/8-inch diameter tubing for increase stability, leading to a steel frame with compression lock. It features a water-resistant, heat-sealed polyethylene top that has been UV treated inside and out with fade protectors as well as anti-aging and antifungal agents.
This six-legged carport is available with either a white or black top. It's easy to assemble thanks to built-in, slip together swedged tubing. There are also large footpads to provide it with a solid foundation on hard or soft surfaces. Caravan Canopy does however, caution that it's not recommended for windy conditions.
Measuring 20 feet by 10 feet, this carport has a peak height of 8 feet, 9 inches.
Given that this is one of the most affordable carports on our list, it's little surprise owners have mixed results. As Caravan Canopy warns, this isn't made to withstand windy conditions and some owners have had the poles bend due to wind. Some owners got better results by reinforcing the canopy with stronger materials, such as using concrete to anchor it down. If you enjoy do-it-yourself projects, this carport is still a better bang for the buck even with the added costs of additional materials to keep it from flying away and getting destroyed.
| | |
| --- | --- |
| Pros | Price, steel frame, water resistant, UV treated top, available in two colors, easy to assemble, large footpads |
| Cons | Not recommended for windy conditions, overall weak but can be reinforced if you enjoy DIY projects |
4. Ikuby Portable Lockable Carport
A more expensive but versatile option is the Ikuby carport. This is a heavy-duty, portable, and lockable carport that tips the scales at 170 lbs. The folding steel framework of this canopy is constructed from mild steel that has been powdercoated black. Its cover is made from durable 600D Oxford fabric with a polyurethane coating, making it 100-percent waterproof. This canopy is designed to protect your vehicle from sunlight, snow, and frost, and is also UV resistant, rustproof, windproof, and dust proof, while offering protection from hail.
The Ikuby carport measures 18 feet by 8.5 feet by 6.7 feet and is basically a retractable car shed that offers full protection for your vehicle, leaving no part exposed to the environment. It's also fairly easy to assemble, since each pipe is numbered and has the added benefit of being lockable.
Overall owners are happy with this product, but do feel it's a bit on the expensive side. Assembling this carport does take a bit of time, but the instructions and clip-in design does help make it easy. Arguably the biggest issue with this product is that it uses mild steel, which can rust despite the powdercoat finish.
| | |
| --- | --- |
| Pros | Heavy duty, portable, lockable, folding steel frame, 600D Oxford fabric with polyurethane coating, 100-percent waterproof, UV resistant, windproof, dust proof, covers the entire vehicle |
| Cons | Mild steel construction, weight, price, assembly can take a while |
5. Palram Verona 5000 Carport
All of the carports we have covered so far are canopy-style carports, but there are more expensive options available. One such product is the Palram Verona 5000, which is available in three different sizes and either with a flat roof or an arched roof. Buyers can choose from 16 feet by 10 feet by 7 feet, 16 feet by 10 feet by 8 feet, or 16 feet by 12 feet by 8 feet.
Designed to protect your car, this carport features virtually unbreakable, bronze-tinted 6mm twin-wall polycarbonate panels that offer 100-percent UV protection. These panels are shatter resistant, offering thorough protection against a variety of weather conditions and Palram says they won't turn yellow over time. The frame of the carport is manufactured from heavy-duty aluminum and galvanized steel, prior to getting an anthracite powdercoated finish so it's rust resistant. There are also built-in gutters to channel water, if you live in an area that experiences constant rainy conditions.
Although this carport is much more expensive than canopy-style units, it offers better protection along with a 10-year limited warranty. It can be installed on your own with no special tools needed and the support beams can be moved to match your patio or driveway. You can also easily anchor and secure it to the ground to make it extra sturdy.
This carport does require a solid level surface for installation and foot pads are included.
Owners are extremely satisfied with this product, although some do wish the polycarbonate panels were darker to help provide more shade for the vehicle. When fully assembled, this product does have a little flex in it, so it's recommended to find a way to securely anchor it down.
| | |
| --- | --- |
| Pros | High-quality carport, variety of sizes and two roof types, polycarbonate panels, aluminum and galvanized steel construction, built-in gutters, 10-year limited warranty |
| Cons | Price, a little flex when fully assembled, roof panels could be darker to provide more shade |
Different Types of Carports
As we mentioned before, shopping for a carport really starts with how much you're willing to spend. There is a variety of carports that you can purchase online or from a local store, but a good place to start is to know the differences between all of them and why some cost significantly more than others.
The most basic and affordable carport is a canopy-style product, which is essentially a more rugged and larger tent. These carports are typically the lightest, but they're also not as stable or sturdy as other carports. Canopy-style carports are easily identifiable as they normally have poles serving as legs and a cover made from polypropylene. They offer moderate coverage for your car, essentially giving it shade and protecting the top from certain weather conditions. Some of these carports will cover all sides of the vehicles, while others leave the side exposed.
Then there are the more expensive, pre-fabricated metal carports that use aluminum and galvanized steel like the Palram Verona 5000. These carports take a bit more effort to assemble, but are a higher-quality product that is sturdier and provide better protection than canopy-style carports. It's a more permanent structure and the roof on these products tend to be made from polycarbonate panels that provide plenty of UV protection. If you're shopping for a pre-fabricated metal carport, look for additional features such as built-in gutters that help channel water.
While we don't mention any of these carports on our list, you can also get an extension garage that is basically a permanent carport that may be attached to your home. These are a more custom solution, typically made from concrete and using polycarbonate sheets as a roof. That means you can build your own carport or hire someone to do it, but it won't come cheap.
Things to Consider When Shopping for a Carport
Unfortunately, adding a carport to your household might not be as simple as just going to the store or ordering one online. There are several things you need to consider before you even start the buying process.
You'll first want to check your local zoning ordinances to make sure having a carport is even permitted where you live. Some local areas may have restrictions on the size of a carport, or even ordinances on the distance between a carport and your home.
If you're planning to anchor in your carport or doing a more extensive installation, make sure there aren't any utility lines or other underground objects in the area. Some carports require digging posts to anchor it properly, which means you could be obstructing something that's already existing. Check with your local utility companies to make sure it's safe to install your carport if you're planning to dig underground.
Once you've established you can safely and legally install a carport where you live, get the overall dimensions of your vehicle to make sure the carport you are purchasing will provide adequate coverage. Make sure to consider when opening your car's doors that they won't come in contact with one of the poles of your carport.
Another important factor is making sure your installation site is level. If it's out of level by more than 4 inches, you'll likely need to start cutting some of the legs to level out the carport. It's extremely important to make sure your carport is level once it's fully installed.
Lastly, remember where you live. You'll notice user reviews for carports vary greatly and that's largely dependent on the weather conditions a carport has to endure. If you live in an area that often sees rain, wind, or snow, there's a good chance a canopy-style carport won't last very long.
How to Choose the Right Carport
As you may be able to tell, there's no easy way to make a decision on which carport to buy. Choosing the right carport is largely dependent on how much you're willing to spend and your weather conditions. If you live in an area that experiences fair weather all-year round and you don't have to worry about constant wind, snow, or rain, a canopy-style carport may suffice. Otherwise, you may need to invest more into an expensive carport that will protect your vehicle from the elements, no matter the season.
Just remember, the old saying of "you get what you pay for" applies to carports as well. If you're planning to spend less than $100 on a carport, don't expect it to survive severe weather conditions or to provide adequate coverage for years.
Recent Updates:
March 29, 2021: Updated the product description and image for our Editor's Pick to reflect changes from the manufacturer.
---
We are committed to finding, researching, and recommending the best products. We earn commissions from purchases you make using the retail links in our product reviews. Learn more about how this works.
Photo credit: Palram
Published February 10th, 2020 12:02 AM
Popular Articles
Latest Comparisons
Car Buying Tools