126 Views
Best Ram Truck Accessories
May 2nd, 2023 2:09 PM
Share
Your Ram pickup truck is a truly incredible, practical, well-built doing machine – and with the right Ram Truck accessories, it can be made even better.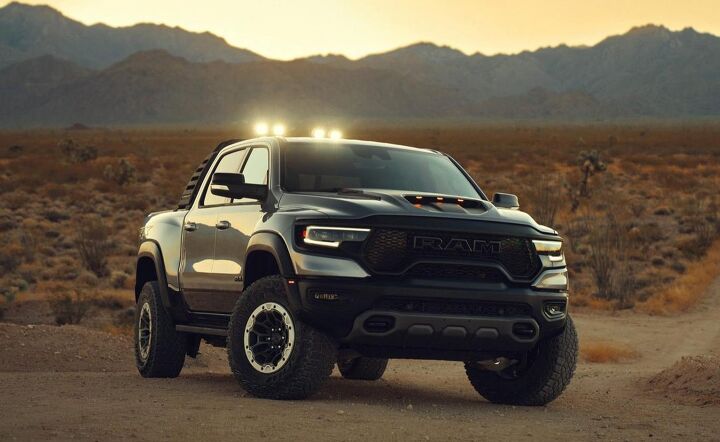 Your Ram pickup truck is a truly incredible, practical, well-built doing machine – and with the right Ram Truck accessories, it can be made even better.
As one of the most popular full-size pickup model ranges on the market in North America, Ram pickups benefit from tremendous aftermarket support, with just about every sort of accessory you could possibly imagine: floor liners, truck covers, tonneau covers, cargo racks, light bars, and the list goes on and on. It's a lot to take in, and sometimes, separating the best from all the rest can seem like a tall task.
But fear not, because we're here to help. Here in this list, we've rounded up the ten best Ram Truck accessories available today, incorporating everything from interior and exterior protection, to cargo and towing accessories. Refer to this list whenever you catch yourself wondering what Ram Truck accessories should land next in your shopping cart.
1. Husky Liners Front and Rear Mud Guard Set
The right mud guards look pretty cool on just about any truck, but apart from that, they're also quite handy at protecting your truck's paint and chassis from damage due to stones, salt spray, and other small, often airborne hazards. This mud guard set from Husky Liners is tailor-made for Ram Trucks. They're made from a durable, impact-resistant all-weather thermoplastic material that helps them remain pliable even in the most frigid temperatures, and they offer a precise, perfect fit with your factory bodywork. An exclusive Husky Shield Film provides an invisible barrier between the guard and your truck's paint, and the rear mud guards are designed to be as wide as necessary to deliver full tread coverage for all factory single or dually rear tire options. Husky Liners front and rear mud guards are available for numerous years of the Ram 1500, 2500, and 3500, with and without factory fender flares.
Promoted Product: Gold Shield 5L Truck Covers at CarCover.com
A Gold Shield 5L Ram Trucks Car Cover from CarCover.com makes a lot of sense for those who want to keep their truck looking good. Ram has etched out a place as one of the most popular and boldest looking trucks on the road. This protective car cover can help keep your Ram looking great. It is made from three layers of polypropylene, a single layer of microporous film, and an additional layer of soft fleece lining to protect the paint from scratches and weather. The cover has strap and buckle cinches at each end and an elastic band for a snug fit around the bottom of your Ram so it stays put. The Gold Shield 5L covers are 100% waterproof and are weather and UV-resistant to help keep the paint looking great, and it comes with a limited lifetime warranty. The Gold Shield 5L cover comes with a case, so wherever you park your Ram, you can protect it from Mother Nature.
2. Husky Liners Weatherbeater Floor Mats
Husky Liners doesn't just make awesome mud guards; they manufacture plenty of other awesome Ram Truck accessories, too, like these custom-molded floor liners. It should be obvious that the best way to keep your factory carpeting safe from harm is to keep stains from slush, mud, salt, and other fluid hazards off of it in the first place. These floor liners accomplish just that, utilizing a deep-well design that keeps messes perfectly contained by contouring perfectly to your factory floor pan. They look great, and stay put mile after mile thanks to their exclusive StayPut Cleats, which grab hold of your carpet and don't let go for anything, and they're made to last with Thermoplastic Olefin construction that maintains its pliability in even the most frigid of conditions. Husky Liners floor liners are precisely molded to suit different Ram Truck models, and sets are available for numerous years of the Ram 1500, 2500, and 3500.
3. Thule TracRac Truck Rack
The undisputed leader in aftermarket vehicle cargo systems, Thule offers something for just about every vehicle on the road – including Ram Trucks. This universal Thule TracRac Truck Rack system is one of the best Ram Truck accessories you can buy because it affords you instant extra bed storage space. It's rated for up to 800 pounds of distributed load, courtesy of some hefty aluminum alloy construction and high-quality hardware; just be sure to secure that hardware with some thread locking compound, as many owners have noted a certain tendency for the nuts and bolts to work themselves loose. The rack is also compatible with a wide range of Thule-built cargo accessories, thanks to its proprietary T-track load bars, and its aluminum alloy construction means it won't corrode or rust out, even after years of heavy use. Note: while this truck bed rack is "universal," you should always verify compatibility with your particular Ram Trucks model before ordering.
4. MaxxHaul Hitch-Mount Truck Bed Extender
Looking for the best way to transport your canoes, kayaks, or longer pieces of lumber without having to saw them in half? Here it is: the MaxxHaul Hitch-Mount Truck Bed Extender. It seems like long-bed pickup trucks are getting more and more scarce every single year, but with this, that scarcity doesn't need to be an issue. You simply install it into your Ram's square hitch receiver, and it provides an extra few feet of length with a horizontal load-carrying bar that can support up to 350 pounds of distributed load. You'll have to leave the tailgate down in order to use it, and that means it might take some work to ensure that your payload is secure, but it's simply the best way to haul big, long items in the bed of your Ram, with an adjustable height and width so you can tweak it to suit your specific cargo. Its 2" by 2" shank will fit most factory Ram 1500 trailer hitch receivers, but you can also use it with the 2500 and 3500's larger 2.5" by 2.5" with a simple adapter.
5. BAK BAKFlip G2 Hard Folding Truck Bed Tonneau Cover
If you don't already own a tonneau cover, you're missing out; it's an incredibly useful tool for keeping your truck payload protected from the elements – and other people. For one of the best Ram Truck accessories around, consider this BAKFlip G2 hard folding tonneau cover from BAK. Hard covers are generally more expensive than their vinyl counterparts, but we think the upgrade is well worth the cost. This hard tonneau cover is made up of three foldable sections of hard, black-coated aluminum, giving your payload a bit of extra protection from theft, and its low-profile design means that it can be folded to provide 2/3 or even 1/3 bed coverage without totally blocking your rearview or obscuring your center brake light. A pair of quick-release cables, one on either side, make the BAKFlip tonneau cover easy to activate, and it's durable, rated to withstand up to 300 pounds. Each one is tailor-made for a specific Ram model range and bed length, and BAK manufactures versions for numerous years of the Ram 1500.
6. UnderCover SwingCase Truck Bed Storage Box
Sometimes, it's not extra cargo space you need from your Ram pickup, but rather better cargo organization. UnderCover has you, well, covered with the SwingCase Truck Bed Storage Box. Some of the niftiest little Ram Truck accessories available, these storage boxes install on either side of the bed, underneath the bedside lip behind the wheel well, and swing outward for easy access when needed. They can help you keep your tools, hardware, small parts, and other nicknacks separated from the bigger items in your bed, with adequate weather protection supplied by a sealed lid and water-tight plastic carcass. Each one has an organizational tray, and can hold up to 75 pounds of stuff. UnderCover SwingCase Truck Bed Storage Boxes are available for Ram 1500 pickups from 2002 through the current model year, and for 2500 and 3500 models from 2003 and up.
7. Tyger Auto Tyger Rider Running Boards
Plenty of newer trucks ship with factory running boards, but they're often not standard equipment. Whether you're looking to add running boards to a Ram that currently has none, or you're looking for a replacement for your dinged, dented, rusty factory boards, Tyger Auto is here to help. The company's Tyger Rider running boards are remarkably well-made, featuring oval tube steel construction and a rust-fighting e-coat, topped off with a textured black powdercoat finish that looks great and provides not only outstanding protection against damage and corrosion, but a grippy stepping surface, as well. A pair of textured, flat stepping pads on either side help with that, as well, and installation is as easy as can be – although some models may require a small amount of drilling through the factory pinch welds. Well priced and ready to rock, Tyger Rider running boards are available for both previous- and current-generation Ram 1500 models, as well as certain years of the Ram 2500 and 3500.
8. Mobotron MS-526 Heavy-Duty Laptop Mount and Screen Stabilizer
Ram owners are doers, and whether you work in an office, or you employ your Ram directly on the job site, sometimes, you need a laptop to get things done. Thankfully, there are Ram Truck accessories like this heavy-duty laptop mount and screen stabilizer from Mobotron. Keep your laptop within arm's reach no matter where your mobile office happens to be parked for the day, with sturdy tubular aluminum construction and hand-controlled tilt and pan adjustments. This laptop mount fastens directly onto the passengers seat rail, meaning there's no need to cut or drill into your truck to install, and it features a sure-grip laptop deck that keeps a firm hold on your expensive work computer, even over bumps and dips.
9. CURT Pintle Hitch for 2-Inch/2.5-Inch Receiver
There's certainly no shortage of trailer hitches on the market for the Ram Trucks model line, and it's a good thing, because the average Ram owner loves to tow. But of all the options on the market, we like this hitch from CURT – one of the top leading brands in aftermarket towing accessories. With options for either a 2" or 2.5" square hitch receiver, this hitch features both a ball and a pintle coupler, allowing you to pull all sorts of things with its 12,000-pound ball tow weight rating. That rating swells to 16,000 pounds with the pintle, and both numbers are even higher for the 2.5" version, which can be used with the factory Ram 2500 and 3500 hitch receivers. A spring-loaded arm makes getting a secure connection with your pintle a cinch, and the entire unit is incredibly sturdy, with black coated steel construction and a polished trailer ball.
Find all of the latest Ram 1500 reviews, comparisons, and information by clicking here.
---
We are committed to finding, researching, and recommending the best products. We earn commissions from purchases you make using the retail links in our product reviews. Learn more about how this works.
Published September 30th, 2021 5:02 PM
Popular Articles
Latest Comparisons
Car Buying Tools