782 Views
The Best Subaru WRX Exhausts to Play Up Your Car's Rally Racing Heritage
April 14th, 2022 10:46 PM
Share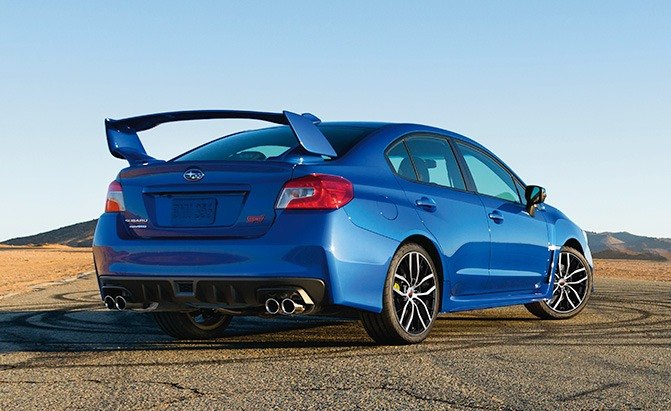 Whether you drive Subaru's entry-level WRX sport sedan or hot hatch or the speedier WRX STI, we're sure you already derive plenty of pleasure from exploring your car's formidable performance abilities. But whether you participate in rally races to channel your inner WRC driver, stick to the tarmac of racetracks and autocross courses, or simply like to go for a rip along your favorite back road, we're sure you've given at least some thought to what you can do to your car to unleash more of its performance potential.
An aftermarket exhaust is a common modification for the Subaru WRX for a couple of reasons. As with most cars, adding a less-restrictive exhaust allows your Subaru's turbocharged engine to breathe better and generate more power. But the best Subaru WRX exhausts are also carefully tuned to highlight the unique sound generated by your car's horizontally opposed (also known as a flat-four) four-cylinder engine.
Even among the best Subaru WRX exhausts, the effects on your car's performance and soundtrack can differ, so choosing the one that's ideal for you is a process that deserves some serious deliberation. To help you find the ideal setup for your car and driving style, we've compiled a list of our picks of the best Subaru WRX exhausts. Read on for the pros and cons of each.
For more information on the best Subaru WRX exhausts, refer to our table of contents.
1. Editor's Pick: Tomei Expreme Ti Titanium Exhaust
If you drive an older WRX or WRX STI model and want a quick route to improved performance, check out the Tomei Expreme Ti titanium exhaust system. This three-piece exhaust system is designed as a direct-fit replacement for your car's stock exhaust. One of the Expreme Ti's more significant specifications is its weight, which demonstrates one of titanium's biggest benefits: Tomei says this exhaust weighs just 11.2 lbs, way down from the 34-lb weight of the WRX and WRX STI's stock iron exhaust.
In the Tomei Expreme Ti, your WRX's exhaust gases flow rearward through a 3.2-inch diameter main pipe designed with as few bends as possible. At the end of the line is a 6-inch silencer with a 4.5-inch tip.
This cat-back system preserves your Subaru's emissions control system. Meanwhile, the silencer uses long-fiber wool threads to muffle your car's distinctive flat-four soundtrack; Tomei says that material promises a longer life than the fiberglass that's more commonly used as a silencer material.
The company supplies springs and clamps to attach this exhaust's three sections together, which makes for a simpler installation and eliminates the need for gaskets; Tomei does supply one gasket with this kit for the connection between the front pipe and your car's catalytic converter.
| | |
| --- | --- |
| Pros | Light weight, long-lasting silencer material |
| Cons | May be an expensive option for your older WRX model |
2. Invidia Gemini Cat-back Exhaust
If you drive a 2015-up WRX or WRX STI, we're sure you're keen to preserve your car's quad-tip tailpipe design even if your goal is to choose an aftermarket exhaust that will add performance. If you're not hampered by budgetary constraints, the Invidia Gemini is a cat-back exhaust that should satisfy that aesthetic desire quite nicely.
This cat-back system sports 3.2-inch piping front to back. While Invidia says it designed the Gemini to minimize bends, it's impossible to eliminate them all; Invidia used mandrel bending to maintain this exhaust's large-diameter piping even where it bends to fit the WRX's stock exhaust routing. The result is an exhaust that extracts as much performance as possible from your flat-four turbocharged engine, which you'll feel as improved throttle response and increased horsepower and torque.
Despite that focus on performance, Invidia says its Gemini exhaust gives you a deep, well-toned exhaust sound without being excessively loud. This system may be on the expensive side, but Invidia says it is a direct bolt-on system and comes with all necessary hardware. You also get a choice of rolled tips in stainless steel or titanium, or straight titanium.
| | |
| --- | --- |
| Pros | Large-diameter piping for maximum performance extraction, choice of tip designs |
| Cons | Expensive if you opt for the full titanium tips |
3. Corsa Cat-back Exhaust
If you drive a second-generation Subaru WRX or STI, you know that the sedan and hatchback versions of these cars have distinct exhaust system designs to accommodate the cars' different dimensions. This Corsa cat-back system is made specifically for 2011 through 2014 sedan models.
If you're hesitant about installing an aftermarket exhaust on your car due to worries about having to endure a droning noise when cruising, Corsa's cat-back design uses reflective sound cancellation technology to eliminate that specific annoyance. The result, says Corsa, is an exhaust that generates an aggressive sound during acceleration while providing comfortable noise levels at cruising speeds—all without compromising the performance gains you expect from an aftermarket exhaust system.
Corsa says this system increases exhaust flow by 64 percent, and terminates in two 3.5-inch tips. The 3.0-inch piping, resonators, and 3.5-inch tips are made from 304 stainless steel that is lighter than the stock exhaust. Every kit comes with detailed printed instructions that you can also access online for easy bolt-on installation with no welding required.
| | |
| --- | --- |
| Pros | Promises drone-free cruising, 60% better flow than stock |
| Cons | Relatively limited fitments |
4. Buddy Club Pro Spec Exhaust
Right near the top of its description for the Pro Spec exhaust, Buddy Club points out that this product is designed to improve your WRX's performance while also meeting noise regulations, which makes this a great choice if you're looking for an aftermarket system to install on your daily-driven WRX or WRX STI.
The company says it achieved those street-legal noise levels through a trial-and-error process that resulted in a dual-silencer design that places one resonator in the mid-pipe, and another in the usual spot, just in front of your car's rear bumper. That second silencer provides just enough sound dampening to keep your car from being annoyingly loud while allowing the highest possible performance for your turbocharged Subaru.
The Pro Spec exhaust system is a single-pipe setup designed to fit the 2002-2007 WRX. Viewed from the rear, the single tip sports an incline cut conceived to subtly indicate that your WRX is tuned for elevated performance. The Pro Spec exhaust uses band-stay hooks to attach the piping to the main silencer, which allowed Buddy Club to eliminate welds and minimize weight.
| | |
| --- | --- |
| Pros | Moderate noise output for daily driving comfort, weight-saving band-stay hooks |
| Cons | Compromises some performance to keep noise levels down |
HKS makes our list of the best Subaru WRX exhausts with the Hi-Power Spec-L2, a dual-exit exhaust system designed to fit WRX and WRX STI models from 2008 through 2014. This is one of the most stylish exhausts we came across, and we recommend it for a few different reasons.
For one, HKS has designed the Hi-Power Spec-L2 to look like a titanium exhaust despite being made of SUS304 stainless steel. However, HKS made this exhaust up to 60 percent lighter than the one that came on your car despite its use of steel, which means that you get the performance benefit of a lighter exhaust at a lower price thanks to the use of a more conventional material.
Second, the dual-exit design preserves your WRX's aggressive rear-end look, and optional burnt titanium tips add a dash of style. If you don't like the look of the titanium tips, HKS also offers tips in standard titanium, carbon fiber, and blue stainless steel. Third, HKS made this exhaust for WRX drivers who want to highlight their cars' unique mechanical character with an aggressively loud sound profile.
The HKS Hi-Power Spec-L2 uses 2.6-inch piping for the single pipe coming off the cat, which goes down to 2-inch tubing for the dual tailpipe sections. The tips measure 3.7 inches in diameter.
| | |
| --- | --- |
| Pros | Good looks, loud/aggressive sound (if that's what you want) |
| Cons | May be too loud for daily driving, tip covers are an extra-cost option |
6. GReddy Spectrum Elite SE Exhaust
Next, we'll take a look at a GReddy exhaust designed for the second-generation WRX and WRX STI models sold from 2008 through 2014. The first thing to know is that this exhaust is designed specifically for hatchback versions of these performance cars; if you drive a sedan, you'll have to look elsewhere. With that out of the way, here's what else you need to know about the GReddy Spectrum Elite SE aftermarket exhaust.
This is a cat-back system that runs a single pipe from your car's primary emissions control device to a sideways-mounted muffler, each end of which sprouts two tips, for a total of four. As designed for the WRX and STI, the Spectrum Elite uses 2.8-inch piping front-to-back. And while four 4-inch tips sound like an aggressive styling choice, GReddy maintains that it chose that size for a subtle look when others view your car from the rear. The company says it designed this exhaust for a sound that is "comfortable and sporty," rather than loud, and that it will not exceed the 95 dBA threshold.
While the second-generation Subaru WRX and STI were sold in a number of global markets, GReddy says it tested the Spectrum Elite SE on U.S.-spec cars to confirm the fitment and sound levels.
| | |
| --- | --- |
| Pros | Subtle outward appearance, with show-worthy styling, keeps sound levels comfortable for daily driving |
| Cons | Among the more expensive options for aftermarket WRX/STI exhausts, other systems use larger-diameter piping |
7. Injen Performance Exhaust
If you drive an early third-generation version of the Subaru WRX and WRX STI and want to add performance to your Japanese sport sedan, check out this product from Injen. This cat-back aftermarket exhaust sports a single pipe from the catalytic converter to the rear of the car, where this direct-fit system terminates in four exhaust tips that preserve the stock look of the WRX and STI. Where this Injen system's look diverges from stock is in the burnt polished titanium tips that dress up your car's going-away view with an attractive blue finish.
Injen doesn't say what diameter piping is used for this exhaust system, but the company does say it uses mandrel-bending to eliminate the constriction that can occur when using less-sophisticated methods of bending the tubing to match the WRX and WRX STI's stock exhaust fitment. The result is increased exhaust velocity, along with the extra power output that is high on your list of priorities.
The piping is all hand-made with 304 stainless steel and TIG welded for durability and strength and uses stainless steel hangers, hardware, and muffler.
| | |
| --- | --- |
| Pros | All stainless steel design for a sophisticated look, mandrel bending preserves piping diameter, a good mid-priced product |
| Cons | Injen doesn't say what diameter piping it used in this exhaust, not as lightweight as a titanium design |
8. Perrin Cat-Back Exhaust
One brand that is extremely popular within the Subaru community is Perrin. The company offers several different exhaust systems for the WRX and WRX STI, so be sure to look at other options if this one doesn't directly appeal to you. Offering an aggressive tone without being too overbearing on the street, this cat-back exhaust is constructed from 304 stainless steel and has a brushed finish.
While its focus is to make power and provide better performance for your Subaru WRX or WRX STI, this resonated exhaust delivers a mellow and pleasing rumble at lower RPMs and light throttle. When it comes time to open it up however, it'll take that signature Subaru rumble to a more aggressive tone.
At the exit of this exhaust are 3.5-inch slash cut tips that are subtle but clearly an upgrade over stock. The heat-resistant brushed finish won't discolor from extreme heat. But perhaps best of all, Perrin backs its exhaust systems with a lifetime warranty.
| | |
| --- | --- |
| Pros | 304 stainless steel construction, resonated system so it's not as loud as others, lifetime warranty |
| Cons | Its tone may be too quiet for some, heavier than stock according to Perrin |
9. HKS Legamax Exhaust System
Here's another aftermarket exhaust for the second-generation WRX hatchback, this time from the performance experts at HKS. This product differs from everything else we've shown you so far in that it is not a cat-back system, but includes a bellmouth-style downpipe to replace your car's stock catalytic converter. That means more power, but beware that if the state you live in requires smog tests, this exhaust will not pass and you will not legally be able to drive the car on public roads.
This SUS304 stainless steel exhaust system features 3-inch piping front-to-back, and sports two aggressively sized 3.5-inch tips fashioned from titanium. HKS says the Legamax aftermarket exhaust is designed specifically to maximize your engine's high-rev power by reducing backpressure, but does so without robbing you of the low-end torque that backpressure helps to generate. The catless downpipe has two resonators built in, along with a sideways-mounted muffler that fits under your car's rear bumper.
Note that this exhaust does not fit the second-generation WRX and STI sedan.
| | |
| --- | --- |
| Pros | An aggressive performance-enhancer, includes a one-year warranty against defects |
| Cons | Eliminates the catalytic converter and its emissions control function, expensive for a stainless steel exhaust |
10. MagnaFlow Competition Stainless Steel Cat-back Exhaust
One thing you'll notice about the design of Magnaflow's Competition Series exhaust systems is the lack of bulging resonators and mufflers you usually see in a full exhaust system. That's because Magnaflow designed this straight-through system for no-compromise performance and efficient exhaust flow, which results in what the company calls an "aggressive" exterior sound that amplifies your WRX or WRX STI's signature engine burble. The downside is that this exhaust may exceed allowable noise levels in your area, so it might be best suited for a car you drive mainly on the track.
However, Magnaflow said it designed this exhaust for moderate sound levels inside the car so that you can still use the car as a comfortable daily driver if you don't have to worry about noise ordinances. As a cat-back design, this exhaust preserves your car's emissions control system so that it should still pass smog tests.
Magnaflow makes its Competition series exhaust systems of 409 stainless steel in a 3-inch diameter, with mandrel bends to maintain that piping size all the way through. The exhaust culminates in four 4-inch tips that maintain your car's stock quad-exit appearance.
| | |
| --- | --- |
| Pros | Bolt-on design for easy installation, straight-through design for efficient flow |
| Cons | Aggressive sound may attract law enforcement |
How does an aftermarket exhaust increase performance?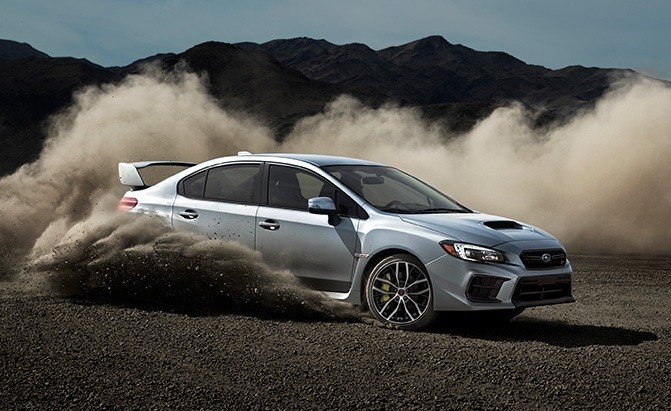 Photo credit: Subaru
If you're a Subaru WRX enthusiast, there are several valid reasons why you might want to install an aftermarket exhaust on your car. Despite being designed for high performance straight off the assembly line, the WRX's exhaust is a compromise that seeks to provide a sporty drive while keeping noise levels reasonable and allowing the car to comply with emissions regulations in your state.
An aftermarket exhaust system can improve your WRX's performance through the use of larger-diameter piping than that which came on the car from the factory. The larger piping can allow the car to more efficiently expel exhaust gases, allowing it to breathe more freely and make more power.
The large piping helps eliminate backpressure and improve scavenging, a combination of factors that creates a vacuum force that helps to pull exhaust out of the engine.
What is mandrel-bending, and why is it important?
Like many modern cars, your WRX or WRX STI's exhaust does not follow a straight line from the engine to the rear bumper. It makes a few twists and turns to accommodate your car's other mechanical systems. For the most effective performance boost, you want to look for an aftermarket exhaust that uses mandrel bending to shape the piping to fit your car. That ensures that the piping is the same diameter all the way along, instead of becoming narrower when it bends and restricting the outflow of exhaust gases.
What do I need to know about exhaust noise levels?
Most jurisdictions will have noise bylaws that apply to street-legal cars and trucks. Whether you bought your WRX new or used, if it has its stock exhaust it will easily be quiet enough for legal on-road use. When shopping for an aftermarket exhaust, however, you want to make sure it will not be louder than is allowed in your state or city. If it is, you will annoy your neighbors and attract the attention of the police, who are responsible for ensuring your car does not contravene noise bylaws. If the police pull you over and determine your exhaust is too loud, you will get a ticket and will probably be required to make the car quieter.
---
We are committed to finding, researching, and recommending the best products. We earn commissions from purchases you make using the retail links in our product reviews. Learn more about how this works.
Photo credit: Subaru
Published June 28th, 2021 8:01 AM
Popular Articles
Latest Comparisons
Car Buying Tools