71 Views
Top 5 Best Waxes for Black Cars for That Unbeatable Shine
March 30th, 2022 4:58 PM
Share
Black cars are notoriously difficult to keep shiny, so you'll want the best wax for the job.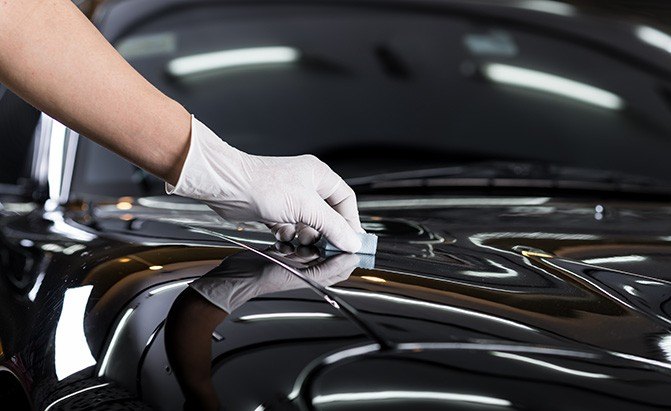 Black or dark-colored cars are sleek, elegant, and shine like a million dollars, but it takes a lot of work to keep up with their good looks. The problem with black cars is that any flaws on the body are quickly noticeable—from dust to minor scuffs to significant dents, everything stands out. However, with timely upkeep and regular maintenance, it is possible to keep your car looking like its beautiful self for years. Just make sure that you are using quality products.
Of course, it all starts with using the right wax to polish your car. Regular waxing protects the paint from the harmful UV rays as well as dust and debris. But the question remains, which wax is best for black cars? Read through this guide for all the info you need to buy the best wax for your black car.
For more information on the best waxes for black cars, refer to our table of contents.
1. Editor's Pick: Turtle Wax Black Box Kit
If you want a car wax that is reasonably priced, does an impressive job, and is easy to use—the Turtle Wax T-3KT Black Box Kit is right up your alley. It takes four steps to get the job done right. Still, the manufacturer provides easy to follow instructions to help you wax your vehicle. Included in the package is a single 12-ounce conditioner and pre-wax cleaner, two 12 ounce spray detailers, one 12 ounces dye-based Deep Black Carnauba Wax, and two pads for application.
It only takes one application to remove all traces of tar, minor scuffs, and other environmental contaminants. However, it won't entirely remove medium to deep scratches, and you might need to get professional services to deal with those. This wax kit is a godsend for black cars that need some TLC stat. Once done, even the most stubborn marks and discolorations are either removed or aren't as noticeable as before.
The only trouble is that this product isn't exactly user friendly—and most car owners find it difficult to keep fiddling between different bottles as it can create a good amount of mess. That's why we recommend you keep several soft cloths with you when waxing your car.
Turtle Wax is renowned the world over for making quality car polish and shine products. And while this product had its limitations, it tops our list because it is the most effective at shining black cars. Add to that the reasonable price, and this becomes a perfect pick for beginners as well as experts.
| | |
| --- | --- |
| Pros | User-friendly, clear instructions, true black finish, perfect for black as well as other dark-colored cars, removes tar spots, scratches, scuffs, and environmental contaminants |
| Cons | Messy application, not the best for deep scratches and paint swirls |
2. Best Two-in-One Wax: Meguiar's Black Wax
If you want a long-lasting wax that can provide a glossy finish that lasts for months, we recommend you to go with Meguiar's Black Wax. It is the perfect blend of polish as well as wax that delivers exceptional results. We are talking about a clean finish and a shining car that looks good for a very long time.
The wax is formulated with a combination of blended polymers, micro-polishing agents, and polishing oils, which is a perfect blend for a quality, durable wax product. It comes in a seven-ounce bottle; don't mind the lesser quantity because you only need a little bit to polish an entire vehicle. Also, only a single coat of wax can protect your car and have it looking great for several months.
The secret to its longevity are the synthetic polymers that ensure durability. Additionally, the formula is clear coat safe, so your car will have an exceptional shine without any faults. Out of the box, you receive a non-abrasive applicator pad that is meant for black or dark cars—use it to apply the wax in a circular motion. One coat of wax should be good enough.
| | |
| --- | --- |
| Pros | Removes scratches, scuffs, and swirls, pleasant smell, easy application, 2-in-1 product, durable, lasting effects |
| Cons | A bit pricey, the seen shine is not the best when compared to rival products |
3. Best Comprehensive Wax: Chemical Guys Black Car Care Kit
If you are looking for an all-in-one solution for waxing, shining, and thoroughly cleaning your vehicle, the Chemical Guys Black Car Care Kit is it. It includes nine premium-quality items, perfectly designed to deliver a beautiful finish. Out of the box, you receive Butter Wet Wax, a car wash for shine, a hybrid finisher, a detailer, and a spray sealant.
All items within the Chemical Guys Black Car Care Kit come ready to use, but the soap needs to be mixed with water. Also, if need be, you can combine the detailer with water in a 4:1 ratio. And for easy application, you also receive three microfiber towels and soft foam applicators. The included pH balanced soap can be safely used on all car parts that aren't at the risk of being damaged by water.
Use the microfiber towels to apply the detail enhancer without scratching the car, and use the soft foam applicators to apply the wax. The wax provides six months of protection, while the sealant adds a UV protection layer.
| | |
| --- | --- |
| Pros | Butter wax lasts for six months, sealant provides UV protection, made for black and dark-colored cars, doesn't cause scratches, microfiber towels included |
| Cons | Tire shiner tends to wear off quite fast, slightly expensive, doesn't include products for the car interior |
4. Best Spray-On Wax: Meguiar's Gold Class Premium Quick Wax
If you need a quick fix for waxing your black car, try a spray-on wax. Meguiar's Gold Class Carnauba Plus Premium Quick Wax is widely considered best in class. The primary component of this product is carnauba wax that is known to deliver exceptional shine to black exteriors. Applying it is quite straight forward—spray it on and wipe it off, that's it. You are done!
Furthermore, you can easily use this product in sunlight, and no residual wax is left behind on the paint or any of the plastic or rubber parts. This recommendation is safe for use on all clear coat surfaces and glossy paint. However, it is not meant to be applied to satin, flat, and matte finishes.
To get the deepest shine possible, use the liquid wax with a high-quality microfiber towel.
| | |
| --- | --- |
| Pros | Easy application, deep shine, carnauba wax, no white wax reside, clear coat safe, 16-ounce bottle |
| Cons | Cannot be applied to satin, flat, and matte finishes, may leak a little, for best use you need a recommended microfiber cloth |
5. Easiest to Use: Pinnacle Natural Brilliance Souveran Paste Wax
This is a premium wax product that's not only easy to use, but also promises to restore your car to its true black finish. The Pinnacle Natural Brilliance Souveran Paste Wax is somewhat pricey, but the fact that it's made from world-class Brazilian ivory carnauba wax makes it worth all that. So it comes as no surprise that this is the go-to black car wax product that many professionals depend on to get the best results. Apply it and your car will be dressed to impress in no time at all.
The Pinnacle Natural Brilliance Souveran Paste Wax comes in an eight-ounce jar, which can last for up to 30 applications. Using it is easy, the wax's buttery texture makes it easy to apply, buff in, and remove with any towel. Another added benefit is that you can use this wax on some parts of your car's interior as well.
| | |
| --- | --- |
| Pros | Shiny finish, easy and quick application, removes stains, light scratches, and scuffs, best for detailing |
| Cons | A bit pricey |
Why is it Important to Wax a Black Car?
Here are a few reasons why waxing your black car is essential:
You can't go wrong with the color black for your car as it defines class and style. However, it requires more maintenance then other colors as the slightest of flaws are more apparent. Waxing it is the only way to have your vehicle looking great for years on end.
If you plan to sell your car in the long run or change it for a newer model, waxing it will ensure that your investment remains secure.
Adding a layer of wax to your car protects it from UV rays and other environmental contaminants.
Good wax products meant for black cars can also rid your vehicle of minor scratches, scuffs, and paint swirls. In fact, it may even help hide bigger nicks and scratches, making them less apparent.
How to Narrow Down the Best Wax Products for Black Vehicles:
There are dozens of wax products available in the market, and not all of them are good for your car. So when selecting the best wax for your black car, consider the following facets before you put down your money on a product:
Type of wax: To get a decent shine and protection, go for synthetic wax, but for a deeper shine and exceptional protection, choose carnauba wax. However, carnauba wax is not as durable as synthetic wax, as it needs to be reapplied more often than the latter.
Style of Wax: Depending on the paint coat, the environment you live in, and ease of use—choose between spray wax, paste wax, liquid wax, or wipes.
Ease of use: The potential selection should be easy to apply, and the manufacturer should provide proper step-by-step instructions.
Durability: Choose a long-lasting wax product; a single application should be good enough for a few months. You won't need to reapply the wax as often, so time, as well as money, will be saved.
Performance: The wax should be able to remove scratches and other imperfections.
Protective Layer: The wax should protect your vehicle from UV rays, water damage, and other environmental contaminants.
Difference Between Standard Wax and Wax Meant for Black Cars?
Standard car wax works fine on black cars, but it may not be able to hide the nicks, scratches, and other imperfections. Car wax that's specially made for black exteriors gels well with the black paint and is better at correcting the visible flaws. It also ensures that all stains, spots, contaminants, and even minor scratches disappear completely, leaving you with a smooth, shiny car.
Should Black Cars be Waxed More Than Other Cars?
It depends on the environment you live in. If your car is inundated with plenty of dirt, dust, and other environmental contaminants, then yes, it should be waxed and polished often. We recommend to wax your car every 4 to 6 months to maintain its gloss and shine.
Should Wax be Left on the Car for Some Time Before Being Wiped Off?
Typically, you will find manufacturer recommendations on the wax container for how long it should be left to breathe. However, if there are no such instructions, you can leave it for at least 30 minutes to a maximum of seven to eight hours, before removing it.
---
We are committed to finding, researching, and recommending the best products. We earn commissions from purchases you make using the retail links in our product reviews. Learn more about how this works.
Photo credit: Bhakpong / Shutterstock.com
Published July 30th, 2020 8:01 AM
Popular Articles
Latest Comparisons
Car Buying Tools