779 Views
Buick Enclave - Review, Specs, Pricing, Features, Videos and More
May 4th, 2023 9:33 AM
Share
Find everything you need to know about the Buick Encore here, along with expert reviews, specs, photos, videos and more.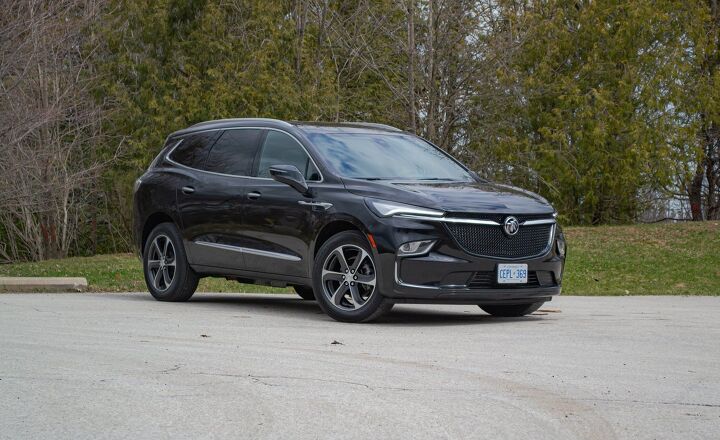 | | |
| --- | --- |
| Our Rating | 3.9/5 |
| Price | $46,195 - $60,865 |
| Engine | 3.6-liter V6 |
| Power | 310 hp |
| Torque | 266 lb-ft |
| Drivetrain | FWD / AWD |
Buick's three-row SUV is stylish, premium, and spacious. But the the best part of the Enclave is how comfortable it is. This SUV is at the top of our list when it comes to long-distance freeway cruisers. It can eat up mile after mile of highway, coddling occupants in complete isolation.
With V6 power and a choice of front-wheel or all-wheel drive, the Enclave is well suited for just about any climate.
| | |
| --- | --- |
| Pros | Nicely sculpted exterior, refined cabin, low base price |
| Cons | Meh fuel economy, tiny touchscreen, needs options for latest safety kit |
| Bottom Line | The Buick Enclave does what Buicks do best, offering upscale comfort at a sub-premium price. |
Table of contents
2022 Buick Enclave Review: Goes Down Smooth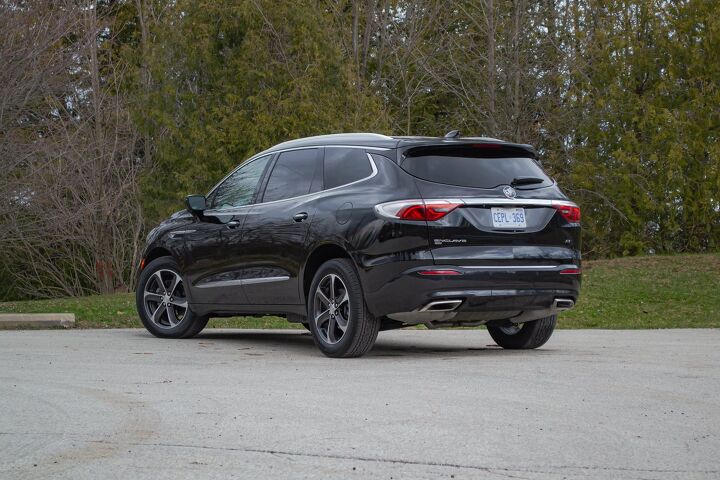 The sportiest thing about the 2022 Buick Enclave is the tiny "ST" badge on its rump. That's a good thing.
Look, I love me a good hot hatch as much as the next enthusiast. It shouldn't need to be said, but a three-row crossover is a whole different breed. It doesn't need the stiff suspension, aggressive throttle response, and throaty exhaust note. It's surprising how many automakers think otherwise.
Buick isn't one of them. The American automaker has captured the smooth-cruising character of the past with its largest offering. Look past the somewhat unfair stereotype of drivers of, ahem, advanced years, and the Enclave offers a spacious, premium family hauler.
Buick treated its range-topper to a facelift this year. The front end gets a strikingly angular look, with handsome LEDs sitting above the chrome strip bisecting the grille. Lower down the fascia, you'll find the main beams. It's a look we're seeing across a lot of brands these days, but it's attractive nonetheless. To these eyes, the refresh out back is less successful, the unbroken line running across the taillights and chrome bar looking like a big frown.
---
Toyota Highlander vs Buick Enclave: Slightly Fancy Face-Off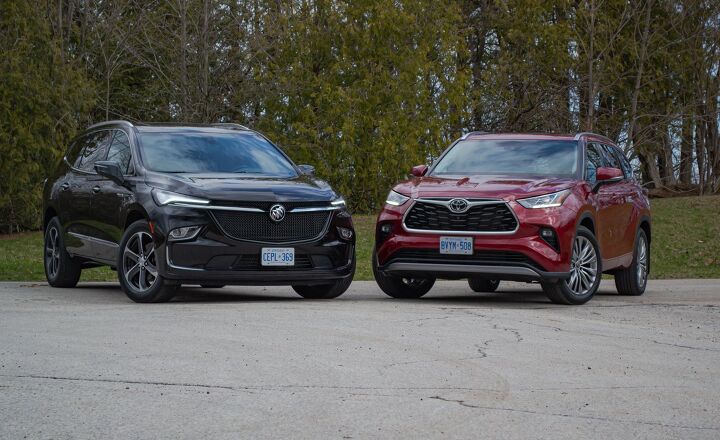 The gap between mainstream and premium shrinks every year.
Take these two three-row SUVs. The Toyota Highlander and Buick Enclave can come loaded to the gunwales with all the leather, fancy tech, and creature comforts you would have expected of a luxury car a decade ago.
The Highlander is the big seller, leading the three-row market with a strong combo of reliability and an available hybrid powertrain. The Buick was one of the first three-row luxury crossovers, pairing that traditional brand focus on comfort with more space than ever before. We spent a week with both to see which one deserves that spot at the local golf course.
---
Competitors
---
Detailed Specs
| | |
| --- | --- |
| Price | $46,195 - $60,865 |
| Engine | 3.6-liter V6 |
| Power | 310 hp |
| Torque | 266 lb-ft |
| Drivetrain | FWD / AWD |
| Transmission | 9AT |
| Fuel Economy (city/hwy) | 17–18 mpg / 25–26 mpg |
| Cargo Capacity | 23.6 cu ft |
---
Our Final Verdict
| | |
| --- | --- |
| Overall | 3.9 |
| Performance | 7.0 |
| Features | 8.0 |
| Comfort | 8.0 |
| Quality and Styling | 8.0 |
| Value | 8.0 |
Published November 22nd, 2019 4:56 PM
Popular Articles
Latest Comparisons
Car Buying Tools