1.7K Views
Chevrolet Silverado LT Vs LTZ: Which Trim is Right for You?
May 23rd, 2023 5:18 PM
Share
We're committed to finding, researching, and recommending the best products. We earn commissions from purchases you make using links in our articles. Learn more here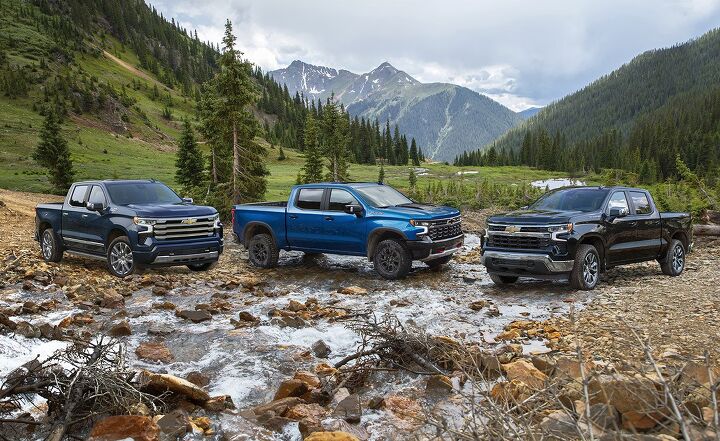 The Chevrolet Silverado is one of the most popular vehicles on sale today.
This isn't much of a surprise since North America is obsessed with pickup trucks. The top three selling vehicles year over year are always full-size pickups, specifically American ones. Choosing one truck over another is a matter of personal choice. Ford, Ram, GMC, and Chevrolet all have solid offerings.
Narrowing it down to a single model, like the Chevrolet Silverado, is just the beginning though. From here there are countless cab sizes, bed lengths, engine choices, and drivetrain configurations. But some are more popular than others. To help any prospective Silverado buyers, we are going to look at two of the more prominent trim choices.
Below, we compare the Chevrolet Silverado LT vs LTZ over nine key categories. Since the LT trim is available on the double cab standard bed configuration, but the LTZ trim is not, we're focusing on crew cab models only, with either the short or standard box.
Style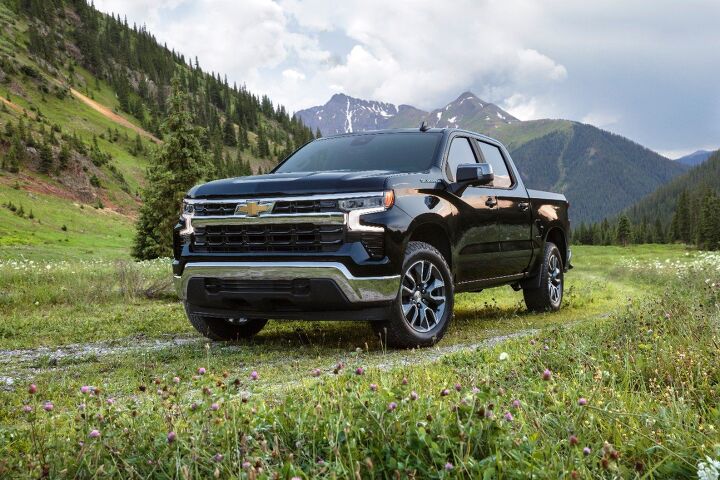 The LT comes equipped with silver 17-inch wheels and 255 mm wide tires. The LTZ comes standard with silver 20-inch wheels and wider 275 mm tires. Either trim can be equipped with several wheel choices for a price, measuring upwards of 22-inches in diameter.
The LT features body colored door handles, while the LTZ has chrome handles. Other details on both trucks feature a chrome finish, like the mirror caps and bumpers.
Both trims have LED headlights with auto high beams, but only the LTZ also includes LED fog lights. It's the same story with the taillamps – only the LTZ have the LED lights.
Cabin Space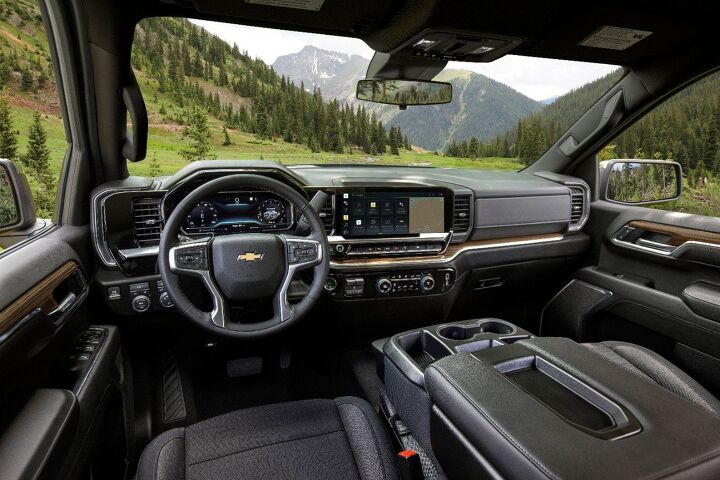 Inside, both trims feature heated front seats, with power for the driver side. Only the LTZ has a power passenger seat as well. The LT comes standard with a three-passenger front bench while the LTZ uses two separate bucket seats. The standard seats in the LT are finished in cloth, while those in the LTZ have a leather surface. The latter are also ventilated.
SEE ALSO:
2022 Chevrolet Silverado 1500 First Drive Review: It's What's Inside That Counts
Regardless of trim, front seat passengers will enjoy 43.03-inches of headroom and 44.53-inches of legroom. Rear occupants get nearly as much room, with 40.12-inches of headroom and 43.40-inches of legroom.
Chevrolet Silverado LT vs LTZ: Powertrain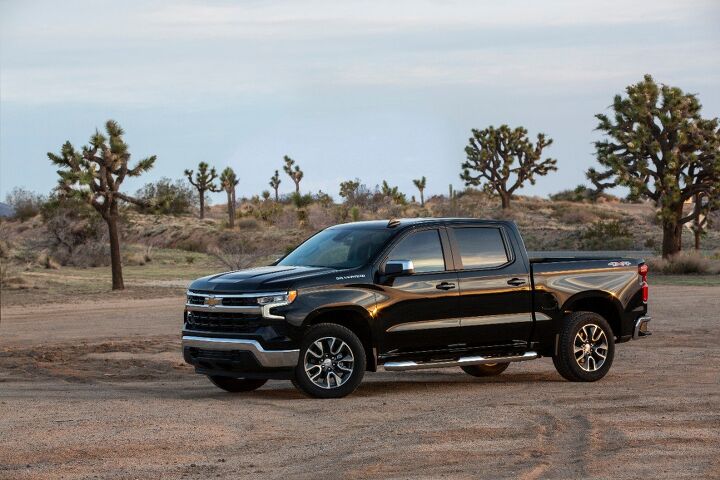 The LT comes standard with a 2.7-liter turbocharged four-cylinder engine making 310 hp and 430 lb-ft. of torque. It's paired up to an eight-speed automatic transmission and a 3.42 ratio rear gear for either rear-wheel or four-wheel drive models.
The LTZ comes standard with a 5.3-liter V8 engine making 355 hp and 383 lb-ft of torque. It pairs up to a ten-speed automatic transmission and a 3.23 ratio rear gear for both rear-wheel and four-wheel drive models. This engine, transmission, and rear gear combination are available on the LT as well, for a price.
Both trim levels can also be had with 3.0-liter turbocharged six-cylinder diesel engine. It produces 305 hp and 495 lbft of torque. Like the V8 gas engine, the diesel uses a ten-speed automatic transmission.
Those that want more power should look at the LTZ model as it can be had with a 6.2-liter V8 that unleashes 420 hp and 460 lb-ft of torque. This engine once again uses a 10-speed automatic but is only available with four-wheel drive. It can't be equipped on rear-wheel drive versions.
Fuel Economy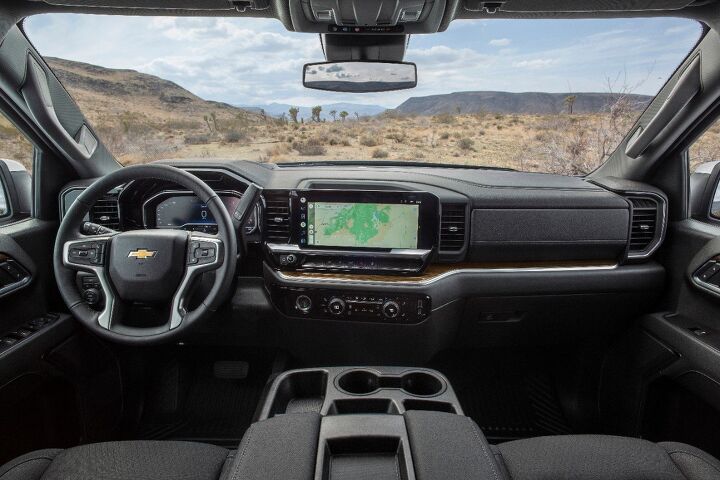 With so many engine, transmission, and drivetrain choices, fuel economy figures understandably vary. We'll try to help break it down for you here.
Starting with the LT trim level, the 2.7-liter turbo engine is rated for 19 mpg city and 22 mpg highway on rear-wheel drive models. Those with four-wheel drive push the numbers a bit lower to 18 mpg city and 21 mpg highway.
The LTZ, as well as LT models with the optional 5.3-liter V8 are rated to achieve 17 mpg city and 21 mpg highway. Adding four-wheel drive lowers fuel economy figures to 16 mpg city and 20 mpg highway. Surprisingly, the larger and more powerful 6.2-liter V8 delivers the same fuel economy on four-wheel drive LTZ trim trucks as the 5.-3-liter.
The most efficient choice for either trim is the turbocharged diesel engine that can get upwards of 24 mpg city and 29 mpg highway on rear-wheel drive trucks. Those with four-wheel drive still return decent fuel economy for a big truck, rated at 22 mpg city and 27 mpg highway.
Chevrolet Silverado LT vs LTZ: Towing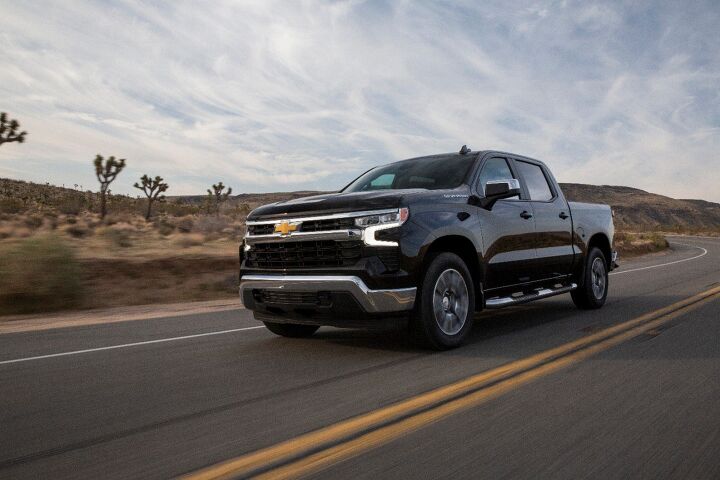 Towing is a very important factor for many prospective truck owners. When it comes to the Chevrolet Silverado LT vs LTZ, towing capacity has more to do with engine and drivetrain than the trim itself.
What is trim specific is the technology to assist in towing. Both the LT and the LTZ come equipped with hitch guidance to help drivers maneuver the pickup when towing. Standard on the LTZ are features like the hitch view, trailering app, inside/rear trailer camera input, trailer side blind zone alert, auxiliary transmission oil cooler, engine oil cooler, and an integrated trailer brake controller. These can all be added to the LT as well, but for an extra cost.
Trucks with the 2.7-liter engine, regardless of bed size, can tow up to 9,200 lbs. with RWD, or 9,000 lbs. with 4WD. Silverado's with the 5.3-liter V8 can tow up to 11,300 lbs. on RWD short bed trucks or 11,200 on standard bed versions. With 4WD, those numbers decrease to 11,000 lbs. regardless of truck bed. The more powerful four-wheel drive trucks with the 6.2-liter V8 ups the towing numbers to 11,900 lbs. with either bed size.
For maximum towing though, the turbocharged 3.0-liter diesel engine is the best choice. With the max towing package installed, RWD trucks can tow 13,300 lbs., while the 4WD short bed trucks can haul 13,000 lbs and the standard bed 12,900 lbs.
Payload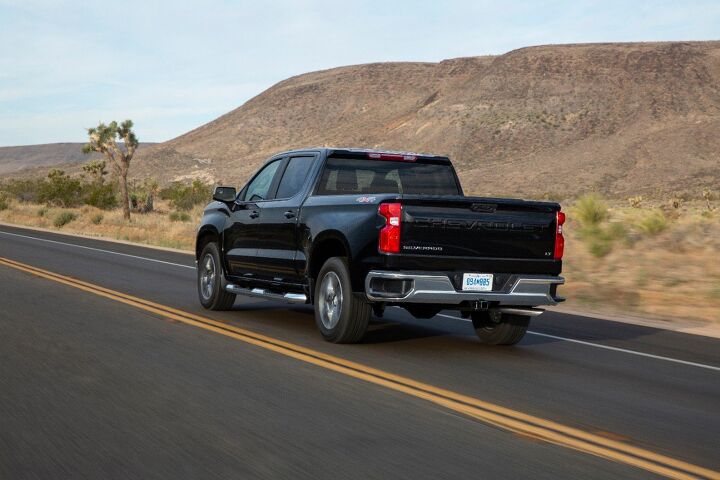 For those more concerned about the amount of weight a truck can carry in the bed, payload is once again not very trim dependant. LT models with the 2.7-liter engine and rear-wheel drive can carry up to 2,030 lbs. in the short bed, or 1,960 lbs. in the standard bed. For 2.7-liter models with four-wheel drive, standard box trucks can carry 2,020 lbs. and standard bed trucks 1,900 lbs.
Either trim with the 3.0-liter diesel engine and short bed have a payload rating of 1,880 lbs. for RWD versions, or 1,870 lbs for those with 4WD. The standard bed only comes with 4WD and is rated to carry 1,820 lbs.
Rear wheel drive trucks with the 5.3-liter V8 can carry 2,030 lbs with the short bed and 1,960 lbs. with the standard bed. Four-wheel drive models lower those numbers to 2,020 lbs. for the smaller bed and 1,940 lbs. for the standard bed. Only available with four-wheel drive, LTZ trucks with the 6.2-liter V8 can carry 1,980 lbs in the short bed and 1,920 lbs. in the standard bed.
Chevrolet Silverado LT vs LTZ: Safety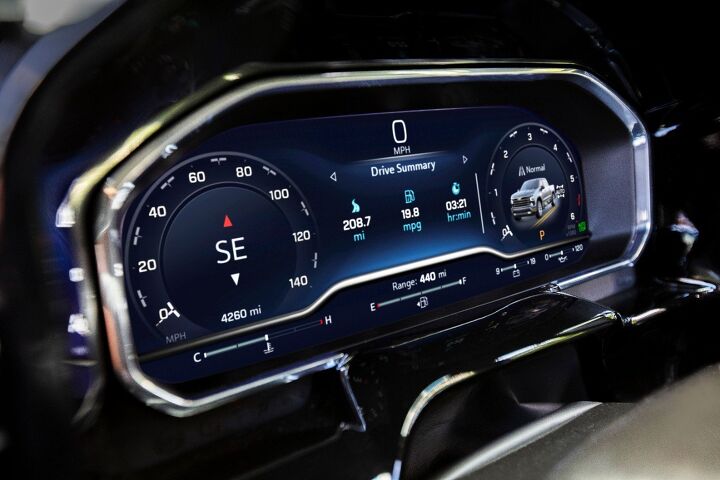 Standard on both the LT and the LTZ are safety items like forward collision alert, automatic emergency braking, following distance indicator, lane keep assist, lane departure warning, rear seat reminder, and front pedestrian braking. Standard features on the LTZ that are optional on the LT include rear pedestrian alert and rear cross traffic alert.
SEE ALSO:
2021 Chevrolet Silverado 2500HD High Country Review: A Hunter's Best Friend
For the most safety though, there are options included on the LTZ that cannot be had on the LT. These include front and rear park assist as well as General Motors safety alert seat.
Tech and Features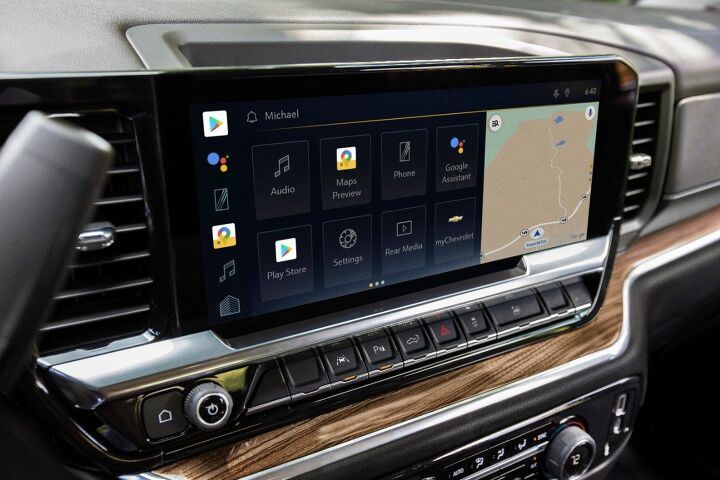 As should be expected for a modern full-size pickup, the Silverado comes well equipped regardless of trim. Both the LT and LTZ include a 12.3-inch driver information center, a 13.4-inch infotainment screen, dual-zone automatic climate control, heated steering wheel, remote engine start, and push button start.
On the LTZ, more standard features include power folding side mirrors, perimeter lighting, a power liftgate, rain sensing wipers, a Bose audio system, driver memory seat, surround vision cameras, and wireless charging. These items can all be added to the LT as well, through various extra cost option packages.
There are some options that can only be found on the LTZ and not the LT. A sunroof, power retractable steps, head-up display, and heated rear seats are a few of these items.
Pricing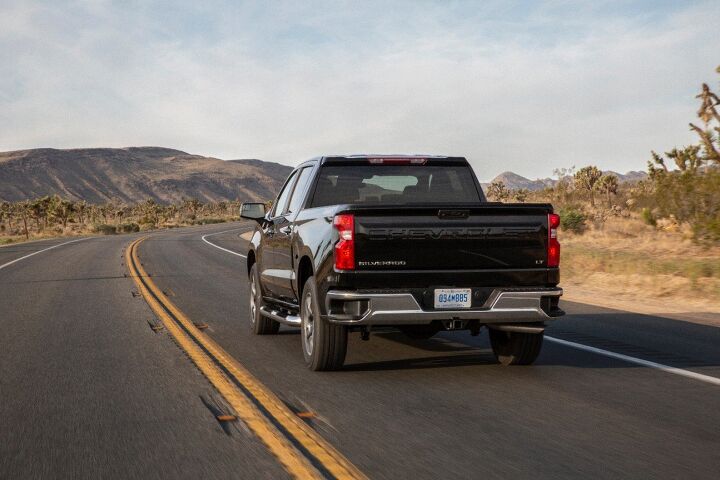 Pricing for the Chevrolet Silverado LT starts at $52,295 (all prices include destination charges) for rear-wheel drive, crew cab, short bed models. Four-wheel drive raises the price to $55,595. For longer standard bed versions, pricing increases $300.
SEE ALSO:
2022 Chevrolet Silverado ZR2 First Drive Review: Fashionably Late Off-Road Flagship
The LTZ with the crew cab, short bed and rear-wheel drive starts at $59,095. With four-wheel drive, pricing clocks in at $62,395. The LTZ cannot be had with rear-wheel drive and the standard bed, while the four-wheel drive model with the longer bed starts at $62,695.
Chevrolet Silverado LT vs LTZ: Verdict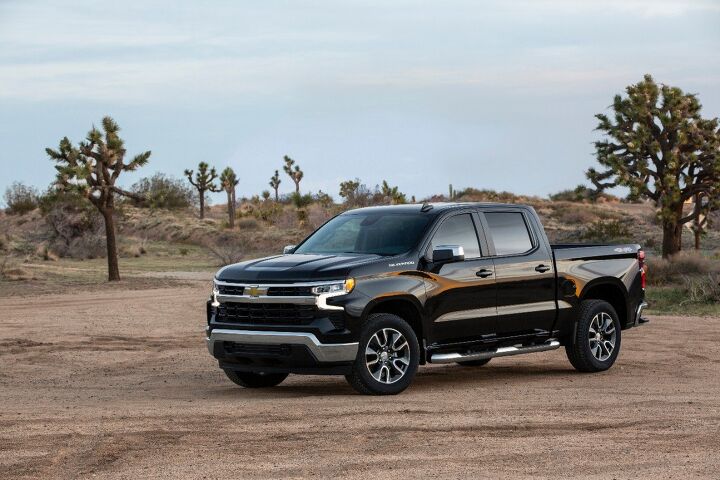 When comparing the Chevrolet Silverado LT vs LTZ, there's a lot to consider. The price gap between the two trims is significant. But so is the amount of extra content in the more upscale LTZ.
Our best advice, look closely at the LTZ. If all the extra features are items you want and/or need, then go for it. If there are numerous options on that fancier model that you could live without though, maybe it's better to get a LT. Then, add the few features you do want, save yourself some money, but most importantly, get the truck you want.
Become an AutoGuide insider. Get the latest from the automotive world first by subscribing to our newsletter here.

Mike Schlee
A 20+ year industry veteran, Mike rejoins the AutoGuide team as the Managing Editor. He started his career at a young age working at dealerships, car rentals, and used car advertisers. He then found his true passion, automotive writing. After contributing to multiple websites for several years, he spent the next six years working at the head office of an automotive OEM, before returning back to the field he loves. He is a member of the Automobile Journalists Association of Canada (AJAC), and Midwest Automotive Media Association (MAMA). He's the recipient of a feature writing of the year award and multiple video of the year awards.
More by Mike Schlee
Published May 23rd, 2023 5:15 PM
Popular Articles
Latest Comparisons
Car Buying Tools