1.3K Views
Hyundai Tucson Vs Kia Sportage: Which SUV is Right for You?
August 2nd, 2022 11:00 AM
Share
They might be related, but these two popular compact crossovers have different sets of strengths. It's the Hyundai Tucson vs Kia Sportage.
Both the Hyundai Tucson and Kia Sportage feature some of the broadest lineups in the jam-packed compact crossover segment. From frugal to fancy, and including both regular hybrid and plug-in hybrid variants, these family haulers have something for darned near everyone.
The latest Tucson debuted for 2022, introducing a sharp new look and a clean, premium-feel interior. It impressed us so much, we crowned it the 2022 AutoGuide Utility Vehicle of the Year. Not to be outdone, the 2023 Kia Sportage rocked onto the scene with wild styling and a techy cabin that wouldn't look out of place in a German luxury car. Which of these SUVs is right for you? The Hyundai Tucson vs Kia Sportage? Let's find out.
Get a Quote on a New Hyundai Tucson or Kia Sportage
Cabin Space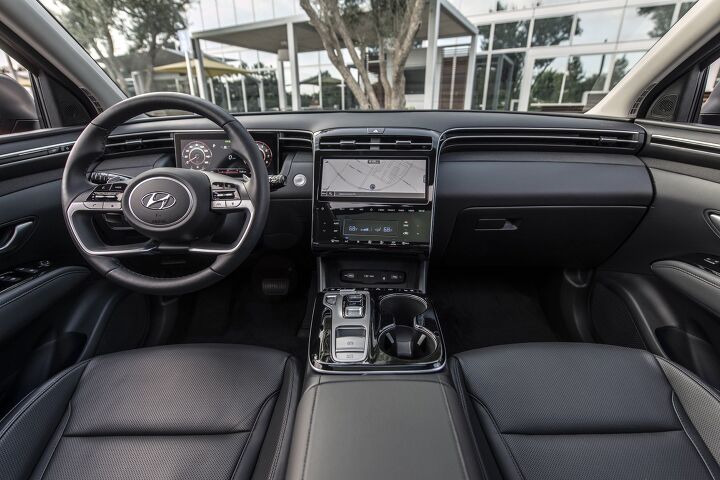 Tucson: The Tucson interior has a cool, calming aura, as the top section of the door panels wrap around the base of the windshield before cascading down the dashboard. The design cleverly incorporates hidden air vents, too. A raised center console with push-button shifter keeps the important controls closely within reach. While cloth is standard in lower trims, the leather arrives mid-level, and top trims include both heat and ventilation up front.
Thanks to a long 108.5-inch (2,756-millimeter) wheelbase, the Tucson has one of the most accommodating interiors in the class. Front headroom is a roomy 40.1 inches (1,019 mm), with an additional inch and a bit of legroom (41.4 in / 1,052 mm). The rear is hardly less spacious, with 39.5 and 41.3 inches (1,003 and 1,049 mm) of head- and legroom. Higher trims include a panoramic moonroof, which chops headroom to 38.1 inches up front and 39.0 inches in the back (968 and 991 mm). Hybrid models also trim fractions of an inch off front legroom and rear headroom.
SEE ALSO:
Hyundai Tucson Hybrid vs Ford Escape PHEV Comparison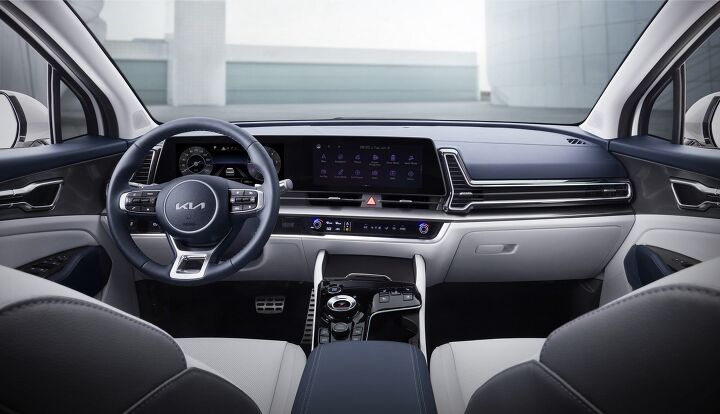 Sportage: The Sportage interior is a little more techy, a little more angular than the Tucson's. A single curved panel houses both the instrument panel and the infotainment screen, so there isn't much of a dashboard design to look at. Big chrome-ringed vents are eye-catching, however. The center console houses many controls, with either a traditional shifter stalk in gas cars, or a rotary dial for the hybrids.
The Kia has the same wheelbase as the Hyundai, so it's not too surprising that it boasts the same legroom front and rear. Headroom is slightly less at 39.6 inches (1,006 mm) front and 39.4 inches (1,001 mm) rear. The Kia has slightly more front hip room, but less in the rear, and less shoulder room in both rows. As is the case in the Tucson, the Sportage loses headroom with the moonroof, and with the hybrid.
SEE ALSO:
2023 Kia Sportage First Drive Review: Whatchu Lookin' At?
Bottom Line: These two offer different designs, but roughly the same space inside for folks. If you're tall, the more vertically-spacious Tucson holds the edge.
Cargo Space and Towing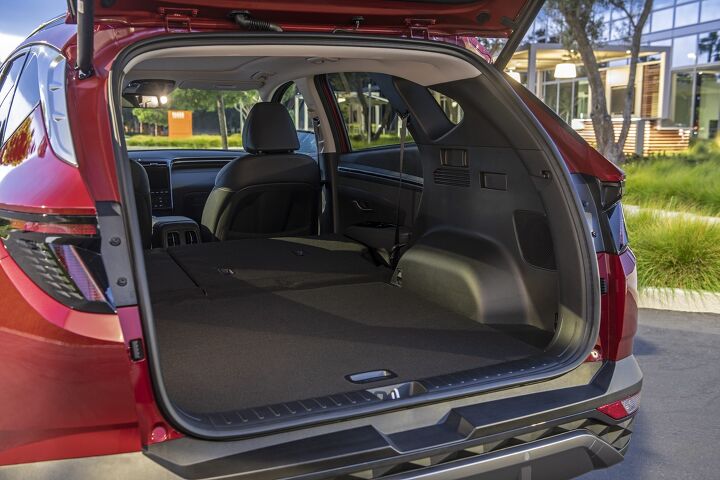 Tucson: In gas form, the Tucson offers up a massive 38.7 cubic feet (1,096 liters) of storage space. And that's with the seats up: drop the 60/40 second row and you've got 80.3 cubes (2,274 L) to stash stuff. Opting for the hybrid drops that figure to 74.5 cu-ft (2,110 L), which is still huge.
No matter the drivetrain, the Tucson maxes out at 2,000 pounds (907 kilograms) of towing capacity.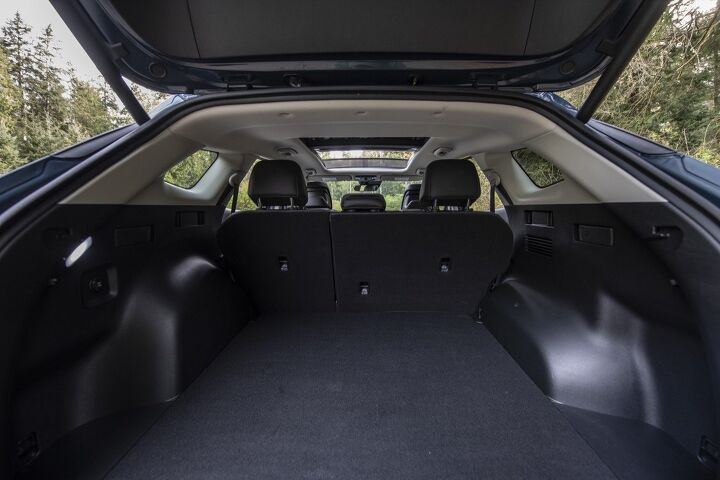 Sportage: The Sportage has an absolutely cavernous hatch, swallowing a segment-best 39.6 cu-ft (1,121 L). Drop the seats and that grows to 74.1 cu-ft (2,098 L), a little shy of its sibling. Switching over to the hybrid sees a very slight decrease, to 39.5 and 73.7 cu-ft (1,119 and 2,087 L), respectively.
Towing capacity is capped at—you guessed it—2,000 lb (907 kg).
Technology and Features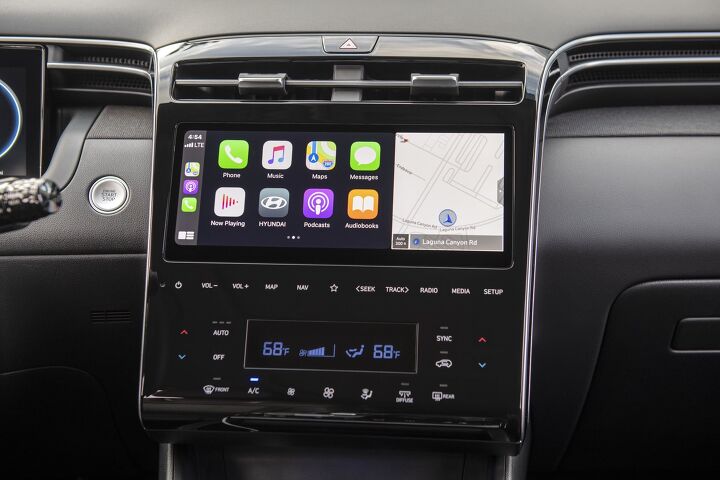 Tucson: Even the entry-level Tucson comes equipped with an 8.0-inch touchscreen, with wireless Apple CarPlay and Android Auto. Higher trims bring in a larger 10.25-inch screen, which bizarrely drops the wireless phone mirroring. Other standard kit includes keyless entry, two USB ports, and 17-inch alloy wheels. An optional 10.25-inch display sits behind the wheel for instrument panel duty. The large panel below the touchscreen is touch-sensitive.
Depending on trim, buyers can net features like a hands-free power liftgate, wireless charger, dual-zone climate control, and other creature comforts. A Bose sound system also shows up mid-tier. At the top of the pile, the Limited/Ultimate adds heated rear seats, memory seating, a panoramic glass roof, around-view monitor (with lane-view), and more.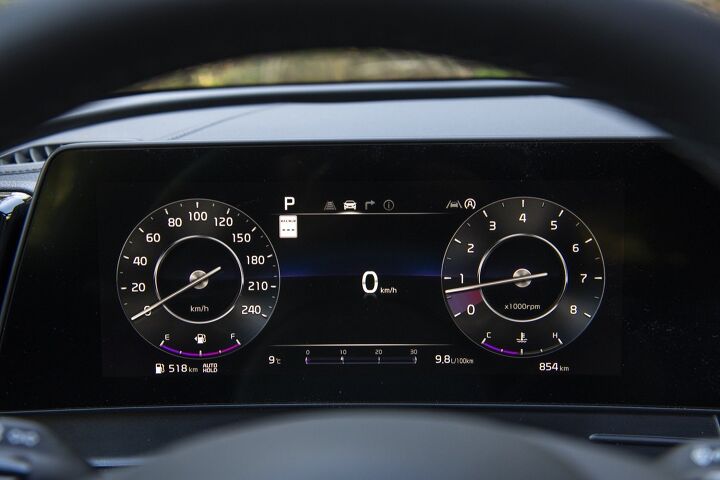 Sportage: On the infotainment front, the Sportage is identical to the Tucson: an 8.0-inch screen as standard, with wireless phone mirroring, and a 10.25-inch optional screen with the cord. The instrument panel includes a large (and largely uncustomizable) screen in lower trims, which grows slightly and allows for the full range of adjustments starting with the mid-tier trims. Instead of a larger touch-sensitive section for controls, the Sportage uses a smaller switchable panel, that requires a poke to swap between climate and audio.
Like the Tucson, the Sportage offers up a large range of additional tech goodies as you walk up the trim line. A smart powered tailgate, heated rear seats, Harman Kardon (not Bose) sound system—it's all there. Of note, the Kia finally brings USB-C ports to the Korean car brands, with clever placement on the front seatbacks, making it easier for young ones to reach 'em.
SEE ALSO:
2020 Honda CR-V Hybrid First Drive Review
Bottom Line: Both the Kia and Hyundai offer up a lot of tech for the money, at all trim levels. As is the case with so much of this spec comparison, they align pretty closely, so it's down to user preference. Unless you really have a thing for USB-C, in which case it has to be Kia.
Hyundai Tucson vs Kia Sportage: Powertrains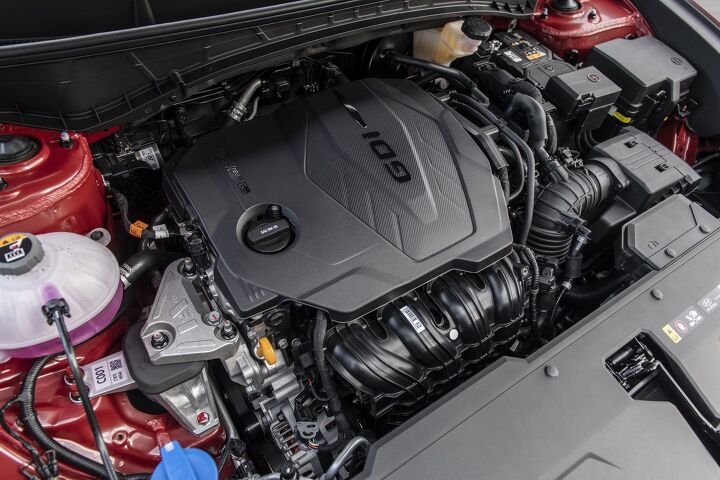 Tucson: Tucson buyers have three engine options. On the pure gasoline front, Hyundai offers the 2.5-liter naturally-aspirated four-cylinder, producing 187 horsepower and 178 pound-feet of torque. Power routes through an eight-speed automatic, with standard front-wheel drive or optional all-wheel drive.
Next come two hybrid models, one full and the other plug-in. Both swap in a smaller, 1.6-liter turbocharged gas engine, paired to an electric motor. The regular hybrid uses a 1.49-kWh battery pack, whereas the PHEV employs a larger 13.8-kWh pack. AWD is standard on both, and in an unusual move, Hyundai uses a six-speed automatic transmission, not a CVT. The hybrid produces a combined 227 hp, while the PHEV bumps that number to 261 hp. Both produce a maximum of 258 lb-ft of torque.
SEE ALSO:
Subaru Forester vs Chevrolet Equinox Comparison: Underdog Fight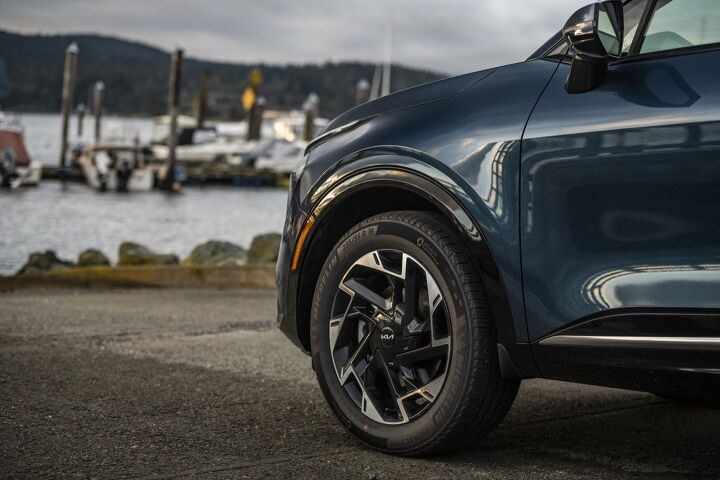 Sportage: As you'd expect, the Sportage drivetrain lineup mirrors the Tucson's almost exactly. A 2.5-liter nat-asp four-pot serves as the base engine, with the two hybrid setups optional on select trims.
There is one major difference: the Sportage hybrid comes in both FWD and AWD flavors. The PHEV is still all-paw-only, though.
Bottom Line: Unless you've got your heart set on a front-drive hybrid, there's no difference between these two. Again.
Fuel Economy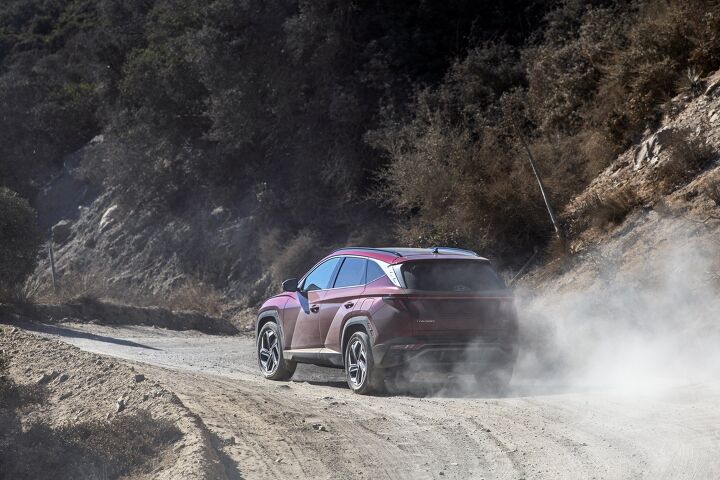 Tucson: Starting with a front-drive 2.5-liter model, the Tucson posts 26 mpg city and 33 mpg highway, for a combined rating of 29 mpg. (Canadian figures are 9.1, 7.1, and 8.2 L/100 km, respectively.) Opting for AWD knocks those numbers down to 24/29/26 mpg (9.9/8.0/9.0 L/100 km).
Opting for the regular hybrid does wonders for the efficiency, with the lower-trim Blue scoring 38 mpg on all ratings. Higher trims are slightly thirstier, posting 37/36/37 mpg (6.3/6.6/6.4 L/100 km), respectively.
The Tucson PHEV has a 35 mpg combined (6.7 L/100 km) rating, or an 80 mpg-equivalent (2.9 L/100 km) one when taking pure-electric driving into account. Hyundai says it'll run 33 miles (53 km) on nothing but electrons.
SEE ALSO:
Mazda CX-30 vs Mazda CX-50 Comparison: The Inbetweeners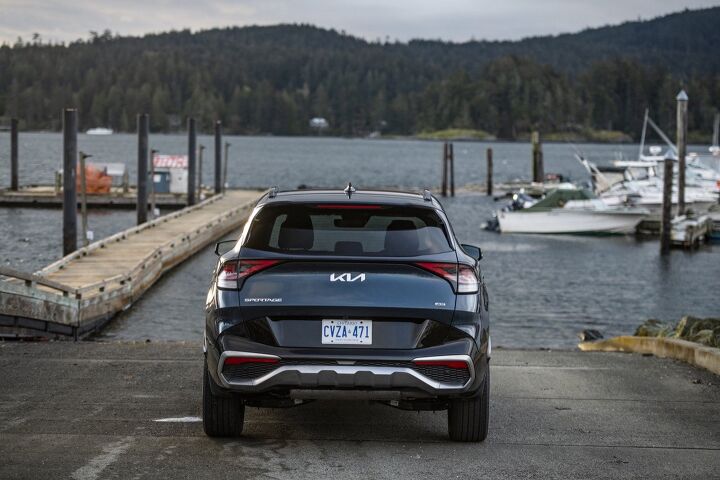 Sportage: On the pure-gasoline front, the Sportage trails its Hyundai sibling by 1 mpg across the board. So that's 25/32/28 mpg (9.3/7.4/8.4 L/100 km) in front-drive form, and 23/28/25 mpg (10.4/8.5/9.5 L/100 km) for AWD.
That disadvantage flips sides for the electrified models. Kia offers the lower-trim Sportage Hybrid with FWD, enabling a stellar 42/44/43 mpg rating. The FWD Hybrid is not available in Canada. Speccing AWD results in the same 38 mpg across the board as the Tucson (6.1/6.3/6.2 L/100 km).
At the time of writing, Kia hadn't released official fuel economy figures for the Sportage PHEV. We do know it's expected to run 32 miles (51 km) in EV mode, though.
Bottom Line: If you're looking for the most fuel-efficient model possible, then it's the Sportage Hybrid FWD. For everything else, it's close enough to essentially be a wash.
SEE ALSO:
Toyota RAV4 vs Honda CR-V: Which Crossover Is Right For You?
Safety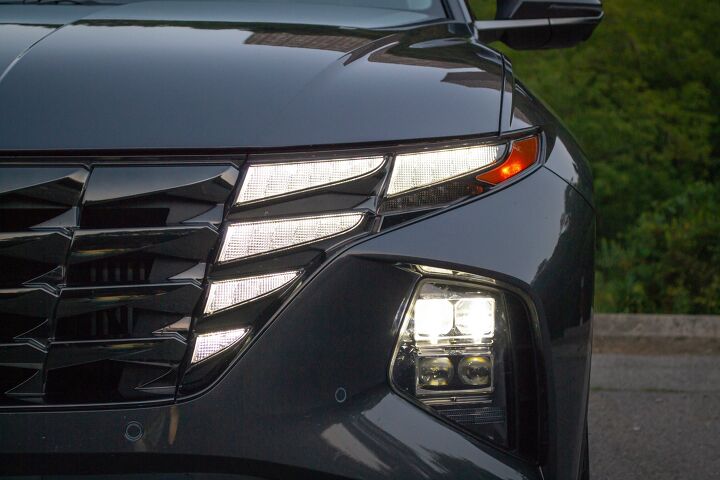 Tucson: The Tucson comes with a strong list of standard safety assists, including automated emergency braking, lane keep assist, lane follow assist, and automatic high beams. The next trim up adds blind spot monitoring, rear cross-traffic alert, safe exit assist, and adaptive cruise control. Moving up to the top trims unlocks a 360-degree camera, blind-spot view monitor, Highway Driving Assist, rain-sensing wipers, and front parking sensors.
The current Tucson earned a four-star safety rating from the National Highway Traffic Safety Administration (NHTSA) and a Top Safety Pick + title from the Insurance Institute for Highway Safety (IIHS).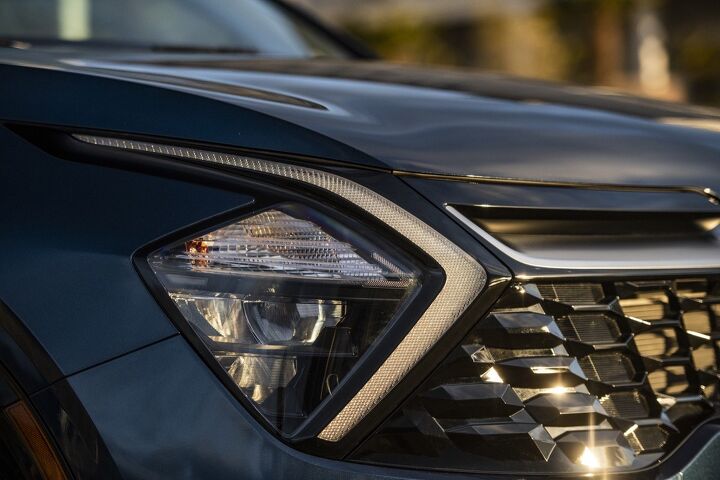 Sportage: At the time of writing, both the NHTSA and IIHS had yet to score the 2023 Sportage. The previous model scored five stars and a Top Safety Pick, respectively.
Every Sportage includes automated emergency braking, lane assists, and auto headlights. The next step up brings in a safe exit assist, blind spot monitoring, and rear cross-traffic alert. The top SX and X-Pro Prestige trims bring in the full complement of assists, like an upgraded AEB, smart cruise control with HDA, surround view monitor, blind-spot view monitor, and front parking sensors.
Bottom Line: Yep, this is another category where these two are perfectly matched.
Hyundai Tucson vs Kia Sportage: Styling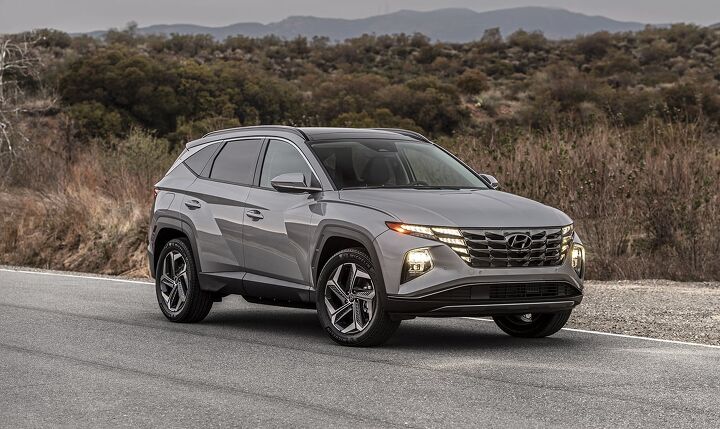 Tucson: The Tucson's look is concept car wild, bringing an angular look all its own to the segment. The front-end is arguably the defining feature—even if the Santa Cruz pickup uses a remixed version of the look. Hyundai has cleverly blended in the Tucson's taillights with the grille elements, resulting in a seamless look straight from the show floor. Squared-off wheel arches, swollen fenders, and cool linear taillights round out a visually interesting—if busy—design. The Tucson is very sensitive to wheel design as well; the 19s on higher trims really set it off.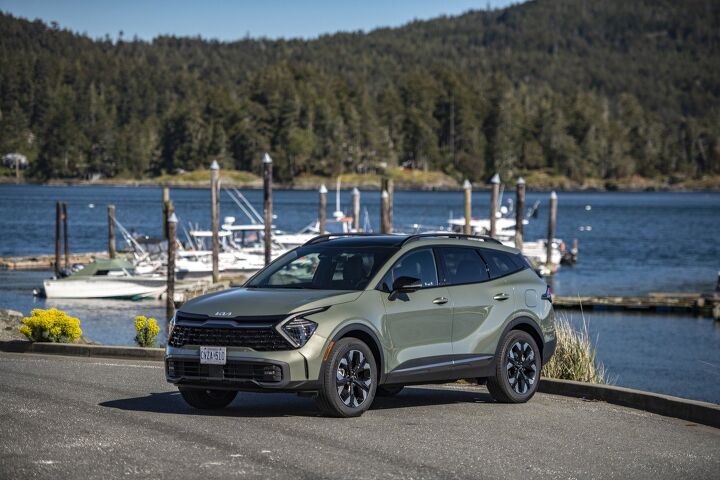 Sportage: While the arch of the roofline might be the same, the Sportage carves out a very different look from its corporate sibling. There's a complex shape to the headlights, with C-shaped LED DRLs stretching up and over the fenders; the main beams are housed in the diamond shapes instead. An evolution of Kia's Tiger Nose grille now stretches right across the whole fascia. Move around to the back and the Sportage taillights draw clear inspiration from the brand's EV6 electric model. The stretched-out window shape makes the Kia look much longer than the Hyundai—almost like a wagon—but the difference is really only an inch or so.
SEE ALSO:
Subaru Forester vs Nissan Rogue: Which Compact Crossover is Right for You?
Bottom Line: Both brands have established themselves as stylistically adventurous, and that even applies to their most bread-and-butter offerings. No matter which you pick, there's no accusing either of blending in.
Pricing and Value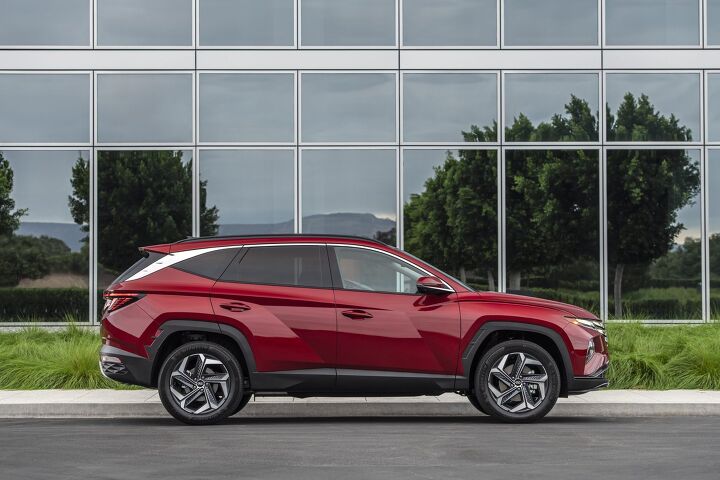 Tucson: In America, a base-model Tucson SE FWD will run you $27,095, including destination. From there, buyers can move through the SEL ($28,395), sporty N Line ($32,495), off-road-styled XRT ($33,145), and Limited ($36,595). Adding AWD is a $1,500 upcharge.
Want a hybrid? There are three trims available: Blue ($31,045), SEL Convenience ($33,645), and Limited ($39,345). Meanwhile, the plug-in hybrid comes in just two flavors, SEL ($36,695) and Limited ($44,495). It should be eligible for rebates, however.
Canada's lineup looks a little bit different, not least because it uses different trim names. The base model is the Essential, which lists for $29,724 CAD including destination. It's Preferred ($32,124 CAD), Urban (nee XRT, $39,124 CAD), N Line ($39,124 CAD). The latter two trims include AWD as standard, whereas it's a two-grand upgrade on the others. That's the end of the line for the gas-only lineup, however; if you want more features, you've got to upgrade to the hybrid.
So from there, it's the Luxury Hybrid ($40,924 CAD), and Ultimate Hybrid ($43,624 CAD). Both trims are also available in PHEV form, which requires an additional $4,600 CAD outlay, but makes the Tucson eligible for rebates.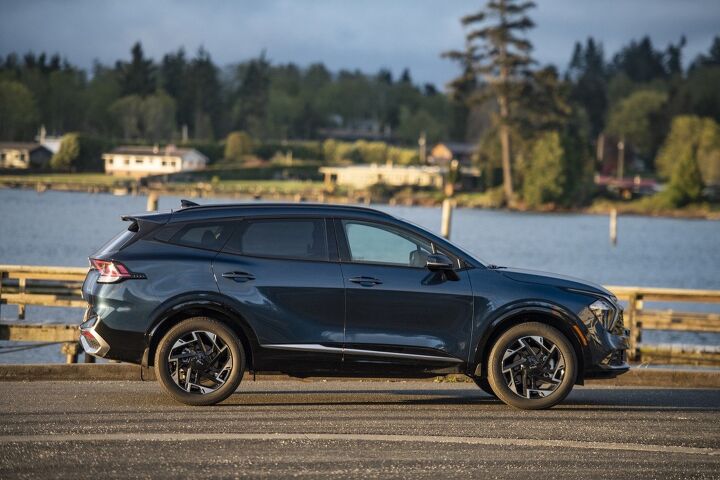 Sportage: A bone-stock Sportage LX FWD rings in ever so slightly above the comparable Tucson, at $27,285 including destination. The gas-only lineup progresses through the EX ($29,285), X-Line ($32,085), SX ($32,785), SX Prestige ($34,785), X-Pro ($36,285), and X-Pro Prestige ($38,085). The X-Line and X-Pro models include AWD as standard; for the others, it's $1,800 to upgrade—and on the LX, that also adds heated seats and side mirrors.
The Sportage Hybrid lineup, like the Tucson Hybrid, consists of three models. The Hybrid LX FWD is the most affordable hybrid of them all at $28,585, enough of a gap to even add AWD and still undercut the Tucson Hybrid Blue. The Hybrid EX ($32,285) includes AWD as standard, as does the Hybrid SX Prestige ($37,485). For those keeping track, that makes it just $900 more than a Sportage SX Prestige AWD. At the time of writing, Kia had not released Sportage PHEV pricing.
In Canada, only the base LX is offered with front-wheel drive, which retails for $30,295 CAD including destination. AWD adds $2,000 CAD to the bottom line. The trim walk then consists of X-Line ($35,895 CAD), EX ($37,495 CAD), EX Premium ($39,495 CAD), and X-Line Pro ($42,895 CAD). The Sportage Hybrid is the only way to net an SX trim in Canada, at $44,595 CAD. An EX Hybrid ($37,895 CAD) is also available.
Bottom Line: There's not much separating these two when it comes to pricing. The Hyundai starts cheaper, but its desirable hybrid models and higher-end trims are both more expensive than their equivalents from Kia. Canada's very different respective trim lineups make apples-to-apples comparisons more difficult, but of the ones we can, the Hyundai inches ahead.
Hyundai Tucson vs Kia Sportage: In Conclusion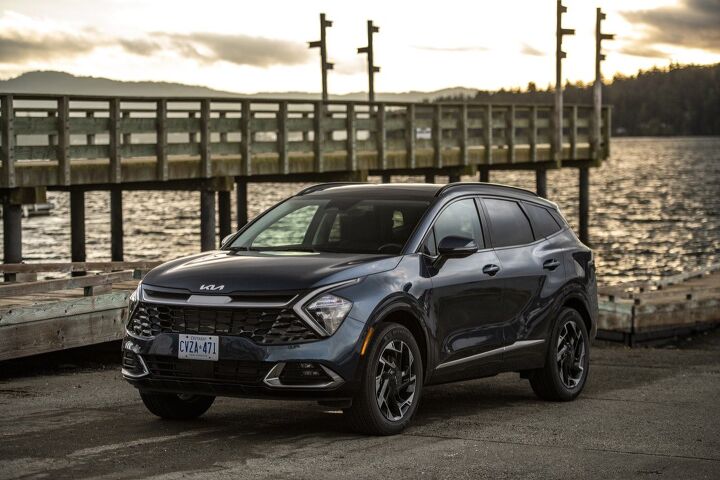 Unsurprisingly, in the battle of the Hyundai Tucson vs Kia Sportage, these two SUVs run each other close as some of the best offerings in a very, very busy class. On paper, they're essentially the same in terms of passenger space, cargo space, performance, and price. The Kia offers a slightly more off-road-oriented option in its X-Pro trims, and its front-drive hybrid is the efficiency champ. But beyond that, what it really comes down to is a matter of taste: whether you prefer the looks of one over the other, or the Hyundai's more calming interior to the Kia's techy, angular one. Either way, you'll be making off with a capable, value-packed family hauler.
Become an AutoGuide insider. Get the latest from the automotive world first by subscribing to our newsletter here.
Published August 2nd, 2022 11:00 AM
Popular Articles
Latest Comparisons
Car Buying Tools