28 Views
2022 Cadillac CT4-V Blackwing First Drive Review: Ending on a High Note
April 22nd, 2022 1:11 PM
Share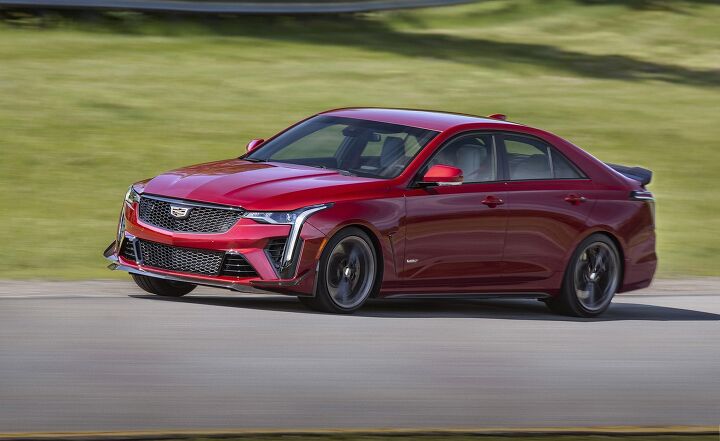 FAST FACTS
| | |
| --- | --- |
| Engine: | 3.6L V6 Turbo |
| Output: | 472 hp, 445 lb-ft |
| Transmission: | 6MT/10AT, RWD |
| US fuel economy (MPG): | 15/23/18 (MT) / 16/24/19 (AT) |
| CAN fuel economy (L/100KM): | 15.2/10.2/13.0 (MT) / 15.0/9.7/12.6 (AT) |
| Starting Price (USD): | $59,990 (inc. dest.) |
| As-Tested Price (USD): | $73,000 (est, inc. dest.) |
| Starting Price (CAD): | $67,198 (inc. dest.) |
| As-Tested Price (CAD): | $80,000 (est, inc. dest.) |
"I wish there was a way to know you're in the good old days before you've actually left them."
Cadillac has a sign for the ol' Nard Dog. Actually, it has two, totalling 1,140 horsepower between them. The 2022 Cadillac CT4-V Blackwing and CT5-V Blackwing are the brand's final internal-combustion V-Series cars, some 20 years after the first V stomped onto the scene.
Get a Quote on a New Cadillac CT4
The Blackwings are more than just a pair of high horsepower figures, though. These fire-breathing four-doors together form a paean to the petrol-powered sport sedan, a Greatest Hits showcase of speed, agility, and genuine track-readiness. How do I know that last factoid? Because Cadillac set a bunch of journalists loose on Canadian Tire Motorsport Park ("Mosport" to you and I) for a day of track driving. The larger CT5-V might have the headline figures, and an unmistakable V8 yell— read all about it here—but it's the smaller CT4-V Blackwing that shows Cadillac can still make a four-door to embarrass Germany's finest where it counts: on a circuit.
What's new?
The CT4-V Blackwing owes a lot of its performance chops to the ATS-V. The familiar 3.6-liter twin-turbo V6 is once again under a sharply creased hood, but power is up slightly. The engine now produces 472 horsepower, with 445 pound-feet of torque, with the extra power coming courtesy of an improved air intake setup and revised ECU. That's a single pony less than the latest BMW M3, but the CT4-V Blackwing is slightly smaller than the Bavarian bruiser. It also comes standard with sticky, bespoke Michelin Pilot Sport 4S tires, sized 255/35R-18 up front and 275/35R-18 at the rear. Keeping those four contact patches in constant dialog with the road is the latest version of Cadillac's Magnetic Ride Control. Version 4.0 improves response times by four times the previous iteration, promising better body control.
SEE ALSO:
2021 BMW M3 Review: More Pedals Equal More Fun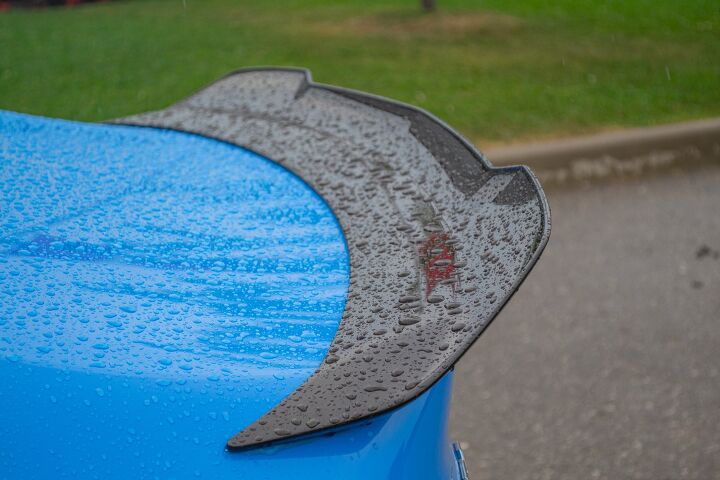 More important than any of that, Cadillac is offering both Blackwings with an honest-to-goodness six-speed manual as standard. A 10-speed automatic is optional, and it's the better option for those wanting improved fuel economy and the quickest possible 3.9-second 0–60 mph (0–97 km/h) time; the manual adds a couple tenths. The six-speed CT4-V also features titanium connecting rods—the 10-speed uses cheaper forged steel items—for even sharper throttle response.
Beyond the afore-mentioned BMW, you won't find another sport sedan in this segment with the manual. If this is the curtain call for Cadillac's ICE sedans, the brand might as well play all the hits, right? So far, fans approve: Cadillac says over 60 percent of Blackwing buyers are speccing the three-pedal version.
You won't find any coddling AWD on the options list, either. Both the CT4-V and CT5-V Blackwings stick to rear-drive only.
How does it drive?
In a word: sublime. The CT4-V has the sort of balance that flatters novices and rewards pros. I first get acquainted with the 4 on Mosport's Driver Development Track. With a map that looks like a spilled bowl of spaghetti, DDT never allows for more than a second or two without some amount of steering lock applied. It's a prime bit of tarmac to get to know the CT4-V before we head to the Grand Prix circuit.
It's clear from the very first corner that the CT4-V means business. Turn in is wicked sharp, the steering wheel providing a good amount of resistance, and feedback from the sticky front tires. The Blackwing stays planted through the first right-left-right kink, powering down to the heavy banking zone of Turn 2. Here, different surface pavings have almost no affect on the CT4-V's stability: pick a line, and the car follows it without drama. Steel 15.0-inch front rotors and 13.4-inch rear rotors scrub speed effectively, showing no signs of fade over multiple laps.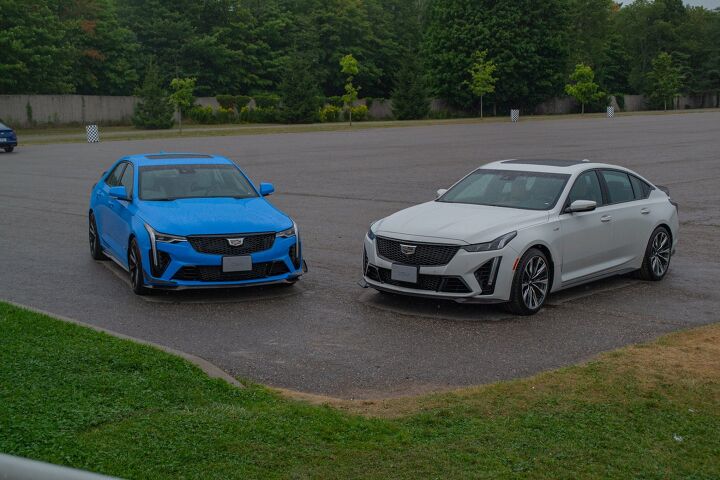 Onto the main track. The speeds are higher, with the head-up display (HUD) never dipping into double-digit (km/h) territory once we're out of pit lane. Mosport is one of North America's fastest circuits, and the CT4-V gets up over 135 mph (217 km/h) on the long back straight. Cadillac says the optional carbon fiber package gives the car 169 lb (76.7 kg) of downforce at 180 mph (290 km/h). I'd be lying if I said I could feel it here, but the CT4-V stays planted nonetheless.
Turbo lag is barely noticeable. I'm in the six-speed manual, which features a short, positive throw between its well-spaced gears. A small button aft of the shifter turns on auto rev-matching, which perfectly blips the throttle during every downshift. When it's active, the speedo digits turn yellow; the Blackwing will remember the setting even when the ignition is cut. On the flip side, there's also a no-lift shift feature, briefly cutting fuel delivery when the clutch is engaged. The advantages are minute—Cadillac says it saves around one hundredth of a second per corner—but it allows the driver to focus on their lines.
SEE ALSO:
2022 Cadillac CT5-V Blackwing First Drive Review: Do Not Go Gently
An efficient workspace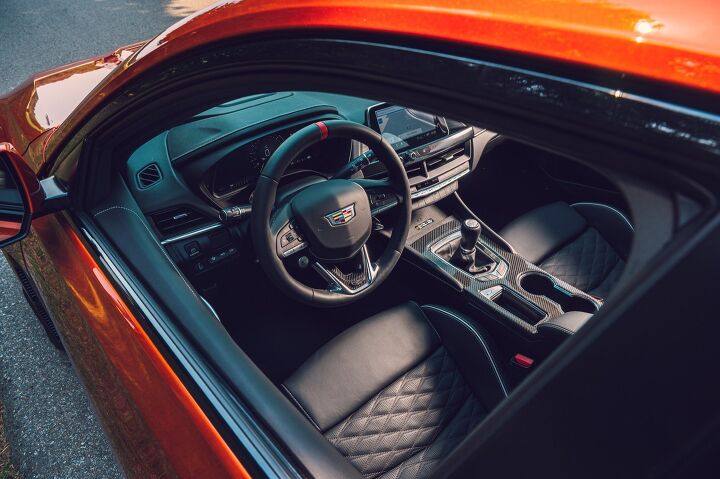 The rest of the 2022 Cadillac CT4-V Blackwing package is much the same as the regular V we drove late last year. The interior is business-like, with the addition of pretty, quilted leather seats up front. They're heated and ventilated, the latter being most welcome on a hot, sticky day. An afternoon's worth of lapping highlights a slight lack of lateral support, but for road duty, they offer a good balance of comfort and cradling.
SEE ALSO:
2020 Cadillac CT4-V Review: Softer, but Still Single-Minded
There's the requisite carbon fiber trim surrounding the shifter, which features a 3D-printed medallion on manual cars. In the center of the dash is GM's current infotainment screen. From here it's easy to fiddle with the many performance variables, changing the aggression of the throttle, suspension, steering, and more through simple sliders. It's all very intuitive, which is important as we quickly hop in and out of the cars between sessions.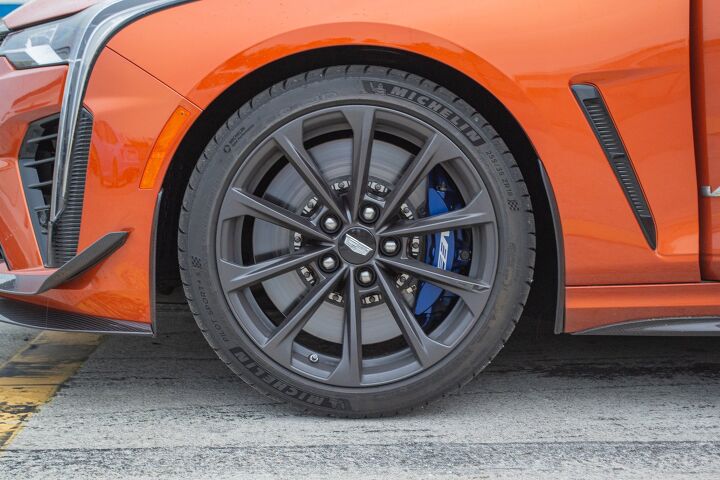 One very cool feature is the Performance Data Recorder. Developed in conjunction with Cosworth, it records myriad parameters of the CT4-V's performance, including throttle and brake position, lateral gs, a front camera feed, and audio. PDR will learn a circuit too, with just a press of a button. Pop an SD card into the slot to the left of the steering wheel and the whole shebang is available on your desktop PC. Sadly, Mac users like this writer are out in the cold.
The back seat is still tight. There's enough front headspace to comfortably fit a helmeted 5'10" driver though, and isn't that more important? (Ed: probably not.)
Final thoughts: 2022 Cadillac CT4-V Blackwing
The 2022 CT4-V Blackwing is a deeply impressive tribute to what Cadillac has accomplished over a century of internal combustion. It goes, stops, and turns as well as anything with a German badge. If you're so inclined, it will take hours of track punishment and beg you to keep going. It's not as rocketship fast as its big brother, but the CT4-V Blackwing is a more well-rounded experience.
At a starting price of $59,990 ($67,198 CAD) including destination, it's also something of a bargain in the segment. You'll need an additional $3,175 ($3760 CAD) if you want the automatic, and a little over double that for all the carbon fiber trimmings. No matter how you spec it, the CT4-V is a delightfully engaging little sport sedan, and a clear sign we're living through the good old days right now. Get the reminder while you can.
Become an AutoGuide insider. Get the latest from the automotive world first by subscribing to our newsletter here.
LOVE IT
So composed on the track
No-lift six-speed shifter is way cool
A performance bargain at this price point
LEAVE IT
Tiny rear seats
Rear-drive only
Auto is an expensive "upgrade"
Published August 27th, 2021 7:24 PM
Popular Articles
Latest Comparisons
Car Buying Tools