10 Views
2015 Ford Focus ST Review
March 26th, 2015 4:42 PM
Share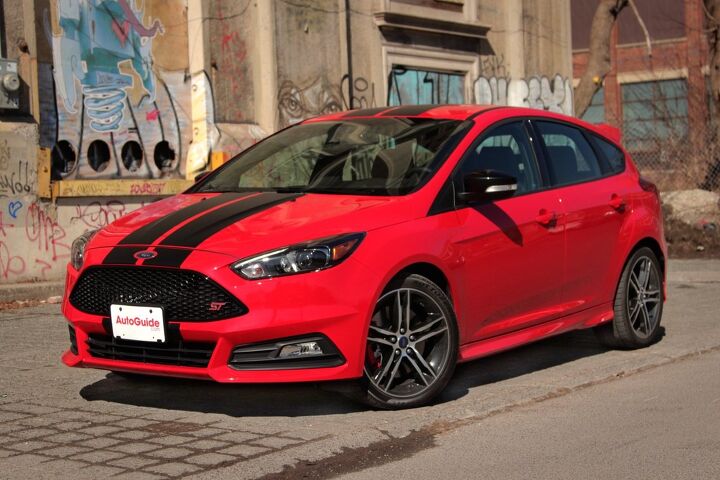 Michael Lewis wrote "Liar's Poker" in 1989 after rubbing shoulders with the "big swinging dicks" working at Salomon Brothers, a Wall Street investment bank that gained notoriety for its work with mortgage-backed securities. It's an excellent story.
Guys like them treated money like you and I do Kleenexes. From his account, I imagine they would look at something like the upcoming Ford GT as a casual purchase and in some senses very little of that has changed.
Needless to say, I am no Wall Street banker but it's comforting to know that there is a wealth of performance vehicles today that are remarkable in both their capability and attainability.
FAST FACTS
| | |
| --- | --- |
| Engine: | 2.0L turbocharged four-cylinder makes 252 HP, 270 lb-ft of torque |
| Transmission: | six-speed manual |
| Fuel economy: | 23 MPG city, 32 MPG highway, 26 average |
| Price: | Starts at $25,195. $30,865 as-tested. |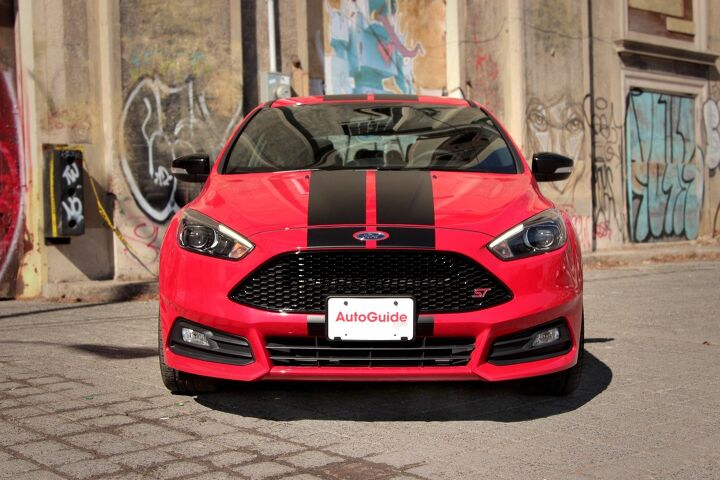 Halos Are For Walls, Hot Hatches Are For Garages
The Focus ST is a perfect example. Ford refreshed it this year with a new front fascia and lights along with optionally available racing stripes and wheels. The center stack is supposedly different but I only know that from reading Ford's press literature and it gets a new "flat-bottom" steering wheel to make sure that people bigger than me can fit. Seriously, it's a tight squeeze and I might as well represent the "lollypop guild…"
Anyway, none of that really matters because the Focus ST is still exactly what you will remember reading about in 2012 when it debuted: a rip-roaring riot of a car that really doesn't cost much.
Ford managed to to achieve that by dropping its 2.0-liter EcoBoost four-cylinder engine into the Focus with 252 hp and 270 lb-ft of torque that should make it torturously difficult to control. Except it isn't.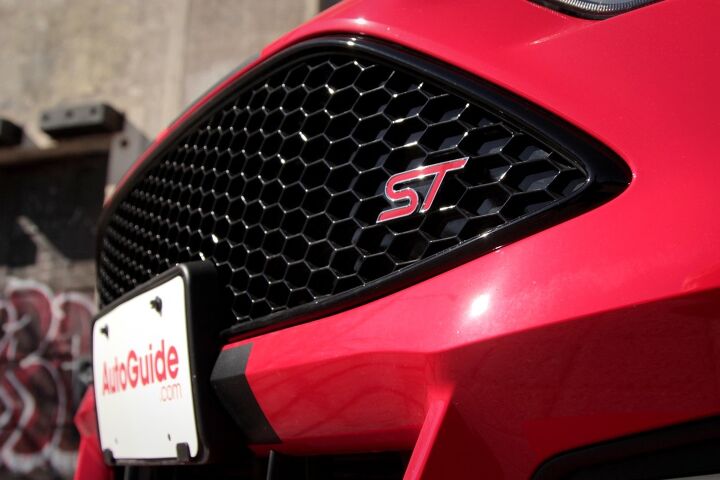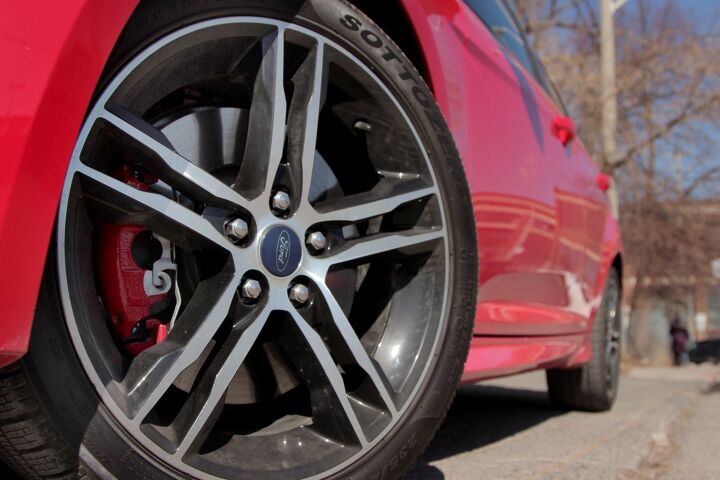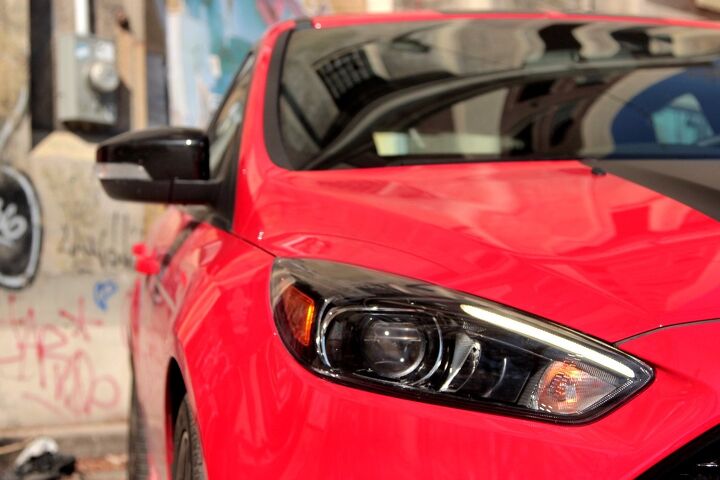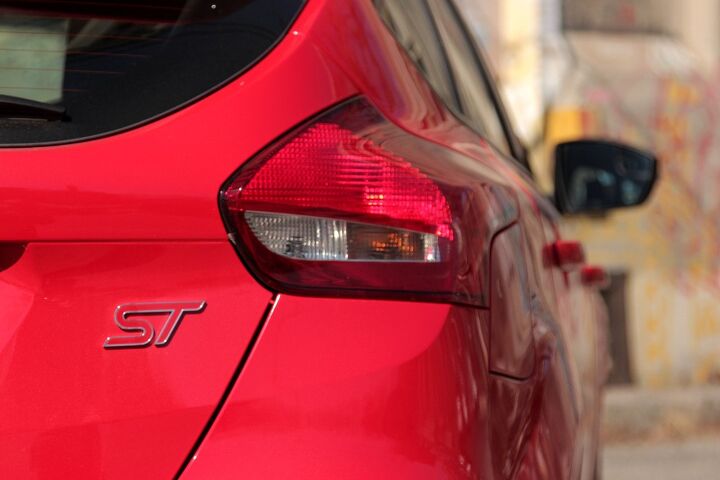 Still So Much Fun
As you might remember, the Focus ST gets something Ford called its "torque steer compensation system" that basically reduces the electric power steering assistance in the direction of the wheel. It works to nullify the side effects that come from sending entirely too much torque to the axle that is already busy governing your trajectory.
You can feel it working, too. Under hard acceleration the steering wheel twitches form side to side slightly. Like the foaming action in your toothpaste, that means it's working and the end result is more fun than any car that starts at $25,000 should ever be.
The electronic Torque Vectoring Control system doesn't hurt either and if you drive one of these on a closed course I'm sure you will agree. It makes hanging the hatch-end out around a corner unusually easy for a front-wheel drive car.
If track days don't factor into either your time or money budgets (or both), rest assured that there is also plenty of street accessible performance.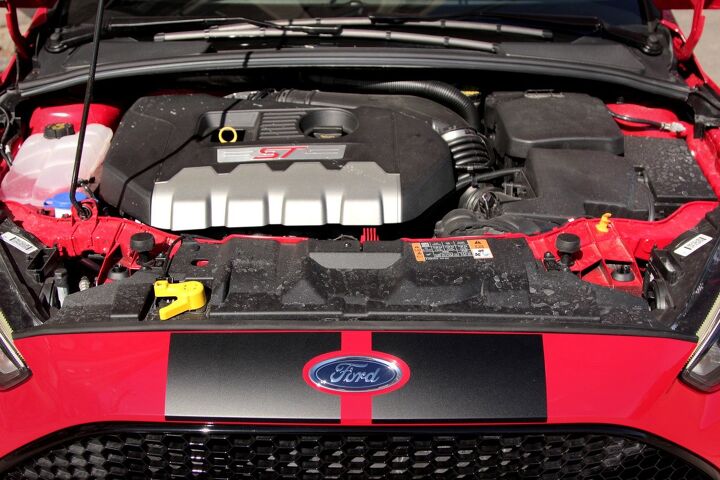 Slight Improvements
And in fact, the 2015 model year ought to be even better than previous model years because Ford asked its British RS performance division for notes on how to improve the car. They came back with new front springs, sportier damper tuning and revisions to the electric power steering. I don't notice a difference between the two, but those are details that would probably pay dividends on our test track where the post-refresh model will probably boast a quicker lap.
The optional Recaro seats are a point that most people tend to debate before buying one of these or a Fiesta ST. They come as part of the "401A Equipment Group" for $2,990 with partial leather trim or $4,680 for the 402A package that includes full leather. If you wear anything above a men's size 38 sport coat, the Recaro seats will probably be uncomfortable after a few minutes. The seats do a good job of masking an unforgiving suspension, but only if your shoulders fit. Otherwise, the base car is generously equipped. If you really want more aggressive side bolsters, there are scores of choices in the aftermarket.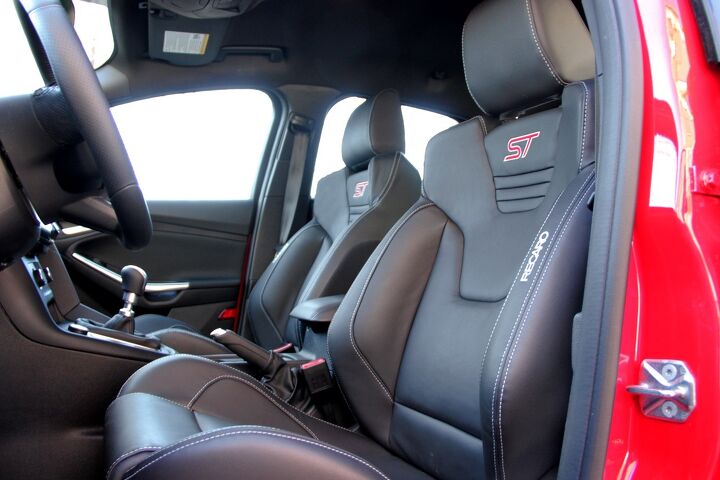 The Verdict:
You won't ever look mature in one of these cars, but if that matters then just buy a six pack of Beck's, a GTI and consider your life temporarily complete. But if the GTI is a mature hot hatch analogous to a slightly more expensive beer then the Focus ST is like Bud Light. It begs you to punch a key in, put your hand on the shift knob and rip it from front to back as you shotgun into the distance.
LOVE IT
Power
Cornering grip
Precise steering
Affordable fun
LEAVE IT
Juvenile styling
Fake engine noises are lame
Published March 26th, 2015 3:42 PM
Popular Articles
Latest Comparisons
Car Buying Tools