62 Views
2020 Jeep Wrangler Rubicon Review
January 28th, 2021 4:33 PM
Share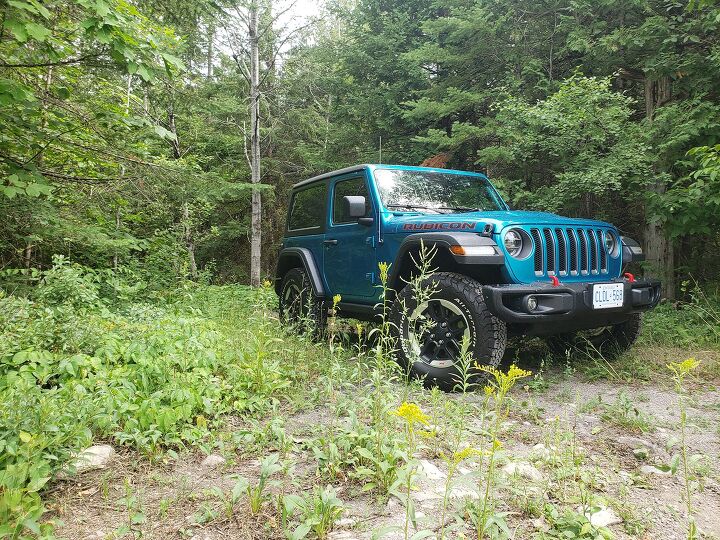 As someone who has fetishized old sports cars all his life and tried to own one or two, I have to say, I envy the Wrangler's universal appeal. It truly is all things to all people. And to me, this two-door Wrangler Rubicon is a Singer 911 with a reasonable price tag.
Okay, so "reasonable" is a strong word. Although the Jeep Wrangler starts at less than $30,000, this one with all its options, costs more than $50,000. That gets you heated seats and a heated steering wheel, adaptive cruise control, an 8.0-inch infotainment system with navigation, leather seats, and a hardtop that comes off in stages. These stages vary from very easy to exceedingly effortsome to take off, but the doors come with them too and the windshield folds flat and it all gives you a sense this isn't a vehicle like any other. Say what you will about the Wrangler (and I plan to), it's fun and fun is a thing that there's all too little of in the automotive world.
What Does it All Mean?
FAST FACTS
| | |
| --- | --- |
| Engine: | 3.6L V6 |
| Output: | 285 hp, 260 lb-ft |
| Transmission: | 8-speed AT, 4WD |
| US fuel economy (MPG): | 17/25/20 |
| CAN fuel economy (L/100KM): | 12.8/10.4/11.8 |
| Starting Price (USD): | $28,295 (2-door Wrangler) $38,695 (Rubicon) |
| As-Tested Price (USD): | $49,585 |
| Starting Price (CAD): | $33,481 (2-door Wrangler) $44,999 (Rubicon) |
| As-Tested Price (CAD): | $67,949 |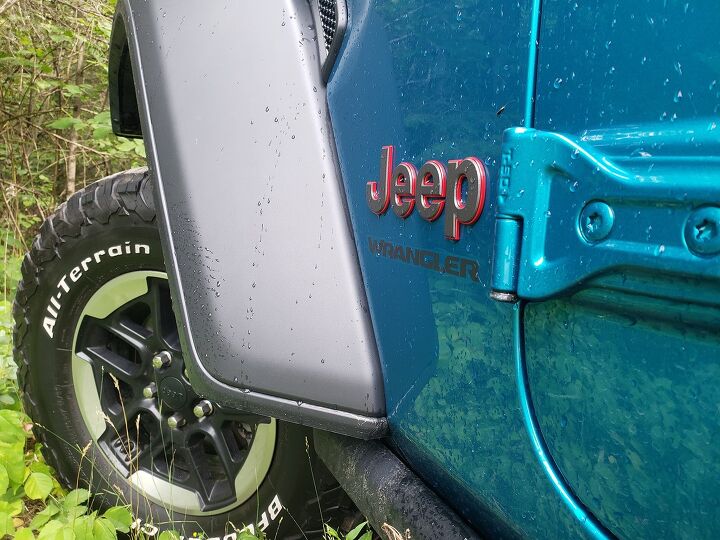 So how can I call it a Singer 911 despite the fact that it quite clearly, well, isn't? First, I'd ask you not to be so literal. Second, it shares some of that family of cars' essential characteristics. The Jeep and the 911 were both born of the Second World War and both came to define the post-war period in their own ways. Both continue to be emblems of automotive empires (hello Stellantis!) and both are outrageously committed to reminding you of their own past. Most importantly, though, they both appeal to wide audiences.
Whereas the Singer 911 appeals to the ultra-wealthy, though, the Wrangler appeals to everyone. Automotive enthusiasts are constantly worried about what's cool, what's not, what will make you look like an ass, and what won't. Do you know who doesn't worry about all that stuff? Jeep owners. They buy a Jeep and wave at each other and let strangers compliment them on that SUV they'd kind of like to have.
All Things to All People
Here follows a list of adjectives I heard people use to describe the Wrangler during my week with it:
Cute
Fancy
Big
Nice
Pretty
Dope
What interests me the most about these adjectives, is that the only thing that seems to link them is affection. "Cute" and "fancy" seem totally at odds with a car whose advertising is largely predicated on roaming the open range, climbing over rocks, and looking directly into camera with the grizzled thousand-yard stare of someone who has seen the dark heart of mankind and found it uninteresting. And while there is something cartoonishly cute about the Wrangler's proportions—its wheels massive in comparison to its tiny two-door frame—the word "fancy" in no actual way applies to the Wrangler.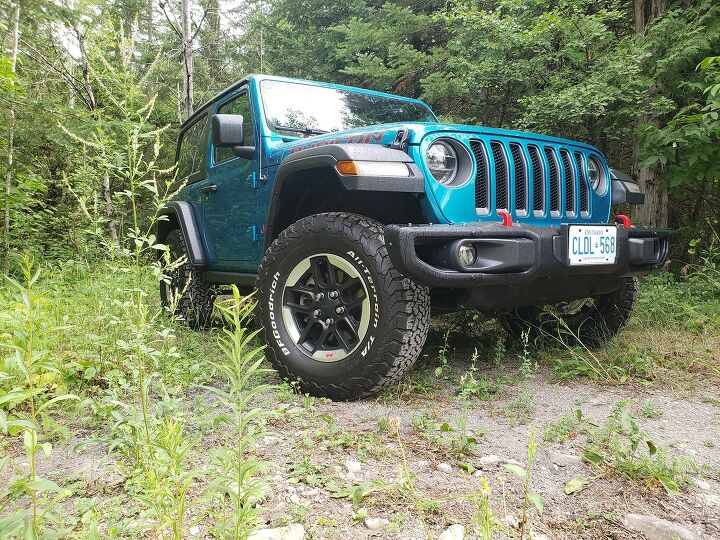 In terms of impact, saying that the Wrangler isn't particularly modern or comfortable to drive is kind of like asking my cat to take a crack at editing this piece (she only speaks Dutch). Chances are, if you're already looking to buy a Wrangler, you've made up your mind and the only concern is which one. But this may save someone who actually just wants an attractive but practical crossover from making a mistake.
SEE ALSO:
2020 Jeep Wrangler Unlimited Sahara Diesel Review
The Conclusion Comes Before the "Conclusion"
So make no mistake, the two-door Wrangler is not a modern or practical vehicle. The trunk is smaller than my Ford Fiesta's; the shape, though allegedly more aerodynamic than previous models, still means you get buffeted around on the highway; the eight-speed automatic transmission, set up more for off-roading than on-roading, selects gears at odd intervals and is allergic to coasting; the steering wheel has a dead spot larger than the Sargasso Sea in which to swing, meaning the car pulls from side to side on the highway and discourages gentle inputs; the interior isn't as well insulated as most modern cars and is therefore loud which—I think—causes the audio system to rattle out and sound weird at (required) high volumes; fuel economy is middling at best; water drips off the A-pillar and onto your lap when the door is opened in the rain; and the suspension is wibbly-wobbly. Worse yet, the short wheelbase, though good for some off-roading scenarios, is bad for stability, which does not help its highway performance at all. Its shape also means blindspots wide enough to hide a herd of hippopotami.
All of which likely won't deter anyone who wants a Wrangler. But regardless, here comes the big, important piece of actual, practical consumer advice in this article. If you're looking at a Wrangler and you need it to be an actual vehicle, get the four-door. If you're looking at a Wrangler as a kind of second vaguely-useful-but-you-don't-need-to-depend-on-it-for-everything kind of car, then go for it. The two-door is great. People will love you, you'll get a little rush of joy when other people wave at you, and you'll always have the zen knowledge that you could go tackle pretty much any trail—whether you actually extend that to any trail driving is entirely up to you.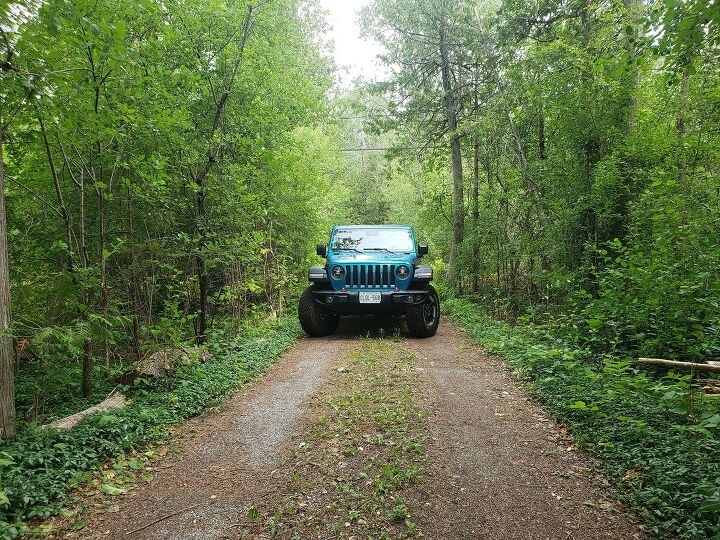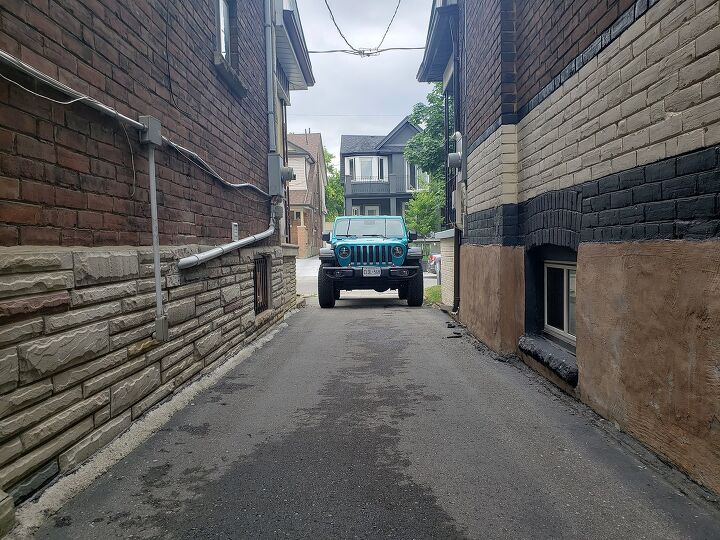 And that's why I think the two-door Wrangler is more akin to the Singer 911 than the Porsche 911. The four-door Wrangler is the modern 911 because it's gotten huge, and relatively usable, it upsets purists because it's too modern but it sells like hotcakes, and it is, ultimately, a car in the modern sense.
SEE ALSO:
New Ford Bronco vs Jeep Wrangler: How Does It Stack Up?
Back to the Metaphor at Hand
The two-door Wrangler, like the Singer 911, maintains classic proportions (but modernizes the interior and the drivetrain), it's hopelessly impractical, probably too expensive, and over-romanticized. Driving it is an event and that's why it's mild badness as a modern car is actually important to its status. Every time it feels like the back wheels are leaving the ground when you run over a speed bump a bit too quick, it's actually reminding you that you could be on a trail. When you're sawing the wheel back and forth searching for the extremities of the dead spot, it's actually gently whispering "I belong off the road" into your ear. And when someone smiles at you as you drive by, that's actually the Wrangler smiling at you, resting its arm around your shoulder. And when you see all of the little Easter eggs the designers peppered around the vehicle, that's the Jeep reminiscing, telling you that old story it's told a thousand times about the war.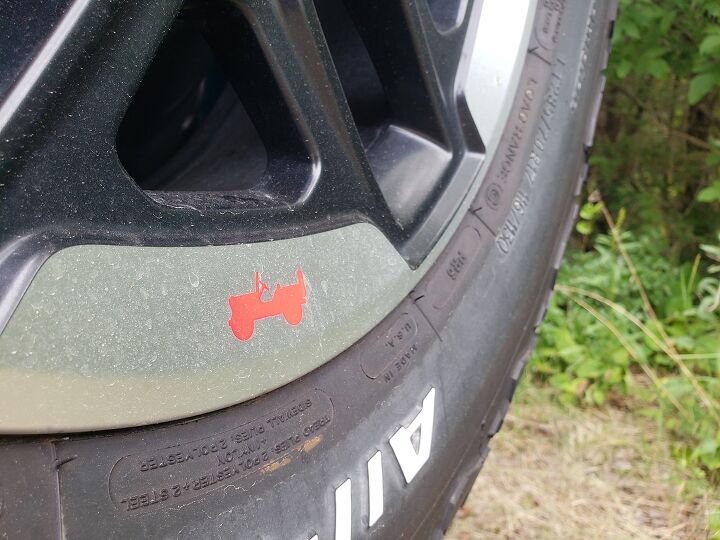 It is, by now, a cliche to remind you that Enzo Ferrari called the Jeep America's only sports car. I just wished people liked Ferraris as much as they like Jeeps. Thanks to this job I've had the opportunity to drive some truly special sports cars, but the experience of being in them is affected by the way others see you. I drove a Golf GTI and had every boy-racer in the county try to race me, I was literally (true story) laughed at when an M3 CS's twin-clutch transmission decided to make the car buck and bark at low speeds, and was unable to merge into traffic in a Hellcat (that is, until a construction worker in a Ram with suspicious bumper stickers slammed on the brakes and all but caused them to lock up in order to let me in).
Verdict: 2020 Jeep Wrangler Rubicon Review
The point isn't that you shouldn't buy those cars. Not exactly. The point is that it's so nice to drive in a car that people like you for. Friends wave at you, strangers smile at you, children sing with glee. If the point of a sports car is to put a smile on your face and make you feel good, this does that enormously well. And then you can go off-roading, which is another bucket of fun.
I really do envy Wrangler drivers. Sure, they're bouncing around their lane and they've had to make decisions about what and what not to pack, but by god they're having a nice time.
LOVE IT
EVERYBODY loves it
Everybody loves… you!
It's the OG, still the best at what it does. Until the Bronco rolls around?
LEAVE IT
Rain streams in off the A-pillar when the door is open
Not all that happy on the highway
Ain't cheap, neither
Published July 31st, 2020 12:19 PM
Popular Articles
Latest Comparisons
Car Buying Tools