3 Views
2016 Range Rover Sport SVR Review
May 29th, 2015 9:01 AM
Share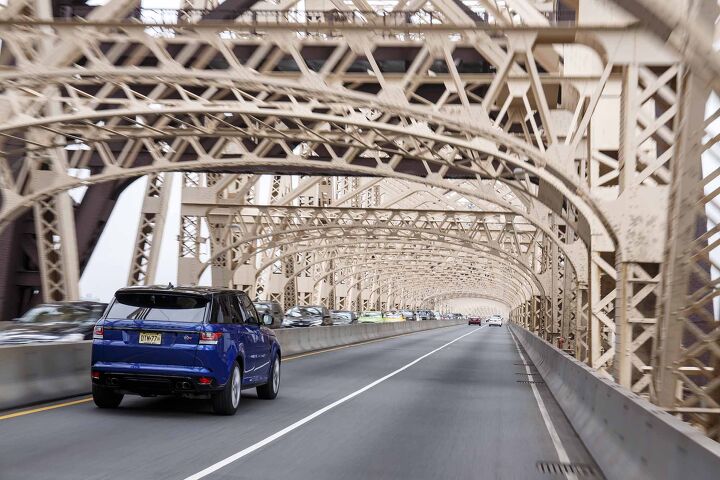 I sat in the front passenger seat passively pecking at my laptop and clinching my stomach as we roared up the Saw Mill River Parkway through Yonkers.
The juiced-up 550-hp V8 that Land Rover incorporated into its Range Rover Sport SVR flexed against its engine mounts and sent a rapid thrum up the seat and into my back as it bellowed through four exhaust tips poking from the back bumper. Chris Blanchette, my videographer, chuckled as he charged through lines of traffic outbound from New York City with the sort of power that has no business existing in an SUV. Yet there we were.
At the time, I was more worried about assembling a script for our video review of Jaguar's new all-wheel drive V8 F-Type than I was with evaluating the preposterously plutocratic power tie on wheels that I was presently riding in. That, and avoiding seasickness.
Chris isn't a gentle driver, but looking back it's hard to blame him. After we traded seats, I realized that accelerating in the new Range Rover Sport SVR feels manlier than flexing a thousand biceps while simultaneously siring a child. It's big, it's loud, it looks like a million bucks and it only costs $126,000.
FAST FACTS
| | |
| --- | --- |
| Engine: | 5.0L supercharged V8 makes 550 hp, 502 lb-ft of torque |
| Transmission: | eight-speed automatic |
| Price: | $111,470 to start, $126,360 as tested. |
| EPA fuel economy: | 14 MPG city, 19 MPG highway, 16 MPG average |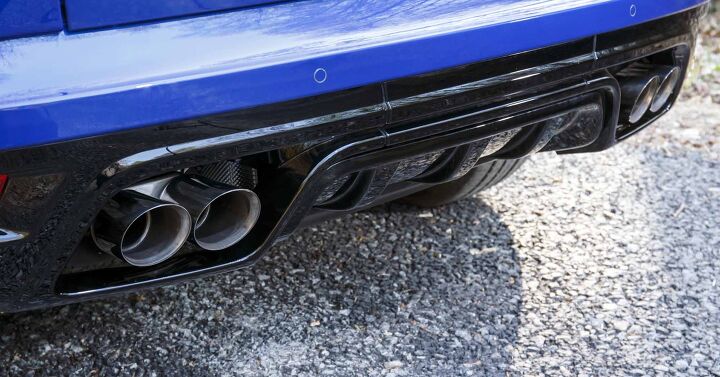 But Why?
The absurdity of spending that much money on a mobile codpiece only starts to fade when you realize that Porsche charges a minimum of $158,000 for the Cayenne Turbo S. Believe it or not, the Range Rover Sport SVR looks like a bargain if you tilt your head and squint hard.
This is the first Land Rover to come from JLR's recently formed Special Vehicle Operations (SVO) division, which is focused on developing either ultra-high performance or upper crust luxury variants of vehicles from both brands. In other words, there won't be a Range Rover Sport SVR S GT with dozens of carbon fiber airfoils for increased downforce. This is the fat lady's song and it sounds damn good.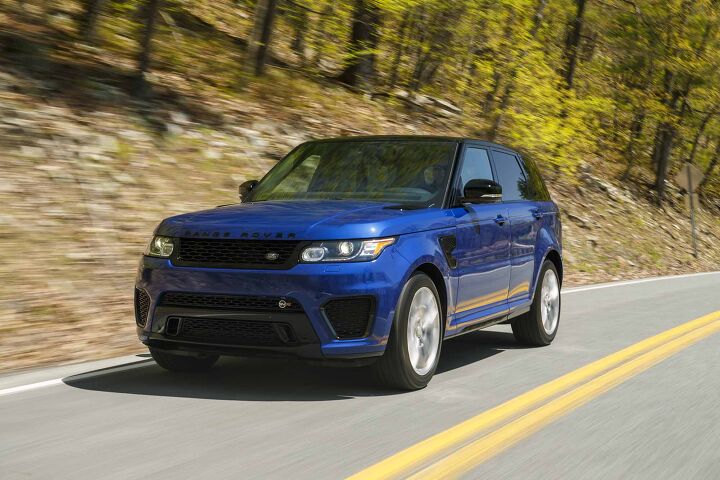 Tipping the Scales
Speaking of weight, the SVR didn't manage to shed much ­– if any – during its lobotomy. Sitting slightly north of 5,000 lbs, it's a porky vehicle to say the least. Nevertheless, it can launch from 0-60 MPH in 4.5 seconds. That's three-tenths of a second slower than the Cayenne Turbo, but still in line with what some of the world's most impressive sports cars were posting a decade ago.
If that isn't boastful enough for you, try this one on for size; Range Rover claims it turned an 8:14 at the Nordschleifer in one of these. If that's true, it's good enough to be the second-quickest truck to run the 'Ring behind the Cayenne Turbo S. In reality those claims amount to little more than posturing, but what fun would it be to own such an obnoxiously powerful product if you couldn't brag while puffing on a Monte Cristo?
And bragging really is this thing's M-O. It comes in seven colors including the shade of bright blue you see here. Larger air intakes in the front fascia lead to a pair of intercoolers that help shed heat from the air that Land Rover's blown V8 gulps back with each revolution. Without the larger ducts and aggressive exhaust, the SVR probably wouldn't stand out from the normal supercharged Range Rover Sport… until you get inside.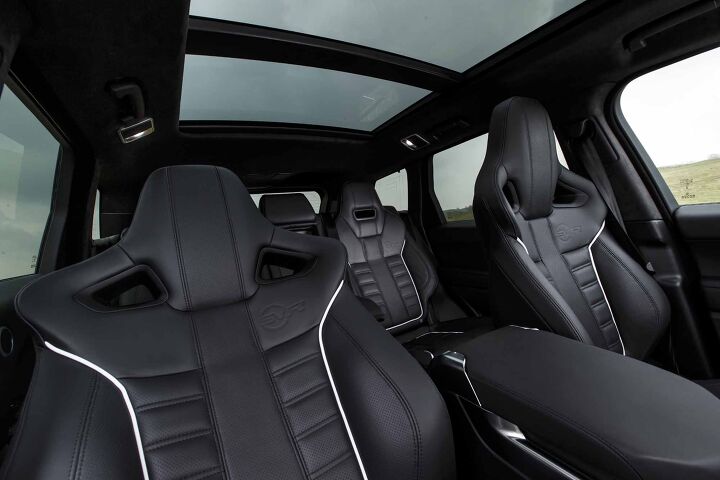 It Looks Like That?
The normal front buckets seats are gone. Land Rover replaced them with heavily bolstered sport seats that are equally as out of place as they are intriguing in a vehicle like this. Ditto the second row, which has similarly aggressive outboard seats with space for one more passenger in the middle. Most of the cabin is covered in carbon fiber and aluminum to emphasize further that this is the lineup's big cheese; a Stilton, perhaps.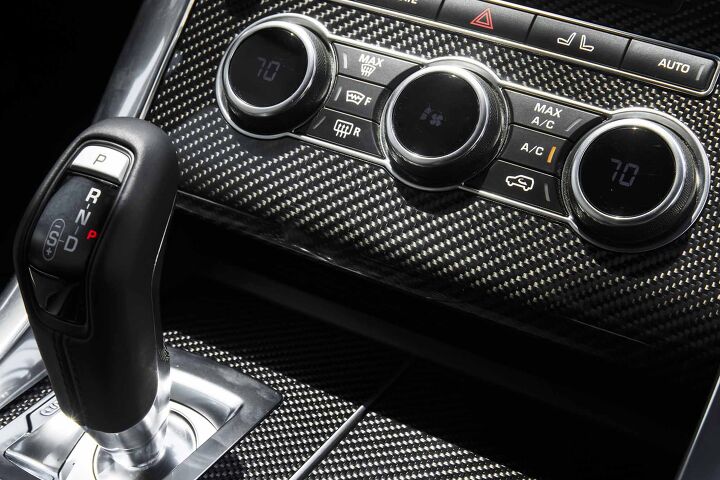 Conquering quagmires and chicanes in the same hour usually calls for two vehicles, but not when you have one of these in your fleet. This is a Land Rover product and accordingly, it can tiptoe over rocks and squish through swamps with the same devil may care attitude as a foot soldier in the Queen's army. Mud, rock and sand modes along with hill descent control, low range gearing and a two-speed transfer case aren't just common in Land Rover's stable; they're prerequisites. High-speed track capability is another story and to be candid, piloting a 5,000-lb SUV around the Monticello Motor Club puckered my butt more than once.
Armed to the Teeth
Maneuvering such a large vehicle through a road course at speed calls for delicate and deliberate control. Think of it this way: SVO outfitted this truck to storm Normandy with every weapon ever invented all at once. Only this isn't a World War II video game and the weight of that ordnance adds up fast.
Consequently, a hard thrust to the brake pedal send most of the truck's girth forward, causing the front tires to squish like pancakes while the rear end loses most of its grip. This isn't a sports car, even if it has the balls and bark to match them. Despite that, it's still an astonishingly track capable machine and that's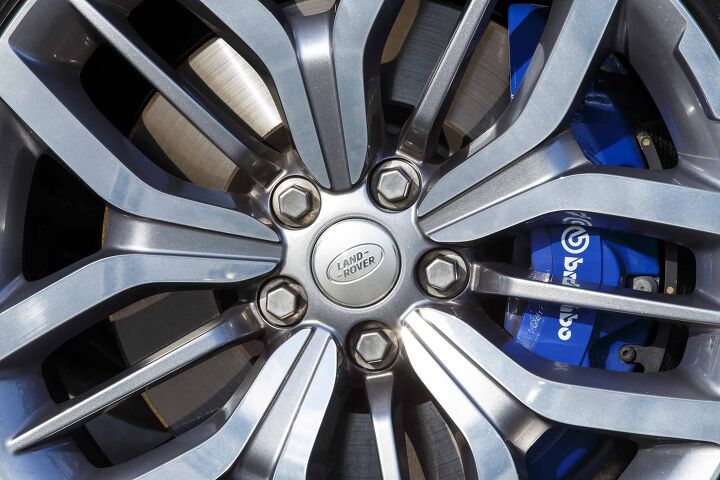 a direct result of SVO's tuning work. The brakes don't grow at all for this application, but they're specially cooled to prevent fade, period.
Similarly, the electric steering is re-calibrated for this model to make it more responsive during aggressive driving. In those moments the transmission changes gears rapidly to offer an especially linear feeling of acceleration. If only for a moment, it's almost possible to forget that you're driving an SUV.
Where a sports car would hunker you down inches above the pavement, the Range Rover SVR offers a commanding view of upcoming corners. Even if it can be a little scary under hard braking, the way that this thing can whip through corners was enough to leave me feeling dumbfounded. Trucks shouldn't be able to do that, but this one can.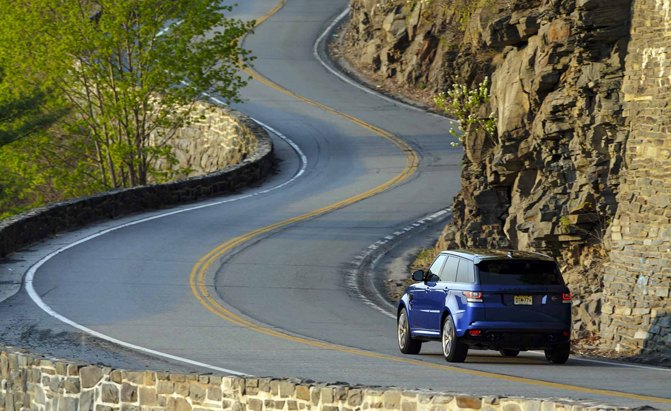 The Verdict: 2016 Range Rover Sport SVR Review
If a rational excuse to buy one of these exists, I certainly can't come up with it. But that's a problem persistently plaguing product planners and executives pondering the possibility of launching a new performance product at any company: "will the ends justify the means?"
For all their ferocity, halo cars are challenging to measure in boardroom meetings. There's a certain intangible glow they can generate that doesn't show up on sales sheets, but if anyone out there is listening I say this one is beaming light down on Land Rover like nothing before.
LOVE IT
Boistrous
Luxurious
Shockingly capable
Published May 13th, 2015 9:51 AM
Popular Articles
Latest Comparisons
Car Buying Tools