116 Views
2015 Mercedes-Benz Sprinter Review
November 25th, 2014 10:40 AM
Share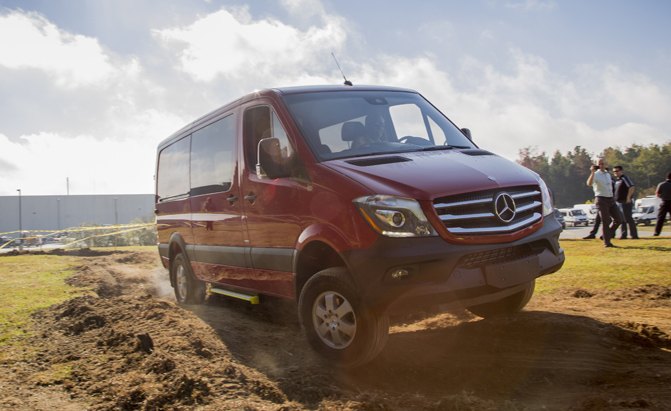 FAST FACTS
| | |
| --- | --- |
| Engine: | 2.1-liter four-cylinder diesel with 161 hp and 265 lb-ft of torque or a 3.0-liter V6 diesel with 188 hp and 325 lb-ft. |
| Transmission: | Seven Speed automatic for four-cylinders, five speed for six-cylinders |
| Fuel Economy: | Averaged 25 mpg |
| Pricing: | Starts at $36,305 including delivery. |
If Angus MacGyver was a vehicle, he would probably be a van. Vans can do anything, it's like they're the ultimate problem solver.
If you have kids and need to haul them along with their friends to after-school activities, you get a minivan. Do you need to get a load lumber from the Home Depot to your new landscaping project? A cargo van will do the trick. Do you need a fleet of affordable, fuel efficient vehicles to deliver piles of packages or products? A van is perfect for that too!
The Mercedes-Benz Sprinter is designed to meet all those needs and many more. With several roof heights, wheelbases, axle ratios, engines and even drivetrains to choose from, the Sprinter is a do-anything vehicle. Mercedes calls it a vehicular Swiss Army knife and I sampled a number of its standard models to see if that nickname rings true.
Even the Basics Are Advanced
I started with the barebones Sprinter 2500 cargo van with a high roof height and a four-cylinder diesel engine. All Sprinters come with a turbocharged diesel powerplant; either a 2.1-liter turbocharged four-cylinder or a 3.0-liter V6.
I drove the four-cylinder model first. It makes 161 hp and 265 lb-ft of torque, which is slightly down on power compared to what it makes in other models, but still feels capable enough to motor around town and take on the highway.
If your particular van-related errands need a bit more grunt, the six-cylinder diesel down 188 horsepower and 325 lb-ft of torque. Both engines are limited to 82 mph. Our four-cylinder model proved to be quite fuel efficient with an observed 26 MPG on a short drive where the transmission in both models proved to be equally impressive. Both cars power the rear wheels by default with four-cylinder models using seven forward gears, while six-cylinder equipped vans make do with five. Both provided smooth upshifts and urgent downshifts.
Capable Cargo Van
Additionally Mercedes set up an off-road course that was designed to show off just how capable the newly-available 4×4 drivetrain is. Only offered on the V6 engine, the driver activated system routes power 35:65 front to rear.
The course consisted of steep muddy grades and several ruts including a few deep pits that would cause a wheel to be lifted in the air. Even looking like a dog at a fire-hydrant, with one wheel sky-high, a poke of the pedal managed to get the car moving again. The demonstration was clearly overkill as most Sprinters will likely be seeing just snow and mud but it was nice to see just how skilled the van is. Also available is a low-range with 42 percent shorter gearing in order to improve traction.
Safety Vans
All-wheel drive is a nice offering, but Mercedes also enhanced the suite of safety technology to ensure drivers feel comfortable on the road. A demo-vehicle with defeatable traction control, a tube-structure that extends outside of the vehicle and 2,000 lbs. of water in the cargo bay transformed the van into a vehicle that's so tippy and unbalanced that had it been let loose on the streets, it would be flagged under suspicion of being under the influence. With the traction control off (something that isn't possible in production Sprinters) the car would list onto two wheels. When the traction control was enabled, the car used a variety of brake vectoring to keep all four wheels grounded.
Also new this year is a crosswind assist feature that helps to counteract the effect that high winds have on the Sprinter. It's hard for big boxlike vehicles to not catch the wind when traveling on the highway and when that happens, they can easily drift out of their lane and into danger. It can sense that the car is drifting in a high wind and will use selective braking to keep the car tracking straight. Rather than praying for wind, Mercedes proved its point to us by lining three swamp boats up and driving behind them with their fans running at full blast. It worked as advertised in this memorable, though artificial setting.
This suite of safety equipment helps to underline the other key driver assistance features available in the Sprinter. There's a high-mounted rear-view camera that makes backing up and lining up cargo drop-offs an easy task. There's also a blind-spot assist that is a huge help for models without side windows. Finally there's a lane-keeping system that alerts you if you're invading someone else's lane at highway speeds. All these available features are worth your while as they help make the Sprinter a very approachable and easy-to-drive vehicle despite its size and limited visibility.
Van-ity Fair
Being on the market for some time, the Sprinter hasn't changed its core design. Its breadbox design still features a short front overhang that makes it easy to navigate tight alleys and parking spaces.
But there are some changes. For example, the front end of the car features a few more character lines, including some design elements that make it into the headlights, reminding us of Mercedes' passenger cars. Helping to spruce up the usually drab cargo van segment, the sprinter also gets optional LED daytime running lights and Bi-xenon headlights as well as automatic high-beams that detect on coming motorists and lower themselves to prevent blinding them.
The interior, although bland, is similarly practical and features similar touches that show an attention to detail. It just feels like it is ready to get work done, whether it's another item on the "honey-do" list or orders from the foreman.
A clip sits in the center console, designed to hold up a paper or folder and all buttons and switchgear are noticeably tactile and feel of quality. Visibility out of the front is good, while the seating position is upright and nicely combined with the angle that the steering wheel meets you with. For perspective, the Ram Promaster's steering wheel points at the ceiling of the car and that makes it comparatively unwieldy.
Materials in the Sprinter aren't luxurious, but they also don't need to be. Nothing will be scuffed or scarred easily during regular use and there wasn't any excess noise or rattling, something that can be quite common in commercial vehicles. One big issue was the new navigation system, which features a small screen and an unintuitive control scheme despite its similarity to the Mercedes COMAND system that we generally favor.
Interior height ranges from 63.2 inches to 84.3 inches, while cargo volume (for cargo van models) can range from 319 cubic feet to 586, depending on the wheelbase and roof-height you choose. The super-high roof models are tall enough for an adult to stand in.
There are also crew van and mini-bus configurations that can seat up to 11 passengers in addition to their cargo. Include passenger and chassis cab models and the total tally of Sprinter variations is north of 50. The most affordable model is a chassis cab 3500 with a standard wheelbase that starts at $36,305 including delivery. Cargo van models start at $36,990 for 2500 models with the standard roof. Choosing a V6 is a $985 upgrade, while getting the 4×4 setup is $6,500 for the high-range and $6,800 for the high and low range.
The Verdict
The new Sprinter is suited up to take on every job you can throw at it, even if that means driving through snow, mud and almost anything else you can think to throw it through all while offering a price that can keep you out of the red when it comes to the bottom line.
LOVE IT
So many options
Low running costs
Available 4x4 drivetrain
LEAVE IT
Bland interior
Navigation system
Published November 24th, 2014 8:54 AM
Popular Articles
Latest Comparisons
Car Buying Tools