39 Views
2019 Mercedes-AMG E 53 Coupe Review
February 3rd, 2021 11:13 AM
Share
We're committed to finding, researching, and recommending the best products. We earn commissions from purchases you make using links in our articles. Learn more here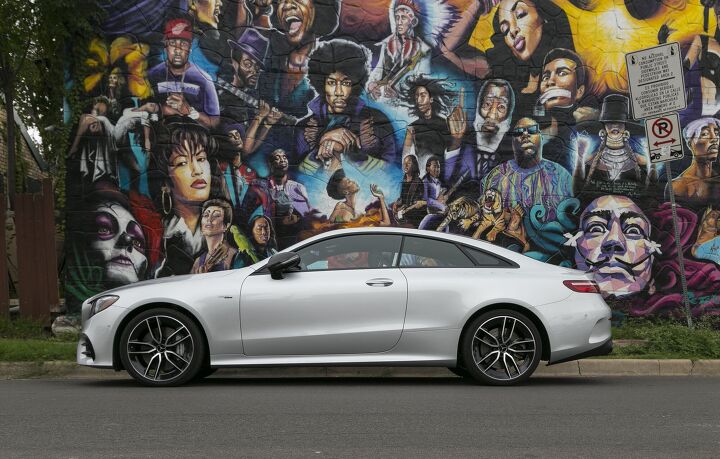 "It's all going to hell in a handbasket."
That's pretty much what was going through my head several months ago when Mercedes-AMG announced the E 53.
AMG, the one-time Mercedes-Benz aftermarket tuning operation, was best-known and loved for their wild, angry, V8-powered Benz sedans that sounded far too vulgar to be dressed in the Three-Pointed Star.
Geez, those were great days. Big displacement, big brakes and we'll big ol' plumes of tire smoke.
Then, slowly things started to change. AMG stopped being an independent shop and was brought in-house as a wholly-owned subsidiary of Mercedes-Benz. Then, other stuff happened. 4-cylinder engines began appearing in AMG models, and even the V8s started shrinking in size down to a wholly sensible 4-liters, with a couple of turbos nestled between its V.
See Also: 2019 Mercedes-AMG GT 4-Door Coupe Review
Worse still, the AMG badge became a marketing tool, helping to add youthful exuberance to M-B's performance models, even when an autographed and hand-built engine didn't reside beneath the hood.
But this, this here is simply the last straw. An "AMG" car now has a pseudo-hybrid electric system in it, and even though it's a mid-sized E-Class (whose distant ancestor from the '80s was the basis of the legendary AMG Hammer), there's no V8 to be found.
What's next, a CVT transmission? (I'd better not give them any ideas).
Let's riot!
FAST FACTS
| | |
| --- | --- |
| Engine: | 3.0L turbocharged inline six-cylinder with EQ Boost |
| Output: | 429 hp and 384 lb-ft of torque |
| 0-62 MPH (100 km/h): | 4.4 seconds |
| Fuel Economy: | TBD |
| Price: | TBD |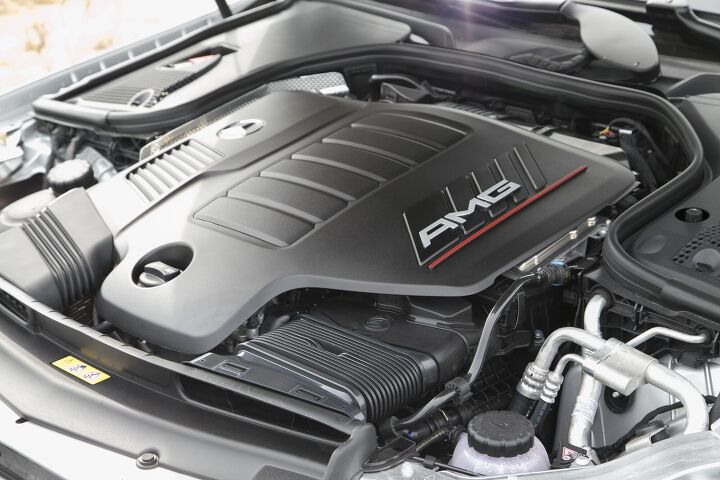 Now, before you join me with pitchforks and torches raised high, I should confess that every AMG I've driven, has put a huge, stupid smile on my face. That includes the odd-duck, farty-sounding GLA 45 and even the contemporary C 43 sedan. They're all very well executed, even if they aren't all real AMGs by the traditional sense.
ALSO SEE: Where is Mercedes Made?
I should probably also tell you that in driving this new E 53 Coupe, it wasn't half-bad. Okay, it was much, much better than not-half-bad; it was really good.
While most companies (that don't have a pair of kidney grilles on the front) have eschewed the inline six-cylinder engine format for the easier packaging of V6s, Mercedes-AMG has given us an all-new inline-6 here.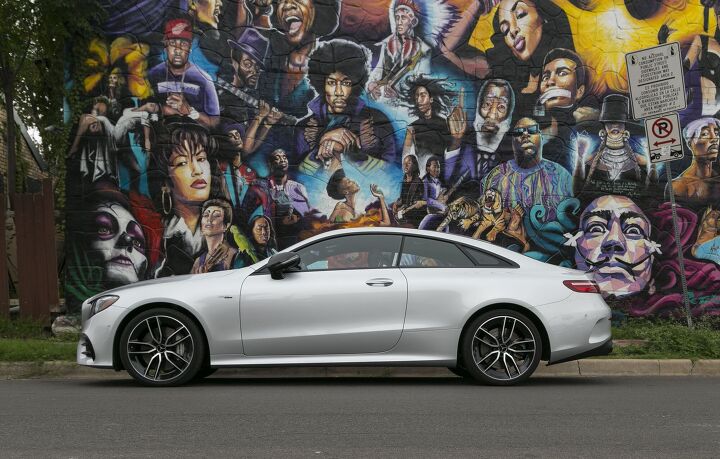 It displaces 3-liters and wears a turbocharger, just like the V6 in the decidedly non-AMG E 400, but this one puts out 429 hp and 384 lb-ft of torque. That's a hundred ponies more than the E 400. Plus, an inline-6 is a wonderfully smooth-running engine format and one that requires fewer moving parts (and therefore fewer potential failure points) than a V6 engine. Plus, even if it no longer sounds like a sophisticated muscle car, the inline-6 does have a genuinely pleasing snarl when prodded aggressively.
See Also: 2020 Mercedes-Benz GLE is Bigger and has a new Inline Six
All that is good stuff, but there's still no engine plaque signed by an Affalterbach wizard with a quaintly German name.
The magical boost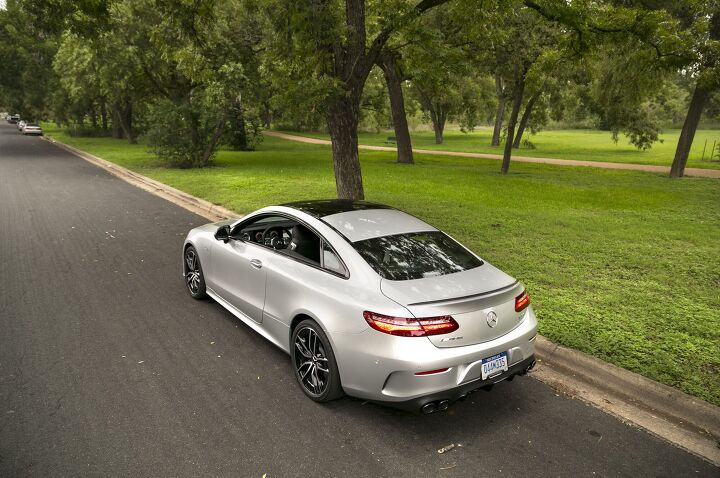 What there is, however, is what Mercedes calls "EQ Boost"; a 48V integrated starter generator system that's tucked into the bell housing at the front of the AMG Speedshift 9-speed automatic transmission. The starter/alternator electrically powers a compressor to add 21 horsepower and a whopping 184 lb-ft of torque. It's also tied into the rest of the battery and electrical system, meaning Mercedes has eliminated the auxiliary drive belt, again reducing moving complexity, and noise.
All E 53s here are 4Matic + all-wheel-drive cars that can route all the power to just the rear wheels. This means that all the muscle provided by the E 53's drivetrain can be well-managed and applied to the pavement with considerable grip.
As a result, the E 53 launches from a standstill with surprising tenacity.
My driving partner and I had stopped at a red light along a stretch of nearly-empty highway aiming straight through Texas ranch country toward the horizon. Seated in the passenger seat, I took the brief reprieve to jot some thoughts on the cabin finishes into my notebook when without warning the light turned green and my pen and notebook were flung into the backseat before I knew what was going on. Mercedes-AMG claims a 0-62 mph (100 km/h) rip of 4.4 seconds but my strained neck muscles and now-missing pen suggest that could be conservative.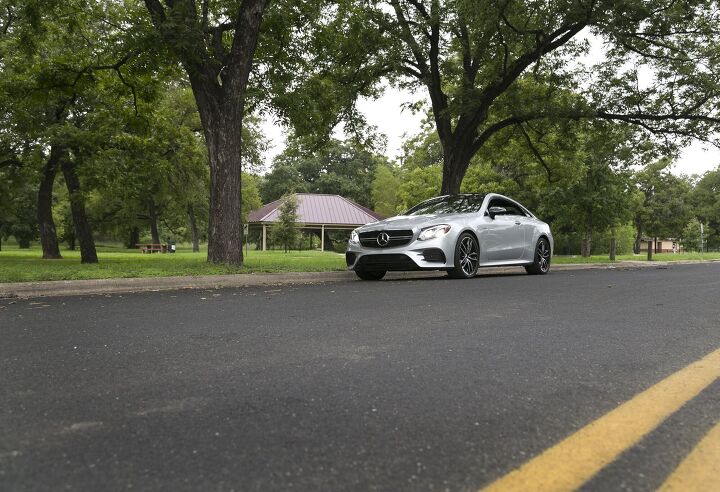 My driving partner thought that was all pretty funny and proceeded to find other opportunities to launch the E53. That sort of power is an addictive thing.
What the horsepower and torque numbers on the page don't reveal is the incredible immediacy of the E 53's drivetrain. Even the best turbocharged engines tend to have at least a slight wisp of lag before they unleash their oomph, while the electrically-charged compressor means there's no waiting, just instant gratification.
Did AMG do their thing?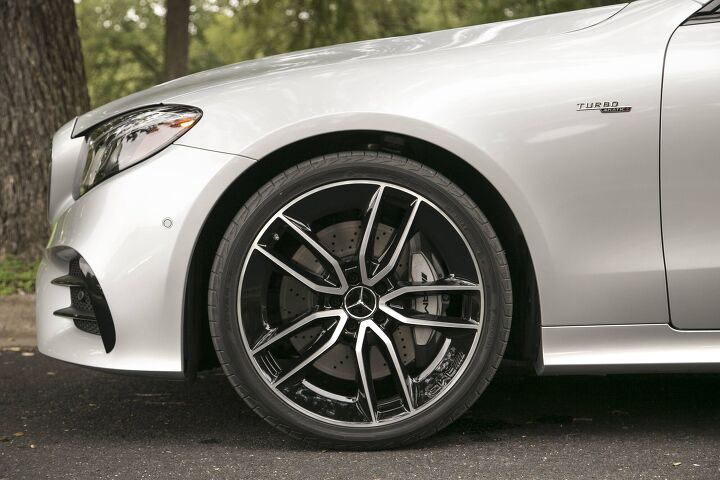 The E 53 isn't a full-on wild-child AMG (like an E 63), so it doesn't have available carbon ceramic brakes and race mode drive settings available. The suspension is AMG's Ride Control+ with its multi-chamber air suspension and continuously adjustable damping system to perfectly balance a luxury car ride with a sporting machine's handling prowess. You can even push a trunk button to lower the car an extra 4 cm to aid in loading and unloading.
See Also: We Drive All the AMGs
The E 53 Coupe is not a track weapon, but on the few Texas corners we could find, it did behave itself well enough to prompt an owner to go out and enjoy some curvy backroads without punishing one's kidneys from ride harshness. The 21" Yokohama Advans seemed well-matched to this car's purpose as a sporting grand tourer.
Beaut-Coupe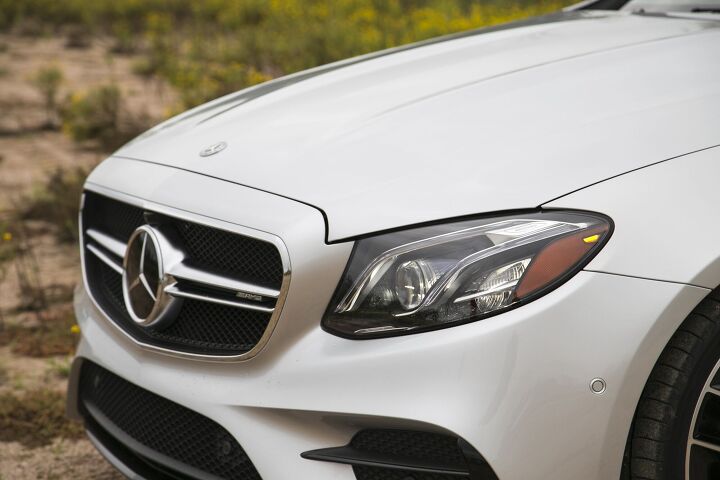 The E 53 Coupe's exterior reinforces this car's station in life as a personal luxury and grand touring machine. The nose and tail each borrow heavily from other Mercedes family members (plenty of C-Class up front, and S-Class Coupe from the rear), but it's the profile that really seems to distinguish the E 53 Coupe thanks to the pillar-less side glass. Finished in a lustrous silver, not even the tacky carbon fiber mirror caps or lip spoiler could diminish the classiness of this car.
See Also: 9 Things You Need to Know About the Mercedes-AMG S 63
Inside the E 53 looks like other E-Class coupe models, except for the racier seats, shown here finished in black with contrasting white accents and red stitching. They've got ample bolstering to keep front seat passengers well contained during hard corners, but offer road-trip comfort too.
The rear seats require a bit of agility to reach and want for some more leg room, but for a mid-sized coupe, the E 53 needn't make any passenger space apologies. All of the materials and assembly is top-shelf quality and exudes decadence throughout the cabin.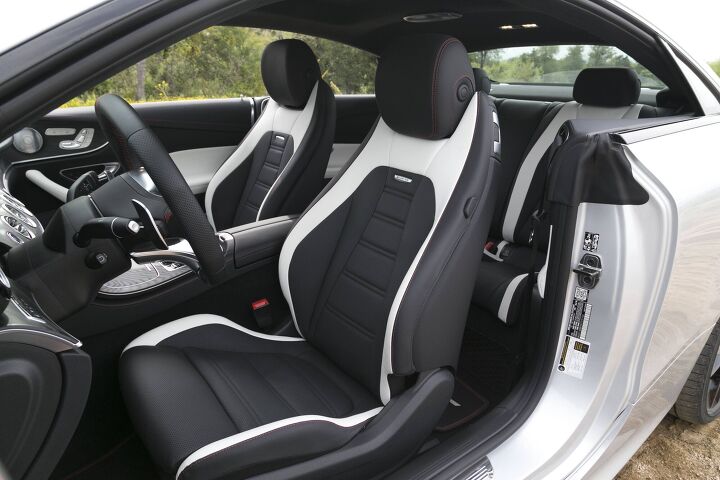 Even the trunk should be of sufficient volume for a weekend getaway to a nice inn.
A 12.3" screen replaces the traditional gauge pod; a technique that is now widely applied throughout the luxury car realm. When coupled with the second foot-wide screen in the center stack, it enables operation of Mercedes' COMAND infotainment system, thankfully still controlled by the touchpad folded up and over the scroll wheel, unlike the touchpad-only system in the recently-driven AMG GT 4-door Coupe. The Burmeister sound system is every bit as magnificent as I remember from the last time I enjoyed it other Mercedes products.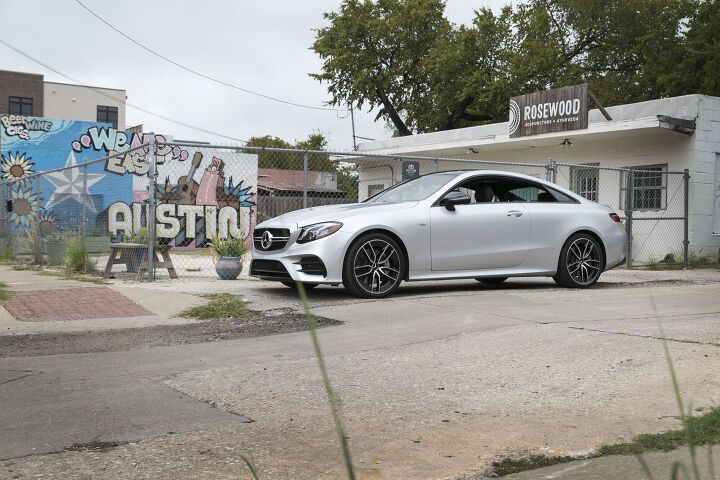 The Verdict: 2019 Mercedes-AMG E 53 Coupe First Drive Review
The new E 53 Coupe is surely what buyers in this segment are surely looking for. It's got great styling, plenty of high-tech features and a lavishly-appointed cockpit that can be enjoyed all year-round as a daily driver. But it's also got some serious performance chops, especially in the acceleration department, thanks in no small part to this strange AMG evolution to a new engine format with all its forced-induction enhancements.
Sure, I'd love to hear a big ol' hairy AMG V8's roar from this car, but the E 53 certainly does not suggest the sky is falling at AMG. Maybe we aren't all headed to hell in a handbasket after all.
Discuss this story on our Mercedes-Benz Forum
LOVE IT
Immediate, ferocious acceleration
Handsome style
Luxurious interior
LEAVE IT
Not a real AMG
Inline-6 sounds good, but no V8
Rear legroom is limited
Jeff Wilson
If there's anything better than a good road trip through the desert, Jeff probably hasn't heard of it. He's got a propensity for buying less-than-perfect sports cars like a well-worn Boxster, an M Roadster and an MR2, but has applied a lifetime of passion to more than a dozen years of automotive and motorcycle reviews. He's even collected several awards in the process including recognition for Best Automotive Review and Best Published Photography from the Automobile Journalists of Canada in 2023.
More by Jeff Wilson
Published October 3rd, 2018 12:13 PM
Popular Articles
Latest Comparisons
Car Buying Tools