430 Views
DeWalt's 1,030-lbs.ft. High Torque Cordless Impact is On Sale
May 5th, 2023 5:15 PM
Share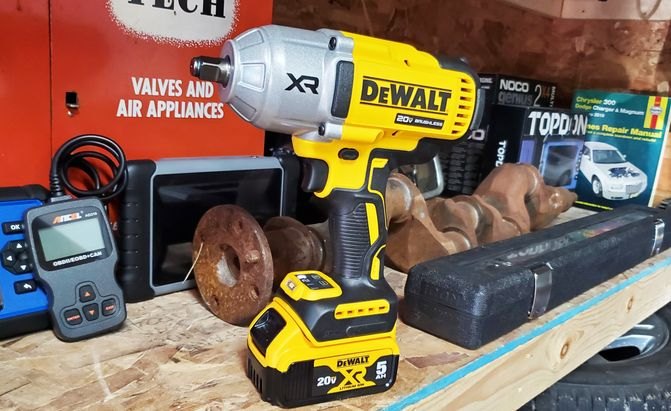 If you know what you're reading, the name tells you a lot: DeWalt DCF900 20V MAX 1/2-in High Torque Impact Wrench. That's right, after years of waiting DeWalt has finally added a genuine high-torque cordless impact wrench to their successful mid-torque range (like we use in the AutoGuide Garage). And it's a beast, rated at 1,030-lbs.ft. of tightening torque and 1,400-lbs.ft. of breakaway torque.
This is the moment where Milwaukee people start yelling that the M18 FUEL 1/2-inch High Torque Impact Wrench claims identical specs. Just one problem: Milwaukee habitually overpromises on torque, and Torque Test Channel only managed to find 778-lbs.ft. in a best-case scenario, instrumented test. Now, that is a lot of torque and it's currently the most powerful cordless impact available. DeWalt, on the other hand, has generally been much closer to their stated numbers and even exceeded them on occasion, meaning this should end up being the most powerful cordless impact ever made. As with other DeWalts, battery choice will have an effect on output and there are a huge variety of compatible batteries in the DeWalt catalog. You'll probably want one at least of the 5.0 or 6.0Ah MAX XRs to get the most out of the DCF900. We got the DCF900P1 kit with a 5aH Max XR battery, and a charger.
Known as Bruiser 2, the three-speed* DCF900 will have what they're calling "Precision Wrench Control," which we're assuming is like Milwaukee's Bolt Removal mode, which drops the RPMs once you've broken a nut loose. There are front-mounted LEDs with three brightness settings. Like the Milwaukee, it's a big tool, weighing 6.4 pounds bare, and just under 10 inches long. That's an inch-and-a-half longer than the Milwaukee (or a DeWalt mid-torque), and a half-pound heavier. Maybe some of that mass will make it easier to handle than the notoriously violent Milwaukee.
DeWalt tells us it will go on sale in the US at Home Depot by the end of August, and Lowe's by the end of September. The DC900B bare tool will be $299 (same as Milwaukee), and kits will range between $349 and $599 depending on the batteries and accessories included.
*UPDATE
We just got ours and so far it's living up to the nickname. It's an absolute beast, with incredible air ratchet-like speed. See below for how much power it really makes. We've already noticed it has a four-mode, not a three mode switch. It's for sale at Amazon.
Torque Test Channel got hold of the DCF900 and the results are in: It's not only the most powerful 1/2-inch cordless impact wrench they've ever tested, but obsoletes most 1/2-inch pneumatic impacts, as well.
Published June 29th, 2022 8:06 AM
Popular Articles
Latest Comparisons
Car Buying Tools