30 Views
2023 Toyota GR Corolla Review First Drive: Sporty Toyota International
September 15th, 2022 10:45 AM
Share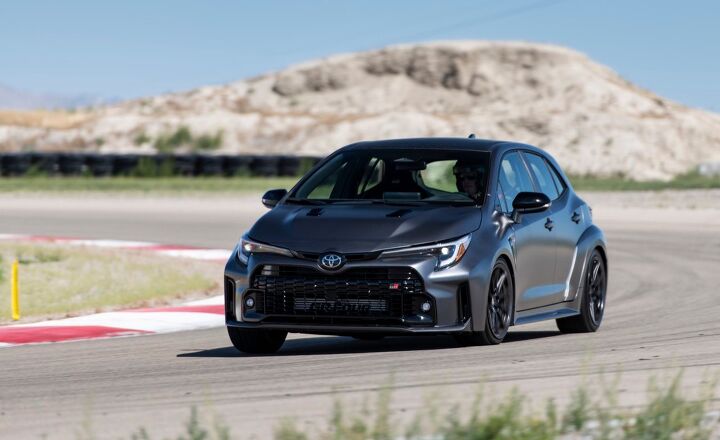 FAST FACTS
| | |
| --- | --- |
| Engine: | 1.6L I3 Turbo |
| Output: | 295 lb-ft) |
| Transmission: | 6MT, AWD |
| US fuel economy (MPG): | N/A |
| CAN fuel economy (L/100KM): | N/A |
| Starting Price (USD): | $36,995 (inc. dest.) |
| As-Tested Price (USD): | $36,995 / $43,995 / $50,995 (inc. dest.) |
| Starting Price (CAD): | N/A |
| As-Tested Price (CAD): | N/A |
Sometimes, it pays to be patient. That's how we end up with this, the 2023 Toyota GR Corolla.
A few years ago, Toyota debuted the GR Yaris in other parts of the globe. It was a homologation-special hot hatch, stuffed full of performance bits unique to the little sub-compact. A turbocharged three-cylinder engine was the most powerful of its kind, and it sent its power to the rally-inspired all-wheel-drive system via a genuine six-speed manual. North American enthusiasts salivated over this forbidden fruit.
Fast forward to late summer 2022. Toyota has invited us to Utah Motorsports Campus to test both the revised 2023 GR Supra ( now with a manual) and new GR Corolla. The Yaris yearning is now a distant memory. In crafting the GR Corolla, Toyota has built a car that not only aligns better with North American tastes, but a fun, involving, and reasonably affordable hot hatch that deserves our attention.
Get a Quote on a New 2023 Toyota Corolla
2023 Toyota GR Corolla Review: What's new?
The over-simplified story is that Toyota has dropped the drivetrain from the GR Yaris into the larger Corolla.
The truth is even better.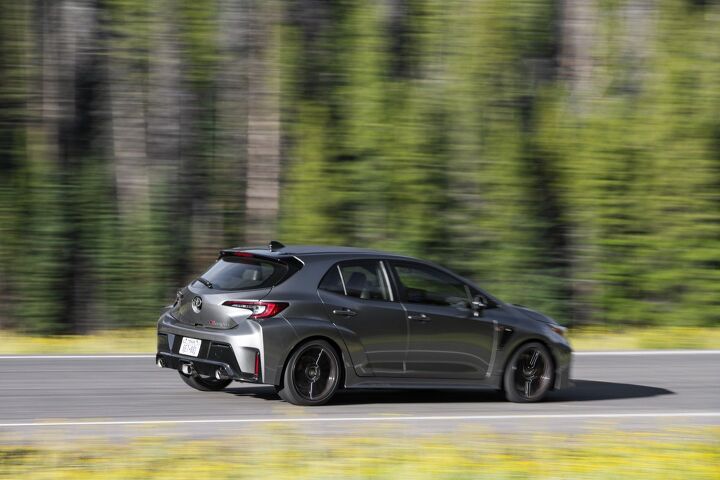 Some hero—or more likely, a team of them—decided 257 horsepower wasn't enough. So the boost is up on the little 1.6-liter three-cylinder, the G16E-GTS now producing an even 300 ponies, with a stout 273 pound-feet as backup. Toyota deemed one transmission capable of handling this power: a genuine, do-it-yourself six-speed manual transmission. No "performance" CVT here. Toyota's first performance-oriented AWD system this century sends the power to all four corners, with three selectable torque splits available via an interior dial.
A pumped-up exterior matches the upgrades underneath the skin. An aggressive front bumper design features large intakes to feed that hungry engine. Unique side sills feature embossed "GR-FOUR" badging, while large, functional air vents now sits aft of the front wheels. Around back, the widened rear arches give the Corolla a real touring car vibe. A sizeable diffuser wraps around the unique three-tip exhaust system. There's a larger rear spoiler now too, but nothing that draws too much attention.
SEE ALSO:
2023 Toyota GR Corolla: Driving on the Track and Dirt With Ken Gushi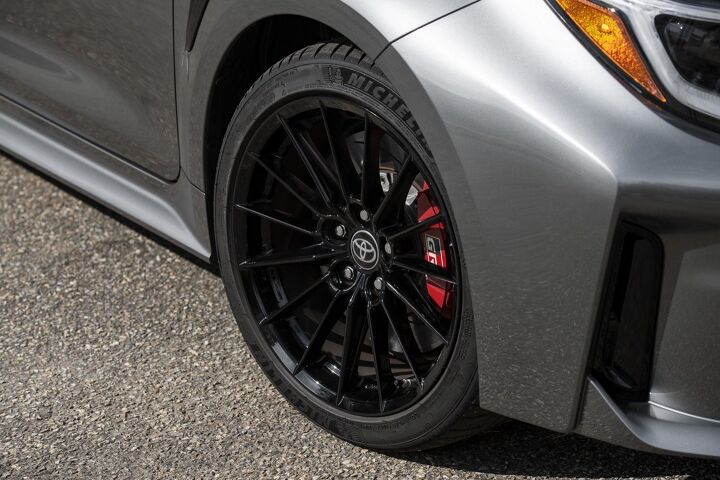 Impressively, all this kit doesn't completely tank the curb weight, with the base GR Corolla Core coming in at 3252 pounds (1,475 kilograms). The Circuit Edition (a 2023-only affair) is slightly heavier, despite the forged carbon roof. Fun fact: some of the Circuit's front intakes are blocked off, yet functional. Huh? You see, during testing, Toyota's engineers found the different rear spoiler altered the front-to-rear balance. To maintain consistency, the team blanked off the intakes.
At the top of the pile sits the limited-production Morizo Edition. Named after Akio Toyoda himself, the Morizo scraps the rear seats entirely, turns up the boost for an extra 22 lb-ft, and benefits from 245-width tires instead of the standard 235s.
GReat expectations on-track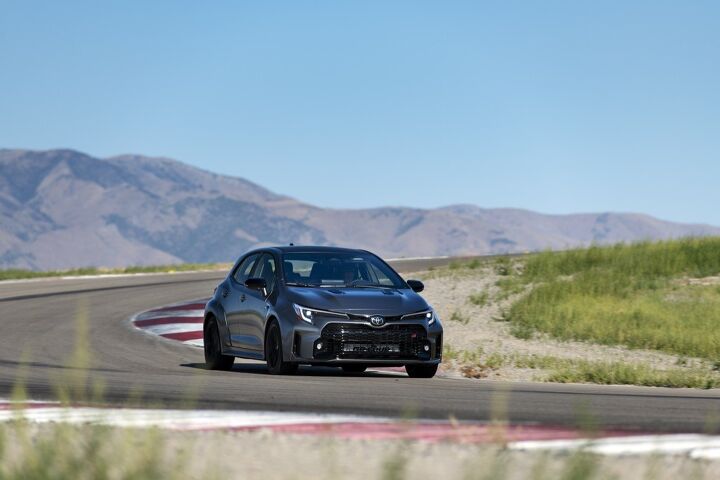 Toyota has blocked off the more technical East course at UMC for Corolla duty. It's the more technical half, with lots of solid third-gear sections including a blind entry into a downhill S-bend.
Taking off from pit lane, I find a well-judged clutch pedal with a defined bite point, a welcome change from the vague one in lesser Corollas. The throws aren't as super-short as big brother Supra's, nor are they as tightly defined, but there's still a positive feel that makes the Corolla an easy car to gel with. Toyota's auto-blip tech is here for those that haven't quite mastered the art of the heel-and-toe; it's defeatable for those that have.
The little three-pot takes a little to wake up, but makes up for it with a thick slug of mid-range torque and a willingness to rev right up to its 7,200-rpm limiter. The linearity means it never feels as quick as it is: Toyota quotes a run to 60 mph (96 km/h) of just under 5 seconds.
On the move, the Corolla's steering is responsive, if a little light, even in the most aggressive drive mode. Toss the car into a turn and it leans, not in a sloppy way but more like an MX-5, telegraphing where the limits lie. It's this friendly demeanor that defines the GR Corolla. The last Civic Type R I drove was sharper, but it also felt more on edge, more often.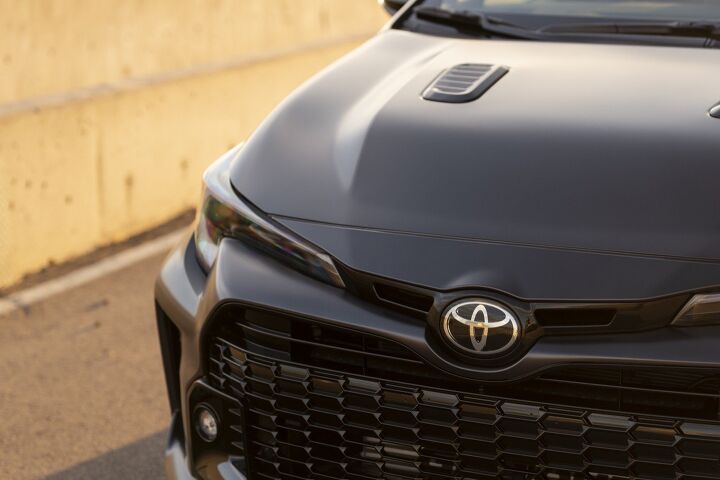 When we start lapping, the instructors have set the torque split to the 50:50 "Track" setting, which is ideal for the quickest lap times. As we all get more comfortable with the layout, we begin to experiment. The 30:70 split is certainly the most fun, allowing more rotation on corner entry and exit. That said, it's tame and controllable. Naturally, the 60:40 split introduces more understeer. No, I'm not entirely sure why anybody would willingly choose that, either.
In addition to track driving, Toyota lets us loose on the service roads around UMC. It's not a replacement for a proper public roads drive, but the short test suggests the GR Corolla has enough built-in compliance to be comfortable on longer drives. It's easily better than the bone-shattering Apex Edition I drove last year.
SEE ALSO:
Honda Civic Si vs Volkswagen Golf GTI vs Hyundai Elantra N: Sport Compact Shootout
Morizo is more than a name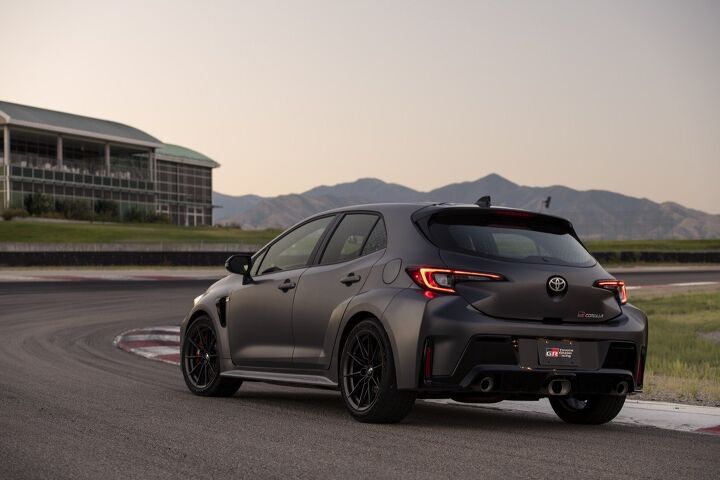 The Morizo takes the basic goodness of the GR Corolla and files down any softness. As the only four-door, two-seater in North America, only hardcore folks need apply. But boy is it fun. The added structural rigidity is noticeable in corners, as is the extra grip from the wider (245-section), stickier Michelin PS Cup 2 tires. Slightly shorter gearing (a 4.25 final drive ratio instead of 4.05) means more rowing through the 'box each lap, but that's just another excuse to hear that 7,000-rpm rally cry au naturale. That's right, there's zero piped-in noise in the Corolla.
Not only that, the Morizo just looks cooler. It swaps out the 15-spoke stock wheels for 10-spoke items, gets gloss black exterior trim pieces, and an available matte gray paint option. Inside, the more aggressive bucket seats hold folks firmly in place during high-g cornering. It's so grippy, in fact, that my phone flings out of the cupholder during a lap. Whoops. Red seatbelts, a Morizo-badged shifter, and a sweet-feeling Ultrasuede steering wheel round out the package.
Familiar cabin, welcome new tech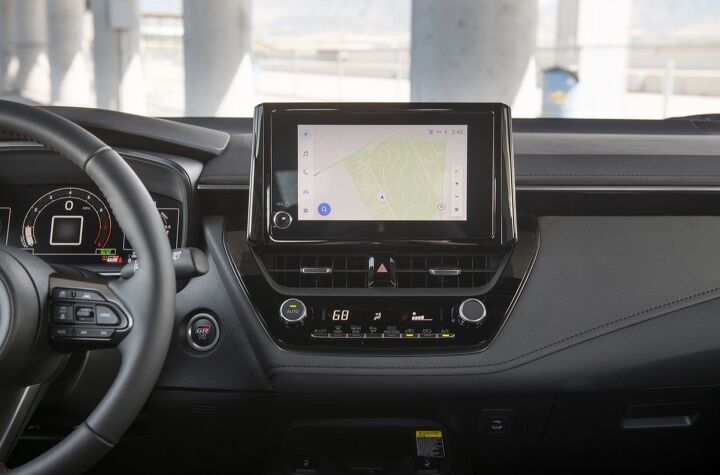 The Corolla cabin sees a few changes for GR duty. Some, like the 8.0-inch infotainment screen running the latest Toyota Audio Multimedia (TAM) system, are part of the broader 2023 Corolla updates. It's a smooth system with an easy-to-learn interface, though the thick bezel makes it seem like an afterthought. Some won't like the lack of a tuning knob, either. There's wireless Apple CarPlay and Android Auto support now, too.
Only Gazoo Racing Corollas benefit from a fully digital instrument panel, however. The display has a similar, minimalist style as the one in the GR86, but with more info, like the current torque split.
If there's a complaint about the GR, it's the lack of pomp and circumstance. The Core model's interior is barely distinguishable from a regular Corolla LE, seats aside. After the Civic's classy interior redo last year, the Corolla's wide expanse of bare dashboard feels a little chintzy.
At least Toyota still fits its performance models with modern safety kit. All GR Corollas come with Toyota Safety Sense 3.0, which includes automated emergency braking, lane-keep assist, auto high beams, blind spot monitoring, and adaptive cruise control, amongst other things.
2023 Toyota GR Corolla Review: Dollars and sense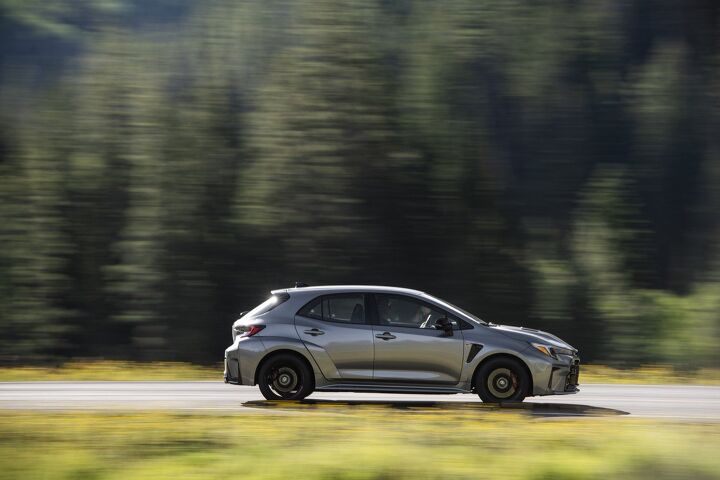 All this performance goodness can be had for a reasonable $36,995 in America, including $1,095 in destination charges. That's the price the Core model will list for when it arrives in dealerships later this year—at least, before any dealer markups. Options are limited to three packages: Performance ($1,180) adds the Torsen LSDs and upgraded brakes; Technology ($770) includes the JBL sound system and wireless phone charger; and Cold Weather ($500) includes heated front seats and steering wheel.
SEE ALSO:
Hyundai Elantra N vs Hyundai Kona N: Hot or Hotter
Next spring, the $43,995 Circuit Edition arrives. Limited to 2023 only, it picks up all of the Core's optional packages, plus the afore-mentioned exterior mods, as well as the supportive faux-suede-and-leather sport seats. Late 2023 sees the Morizo Edition touch down, which adds an Ultrasuede-wrapped steering wheel, more aggressive bucket seats, and a smattering of visual cues to let folks know you're one of the 200 people who spent $50,995.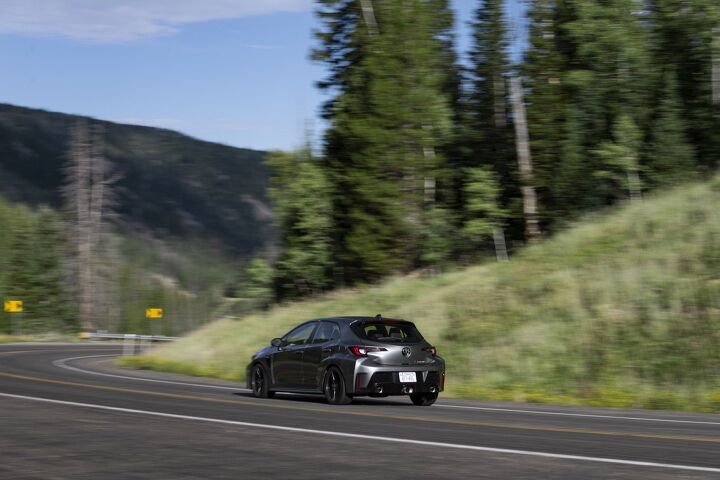 The Hyundai Elantra N is the current bargain of the hot sport compact sphere, ringing in at $33,245. Its Kona N sibling, available only with a dual-clutch auto, rings in slightly higher at $35,495. A Volkswagen Golf R ($45,185) is the closest comparison on paper, and while softer than any of them, the latest Subaru WRX ($30,600) sure is cheap. But it's the Honda Civic Type R that will be the toughest match-up for the GR Corolla. We don't have pricing on the recently-revealed 2023 model yet, but we don't expect any change from $40,000 for the 315-horsepower hot hatch.
(Canadian pricing was unavailable at time of writing.)
Final thoughts: 2023 Toyota GR Corolla Review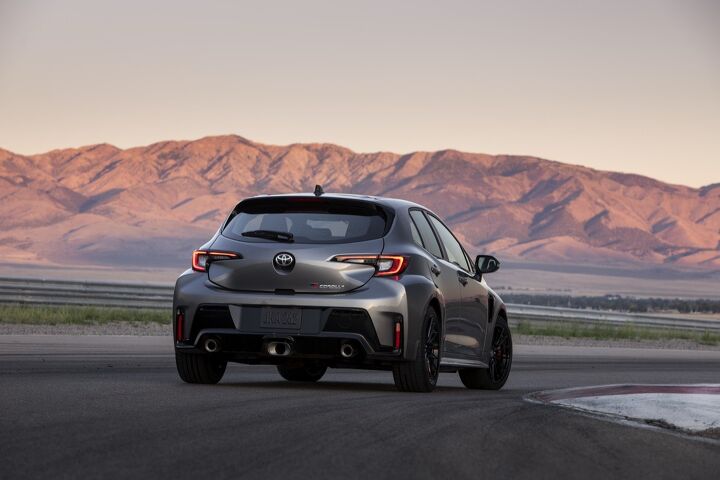 The 2023 Toyota GR Corolla was worth the wait. The pugnacious looks hide a friendly, approachable performance vehicle. While the GR Corolla flatters its driver, the car never robs them of their role in driving. Like the best rally-inspired performance vehicles, it's a blast on the track without being punishing. The Corolla rounds out an impressive GR family that includes the sweet GR86 and silly-quick Supra.
For a change, Europe can now envy North America for its hot hatch. And Honda, Hyundai, and VW should take notice.
---
FAQs
How much does the 2023 Toyota GR Corolla cost?
The basic Core grade will cost a reasonable $36,995 after destination, but before options. The two-seat Morizo Edition will set buyers back $50,995, while the Circuit Edition splits the difference at $43,995.
When can you buy the 2023 Toyota GR Corolla?
The Core models will land in dealerships later this year. Circuit Edition models arrive in spring 2023, followed by the Morizo in winter of that year.
Does the 2023 Toyota GR Corolla have a manual transmission?
Yes. In fact, it's one of only a handful of sporty vehicles that only come with manual transmissions.
Become an AutoGuide insider. Get the latest from the automotive world first by subscribing to our newsletter here.
LOVE IT
Great balance
Great gearbox
Great price
LEAVE IT
Light on interior wows
Turbo lag
Likely dealer markups make us sad
Published September 14th, 2022 7:01 AM
Popular Articles
Latest Comparisons
Car Buying Tools