1 View
Nissan Leaf Gets Official 99 MPG EPA Rating
November 23rd, 2010 8:14 AM
Share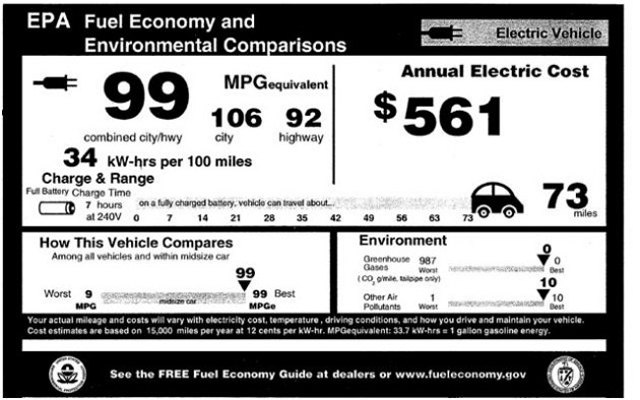 The EPA has just released its fuel economy figures for the first mass-production electric car and the Nissan Leaf gets a very impressive 99-mpg. Better yet, that's 99-mpg on average, with a 106-mpg city rating and 92-mpg listing for highway cruising. That number is well ahead of the former industry leader, the Toyota Prius, with its 50-mpg average.
The EPA has designed a new rating system for electric cars that Nissan is so kind enough to explain in their press release. How it works is that the EPA has determined that 33.7 kWhs equals one gallon of gasoline. (In other words, one mpg = 33.7 kWh). With the Leaf rated at 3.4 miles per kWh with a battery pack of 24 kWh and is rated to travel up to 73 miles on that distance then the EPA has says there's a possible distance of 99 miles if the car came with a 33.7 kWh battery pack.
The annual cost of running the Leaf on electric power is touted to be as little as just $561.
Official release after the jump:
PRESS RELEASE

EPA Rates THE ALL-ELECTRIC, ZERO-EMISSION, Nissan LEAF 'Best' in Class for FUEL Efficiency, Environment

– Nissan LEAF label approved as Nissan prepares for December launch –
FRANKLIN, Tenn. ( Nov. 22, 2010) – The Environmental Protection Agency (EPA) has approved its fuel-economy label for the 100-percent electric Nissan LEAF, rating the vehicle to be "best" in the midsize vehicle class for fuel efficiency and "best" for the environment. The new label shows a best-in-class 99 miles-per-gallon (MPG) equivalent (combined city/highway). The MPG equivalency rating was developed by the EPA as a way to provide a standard so consumers can compare vehicles across the spectrum and make an educated purchase.
The 2011 Nissan LEAF, which uses no gas, was also rated best-in-class for the environment based on emitting zero greenhouse gases or other traditional tailpipe emissions. The label, which will be part of the Nissan LEAF's Monroney label, is now ready for placement on the vehicles in anticipation of the December launch. After completion of five-cycle testing, the EPA has rated the Nissan LEAF with an MPG equivalent of 106 city, 92 highway for a combined 99 MPGe. This calculation is based on the EPA's formula of 33.7kW-hrs being equivalent to one gallon gasoline energy. In addition, the label displays a charging time of seven hours on a 240V charge and a driving range of 73 miles, based on the five-cycle tests using varying driving conditions and climate controls. Driving range on the Nissan LEAF, as with all vehicles, varies with real-world driving conditions.
"We're pleased the label clearly demonstrates the Nissan LEAF to be a best-in-class option, reflecting that it's a pure electric vehicle, uses no gas, has no tailpipe and has zero emissions," said Scott Becker, senior vice president, Finance and Administration, Nissan Americas. "The label provides consumers with a tool to compare alternative-fuel vehicles to those with a traditional internal combustion engine and allows them to make an informed purchase decision."
Sales of the Nissan LEAF will begin in December in California, Oregon, Washington, Arizona and Tennessee. In January 2011, sales begin in Texas and Hawaii, with additional market roll-out continuing later in 2011.
In North America, Nissan's operations include automotive styling, engineering, consumer and corporate financing, sales and marketing, distribution and manufacturing. Nissan is dedicated to improving the environment under the Nissan Green Program 2010 and has been recognized as a 2010 ENERGY STAR® Partner of the Year by the U.S Environmental Protection Agency. More information on Nissan in North America, the Nissan LEAF and zero emissions can be found at www.nissanusa.com.
Colum Wood
With AutoGuide from its launch, Colum previously acted as Editor-in-Chief of Modified Luxury & Exotics magazine where he became a certifiable car snob driving supercars like the Koenigsegg CCX and racing down the autobahn in anything over 500 hp. Find Colum on <a href="http://www.google.com">Twitter.</a>
More by Colum Wood
Published November 23rd, 2010 8:12 AM
Popular Articles
Latest Comparisons
Car Buying Tools