1 View
Race the SLS AMG Roadster in Mercedes 0-100-0 Challenge App
September 6th, 2011 4:15 PM
Share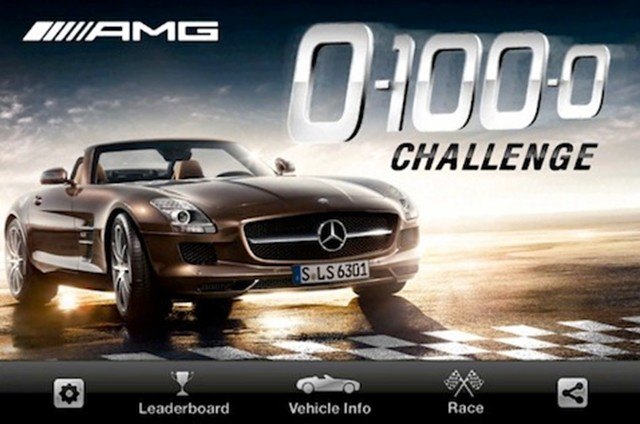 You can never have enough racing games on your iPhone or iPad, so it's a good thing the new Mercedes-AMG 0-100-0 Challenge is ready to be downloaded. This app puts you behind the wheel of the Mercedes SLS AMG Roadster, so you can tear up the track and test your mad racing skills.
Available for free on iTunes, the Mercedes-AMG 0-100-0 Challenge game puts you on a closed course and challenges you to go from stop to 100 mph and stop again in the shortest time possible. This game is more than just speed – it's about control and reaction time. How long will it take you to clamp down on those six piston caliper brakes to bring your Mercedes-AMG to a complete stop? Your acceleration and deceleration times will be combined with your reaction times to give you a total score and determine your position on the leaderboard. After a few test runs, you can brag to all your friends via Facebook or Twitter by posting your times and see if any of them can beat it.
You can download the Mercedes-AMG 0-100-0 Challenge for free at the iTunes store.
Published September 6th, 2011 4:15 PM
Popular Articles
Latest Comparisons
Car Buying Tools