1 View
Hennessey Viper Owned By F1 Champion Jacques Villeneuve For Sale
October 19th, 2011 7:30 PM
Share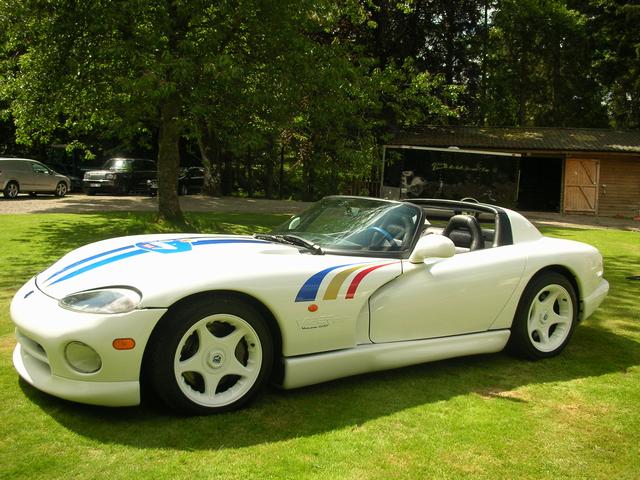 Back in 1997, Germany's Michael Schumacher was the man to beat in Formula 1. At the last race of the season, he was in a title battle with Canadian Jacques Villeneuve. The winner of the race would take the driver's championship.
Villeneuve in his Williams-Renault was on pole, but Schumacher's Ferrari got the better start and took the lead by the first corner. However, as the race progressed, Villeneuve started clawing back at Schumacher, and then on lap 48, took the inside line at the Dry Sack corner to take the lead. In an attempt to take out his opponent, Schumacher turned in and hit Villeneuve's car. However, the hit proved more lethal to Schumacher, as he had to retire from suspension damage. Villeneuve's car was damaged, he nursed the car for the next 22 laps and finished the race in third position, enough to give him the F1 Driver's Championship.
For his actions, Schumacher was stripped off his second place in the driver's championship by the FIA. So now while the Ferrari camp mourned, the Williams-Renault F1 team and its sponsors rejoiced and celebrated their victory in the hands of a Canadian hero.
One of their sponsors, cigarette giant Rothman's wanted to give Villeneuve a very special present, and they did so with the car you see on this page. It is a 1997 Dodge Viper R/T10 Roadster, which has been modified by the American tuning specialists Hennessey. The end result is called a Viper Venom 600, the last digits denoting the horsepower figure it produces.
This car is capable of sprinting from 0-60 mph in a claimed 3.3 seconds, and onto a top speed of 205 mph. Perfect daily commuter for an F1 champ then.
Now this one-off special can be yours, as it has been listed for sale. This car has covered 23,000 miles, and while it did suffer mild damage at one point in its life, it has all been repaired properly since.
This car is located in U.K. at the moment, but the seller does mention that World-wide export is available, and the asking price is only $63,300. That might be a lot for a 1997 Viper, but considering it is a Hennessey and one that has a World Champion as its first owner, it might be the ultimate collector piece for an F1 fan.
[Source: Pistonheads]
Published October 19th, 2011 7:30 PM
Popular Articles
Latest Comparisons
Car Buying Tools