1 View
Honda President Commits to "Distinctive" and "Sporty" Vehicles
January 3rd, 2012 7:45 AM
Share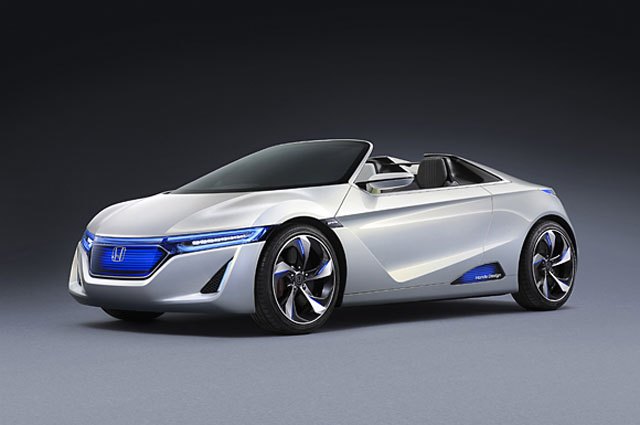 After having taken quite a beating with reviews of the new Civic, Honda has been on the offensive, promising updates while announcing its new " Earth Dreams Technology" plan to reestablish itself as a fuel economy leader. With the debut of the EV-STER electric sports car concept and confirmation that a new NSX is on the horizon, company president Takanobu Ito is now going a step further, while explaining the faults of the past.
In an interview with the The Nikkei, he explains Honda's old product planning method. "We divided the world into six regions, and Honda's regional operations were each responsible for their respective regions. Whenever we planned a product for the global market, our thinking was that we needed to listen to each regional supervisor."
The result, says Ito, was a lowest-common-denominator approach to building a car, watering down all the characteristics of a vehicle to the greatest mass-market appeal. The problem admits Ito is that, "When you harmonize all the different opinions, you end up with a safe, boring car."
Under the old method of doing business, the vehicle development team was essentially taking the designed-by-committee idea and building a car around it.
Ito says that since he took over in April of last year, changed the system. "I had three corporate officers each supervise luxury, midsize and small vehicles," he said. "Putting more authority in their hands, I asked them to create more competitive autos and to speed up coordination with product planning and regional operations. I set up a structure that would allow them to take the lead in realizing the wishes of the development team. The fruits of these moves will begin to appear in the market next fiscal year."
Exactly what those fruits are, says Ito, will be cars that are environmentally friendly and safe, but also ones that are "highly distinctive". Honda, after all, has a long history of unique vehicles from the NSX, S2000, CRX and del Sol. But perhaps most importantly, he says, "This strategy will be represented by our effort to make vehicles more sporty."
The first true example of this plan will be evident when Honda unveils the next-generation NSX at the Detroit Auto Show next week.
[Source: Nikkei via TTAC]
Published January 3rd, 2012 7:45 AM
Popular Articles
Latest Comparisons
Car Buying Tools