3.3K Views
Get Next Level Audio in Your Jeep Wrangler Unlimited or Gladiator
October 31st, 2023 1:52 PM
Share
If there is one constant in the automotive and off-road worlds, it is that owners of Jeep Wranglers (and Gladiators) do not keep their vehicles stock. There are just too many fun and functional accessories to not want to adapt the Wrangler/Gladiator platform to fit each driver's personality and style. The trick is to get all these parts to work together to make the Jeep a better rig. Wouldn't it be best if there was a plug-and-play modification that took care of some lament of customizing a Jeep all in one fell swoop? Thankfully, when it comes to the sound quality of the stereo system, Rockford Fosgate has done just that with the awesome new Stage 5 all-in-one audio kit for the Jeep Wrangler Unlimited JL and Jeep Gladiator JT, built to sound amazing, look amazing and handle the terrain and environments that Jeep owners are known for treading. Is your Wrangler ready to rock? It will be.
Performance Sound

The main reason to enhance your stereo is to increase the sound quality and volume you want. That is something Rockford Fosgate has been known for since it was founded in 1980 by legendary sound engineer Jim Fosgate. One thing that is a major difference between volume and performance is sound quality. Mismatched systems and low-quality parts ruin the sound quality when the volume increases. That is something you never have to worry about with a Rockford Fosgate product.
Both the Wrangler Unlimited JL and Gladiator JT Stage 5 kits pump out a whopping 1,800 watts of thunderous power. Each specialized audio kit comes with pre-tuned 1,000-watt and 800-watt amplifiers. The system uses a Digital Signal Processor with a specific Jeep tune to ensure you enjoy a best-in-class listening experience. Getting this power and sound to you comes from two subwoofers (12" on the Wrangler and 10" on the Gladiator), front and overhead 6.5-inch coaxial speakers, and front 1-inch tweeters.
Plug-and-Play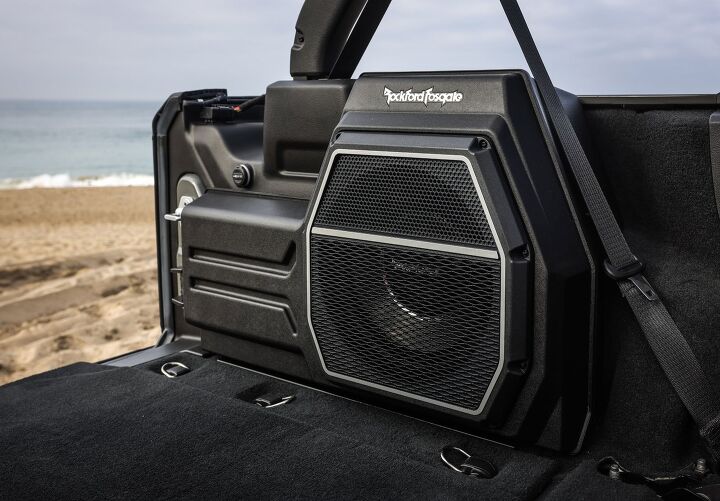 One of the trickiest parts of working with electronic systems is making sense of all the wires and connections. Luckily Rockford Fosgate has handled all of that for you. Each of the Stage 5 all-in-one audio kits is simple to install and comes complete with Plug and Play wire harnesses, and OEM-style speaker enclosures with factory connectors. You don't have to worry as there will be no cutting of wires or plastic parts. Rockford Fosgate designed this system to not only look and sound great, but provide you with an easy and simple installation process.
To make things even better, the system was designed to look as though it was part of the Jeep. Everything has the fit and finish you'd expect from a luxury model right from the Jeep factory. This adds some extra class and style to your Wrangler or Gladiator, while at the same time, dramatically improving your stereo enjoyment factor.
Element Ready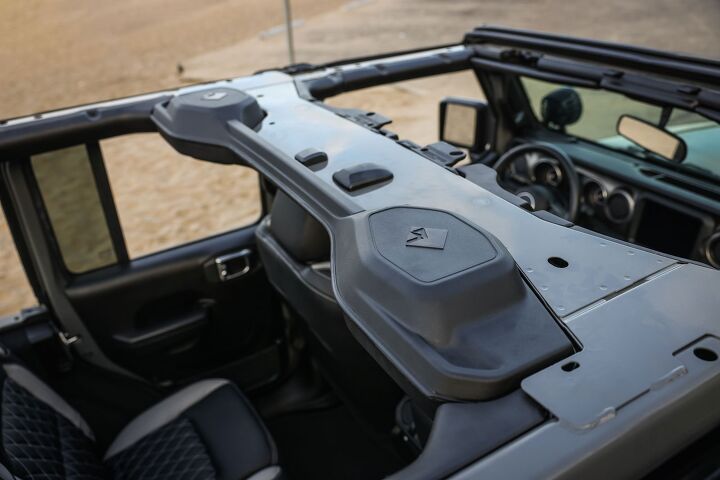 Rockford Fosgate has been working for years with UTV manufacturers to design stereo systems that can handle the harshest environments. That drive for perfection carries over to each of these Stage 5 all-in-one audio kits in a system that looks amazing, and sounds even better, yet has the rugged dependability and performance you need for a Jeep.
Rockford Fosgate's Element Ready products are purpose-built for off-road environments. These systems can withstand water, dirt, mud, and harmful UV rays. This ensures you can take the top off and enjoy all the fun parts of owning a Wrangler or Gladiator, and not worry about how it will affect the stereo system. The Rockford Fosgate Stage 5 all-in-one audio kit can take it. You can rock it while you're rock crawling, mosh it while you're mudding, or sing along while you're sand-slinging.
Published October 31st, 2023 1:51 PM
Popular Articles
Latest Comparisons
Car Buying Tools