1 View
Mercedes AMG Engines Sourced by Williams F1
May 30th, 2013 1:02 PM
Share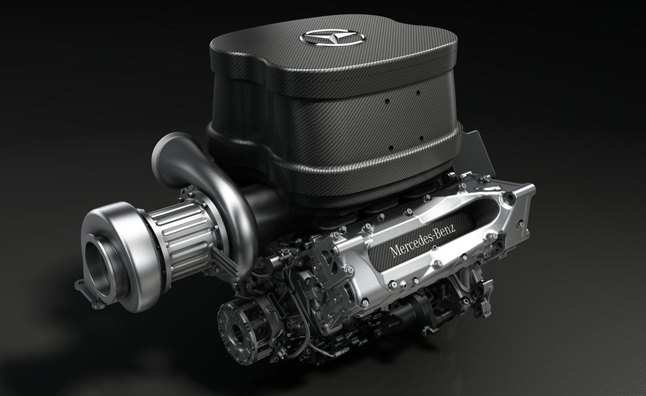 Starting in the 2014 F1 season, Williams will source its engines from Mercedes' AMG brand.
New engine regulations are being introduced to the sport next year that will see all competitors switch over to 1.6-liter V6 turbocharged hybrid-power units.
To stay on par with today's V8s, these new engines require a 30 percent increase in energy efficiency. That extra grunt will come from Mercedes' Energy Recovery System, which regenerates energy from a turbine located in the exhaust, as well from the rear axle.
"Williams is one of the sport's iconic names and we are very excited to be working together towards a successful future under the new regulations," said Andy Cowell, Managing Director of Mercedes AMG High Performance Powertrains.
The technology that is going into these F1 engines has significant value to Mercedes' road going cars, especially in the area of battery technology, turbocharging, energy recovery and combustion efficiency.
The relationship begins in 2014, and is signed indefinitely.
Stephen Elmer
Stephen covers all of the day-to-day events of the industry as the News Editor at AutoGuide, along with being the AG truck expert. His truck knowledge comes from working long days on the woodlot with pickups and driving straight trucks professionally. When not at his desk, Steve can be found playing his bass or riding his snowmobile or Sea-Doo. Find Stephen on <A title="@Selmer07 on Twitter" href="http://www.twitter.com/selmer07">Twitter</A> and <A title="Stephen on Google+" href="http://plus.google.com/117833131531784822251?rel=author">Google+</A>
More by Stephen Elmer
Published May 30th, 2013 1:02 PM
Popular Articles
Latest Comparisons
Car Buying Tools