1 View
Toyota Hydrogen Fuel-Cell Car On Sale Next Year
January 8th, 2014 11:57 AM
Share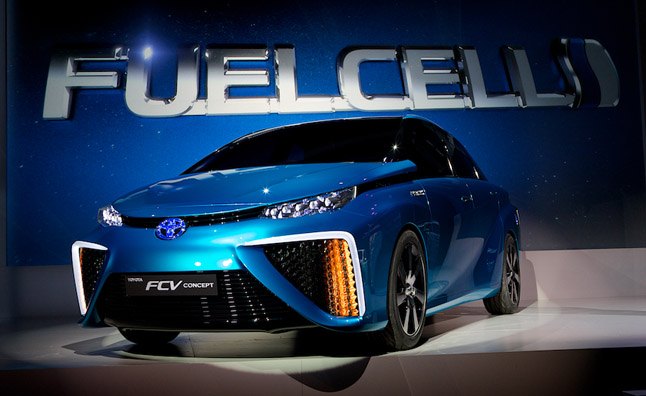 A decade and a half ago Toyota launched the Prius, forever changing the auto industry and they're looking to do so again next year with the launch of what may be the world's fist mass-market hydrogen fuel cell car.
"We aren't trying to re-invent the wheel; just everything necessary to make them turn," said Bob Carter, senior vice president of automotive operations for Toyota Motor Sales, U.S.A. Inc., speaking at the Consumer Electronics Show where the FCV concept was on display, hinting at the styling of the new car.
"Fuel cell electric vehicles will be in our future sooner than many people believe," continued Carter, "and in much greater numbers than anyone expected."
SEE ALSO: Toyota Seeks 5-10k Fuel Cell Sales in 2015
The sudden jump to production hydrogen fuel cell cars is anything but. Toyota has been developing the technology for 20 years, referring to its investment as "massive."
In 2002 the first prototypes took to the road. In the 11 years and one million miles since Toyota has managed to refine its fuel cell powertrain to roughly 95 percent of what it cost to build the originals.
Much like with electric vehicles, one of the remaining challenges will be inadequate infrastructure. That, says Carter, is being worked on with the state of California already approving over $200 million in funding to build 20 hydrogen fueling stations by 2015, 40 by 2016 and 100 by 2024.
While the roll-out of electric charging stations hasn't been nearly as fast as some would have hoped, that won't be the case with fuel cell cars. "Stay tuned," said Carter, "because this infrastructure thing is going to happen."
SEE ALSO: Toyota May Call Fuel Cell Car a 'Prius'
Unlike EVs, however, fuel cell cars won't come with a limited range. Toyota promises its new fuel cell car will deliver 300 miles on a tank of hydrogen. And refilling the hydrogen will take just three to five minutes.
Acceleration for its prototype car is listed at 10 seconds to 60 mph, with the only emissions being water vapor.
Published January 7th, 2014 5:07 PM
Popular Articles
Latest Comparisons
Car Buying Tools