1 View
Subaru BRZ Might Not See a Second Generation
June 23rd, 2014 1:17 PM
Share
We're committed to finding, researching, and recommending the best products. We earn commissions from purchases you make using links in our articles. Learn more here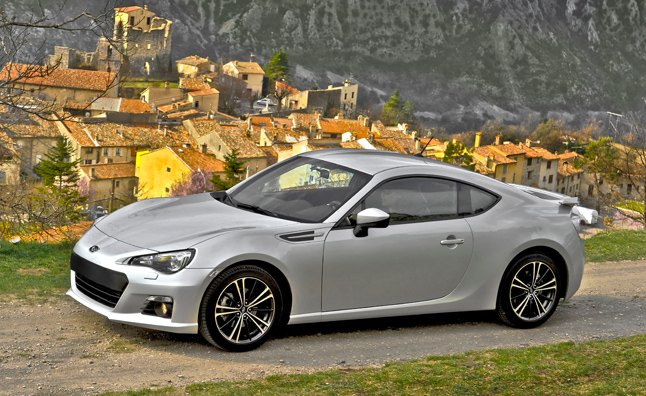 The opportunity for Toyota to lay with better bedfellows might mean and early death for Subaru's BRZ sports car.
Currently, Toyota is working with BMW to develop a sports car that will sit above the Scion FR-S, but that might not be the only performance vehicle to come of the relationship. Tetsuya Tada, the chief engineer behind the FR-S and sports car co-developed with BMW, said the company might also work with BMW in developing the next generation of its lightweight affordable sports car according to Australian Drive.com.au.
Subaru spokesman Dominic Infante declined to comment on the story, which suggests that without financial support from Toyota, Subaru is unlikely to invest in developing a model beyond the current generation. To date, the BRZ is selling in lower volume than its nearly identical and slightly less expensive FR-S cousin. In 2013, Subaru sold 8,587 copies of the BRZ in the U.S. compared to the 18,327 FR-S coupes that found homes in the same time period. Despite that, BRZ sales are still outpacing what Subaru expected to sell in this market.
SEE ALSO: 2013 Subaru BRZ Review
Meanwhile, Drive reports that Toyota is looking for ways to offer its customers a quicker version of the FR-S in time for its planned mid-cycle refresh in the 2015 model year. The change could be something as simple as a more aggressive final drive ratio or exhaust upgrades. A more potent version of the 2.0-liter Boxer four-cylinder is also under consideration.
Tada also said that future versions of the FR-S will likely borrow from the company's Le Mans hybrid technology by using some form of supercapacitors to offer more power without making the car significantly less fuel efficient.
GALLERY: Subaru BRZ Series.Blue

Luke Vandezande
Luke is an energetic automotive journalist who spends his time covering industry news and crawling the internet for the latest breaking story. When he isn't in the office, Luke can be found obsessively browsing used car listings, drinking scotch at his favorite bar and dreaming of what to drive next, though the list grows a lot faster than his bank account. He's always on <A title="@lukevandezande on Twitter" href="http://twitter.com/lukevandezande">Twitter</A> looking for a good car conversation. Find Luke on <A title="@lukevandezande on Twitter" href="http://twitter.com/lukevandezande">Twitter</A> and <A title="Luke on Google+" href="http://plus.google.com/112531385961538774338?rel=author">Google+</A>.
More by Luke Vandezande
Published June 23rd, 2014 12:02 PM
Popular Articles
Latest Comparisons
Car Buying Tools