3 Views
Top 5 Most Buzzworthy Debuts From the 2016 Geneva Motor Show
October 6th, 2016 10:50 PM
Share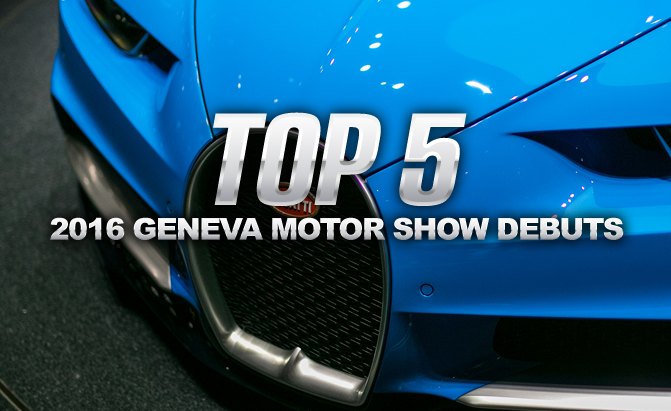 { "id": "13144288", "alt": "", "title": "", "video_link": "https://www.youtube.com/embed/L9j2iEAcmi0", "youtube_video_id": "L9j2iEAcmi0" }
{ "width": 634, "height": 357, "showRelated": true }
The Geneva Motor Show might as well be called The Supercar Show or The You Can't Afford This Show because if a car is expensive, exclusive, has more than 1,000 horsepower or all of the above, this is probably the place you'll find it.
And this year's show didn't disappoint, because all the high-end brands we know and love and even bunch of random boutique supercar makers we've never heard of and can't pronounce all debuted their latest cars here.
Here are our picks for the 5 most significant and buzzworthy debuts of the show.
---
5. Pagani Huayra BC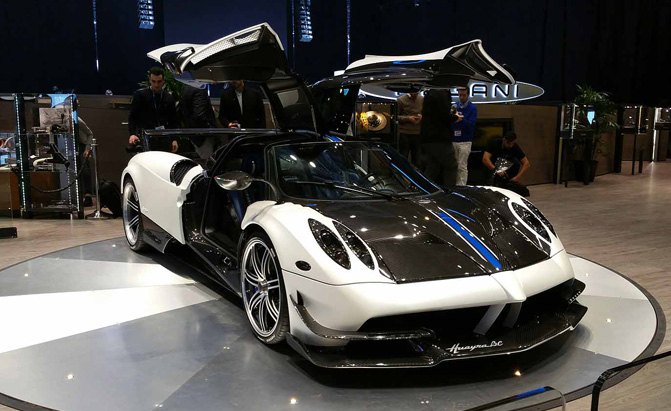 The Pagani Huayra is already bonkers, but the BC version unveiled here is the most hardcore version yet. Only 20 of these cars will ever be built, each costs 2.35 million Euros, and each one was sold long before the car even made its debut. Pagani looked at every possible weight savings with the BC, and all that effort paid off because top speed is estimated to be around 220 mph, while the sprint to 60 mph will take around 2.8 seconds.
I'm also going to tie this with the Porsche 911 R for fifth place because it's basically a GT3 with a manual transmission, which is what everyone has been asking for.
MORE INFO: The Pagani Huayra BC is Here to Hunt Hypercars
---
4. Lamborghini Centenario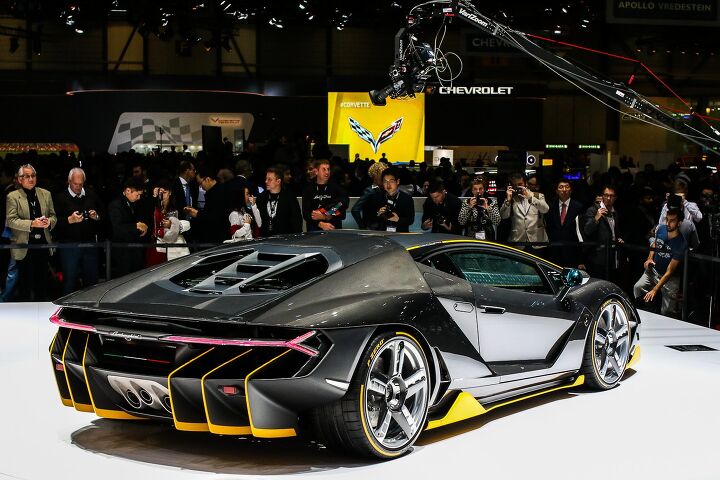 Some people think the Centenario is kind of the same old story for Lamborghini. It's a limited edition version of an already exclusive existing car, but with more carbon fiber, more angles, and a few other cosmetic changes and powertrain upgrades here and there. As as true as that may be, the Centenario is still a stunner and was one of the most popular cars here. Only 20 coupes and 20 roadster versions of the car will be built, and, you guessed it, the V12-powered car is already sold out.
MORE INFO: The $1.9M Lamborghini Centenario Was Just Unveiled and It's Already Sold Out
---
3. Honda Civic Hatchback Prototype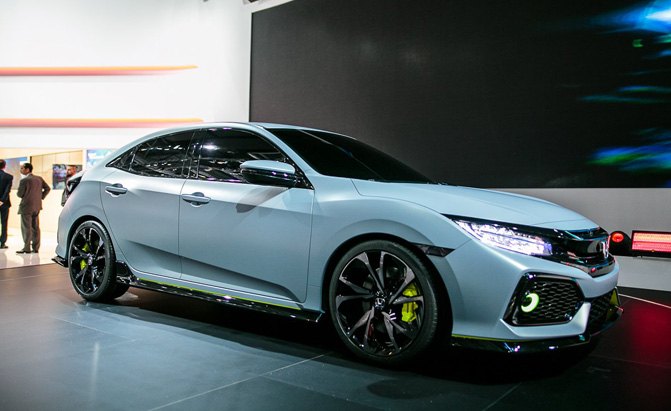 What is a lowly Honda Civic doing in a list surrounded by the likes of Pagani and Lamborghini? What kind of world are we living in!? Maybe it's because I'm not rich and this car is so attainable, but I honestly think the Civic Hatchback Prototype is one of the best looking cars here. It's so realistic and nothing like the crazy carbon fiber monsters you typically see at this show, and when the production version arrives, it will come with exclusively with the 1.5-liter turbo. This is one Honda we've been really excited about.
MORE INFO: Honda Civic Hatchback Prototype Unveiled and It Looks Damn Good
---
2. Aston Martin DB11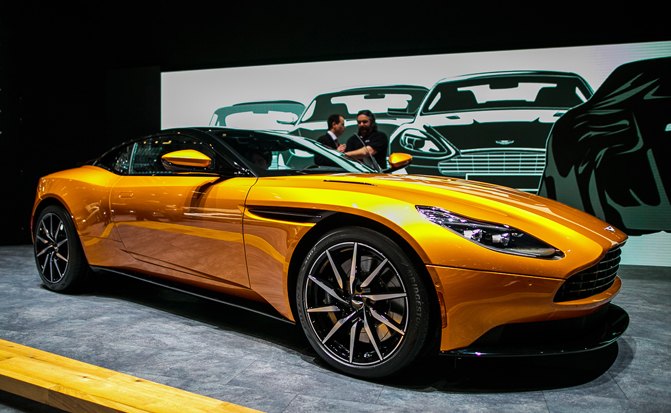 James Bond's next car is here, and the Aston Martin DB11 is one of the most beautiful cars that debuted in Geneva this year. A classy affair, the DB11 is powered by a twin-turbo V12 that we're sure will sound unreal. The DB11 is the most efficient and most powerful DB ever, and it has just become the best looking car in Aston's whole lineup.
MORE INFO: 2017 Aston Martin DB11 Easily the Best Looking Car in Lineup
---
1. Bugatti Chiron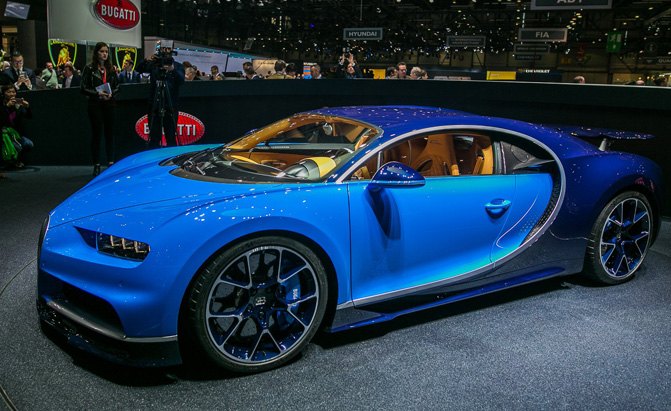 Definitely generating the most buzz at this year's Geneva show, the Bugatti Chiron was probably the most popular car here. You had to fight to even get close to this 1,500-horsepower car. This was one of the most anticipated debuts of the show and it definitely delivered on the high expectations and hype. It has an 8.0-liter quad-turbocharged W16 engine and goes zero to 60 mph in under 2.5 seconds. If that can't make it Number 1 car here, I don't know what will.
MORE INFO: Bugatti Chiron is the First Production Car to Make 1500 HP
Published March 2nd, 2016 5:56 PM
Popular Articles
Latest Comparisons
Car Buying Tools